The Overgrown Madness of Glacier National Park
When I say that the theme of Glacier was mosquitoes, I'm talking about the lack of privacy from such insidious creatures. Breaks? That's what you thought! Mosquitoes laugh in their silly little high pitch buzz at the naivety of us humans. It was just constant chaos of  living in your rain gear to avoid being bitten and marked by the tiny beasts.
Mosquito imagery aside, I was enamoured by the beauty that was Glacier national park. Affluent with waterfalls, marmots galore chittering along the trail, the lakes, the thimbleberry, the views, this park was like no other. I found myself religiously checking Guthooks (a guidebook app used by many long distance backpackers) in search for my next water source and always being pleasantly surprised by the surplus amount of water. It was really only necessary to carry a liter at a time, or if you're bad at drinking water like I am, a 3/4 liter at a time.
My first day of hiking consisted of zooming as fast as possible. We hadn't even gotten -to trail- until a little after 4pm and had nearly 13 miles to hike. Something I was blissfully unaware of, however, was that the sun sets extremely late in Montana in the summer. I'm talking light skies till 11pm, so running out of daylight was not an issue for this leg of trail.
I knew the PNT was bushwhacky, but within a national park?
While researching the PNT (Pacific Northwest Trail) you'll see words like rugged, difficult, or bushwhack. Reading this, I imagine areas where trail just… does not exist, but I also imagined that it would be in areas that were incredibly remote or areas that the trail just sorta went through because it had to. I was not prepared for the thimbleberry jungle that engulfed the trails in Glacier. There were days where you could take a picture of the trail in front of you and not be able to see the trail. It was thimbleberries upon thimbleberries, upon thimbleberries. Normally I wouldn't complain, but we were there just prior to the thimbleberry season. So even with this abundance of fruity shrubbery, there were no actual berries. Complete disappointment. Miles and miles of wrestling with these bushes, and no delectable berries to snack on, a tragedy I tell ya!
Hiking during the pandemic created such a different environment than what trail life would be like on an average year. With the Canadian border being closed, all normal tourism was halted. This meant that Waterton lake (a lake that is shared and flows in both the US and Canada), was silent, empty, serene. Not a soul in sight. To me, this was a privilege; I was able to experience the alluring beauty of my scenery without the disturbance of others. We spent some time laying on the dock, swimming in the lake, and exploring the nearby hut-type structures before heading off to our campsite for the night.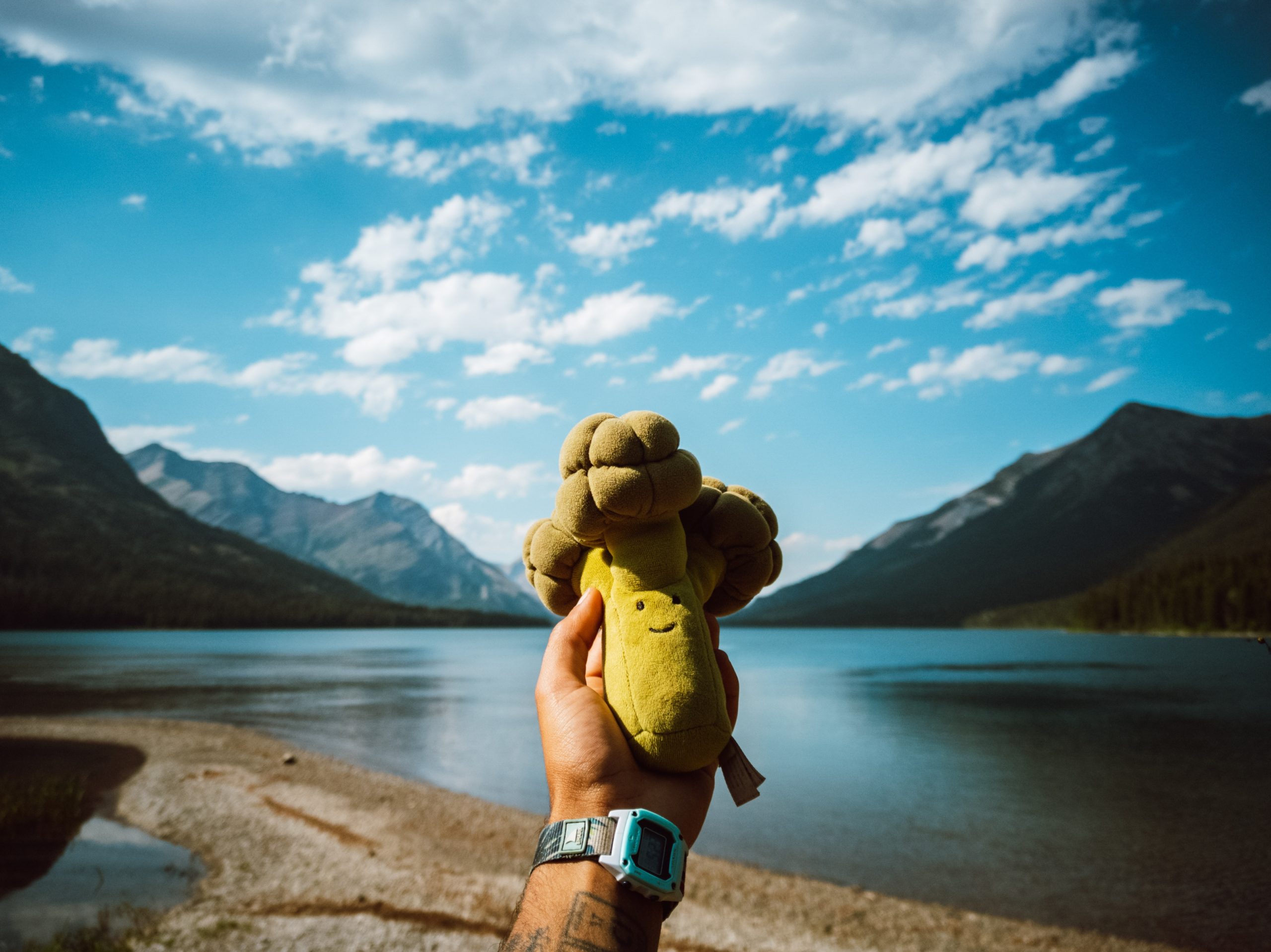 The Waterton fiasco
Now, prior to beginning trail there was some discourse happening via some PNT groups/threads about the bridge that crossed over Waterton River. Apparently, they remove the bridge each winter and put it in storage. By the time that the first PNT hikers of the season were coming through, the bridge had not been put up yet. There was a bit of mayhem happening wondering when the bridge would go up. The groups were getting wildly different answers for when the bridge would go up. Some people were even told that it was up even though it clearly wasn't. Thankfully, by the time that we were passing through the bridge was up, however, there was also a horse ford that you pass by first that was only about shin deep. Unbeknownst to us, the horse ford was actually way faster route to our campsite for the night. This was also the absolute worst area for bugs. By the time that you finish running your hands down your arms to clear the mosquitoes, there would be another five of them already setting up to feast.
It was miserable
The night came to a close with a boisterous thunderstorm. It began with some thunder in the distance, but quickly and exponentially came full force over us. Reagan, my hiking partner, attempted to cover a nearby tent that had been left unattended, but unfortunately the fly was not in sight. Apologies random hiker in Glacier, we tried! If you have ever been to the tropics, you'll know that the rain comes all at once, almost as if the clouds have released every moist particle they're comprised of all at the same time. This storm felt like that. Buckets of water being splashed upon my tarp, thunder booming and reverberating, lightning flashing in the distance, this lasted for about an hour. Eventually the storm lost some stamina, and we were left with some rain, but oh boy was I relatively worried about the pitch of my tarp. Would water pool under me? Would I be able to maintain my dryness throughout the night?
An end to Glacier
As beautiful and magical as Glacier was, we decided to push extra miles that third day to help set us up for a future resupply box, and also so that we could get into Polebridge earlier in the day. We had flubbed on the dates for our resupply and were currently set to arrive at the post office in Northport on the weekend. So we needed to push some extra miles in order to catch the post office on a weekday. Northport was states away, but you can never be too prepared. Our last full day in the park started with another thunderstorm. Personally, I LOVE thunderstorms, but on trail, waking up to rain removes all motivation to get up and go. Once rain subsided we were able to get moving, our goal for the day was 22.3 miles.
Coming down Boulder Pass I ran into a black bear trotting across the trail. I froze. Carefully stepping backwards to wait for Reagan to catch up to me. One of the big concerns about the PNT, like the CDT  is that you're in grizzly country. For many, this creates a new terrifying challenge to backpacking. It also means carrying extra weight for bear protection. Reagan was the carrier of bear spray, and we each carried our own Ursack (a lightweight bear bag option for protecting your food). For now this would work, but in the Olympics you are required to carry a bear canister. Needless to say, I was very much not looking forward to that.
Lakes are for swimming, but also for naps
They're superb spots for a good break because water is life. Cool down with a nice dip, mix up a few beverages with some fresh water, cold soak a tasty lunch, absorb the serenity of your surroundings. All good things. We spent some time attempting to relax by Bowman lake, but the flies had another agenda. It's wild how bothersome it can be to have a fly land on you. Or rather… 15 flies consistently landing on you. No matter how many you smoosh and kill, the flies were endless.
Originally we had planned to camp at the head of Bowman lake, which was absolutely beautiful, but we continued on so that we could get to Polebridge in the morning. We ended the day at Bowman lake campground, which is a frontcountry campground for car camping. I managed to take a quick dip in the lake before the sun fully set and laid out awaiting Reagan's arrival. Another hiker, N, showed up and we chatted for a bit. This was his 2nd day on trail and he had done over 30 miles for the day. Wow. I couldn't even fathom hiking 30 miles in a day at this point, let alone my second day of trail. The most miles I've ever done in a day was 23. I was in awe
The long and dusty descent into Polebridge
The hike into Polebridge the next morning was this twisty little dirt road that winds its way down to the ranger station and into Polebridge. It's also very exposed, and in the heat of this particular summer, brutal. Something silly that I do, but highly enjoy is snagging stamps from visitor centers or various places I travel. So I made a quick pit stop at the ranger station, got my stamp, and continued into town. Polebridge is this super neat little town that is completely off-grid (no powerlines, no service, no nothing). It's got a quaint little community with some cabins, the North Fork Hostel, and the famous Polebridge Mercantile. They are known for huckleberry bear claws, and are a tourist hotspot for people visiting Glacier. We spent about 4 hours in town, snacking, picking up our resupply, mooching a quick shower off the hostel, and chatting with J, another hiker. All in all, a quaint little town trip before heading out for more miles.
Affiliate Disclosure
This website contains affiliate links, which means The Trek may receive a percentage of any product or service you purchase using the links in the articles or advertisements. The buyer pays the same price as they would otherwise, and your purchase helps to support The Trek's ongoing goal to serve you quality backpacking advice and information. Thanks for your support!
To learn more, please visit the About This Site page.