The Road Walk to End All Road Walks
The more I hike my own route, the more I'm amazed that there are trails spanning the US almost completely on public land. The southern Sangre de Cristo Mountains are notorious for being made up of privately owned ranches. Even the southern-most Colorado 14er, Culebra Peak, is privately owned.
A Choice
When I mapped out my route in April I thought I would be able to walk from Red River to La Veta Pass on the east side of the mountains. Little did I know that GAIA will let you create a route on a private road without giving you a warning or anything.
Fortunately, I figured out my mistake while scouting before my hike. Unfortunately, try as I might to get permission to walk the roads on a fancy guest ranch on the Colorado border, they were dragging their feet and making me jump through too many hoops for my tight timeline.
The solution? There were two options: 1) walk to Raton, then Trinidad, then Stonewall to pick up my still heavy road walking route. 2) walk down to Questa, New Mexico, then head up toward San Luis and Blanca through the valley.
I ended up deciding to cut miles off and avoid I-25 by going through the valley.
The Dog Situation
It's an easy thing to utter the phrase "hike your dog's hike," and something completely else to thru-hike by that mantra.
As noted in my previous post, the dogs have been foot sore, which I suspect is from our deluge of road walking. With a long section of road approaching, I had been trying to come up with a solution. It hit me on our OTZ: Buy a wagon and pull the dogs on the road. This would eliminate some of the wear and tear on their feet, give them a few days off to rest up, and allow me to do bigger miles across public land.
Once again, easier said than done. Red River is touristy, but not very big. I asked around and got sent to several different stores. At the Sitzmark Sports store they had a rental wagon, but none for sale. However, after hearing what I was going to be doing they decided to sell it to me! It was even the fold-up variety that I was hoping to find!
Town Day
The wagon shenanigans were only part of our stay in Red River. Because I was waiting to hear back from the ranch, I decided to stay the night in town. I don't feel too bad about it because it is literally my *only* real town stop over the course of almost two months of hiking.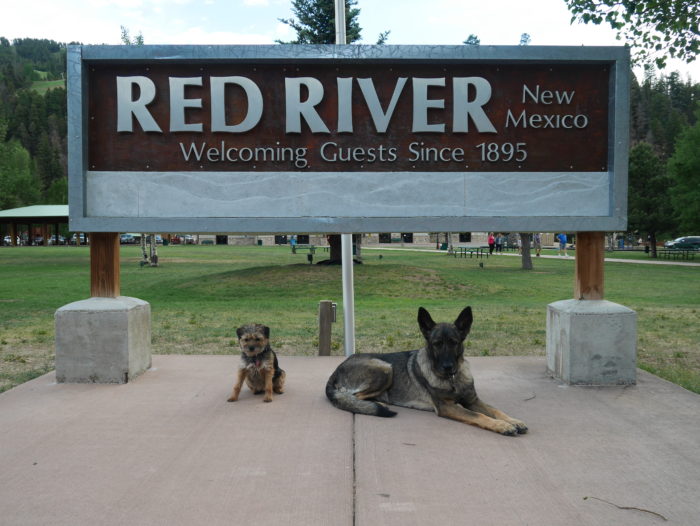 I was able to find a dog friendly room at the Deer Lodge, which is right off Main Street. The room was nice with two queen beds, a good-sized mini fridge, and a microwave. There was also TV and WiFi.
The biggest downsides were the cost and lack of soap for my shower.
Like the hotel room, it seems everything in Red River is expensive. I live in Durango and the grocery prices made me cry inside. That didn't stop me from going three different times to pig out. I also ate out (aka ordered to go) for dinner. After singing Cheeseburger in Paradise for days, I ordered one from Dairy Bar. Mostly, I just hung out with the dogs at the park and in our room, letting them rest.
It Begins
After vegging in our room all morning, securing the wagon, and deciding to reroute, the final order of business was fetching our resupply cache. The most annoying thing about it was that I had placed the cache about 1.5 miles down our original route. We made the trek out to grab it, then back to town. This is the first box to look like something might have noticed it, but probably only a squirrel.
We grabbed a few last-minute items from the store, like puppy food and water jugs, before setting off down the highway to Questa.
By this time it was 3:30 or 4 p.m., so my goal was mostly to make it Questa before dark, approximately 13 miles. Fortunately for me it was pretty much all downhill with nice shoulders. I don't think I would have made it going the opposite direction.
The walk was scenic and mostly uneventful. Several folks stopped to see if we wanted a ride, but because this is technically part of my route I turned them down politely.
We stopped for dinner at a cute little fishing lake right outside of town around sunset, 8-8:30 p.m. in our part of the world. I ended up deciding to take advantage of this last section of national forest and snuck off into the woods to camp. Since I was planning on getting an early start, I was a bit lazy with my tent set up.
Welcome to Colorful Colorado
Between the warmer temperatures, being afraid I would sleep through my alarm, and getting sprinkled on since I didn't set up the fly, I didn't sleep very well. The good news is it made it easy to get up at 2 a,m.
I tore down camp quickly and we set off by 3 a,m. The dogs walked to the edge of town partially because it was uphill and partially so they could go to the bathroom. I tried to rig up a harness to pull the wagon, but it didn't seem like it would work.
I got the dogs settled with their quilt in the wagon and commenced pushing it against traffic toward Colorado. Fortunately, even though the highway between Taos and Fort Garland is paved, it isn't nearly as busy as many other highways in Colorado (i.e., 550 or 160).
The early morning was quiet and traffic slowly started to increase, but not terribly. A few ranchers checked to make sure we were OK.
The sunrise was gorgeous! The views abounded, including the Latir Peaks and the Blanca group far to the north (our approximate destination).
I realized over time that pushing the wagon was easier to sustain long-term than trying to pull it. It wasn't too horrible on the flat highway, but it certainly did slow me down over time.
My first goal was the town of Costilla, New Mexico, which is about 20 miles north of Questa and pretty much right on the border. I took breaks about once every hour or 2-3 miles. I'd stop and sit on the side of the road, eat a snack, and let the dogs get down to stretch.
I am fortunate to have very adaptable and trainable dogs. While not the most comfortable ride, they quickly figured out that they needed to stay in the wagon unless given permission to get down. I think their least favorite part was sharing with each other.
Mile post markers are a blessing and a curse. I spent a lot of time watching the mile numbers on our monotonous walk. I also had good enough cell reception to get some music out of my system. Definitely listened to Wicked and The Sound of Music.
Things definitely started getting toasty early, but pushed on and reached the Costilla gas station around 11:30 a.m. Popped in and grabbed a sandwich, chips, gummy bears, and a drink. Decided to walk the mile and a half to eat lunch on the state line.
Got to the border about noon. I set up my Gossamer Gear umbrella with the wagon to make some shade, then enjoyed an hour of listening to music, eating, and power napping.
After lunch, we went over and took pictures by the Colorado sign. CDOT is resurfacing the pulloff and the guys were nice enough to take our picture. They also gave us directions for a shortcut to the town of Blanca to cut off the towns of San Luis and Fort Garland.
I continued to trudge on with the dogs in tow. The sky became overcast, which was good news for us. Storms raged in the Sangres and we had a few squalls blow through. Around 4:30 p.m. a gal in a truck stopped to say she lived a mile up the road and offered to let us camp.
I thought really hard about just continuing to walk because I felt good, but knew it was dumb idea. I had called the motel in San Luis the day before and it is closed due to COVID. My original plan had been to walk all the way to Fort Garland in one day (over 50 miles) and my revised the-wagon-is-slowing-me-down plan was to keep walking with power naps in the ditch until I reached public land (also over 50 miles).
Needless to say, I turned down the farmer's driveway a bit after 5 p.m. Best. Decision. Ever.
Turns out Leah knows one of my good friends from the Grand Junction area, but regardless she and her husband were just super awesome and we hit it off right away. It also helps that I have an Ag background and can relate to their lifestyle. They are both pretty outdoorsy, too.
I pitched my tent, then they fed me dinner before we all sat around a fire outside. I even got a shower with shampoo before bed! It was so unasked for, but greatly appreciated!
A Hard Day of "Hiking"
After my 2 a.m. start I decided to scale back and start at 3 a.m. It was much harder to get up as I was warm and cozy in my bag. Regardless, I got packed and headed out by 4 a.m.
We walked for a short stint on the main highway before turning west onto a county road to take the shortcut. I made the dogs walk until we reached the intersection with the main north-south highway of day: Road 12.
Unfortunately, some misgivings I had about this shortcut ended up being true. While there were nice, smooth sections on 12, there were a lot of not nice sections. Rocks, washer boards, and deep dirt were the problems we faced. There were times that I just couldn't pull the dogs, especially when the dirt was thick like quicksand.
Aside from road conditions, other excitement included seeing "wild" horses and some curious cows. We also passed road-leveling work and had TONS of people stop to check on us, particularly because it was really hot. We took lots of breaks and I was incredibly thankful for my umbrella.
About four miles from Blanca we had a nice stream/water break. It was too mucky to swim, but the cattails and dragon flies were an oasis in the desert.
From there we pushed hard and finally made it to town around 4 p.m. I ordered a bison braut from Lu's, then grabbed some AriZona iced tea and a gallon of water from the convenience store.
The rest of the day was a veritable slog. Three people offered me a ride right out of town, then it was just marching on the side of Hwy 160. This road was much, much busier.
Alternatively, the shoulder was nice and wide. It really felt like my feet were going to fall off and to be honest I had to fight tears. I couldn't stop because there wasn't any public land until the Como (Blanca) road trailhead eight miles out of town.
Finally, I reached said location after 8 p.m. The upside was the phenomenal sunset over the San Juans across the valley. I set up my tent in the thick dirt and tried to go straight to bed. After 15 minutes, I took ibuprofen since everything from the hips down hurt. My legs even kept twitching.
Too Much Stuff
I made a deal with myself  that I could sleep in after the two long days. As a result, I got up after 7 a,m. This was a big mistake!
It was already getting toasty when we rejoined the road to the Sand Dunes around 8:30 a.m. I hoped to give the dogs a ride for as long as possible, but shoulder on the highway was also very small.
While walking, we passed a car on a side road. The gentleman ended up being Gregg from Massachusetts who lives just down the road. We had a nice conversation and he gave us a dozen eggs from his chickens! Mmmmm.
Maybe 30 minutes later, I decided I was REALLY over the wagon, so we went through a BLM gate and stashed it the same way I hid our food caches. That way I can pick it up after our hike.
Unfortunately, I had collected a lot of extra items for me and the dogs by this point. I consolidated the water and did my best with everything else. I knew there was stuff that I needed to get rid of, but I couldn't leave it in the bushes.
AND that's how I ended up carrying ten pounds of dog food like a baby on the side of the road. However, it gets better. Gregg's neighbor found us and gave me a goodie bag with water, chips, and home madesandwiches. Yum! However, I didn't want to carry them, so we stopped shortly after for lunch.
While I was eating and repacking, ANOTHER person stopped to make sure we were OK and proceeded to give me a neat rock necklace and an owl feather. Super nice!
The walk after that was hot. The dogs both wore their cooling coats and booties. I again utilized the umbrella for breaks. Near Zapata ranch a nice lady stopped to see if we wanted anything from the little store right outside the park. She ended up taking my food "baby" ahead for me, which made a huge difference in my pace and attitude.
We reached the store around 3:30 p.m. and I ordered a French dip at the window. I decided that even though we only walked ten miles, that I had had a long few days, so booked a siren at the private campground.
The rest of the evening consisted of catching up with friends, ice cream, and egg drop soup (thanks to Gregg's eggs!).
Other Updates
The dogs are doing quite well at the moment! They have been well behaved when I go inside without them and their paws are feeling better with the rest.
Affiliate Disclosure
This website contains affiliate links, which means The Trek may receive a percentage of any product or service you purchase using the links in the articles or advertisements. The buyer pays the same price as they would otherwise, and your purchase helps to support The Trek's ongoing goal to serve you quality backpacking advice and information. Thanks for your support!
To learn more, please visit the About This Site page.