The Sangres: Colorado's Hidden Gem
Between not having cell connection the rest of my hike and moving across the continent, I never posted any updates for the rest of the San Luis Loop (oops!). Rather than try to continue on with my sassy narrative, I will just be posting what I wrote in my journal with some added annotations. Hopefully, if I get bored over the winter I will go back and add some more detail. Until then, here is the next much awaited installment of the SLL 2020!
The Great Sand Dunes
Things are finally getting back to normal hiking. Snoozed my alarm until 5:30 am, then got up and packed. Beautiful views of the Dunes as the sun slowly rose over the Sangre de Cristo Mountains.
Stopped and threw away my trash as well as washed my cook pot, filled up on water, and used the bathroom by the RV campsites. Put musher's secret on Prima as well as the booties I bought in Red River on both dogs. I thought I had another roll of dog poop bags, but apparently I was wrong. . Also, difficult to stuff everything in my backpack due to the sheer volume of food. The good news is that Prima in not looking nearly as skinny. She actually seems fit, so worth it to carry the extra food.
In a really good mood walking the road and felt like I made good time to the visitor center (about 4 miles). Went to the back to sit down and have a food/water break. Also bought a sticker. Lots of backpackers waiting for the permit office to open. Since we aren't technically camping in the back country in the park, I didn't need a permit. Walked down the trail to the dune field. So nice to have a trail and we saw some fancy looking mule deer! Didn't go into the dunes, just looked. A whole stream of folks going out, looked like ants.
Walked back up to the main road and continued on. Talked briefly to a park ranger who was checking on us. Said there was water at Castle Creek. Pleased that the road wasn't paved after Pinon Flats Camp Ground, but the down side was that it was sand all the way past the Sand Ramp trail head. I hate walking in sand! Took lots of breaks as it heated up and saw quite a few cars, it is a Friday I guess.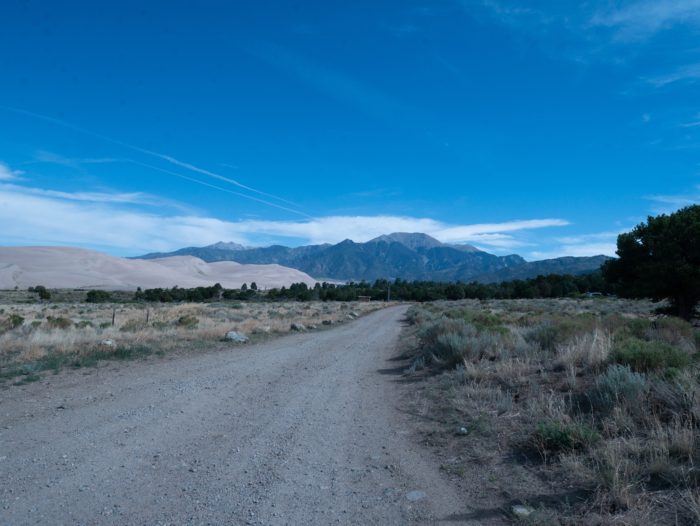 Had couscous for lunch and filled up on water a bit past Castle Creek on an awkward hill. Also talked briefly to some backpackers who are camping in the dune field. Tried to continue on with cool coats, but the dogs were unhappy, so stopped at the next picnic table and had a siesta. Surprised the sand bothered them, I could hold my hand to it and it was just warm rather than scalding.
Started again around 2:30-3 pm as it was a bit overcast. Still warm walking at times. Once we crossed the Medano creek things got much better: easier to walk and more water.
The dispersed sites in the preserve are fancy. They have bear boxes! Crossed the creek multiple times (10+), so accepted having we feet. Loved walking through the cottonwoods at the beginning. Not as into the burn area, but the aspen groves at the end were nice. Tons of biting flies all day long. Noticed towards the end that they wrecked Prima's ears. The creeks were so sandy I couldn't find mud to cover her ear tips with!
Decided to camp just west of the pass so as to have water. Started looking for a site in the aspens, but they were all full. No open sites by the Medano Pass/ Medano Lake split, so tried walking toward the lake. Those sites were full too, so walked a couple hundred feet up the trail to random/back country camp. Really bummed I don't get a bear locker 🙁
About a mile from the pass and 11 to the next cache. Going to set my alarm for 5 and plan to be up by 5:30 again. Had potatoes for dinner, fed the dogs, and read a bit. Back is rather sore from hauling all that dog food. Found a whole bunch of shooting stars by my bear bag and saw new, neat flowers on the main park road today.
My fingers were sausages this AM, but are normal now. My feet are peeling from the road abuse and water crossings. In good spirits overall though!
Rainbow
Got up by 5:40 am, hard to get up as I was cozy with the dogs. A bit damp due to the meadow, but got packed and fetched water regardless. Saw an open site just up the hill towards Medano Pass. Grrr!
Easy hike to the pass and a neat sign about Lt. Pike at the top. A bit steep walking down in places, but otherwise nice. Made good time to the road junction and headed off to find the Rainbow trail. Took longer than I thought and mostly uphill. Warmed up fast too! Saw some folks camping and ATVing along the way.
Finished another camera memory card, so switched that out. Got to the Rainbow trail (woohoo!), but still uphill walking. Then steep downhill. Saw some dirt bikes and a trail runner along the way. Definitely rocky in places.
Made it to the cache after filling up with water around noon. Grape Creek trail head looked busy when we went by. Found the cache no problem and spent over 2 hours making lunch, reading, and repacking. Worked out as it gave things time to cool off. Had Spanish rice with fajita chicken, taco sauce, and dried chili flakes for lunch. That's a keeper: delicious and filling!
Left the dog cooling coats and second platypus at the cache. Filled up on Musher's Secret.
Some thunder and rain drops when we left around 2:15 pm. Dogs got lunch and I was somehow able to fit everything in my backpack. Bummed that even though the dogs looked great in the morning, even trying to play with each other, both were gimpy in the afternoon. Looks like Prima has a spot on/near her right front dew claw I need to check. Skittles just needs booties I think.
Passed a family and got sprinkled on. Put solar panel away and rain coat on. Great views of the Wet Mountains and valley. Seemed to go fast in the afternoon. Took a break at crystal falls creek and talked to a father with 2 daughters near the Marble Mountain trail junction. They said there is supposed to be caves up there. Took another break at the last creek and filled up, then got to South Colony Lake Road around 6ish. Definitely more people!
Found a spot on the road and set up. Tried to have cold grits to save fuel, but tasted nasty. Had hot chocolate and read while watching hikers and cars go by. Just finished storing food. To much for bear bag, so hung the rest in Prima's pack. Remembered why I hate bear hanging! Better eat down the food tomorrow. Saw some deer today (bucks), lots of Prickly Rose, even some Blue Columbine. Also saw Paintbrush and finally found an open Fairy Trumpet. Really hope to make Comanche Lake tomorrow, but we'll see how the dogs do…
Shoulders of Giants
Heard people going up the road early, both cars and hikers. It also got quite breezy last night. Weird half dreams about bear getting my hang, wind knocking it down, and trees falling on us. Snoozed alarm a few times before finally getting up at 5:40 am. Breezy, but not horrible where we were.
Prima still a little lame, so put on wax, socks, and boots. Seemed much better after. Realized that I emptied my tent again with my earrings in the side pocket. Grrr! Found one in the dirt and luckily the other was still in the tent.
Got going at 7 am, but stopped for water at South Colony Creek. Wonderful hiking all day long! The uphills weren't bad, lots of creeks, and all the trail junctions broke up the day.
Some folks with 2 dogs camped next to North Colony Creek. What a different world to be eating breakfast at 8:30 or 9 am!
Took a few breaks, but back actually did well. Met a few groups around the Horn Creek/Peak area, including a large group of guys with very clean looking gear. They camped at Comanche Lake 2 nights ago and said the trail was good.
Stopped and had lunch at Cottonwood Creek. Really pretty with the water coming over the big rocks. Made potatoes and read, then ended up eating the tuna too. Enjoyed the break, packed up, and left about 1 pm. Dogs a bit sore again, even with booties.
Not far to Comanche turn off. Met a nice older couple from Canon City. Talked a bit and realized Skittles lost a bootie- probably kicked it off. Signed the trail register and started up the long, steep hill to Comanche Lake. Really not so bad as I have been dreading since I'm in better shape and was loosened up.
Quite a few people coming downhill. Seemed like mostly day hikers, but saw at least 1 backpacker and 2 trail runners. Got a bit overcast and spit rain as we approached the switchbacks, which was fine with me. Lots of moths coming out of the trees looking like falling leaves.
Ended up getting to the lakes and set up by 4:30 pm. We crushed it! Worth the uphill as the lake is beautiful, especially now that the clouds blew out. Best part is we have it to ourselves. Limited view from our campsite, but we are protected from the wind. Camp site options seemed limited. Got water and wiped myself down as it has been dusty. Ate trail mix and a poptart (oops!) and read some more.
Prima has big sores around her dew claws. I think I might try to wrap them up tomorrow. Saw lots of flowers today, including clover. Super excited for tomorrow, I bet it's going to be gorgeous!
High Route
Listened to the wind gust all night, so didn't have much motivation to get up at 5 am. Got light between 5:30 and 5:45 am, so finally pulled myself out of the bag. Beautiful sunrise over the Wet Mountains!
Got everything packed and wrapped Prima's dew claws with vet wrap and gauze (for padding). Breezy uphill, but took it slow. Became overcast after sunrise, super disappointing. Great views of the Crestones from the pass at least.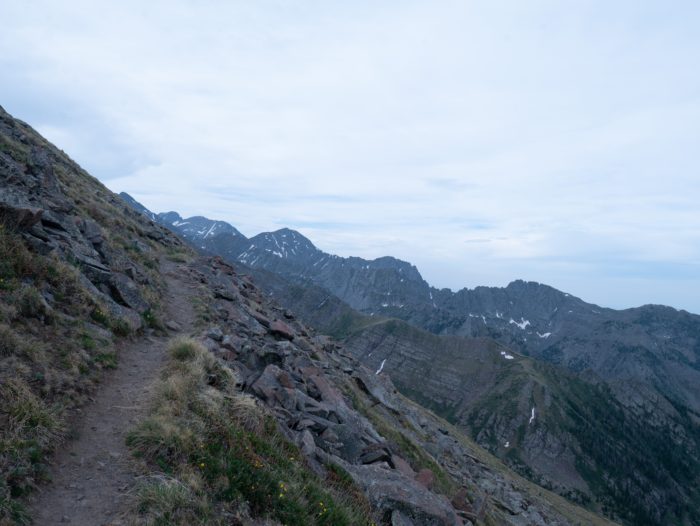 Phantom Terrace was wicked awesome, but also so sketchy because of the gusting wind. Checked the forecast at the Venable Trail junction, supposed to be windy all day and tomorrow. Thought hard about bailing back to the Rainbow trail, but decided to go to at least Hermit Pass instead.
Venable Pass was a quick climb and much more protected. Fought willows on the other side and started to climb again towards San Isabel Pass. Prima vomited some kibble shortly after eating snow. Seemed okay otherwise, so continued on. The climb to the next pass wasn't bad either. Surprised to meet another hiker on the other side. An older guy with a UL type set up and a Boxer (dog). Talked a bit before heading down.
Saw a deer, crossed a steepish snow field, and found tons of Shooting Stars. Also saw the first Elephant's Head of the year.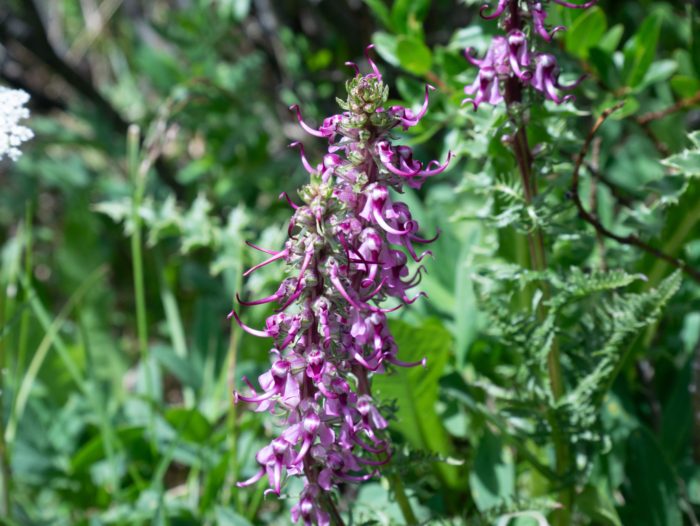 Met another UL type hiker heading up towards Rito Alto pass. Said she camped at Cotton Lake and that it was beautiful there. Easy climb to the pass and pretty calm. Definitely decided by this point to go on to South Brush Creek. Sun peaking out now and again too. Saw two more backpackers with fishing gear heading down to Rito Alto lake. Didn't talk though.
The marmots here are a dark chocolate brown and seem oblivious to the dogs. One watched as we walked right up to it before taking off. Had a short (30 minute) lunch on the south side of Rito Alto Lake. Anxious to go on today, so put booties and socks on Prima and left.
Easy walk downhill in the sunshine. The next trail was much fainter, but still easy to follow. Had a gel and pushed up to the pass. Knew about the false summit before the pass, but still got mad/surprised when I crested it. The walk down to Cotton Lake was long, but beautiful.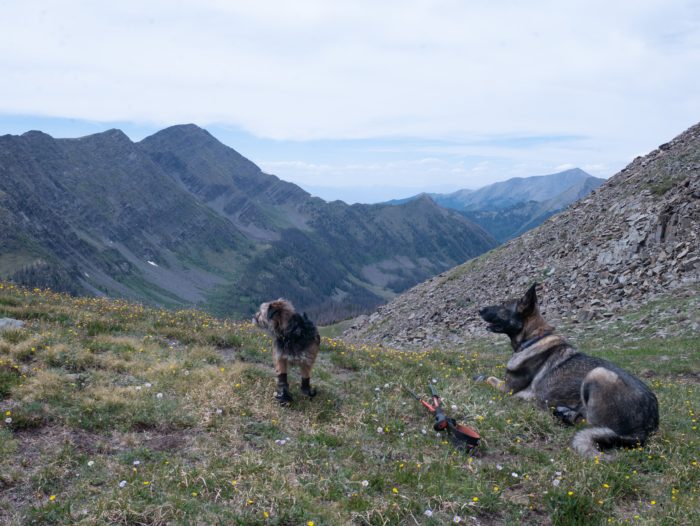 Interesting geology here- rocks inside rocks and striations on the mountains like in the Elk Range. Kind of reminded me of Jasper National Park too.
Took a break at Cotton Lake around 4 pm. Definitely scenic, but also kind of creepy with how quiet it was. Decided to hike 2-3 more miles to next trail junction. Met 2 backpackers literally just down the trail. The lady I talked to just retired from nursing and also lives in Durango. She originally just wanted beta on where the trial goes, but we ended up talking for a bit. Said that there were lots of blow downs heading down hill.
Wasn't kidding! I counted almost 50 with several being big snarls. Lots of nice Aspens towards the bottom, but still dead trees there too. As such, I grabbed what is probably not the greatest camp site in a lumpy meadow. At least there's water close!
Boiled water first so rice could soak, then set up camp. Fed the dogs and ate Mexican Rice with Tajin, which was really good! Only problem is I added to much water.
Read some and the dogs lounged. Both dogs lost more booties to the blow downs. Worried about Prima's dew claws, they look even worse tonight. No more boots for her even if she limps!* Skittles seems to be doing okay at least.
Pretty gusty again, but at least the sky is clear. Overall, even without perfect weather, I'm glad I took the high route. It's been absolutely gorgeous! One more climb tomorrow…
*This was also based on information from a trusted veterinarian who has sport/competition dogs. She told us that it is better to let the dog limp so that their feet can toughen up rather than have a dog wear booties.
Back on the Rainbow
Pretty breezy again last night and since we are on the west side of the mountains I had a hard time getting up at 5 am. Got up at 6 instead and was able to pack quickly.
Nice walk through the aspens and I think I made a good camping choice. Lots of blow downs immediately after turning onto our trail. The trend continued most of the day.
The large majority of the uphill was on long, gently graded switchbacks. However, this meant it took a long time to get to the pass. Phone says it was about 5 miles. Hard to know because both GAIA and NatGeo maps don't show the actual switchbacks.
Clear, but breezy starting out with excellent views back towards the south. So windy that it essentially pushed me over the last 30 feet of the pass. Took a break on the leeward side, clouds were gathering which made it pretty chilly. These 2 factors paired with the fact that there was no visible trail made it easy to decide to just go down South Brush Creek rather than over to Banjo Lake.
Almost forgot- great views of the Juans today! The trail down South Brush Creek was easy to follow all the way to treeline. Very happy to get out of the wind. The next bit it was difficult to follow due to the sheer number of blow downs. Totally GDT style: try to go around 1 and there are 5 more! GPS didn't show trail, so very happy we were able to find it again. Lots of blow downs until we crossed the South Brush creek, but not nearly as epic further down the hill.
Also heard, then saw, a herd of Elk on the side of the mountain across the way. Very neat!
Relieved when the trail improved, though the clouds dispersed and it warmed up significantly. Took a short break at South Brush creek around 11:30 am before deciding to push on. The next small stream was dry. We eventually joined back up with the Rainbow trail shortly after. GPS said about 23 miles to the next resupply.
The trail was now nice and wide open, likely because it appears to see more ATV use than further south. Pushed on to find water for a lunch break. Had to go all the way to where the Rainbow Trail crosses South Brush creek.
Had hot buffalo tuna and oatmeal for lunch. Also read some and enjoyed the sunshine. Started again about 2:30 pm after being licked by a bee.
Definitely more arid! Dogs thought it was hot, but really not as bad as it could have been. Had views of Pike's Peak and the northern Wet Mountain Valley. After North Brush Creek we entered a burn area without much water. Finally found some and took a break after crossing North Brush Creek Trail.
A family of 5 passed us going the other way while we were stopped (~4 pm). Pushed on to North Lake Creek. Not to much further of a walk. Lots of water and a bridge, but had to go uphill and camp in an awkward spot next to the road. Got the tent to fit, then made chicken rice for dinner. REALLY hope I have more fuel in this resupply, basically out now.
Some folks in swimsuits walked by while I was reading and a 4WD car also went by just now. Must have swam at the lake up the road.
My socks, which have been dying for a while, are pretty much toast. The dogs are a bit foot sore, but not terrible all things considered.
Going to try to get up early with the sun on our side of the mountains to avoid hot hiking. Have been seeing Purple Fringe above tree ling and these neat orange flowers down low. Looking forward to my resupply!!! We kicked butt today.
Washouts
Alarm went off at 5 am, got up at 5:30 am. A bit brisker than I was expecting and the sun came up shortly after I did, though mostly blocked by the trees.
Turned out to be a way more epic day than I wanted. Got packed and started walking up the forest service road about 6:30 am. 2 ATV's passed us, then we didn't see anyone the rest of the day until the very end. Felt bad for the dogs because the road section was pretty rocky- no booties for either one, just paw wax. The walking was easy to follow at first and definitely scenic in its own right through the burn area. You could tell it wasn't highly trafficked though.
After Oak Creek, which was flowing, things began to go downhill fast. Ate all my remaining snacks (slim jim and fruit snacks) for one thing. Then the trail became more single track-ish and fainter. Disturbed either 2 groups or the same group of mule deer bucks.
At Mosher Creek the trail disappeared into a TON of blow downs next to a ravine. Realized I needed to cross the ravine and found an only medium hairy spot to do so. The dogs had trouble getting up the other side, so I had to show them how to climb the log I used to get out.
Miraculously, I found the trail again on the other side. Ran next to a little creek for a ways, but had to walk through lots of thistles. The closer we got to Big Cottonwood the better defined and maintained the trail became.
Got to Big Cottonwood Creek about 10:30 am. Drank lots of water and ate my tuna. Now all I had left was a ramen packet, grits, and no fuel. Someone took the bridge down, so had to cross and climb up the bank to the other side.
Read on the trail head sign that travel wasn't recommended between Mosher Creek and Slide Mountain due to poor trail from the Hayden Pass Fire. Great.
Hard to find the trail on the other side, so followed Wolf Creek. Didn't matter anyway, when I found the trail it was washed out. Let's just say the hike up the creek had a lot of character building involved. There was almost always some sort of trail and you could tell someone did work because a few logs were cut and there was flagging. However, the trail was washed out in many places, overgrown, and there were lots of blow downs. Had some interesting climbs up the embankment, especially with the dogs.
Took a nice break at a good spot and the dogs laid in the water to cool off. Pretty soon after we started climbing up Slide Mountain and the trail improved significantly. Other than being dry and rocky in places, the trail was great the rest of the way.
Took a break on the Slide Mountain saddle and gave the dogs water. From there we pushed all the way to Hayden Creek. Nice views all along the way of the high peaks and started to get bigger patches of live trees. Downhill the whole way too. The dogs really started to burn out, but trucked on.
So happy when we finally got down to the creek! They took the bridge out here too. Easy walking on a wide trail and found the cache right away. Did have a dumb tumble in the dirt.
Was hoping to camp where I did in May, so walked all the way to the road. A guy in a mini van stopped to say hi. I feel bad judging since I definitely look like a hobo, but inside of the car looked pretty trashy and he gave me a weird vibe, so I was pretty noncommittal with my answers  to his questions.
Someone was parked at my spot 🙁 so went back a bit and into the trees. Found a nice location by the creek. Flat too (in more ways than one)! Wiped off, got water, and pigged out.
Had some cherry sours and all the goldfish and oreos. So bummed stuff in baggies has that weird taste. Read most of the afternoon and sent family a note on the inreach since no cell reception. Fed dogs dinner with wet food from the cache. Also got most of it sorted out for tomorrow.
Prima looks pretty sore, so we'll see how that goes. Made couscous for dinner, but only ate half because there was so much! Great to feel full again! Also, had a coke and canned oranges. Charged power bank with solar panel all day, so enjoying some music tonight.
Saw lots of neat flowers today, one of the upsides. Fairy Trumpet, Penstemone, Pasque, Hair Ball, Paintbrush, and a new, big, yellow one. Going to read a bit more before bed. Only about 30 miles to Poncha Pass.
Almost forgot, switched to my crew socks since the others are mostly dead. Also, my feet are peeling like crazy!
Chill Bears
Really enjoyed just listening to music last night. Slept well and got up with my alarm at 6 am. Got everything together and organized. Prima wanted to sleep in today, but got up eventually. Cached the resupply box across the stream from where I camped, then set out. Put booties on Prima's back feet and paw wax on both dogs, but still pretty slow starting out.
Felt bad making dogs in a camper van bark as we walked by. Went up to the Hayden Creek camp ground to find the Rainbow trail. Missed it once, then found it. There was even a bridge!
Knew it was a good hill to start off, but still took longer than I thought it would. Tried to go slow for the dogs, but hard for me on uphills as I just want to get it over with. Nice walking in the morning after that with a few uphill sections. Mostly rolling with a good number of flowing creeks.
Planned to stop near West Creek for lunch and was eager to get there after a good uphill section. Came down and was looking for a flat spot to sit when I looked to my left and what should I see but a Black Bear across the creek! It had its back to us and was doing its thing. Told Prima to stay (she was trying to get a drink) and Skittles was next to me. Then I tried to get Prima to come closer to me, but she was fried from hiking. The Bear just finished what it was doing and moseyed off like we didn't exist. So cool!!!!
There was a nice flat spot on the other side, so we took lunch from 12-2. Had the rest of the couscous from last night with lemon pepper, then ketchup. Also had the tuna packet. Read some, etc. Put more musher's on the dogs before leaving.
Slow start again, but doesn't seem as bad once we all get going. Afternoon was less hazy (not sure if there is a fire somewhere), but cooler due to slight breeze and some puffy clouds. Seemed to go faster than the AM.
Took a good break at Howard Creek around 4 pm before tackling another big hill. Once again, I knew logically that it was going to be long, but still surprised when the trail continued to go uphill. Nice views south at least!
Took a break at the top and decided to see if I had cell reception. I did, so downloaded Guthooks since I don't know how things will be around Hwy 285. Lots of texts and politics between family. Glad I'm out here! Also, got pictures from some friends. Turned airplane mode back on quickly and continued on.
No obvious camping at the Bear Creek trail head, so went to the second creek past it. Found an awkward, mostly flat spot next to the trail. Good thing no one is out here and I'm getting up early!
Made teriyaki noodles for dinner. Neither of the dogs finished dinner, though they did both get treats for lunch. Keep hearing cracking from an aspen across the creek that is trying to fall down. Two aspens by me are trying to fall too, but in different directions.
I love how varied the forest was today, so many different "characters" depending on where we were. Also, only had to walk over 1 blow down, hurrah! Saw quite a few columbine, including some really small ones. There are some neat tree cuts by my tent and we saw 1 buck today.
So close to the Colorado Trail! Hope the dogs start making the turn for the better soon.
Poncha
Slept well last night other than that aspen finally coming down around 11 pm. Woke all of us up. Got up at 5:30 am. Had high hopes because both dogs go up right away for a drink. Packed and left about 6:15 am. Slow start for the dogs.
Ended up hiking through the Decker Burn area all morning. Luckily we camped on the edge of it. Pretty in its own way, but new so little vegetation. Some areas were very sooty. Nice views of Salida and the Arkansas River Valley as well as the Collegiate Peaks as we hiked around Methodist Mountain.
Saw 1 Buck in the morning. Filled up with lots of water at Rock Creek, wasn't sure what would be flowing and most creeks were intermittent. In a great mood all morning.
Stopped and ate tuna before climbing the Poncha Mountain saddle. Saw 3 mountain bikers and talked to one older gentleman with an English accent who wants to hike the Colorado Trail.
Started up the hill around 11 am as I was worried about the heat. The hill was long and hot, but breaks helped. Had reception at the top, so sent a few quick updates before continuing on. Also deleted Guthooks as there seemed to be lots of beta entries already .
The downhill started off nice in the aspens, especially with the cloud cover, but seemed to drag on. Nice views of Mt. Ouray and Chipetta at least. Also found some pretty flowering cacti. Met 2 girls near the trail head. Stopped and took a break right before the road, which was a good choice. Lots of mountain bikers coming down the other side.
Both dogs really lame crossing the highway. Nice, long switchbacks and well graded hills, but slow going with the dogs. A guy at the road yelled at us, but not sure if he was admonishing me or offering a ride. Either way, I was in a pretty gloomy mood the rest of the afternoon. Doesn't help that I hadn't had anything to eat since 10:30 am.
Lots of bikes passed us. Also, worried about water and if the stream by our cache would still be flowing. Reached the cache about 4:30 or 5 pm. Found it easily and set up the tent by a fire ring. Stream is flowing (yay!), but pretty low flow. Lots of ATV's and dirt bikes going by on the road all evening. Also has been raining and thundering on and off.
Had some brownie mix, goldfish, and some peach-o's. Prima didn't eat very well and her feet are pretty banged up. Lots of extra dog food in the resupply, but not really any extra people food. Trying to decide how and when to take a zero. Will also definitely be breaking out the dog booties.
Would theoretically like to make Tank Seven Creek tomorrow, but not sure how the dogs will be . The only thing holding us back are the dog's feet, everything else is going pretty well. Wish they would have toughened up. It would have made life a lot easier. We'll figure it out…
Spoiler Alert!
Both dogs survived and while their feet were a constant struggle, things improved over the next few weeks!
Affiliate Disclosure
This website contains affiliate links, which means The Trek may receive a percentage of any product or service you purchase using the links in the articles or advertisements. The buyer pays the same price as they would otherwise, and your purchase helps to support The Trek's ongoing goal to serve you quality backpacking advice and information. Thanks for your support!
To learn more, please visit the About This Site page.