The SNT: Fort Augustus to Morvich
In this section I began the part of the SNT which follows the much better known Cape Wrath Trail, which is what people will assume that you are hiking should you get this far. They'll be baffled to learn (should you tell them) that you have actually hiked all the way from the English border and the CWT is merely the final long leg of a far larger journey. Unless, that is, they are well versed with the long trails of the world – then they'll get excited, but in my experience, I believe that I only met about four or five people on my entire journey that knew what the SNT was. Typically after telling them that I had come from the border they'd require more clarification and I found that I lot of northern Scots understandably had no idea where Kirk Yetholm was. (It is pretty small.)
It was in this section that I first encountered a horrible black slime covering wet rocks residing in watercourses which was insanely slippery – beware!
NOTE: this entry briefly mentions lady issues, so if you're not cool with that, maybe read something else.
The Journal
Day 30 – Culloden Battlefield
Kilometres: Zero
Travelled: To Culloden Battlefield from Inverness then back via transit bus. Also Morrison's.
Things Seen: Culloden Battlefield, which was the last battle fought on British soil and a critical turning point in British history. The exhausted Scottish Jacobites led by Bonny Prince Charlie faced the confident and well-rested English government troops of Cumberland who had just celebrated his 25th birthday by feeding his men cheese. (No, I am not joking, he really gave them a celebratory cheese ration.) All thru-hikers know that cheese is a source of happiness and so the poor Jacobites were defeated, over 700 men perishing in only minutes, mostly from distance weaponry like the horrifying field canons, the larger of which fired 'bunches' of grapeshot – forty little balls of lead hell enclosed in fabric which could cut down multiple ranks of men. Somehow I wasn't expecting the battlefield to be as vast as it was and it was actually larger then the protected land of the memorial site. Somehow, I ludicrously thought it'd be on par with, say, a soccer field – nope. Also, I saw a hut there and its thatched roof appeared to be made of heather. Altogether it was an amazing, humbling, and sobering place which I am grateful that I got to experience.
I also got to see Moray Firth (the bay of the North Sea which touches Inverness) albeit just from a distance and Inverness Castle, which has been rebuilt many times and totally has a statue featuring a border collie. (Chilling with a badass lady Flora MacDonald who saved Bonny Prince Charlie's arse by making him crossdress in order to help him escape. Heck yeah!)
I also stopped by the grocery store Morrison's to nab supper and I finally found root beer! Woohoo!!
Weather: Overcast and a touch breezy.
Camp: The epic hostel.
Injuries: None, although the extensor tendons on my right ankle are a bit sore to the touch. 
Food Eaten: Onken black cherry yogourt (my favourite,) a peppermint Aero bar, a McVitie's mint biscuit,  microwave macaroni and cheese mixed with Quorn chilli with extra chilli pepper as well as salt (yummm,) and Quorn Tikka Masala which… wasn't so exciting. I also drank the last of my Schweppe's Canada Dry Ginger Ale and drank most of a bottle of Fentimens Ginger Beer, which was waaay better! (Probably the lack of aspartame and the real ingredients.) 
Favourite Moment: All of my time spent at Culloden Battlefield.
Funniest Moment: Watching a Weird History episode on Youtube (the narrator is pretty hilarious.) Also finding out that the Brits call menstruation pads 'towels' and that Morrisons conveniently sells an ultra small pack of toilet paper – just two rolls. Perfect.
Animals: Sheep, highland cows plus some normal dairy cows which the Culloden Battlefield centre uses for maintenance of the battlefield. They also have goats! It's the first time that I have seen goats on this trip, plus they had two very cute highland ponies. I don't understand why cows and sheep always have huge pastures while horses are often confined with electric fencing to one little area of their field in this country. I also saw some cute songbirds.
Stuff I Thought About: Culloden Battlefield and how my health is thankfully improving since that storm kicked my ass. Hypothermia, even just mild hypothermia, isn't fun, kids, and in Scotland I have now had it three times. I am grateful that I know how to treat it but also wary because this crazy country just loves its nasty evil weather.
Anything to write about?: Nope.
Day 31 – Sink Laundry
Kilometres: Zero
Travelled: To Morrison's.
Things Seen: Literally just the grocery store, my hostel and a pretty sunset.
Weather: Overcast.
Camp: The epic hostel. 
Injuries: Right extensor tendons remain sore to touch.
Food Eaten: Yeo Valley raspberry yogourt, two apples (pink lady and braeburn, prefer the braeburn,) Virgil's root beer, Fentimens Ginger Beer, Fentimens Dandelion and Burdock pop, some watermelon plus a large £4 cheese and onion quiche which I ate all by myself. It was meh. (And by large I mean that it was the size of a standard pie.)
Favourite Moment: Chilling in bed pretty much all day.
Funniest Moment: Accidentally spilling the weird but tasty Dandelion and Burdock pop on myself, necessitating sink laundry then some abuse of a hair dryer.
Animals: Seagulls and one white standard poodle chilling in the back of a car. I can confirm that its haircut was a bit on the stupid side.
Stuff I Thought About: Writing and planning the last 300 plus kilometres of this trail.
Anything to write about?: Learned that I only have capacity in my pack for a week's worth of food.
Day 32 – A Nice Flat Day
Kilometres: 21.8 km/13.54 miles with a moving average speed of 8.5 kph/5.28 mph.
Travelled: Fort Augustus to just past Mandally.
Things Seen: The fabulous Caledonian Canal (which gets significantly less fancy away from settlements,) pretty Loch Oich (which is probably the most fun Scottish place name to say,) a long distance transit bus with curtains (I was fascinated,) Loch Ness, a cool swing bridge, quite a few boat locks, an old train bridge, a public composting toilet (a real public toilet! It was so splendidly amazing!) Also quite a few boats, canoes and kayaks; it was fun walking on another rail trail for a bit too along Loch Oich. Also saw the apparently ongoing restoration of Invergarry Station, which might actually have a train for people to ride someday just for fun.
Weather: Sun and clouds, some of which were fluffy; it is starting to get rather chilly in the evenings and the days are becoming shorter, which is not jiving well with my ridiculous inability to stop hiking at night.
Camp: A spot on top of a rocky embankment above a minor road in Wester Mandally.
Health: Decided to change this from 'injuries' to 'health' because (knock on wood,) I seem to mostly be injury-free. Sadly, yesterday I ran out of my menstruation preventing drug which has given me a merciful holiday from the mess and horror of being female for months now, something which my body will probably rejoice about once it realizes that its time on hormone regulation is over. Alas.
Food Eaten: Onken black cherry yogourt, Morrison's maple pecan oatmeal, a bottle of Virgil's root beer, leftover watermelon, mango apple fruit leather, a mint Aero bar, a Nature Valley protein bar, two pieces of string cheese, Nissen Demae Ramen spicy, two pieces of shortbread and a section of Cadbury gingerbread chocolate for dessert. 
Favourite Moment: Talking to my parents and eldest brother.
Funniest Moment: Getting spooked by my backpack; it happens more often then I like admitting! I keep mistaking the jingle of my backpack's dog tag (it is a literal metal canine ID tag with my info on it,) and the faint clamour of my pot as someone coming up behind me. It drives me nuts!
Animals: Dogs, sheep, highland cows (from a distance,) a European red squirrel, crows, duckies, songbirds and some airborne birds which may have been geese. I keep seeing them migrating and it drives me wild; it's not that late in the season yet, is it? Ugh!
Stuff I Thought About: Story stuff, songs, some angst which was cured by loved ones. 
Anything to write about?: I think that I may be sticking very close to Walk Highlands' sections from here on in just for ease of wild camping. It's hard to find camps in the highlands sometimes with how boggy it is. Also, my poor noble Altra Lone Peak 4.5 trail running shoes are dying, their sides now perforated with massive holes and I don't think that they sell Altras here. It's very sad!!
Day 33 – The Cape Wrath Trail!
Kilometres: 24.5 km/15.22 miles with moving average of 11 kph/6.83 mph.
Travelled: Wester Mandally to wild camp beside Allt a' Ghobhainn (a creek.) 
Things Seen: A lot of forestry, awful looking clearcuts, beautiful forests of several varieties, several small clusters of houses/farms which I suppose are settlements, an active hydroelectric project, many gravel roads and a lot of scenic Loch Garry with some pretty darn epic mountains in the background. (I cannot help but wonder now what 'garry' means since this is the second geographical feature which I have encountered named it.)
Weather: Overcast and kinda chilly with the teensiest of patches of blue; I'm starting to wish that I had pants. I'm considering buying some when I get back to Inverness on my last zero (also a sleeping bag liner, since my plan of using my emergency bivy for supplemental warmth failed last night – the stupid thing collected condensation and made my beloved sleeping bag damp, which is unacceptable. I am going to indeed save it for actual emergency situations from now on. Should be able to get the pants and liner cheap at Mountain Warehouse.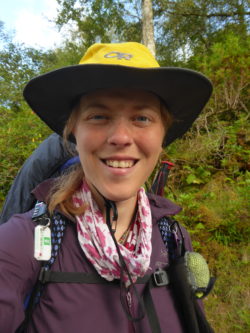 Camp: A wild camp across the bridge from where the Cape Wrath trail leaves the minor road that runs through Poulary and buggers off into the mountains. An old Scot with an exceptionally impressive moustache informed me that this is where all the cool Cape Wrath hikers camp. (Not his exact words.)
Health: My body delightedly realized that it is no longer on hormone junk and responded exactly as expected. So far it isn't too terrible, but we shall see how grumpy it is tomorrow. A muscle on the underside of my right thigh was sore earlier for some reason but everything else is pretty good. I realized today that the bit of flab on my belly which I spent all summer fidgeting with is gone and that my legs have become solid chunks of muscle. My face is also weathered, so I always look flushed and my freckles really stand out.      
Food Eaten:  A cox apple (very tasty variety,) a handful of redskin peanuts (not a fan, they are raw and I had never eaten raw peanuts before these,) a handful of corn nuts (will always love corn nuts despite my confusion over why the heck they are called nuts when they are just corn,) and spicy cheddar Nairn oatcakes formed my breakfast. My trail rations were fruit leather (mango again,) two pieces of cheese, Cadbury Twirl bar, Cadbury Boost bar (weird,) Toffee Crisp bar and a Nature Valley protein bar. Supper is Batchelor's Spicy Arriabata pasta with added cheese because cheese. (UPDATE: I am not a fan of this flavour – the taste is fine but the noodles are too noodly to do a good job at pretending to be fully cooked.) Also I had two shortbread cookies and a row of chocolate again for dessert. I like having dessert, I have decided, even if I do actually eat it prior to supper.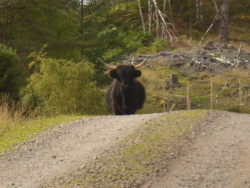 Favourite Moment: The moment that I realized (thanks to the previously mentioned Scot with the magnificent moustache,) that yep, I am on the Cape Wrath Trail, the final smaller trail of the SNT!
Funniest Moment: When I somehow scared a bull highland cow.
Animals: The big black cute highland bull (he spent a long time staring at me suspiciously, then I came too close apparently – I was still about 50 metres away – and he made a hasty retreat into the forest.) I also saw songbirds, ducks, and some sheep as well as some dogs including a very cute tricoloured
border collie who very much failed at being intimidating. (Its bark was too cute, plus its gate was wide open but it refused to pass it.) I also saw two red deer hinds (does,) and a fawn. As I write this I can hear stags bugling in the distance which is a remarkably creepy sound. Also I found a tick on my thigh; earlier I encountered three. I hate ticks and I am disgruntled because this means tomorrow I will have to use some Smidge, which I have decided to dislike because it is not as safe as icariden, plus it does not spray nicely; instead it kinda splurts out like that weird liquid confetti and it's pretty poisonous so I dislike having to smear it around. Might use medical gloves which Air Canada gave me which I threw in the bottom of my pack for it.
Stuff I Thought About: Story stuff, how it's getting chilly, which I dislike. 
Anything to write about?: Today I took the Tomdoun Alternate, which was all road walking, but didn't go through what Walk Highlands described as a boggy trail. I'm not a fan of hiking through bog, so given the option (which I was,) I'll gladly take the alternative, even if it is a road walk! (It had nice views of Loch Garry anyway. Plus there's a house with a hubcap fence; I would have missed its shining tacky metal splendour had I walked the other way.)
Day 34 – A Walker and a Stalker
Kilometres: 18.3 km/11.37 miles with moving average of 11 kph/6.83 miles.
Travelled
: Allt a' Ghobhainn to Cluanie.
Things Seen: Much boggy trail, including legit peat bog with bits of wood sticking out, the only remains of an ancient forest. The view of Glen Loyne from on top of the bealach was absolutely spectacular and the view of Glen Cluanie was pretty rad too. Beautiful day walking through the northern highlands. I had the opportunity to walk with noble Davy McDaniel (not sure if I remembered his surname right,) the cool moustache guy from the previous day, and he told me a lot about deer stalking, himself being the estate manager for Tomdoun. I was surprised to learn that the estate owner also owns the historic and incredibly important Hudson Bay company in Canada. Davy was a really cool guy to hangout with and it was wonderful to have a companion for a while.
Weather: I hid in my tent most of the morning due to rain; the rest of the day the weather alternated rain and sun.
Camp: A wild camp beside a highway near Cluanie Inn which wanted £110 for a room for the night – um, no, that is like $220 CAD! It was 'with breakfast' but no breakfast is worth that, I'm sorry. (Hostels have ruined me.)
Health: My body celebrated its return to having unsuppressed lady hormones by killing my appetite so I stuffed my face with two packages of ramen for dinner like usual anyway. The Chafe has once again made itself known.
Food Eaten:  A braeburn apple (my last apple, so sad,) redskin peanuts, corn nuts, oatcakes, black currant fruit leather, two cheese sticks, a mint Aero bar and Nongshim Shin Ramen (which I have eaten in Canada before and completely forgot was super spicy.)
Favourite Moment: Getting to hike with Davy the Deer Stalker.
Funniest Moment: Various dumb songs I came up with, mostly about General Wade, the dude responsible for a lot of Scotland's old military roads.
Animals: Red deer (whom I also had to listen to all day – the stags never seem to shut up about their  longing for ladies.) Some birds; pretty much that was it, weird.
Stuff I Thought About: The trail today was too technical to allow day dreaming, although I thought hopefully about Cluanie Inn.
Anything to write about?: Had what sounded like an entire squadron of fighter jets fly over, but the cloud cover was sadly too thick to see them. Their sound is very distinctive compared to other airplanes – kind of a nails-on-chalkboard shrieking roar. Also saw a Hercules bomber fly over; it was much quieter. The fighter jets sounded like they were ripping apart the sky!
Apparently to deter foxes from deer carcasses stalkers will leave a spent shell casing on top of it – foxes avoid it because the smell of metal to them means traps. Clever foxies!
Day 35 – Rainbows and Fighter Jets
Kilometres: 18.3 km/11.37 miles with moving average of 11 kph/6.83 mph – I somehow went exactly the same distance as yesterday.
Travelled: Cluanie to Camban Bothy in Glen Affric – relieved to find it open!
Things Seen: The day started with a walk beside a highway and views of Loch Cluanie, which is a reservoir. It was nice to see the scenery which I had missed the night before hiking through the dark and I soon left the highway, following a gravel road instead. Encountering just one couple and their very handsome friendly dog (also the gent had an incredible beard,) I was very much in solitude today. The gravel road eventually vanished, becoming a horrible, oft-disappearing trail instead which frequently crossed burns. When crossing bogs, jumping and vaulting with one's trekking pole is an essential skill to get around the more nasty stuff. Also, provided that they are not covered in black rotten plant slime, rocks are your best friends because you can often completely avoid the horrid boggy muck by cat-pawing across them. Despite the bog which took much concentration to traverse the pass was very beautiful and I was relieved to at last reach Glen Affric. The undecided weather – patches of rain striking across beautiful blue sky with fluffy clouds – produced a magnificent double rainbow which shone ahead of me for quite a while.
Practically the moment that I trod across the suspension bridge and reached the youth hostel (closed, due to Covid,) hiking conditions improved as I was now on a shoddy gravel road instead, with only a few easily avoided patches of bog complimented by the biggest puddles that I have ever seen. Following the tracks of a weird off road vehicle with four sets of wheels whose name I do not know which I had
glimpsed earlier from a distance, I climbed the glen towards far off Morvich. Hearing a familiar roaring shriek of friction in the sky, I looked around frantically, hoping to see the fighter jet producing the sound. Several times in a row I heard the shrill of swift flight engines, then at last I saw a dark speck, which confused me until it turned broadside, revealing that it was an F-22! (Or… whatever the Brits use which is like it.) I was so thrilled and I hoped there was more, but that was the last of the squadron. I absolutely love the military aircraft sightings that you get in this country! It's as wonderful for me as seeing wildlife.
Afterwards I came upon Camban Bothy, where I now sit, safe from the rain and wind with my dinner cooking in its cozy in my lap. As of a few minutes ago there was alpinglow on the mountains and it's
such a relief to be indoors in this cool historic stone building. There's a hearth and a table but I decided to stay put on the plywood sleeping platform. The logbook (which I really enjoyed reading,) says that there are mice, so I am glad that I keep my food in odour proof bags. 
Weather: Blue sky with fluffy clouds and patches of rain 'cus Scotland is like that.
Camp: Camban Bothy.
Health: I'm doing well today, my appetite was better and I think the only thing that bothered (apart from finding a fudging tick on my stomach,) were my cold feet. They're longing for shoes which don't have enormous holes in their sides that let frigid bog water gush in. I also found a tick on my left knee this morning (I hate them so much,) and in my effort to remove it I accidentally left its head imbedded in my leg so I dug at it with the sewing needle which I use for lancing to no avail. All I succeeded in
doing despite my best efforts was making myself bleed a little; I covered it up with a shred of toilet paper with leukotape for an impromptu bandaid. I really despise ticks!
Food Eaten:  Spicy cheese oatcakes (my soul longs for the coconut chia ones which I previously found but alas, I have been unable to find them since,) and corn nuts for breakfast (I did not feel like eating the peanuts.) Mint Aero bar, two pieces of cheese, mango fruit leather, two McVities' mint cookies and a Nature Valley protein bar were my rations. Supper is tomato and chilli couscous with a Morrison's instant cheese sauce packet mixed in. Hopefully that turns out!
Favourite Moment: Discovering that the bothy was open because I didn't think that I had enough time to get to Morvich before dark. It was really nice to stop while there was still daylight and staying in a bothy was on my bucket list for this trip, so I'm thrilled! (Also seeing that fighter jet! Yippee!)
Funniest Moment: Dunno if there was any.
Animals: Red deer (from a great distance,) a single lonely sheep whom I felt very sorry for, some cute songbirds, some creepy shrimp living in a stream and the adorable German Shepherd/Golden Retriever cross who said hi to me. He had really soft glossy black fur! (I also saw a cute border terrier by my wild camp this morning, as well as a small apricot poodle thing from across the road.)
Stuff I Thought About: Stories, possibly section hiking the PCT instead of thruhiking (see the trail at its very best times of the year instead of suffering through wintery Washington or the Sierras,) food and the tragic state of my beloved shoes.
Anything to write about?: I think if there's anything I have learned is that I am very happy in my own company. Also, despite its at-times absolutely wretched weather, I'd definitely live here in Scotland
– it's the kind of place that just gets under your skin – sort of like its disgustingly thriving population of ticks. I need to see more of the world though and I have decided that if I don't have the time to do the touristy stuff I want after reaching Cape Wrath (namely go to Orkney to visit Skara Brae and see the puffins,) I will stop by Scotland again in the future, on the way to some other place like Germany. I want to go to Germany to experience the place where so many of my ancestors came from, plus the short but sweet Painter's Way in the Black Forest is calling my name.
Perhaps TMI, but for anyone reading this who worries about my health after seeing me subsist off of pretty much just chocolate bars, pasta, ramen and the odd apple – I have never pooped better in my life. This trail diet might not work in real life, but it certainly works for me now!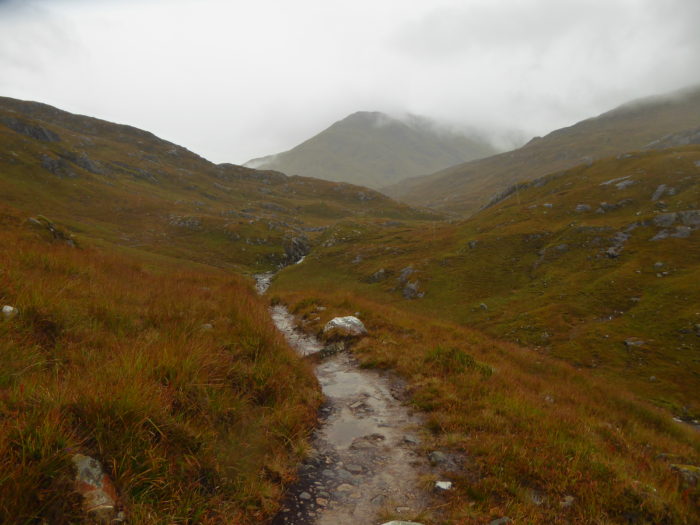 Day 36 – Artful Trail
Kilometres: 10 km/6.21 miles approx (forgot to check before I stopped tracking on my inReach so this is a guesstimate.)
Travelled: Camban Bothy in Glen Affric to Morvich (and then a bunkhouse in Roy Bridge)
Things Seen: The most beautifully built, world class section of trail that I've yet seen in Scotland brought me from the lovely and atmospheric Camban Bothy to the Edinburgh University Mountaineering Club hut. This trail had it all – artfully and strategically placed stonework which made scary sections feel safe, excellent drainage (allowing the trail to not be a quagmire like so many other Scottish trails,) and just overall cruisy comfort. It was a trail you'd expect to find in some place like the Canadian national parks, or Switzerland – seriously a monument to good trail building and such a gigantic contrast to so many other Scottish 'trails' which hardly deserve the word. ('Route' is appropriate – or just plain 'road' when that is what it is.) 
I could probably wax poetic for a while but in any case it was a damned nice trail in probably the most
heavenly fabulous glen that I have hiked through thus far. The trail took me over rolling land, carving across the sides of lumpy green hills and the flanks of munros before dropping, down into a fantastic gorge where the absolutely magnificent waterfall of the Allt Grannda cascaded. Sometime later I reached the previously mentioned mountaineering club hut – in my efforts to stay upon The Beautiful Trail for as long as possible I backtracked slightly from a new bridge (the old bridge which belonged to The Beautiful Trail had been washed out,) and climbed over a hill, where I found the gruesome, disembodied, recently deceased fully intact (apart from missing hide… as well as eyeballs,) red deer stag head. 
Yep, there was just a skinned, decapitated deer head complete with antlers laying on top of that hill. It was mega gross and considering that the stalkers I have encountered take their kills home with them, I wonder whether the decapitated head was actually from a poacher. In any case, it was super disgusting and seemed quite disrespectful to the poor deer, plus it made me worry that the head had been left on purpose, perhaps with poison like strychnine in it for foxes. Dunno if that's a thing, but yeah… I was grossed out and saddened, suffice to say! The stag didn't look that old either – it had really nice teeth.
The rest of the hike was on a gravel farm road, which was in mercifully good condition and there was evidence of efforts to make it easier on hikers from some of the roadside rock placement to ease people's path in traversing around puddles. There were plenty of white cheviot sheep hanging about, looking like little lice when seen from a great distance, as well as a small of bothersomely content looking cattle. Upon reaching Morvich, which wasn't really a settlement but a tiny collection of buildings, I saw a colourful herd of five horses (also annoyingly happy despite the awful nonstop rain,) and not much else. Finding a bus stop demanded me walking an extra mile to the similarly disappointing building collection of Shiel Bridge, where upon the advice of the nice man at the craft store, I waited alongside the highway, shivering my ass off, bobbing like a damned dipper in an effort to stay warm. While I stood there, I pondered whether the water across the road from me was not in fact the Atlantic Ocean – and it was! Finally the bright blue and yellow coach to Fort William arrived and I spent the next hour slowly drying off in my seat, wishing that the bus was warmer as I shivered some more. Reaching Fort William, I managed to book a room for two nights in a bunkhouse (having decided to zero rather than be drenched again,) and then tried in vain to get aboard public transit to reach my abode. I ended up taking a taxi for £26; tomorrow I will take the train back to Fort William to finish my resupply and get new shoes.
It was interesting seeing areas which I had hiked through from the bus like Loch Cluanie and the River Loyne – it really puts into perspective how far a human can go in just a few days on foot!
Weather: It rained literally all day, with some vaguely unpleasant wind and it was chilly. I got drenched.
Camp: A subpar bunkhouse in Roy Bridge which does not have the microwave which the internet promised, nor did it even have an electric kettle!
Health: I was okay today apart from getting shivery; I think that I evaded contracting actual hypothermia this time. I have the heat cranked in my room right now.
Food Eaten:  Mercifully normal cheddar oatcakes, redskin peanuts, cheese, mango fruit leather, Reese Outrageous bar, Nature Valley protein bar, two McVities club mint cookie bars, a Topic bar and cold macaroni and cheese because my accommodations not only removed all evidence of the listed microwave, but they cut power to the stoves, so I couldn't even warm up my macaroni on the stove top! Considering that I have already stayed at two hostels with full kitchen facilities this is very aggravating. 
Favourite Moment: Seeing the beautiful waterfall and every moment on that gloriously well built trail!
Funniest Moment: Looking up from the ground at one point to find a sheep suddenly standing directly in my path, gawking at me curiously.
Animals: Cheviot sheep, songbirds, cows, horses and dogs. I heard red deer but I didn't see any live ones – just the old skull of one and the gruesome decapitated head of another.
Stuff I Thought About: I wished I was hiking in a country a bit more prone to sunshine; not a fan of hiking through bog!
Anything to write about?: It's raining, it's pouring; the old stag is roaring!
Also I think I am gonna flip north to make sure I get to see the stuff I really wanna see like Skara Brae; a break from the trail'll be fun plus I like the idea of finishing at the Falls of Glomach.
Affiliate Disclosure
This website contains affiliate links, which means The Trek may receive a percentage of any product or service you purchase using the links in the articles or advertisements. The buyer pays the same price as they would otherwise, and your purchase helps to support The Trek's ongoing goal to serve you quality backpacking advice and information. Thanks for your support!
To learn more, please visit the About This Site page.