The SNT – Kirk Yetholm to Edinburgh
I did it; I completed the first big section of the trail, from beautiful old Kirk Yetholm on the English/Scottish border to Slateford in historic Edinburgh, the magnificent capital city of Scotland! The Borders were an incredibly beautiful place, ranging from lovely pastoral farmland lined with ancient trees and old roads built by the Romans to the epic Pentland Hills smattered with purple heather. Hike past ruins, sheep, wonderful forests, cows, stride in the foot steps of kings and walk through plantations populated with colorful mushrooms. Here are a few things I learned, in case you aren't into picking out these tidbits from my journal.
Tips
Besides exposure (because Scotland is renowned for its bad weather,) cows are likely the biggest hazard. Just like with bears, never get between a mom and her baby, but for the most part cows are just curious. The problem is, they're gigantic and heavy, so be careful crossing their fields. (You will spend most of your time crossing livestock fields.) I would personally never camp in a cow pasture (sheep are much better nocturnal neighbors.)
Waterproof socks are a must. You will walk through a lot of wet grass, a lot of mud, livestock poop, puddles, soggy ground, and probably rain. Waterproof socks paired with normal hiking socks or liners and trail runners with a gaiter to keep out debris work great.
There are quite a few road walks so make sure to walk facing oncoming traffic and hop up on the embankment whenever a car comes your way in your lane. Remember that people drive on the left in Scotland.
The best resupply points I found were Galashiels and Peebles. Most of the other towns didn't really have much.
If you need to retreat to Edinburgh to dry off, Galashiels has a train station and Peebles has buses.
Do not depend on public toilets. I found exactly one that was open for use and there are none in Scotland's town parks (that I found, anyway). If you need to go to the bathroom, do it before entering a town. The sign for toilet is "WC," which is short for water closet, an old-timey name for toilet. Nobody I have met uses the term loo.
I found no hostels on the route except in Kirk Yetholm but there are inns, hotels, etc. (I'm just not willing to pay that much.)
The Journal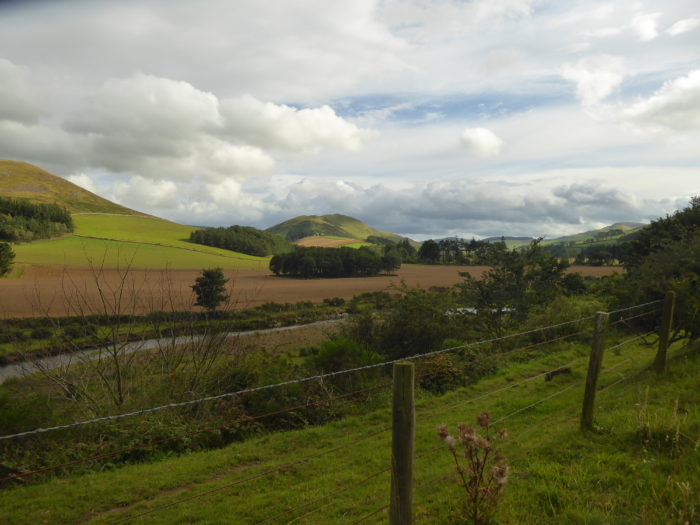 Day One: Damned Cows and Stinging Nettle
Kilometers: 11.2 km road walk from Kelso to Kirk Yetholm, then 1 km when I got lost and 4 km on the SNT for a total approx of 16.2 km total.
Traveled: From Edinburgh to Kirk Yeltholm via Berwick-upon-Tweed (LNER Azuma train service, £15,) then via Kelso using Borders Bus service (£5.50) after which I road walked on terrifyingly narrow roads with no shoulder and tons of blind corners to Kirk Yetholm. 
Things Seen: A cool ruined abbey in Kelso complete with graveyard, the River Tweed (several times), sweet old bridges, a ruined castle, some stone house ruins, lots of stone fences, few different species of thistle, many wildflowers, several tractors, and f***ing lots of evil stinging nettle (which I thankfully seem mostly immune to but it still hurts like heck for about ten minutes)! Also, my poor sore chafed arse; thank goodness I have a stick of Body Glide for that!
Weather: Sunny with clouds and plenty of nice cooling wind (which feels less nice now that I am in my tent).
Camp: A beautiful spot in a copse of trees on Crookedshaws Hill overlooking farmland and the Cheviot Hills all around.
Injuries: My poor butt; also a small blister on my heel that I have lanced with a thread for drainage.
Food Eaten: Two cheese-and-onion pasties plus orange juice from Gregg's, an entire bag of nutella M&Ms, a month-old Quaker chocolate-dipped peanut butter granola bar, a few wild blackberries found along a very quiet one lane farm road, and now some Kind bars for dinner.
Favorite Moment: Tagging the SNT sign at the Borders pub in Kirk Yetholm, being liked by a cute backpack-hating Akita who did not mind me at all, watching a Jack Russel named Brandy who had previously lived in the city romp ecstatically in a field as if in paradise, arriving in Kirk Yetholm after that horrid unsafe walk, finally setting out on the SNT (then promptly walking the wrong damned way due to my apparent misconception of which way was north, completely missing a trail marker), and arriving at long last after all that at my beautiful camp spot, located in a grove of trees on the shoulder of Crookedshaws Hill. Woo, run-on sentences!
Funniest Moment: Realizing that I could not bear to wait for the bus from Kelso to Kirk Yetholm to come (I arrived at Kelso at 9 a.m. and the bus for Kirk Yetholm was due at 4:45 p.m.). Then, accidentally going the wrong way about 100 meters into the SNT and later being surrounded by questionably tempered cows whom I opted to mistrust, scooting to the other side of a fence rather than walk through their midst. Also the random potatoes I saw on the side of the road!
Animals: Cows, some grouse, wild BUNNIES, a couple of squashed roadkill pheasants, lots of horses, pigeons, many sheep (no Scottish Blackface ones, though), a black dragonfly, half a dead frog, a squashed magpie, a bug that creepily tried to hide down my sleeve, and did I mention cows?
Stuff I Thought About: Mostly the profound soreness of my butt and how the Scottish drivers who waved to me were probably like "Thanks for moving over!" while I (waving back) was thinking, "Thanks for not killing me!" A few drivers on the blind corners really swerved (grand turismo'd) to give me space. I always tried to scoot up on an embankment or something to avoid being killed. 
Anything to Write About?: At first I didn't know which plant it was that was making my leg skin prickle like fire when I stepped up on the roadside embankments. It wasn't until I accidentally touched a mintish-looking plant that I realized that it was f***ing stinging nettle and that it was bloody all over the place.
Day Two: I Met Friendly Cows!
Kilometers: 20.2 km 
Traveled: Crookedshaw Hill to Some Forest Nearish Jedburgh
Things Seen: An incredible vista from the summit of Wideopen Hill, several forests, many fields, Cessford Castle ruins, the tiniest sink that I have ever beheld, accompanied by the oddest flush mechanism that I have ever seen in the tiny public bathroom in Morebattle, and some cool info signs.
Weather: Overcast with periods of light, spitting rain; a tiny bit of sunshine peeking through the clouds this morning.
Camp: A forest with thick leaf litter on the ground (probably spider infested).
Injuries: My chafe wasn't as painful today but it got worse; I felt far better in general than yesterday! (Not to mention the two days of liberty beforehand.) My injured shoulder seems to be continuing to improve. I had to lance my heel blister again but really for the most part today was great! 
Food Eaten: Three Kind bars, a Coffee Crisp, some hot chocolate, and two pasta sides mixed together (garlic plus cheddar chipotle), with an added salt packet for electrolytes.
Favorite Moment: Meeting the friendly Holstein dairy cows and wanting to pet them but not being sure whether they would bite or not, so I felt guilty! They actually followed me up to their field gate and butted each other out of the way to be first at the gate. After all the other standoffish cows, the dairy cows were flat out lovely! I also loved all the cheery, friendly locals whom I met today.
Funniest Moment: Again, those friendly dairy cows! They were so sweet!
Animals: Cows, sheep (including Scottish Blackface sheepies!) a female (?) pheasant, more grouse, bunnies, various unknown songbirds, legions of small ravens (although not as many as yesterday), a border collie cross named Molly, a blond cocker spaniel, a bunch of fluffy golden retrievers plus their equally fluffy German shepherd-like brethren, and a gray-nosed chocolate Labrador retriever who silently watched me closely from his yard, as keenly as any bodyguard to the Queen.
Stuff I Thought About: Transformers, my need for water (because I immediately ran out thus morning but I filled up at two sources,) my decision to stop using my hydration reservoir because filling it up is too inconvenient due to the fact that in order to do so I must remove all the contents of my pack. Also how a superior hiking dress should be near-knee length to properly accommodate going commando (in order to help avoid/heal chafe).

Anything to Write About?: There's a bunch of cows in the pasture right next to me and they are freaking me out because they keep galloping past and mooing angrily. Thank goodness there is a fence separating me from them! I hope that they go to bed soon so that I can rest; I am afraid to peek out of my tent at them lest they notice me and try to bash it down because they really sound aggressive. (Honestly, why do people spend so much time being afraid of bears, who helpfully give body language warnings when cows are so much more legitimately terrifying? They don't warn you, they just charge!)
It sounds like now they are trying to break down the fence; freaking go away, cows!
Also, one of the barbed wire fences I contended with yesterday must have slashed open my toiletry dry bag because there's a tear in it, and guess who foolishly forgot her Tenacious Tape? Also, my beautiful new purple watch broke—guess that's what I get for only spending $15 on it! Also forgot the metal clip for my reservoir but I guess that doesn't matter now. On a different topic it was wonderful having pain-free feet this morning and on yet another subject there is a huge stone tower in the distance that I really hope that the trail goes near! Additionally, I encountered less stinging nettle today. Phew.
Day Three: An Attraction to Benches
Kilometers: 42.7 km; that's 26.5 miles! I also broke my speed record under full pack at 14 kph! (Old record was 13 kph.)
Traveled: A forest south of Jedburgh and Dere Street to a forest on the southern flank of the Eildon Hills (such an epic name for two lumps in the landscape).
Things Seen: A cool but very overgrown-in-places ancient Roman road called Dere Street, some ruins from a distance, Waterloo Memorial tower, several forests, the River Tweed, and some very cool bridges.
Weather: This morning was misting rain with low-hanging clouds that slowly opened up into patches of blue through an overcast sky before becoming full out sunshine in the evening.
Camp: Open coniferous forest with a lot of pine cones on the ground and ferns.
Injuries: A muscle in my right calf is very grumpy right now, and my right shoulder is quite painful too. Gonna shift pack weight around tomorrow to help. The dreaded chafe is still with me but it did not bother as much today and neither did the blister on my left heel, which I believe that I have hopefully sorted.
Food Eaten: Three Kind bars, a Snickers, some Runts candy, a Pop-Tart, hot chocolate, and two pasta sides that should never meet in the same dish ever again.
Favorite Moment: Getting to pet a very pretty liver chestnut pony! He had a white blaze and some white feet; he was super cute! His nose was a bit torn up from flies, though, so I hope his people do something about that. Poor boy.
Funniest Moment: Discovering that last night's pest cows are just a bunch of overly curious yearlings who proceeded to chase me from their side of the fence as I walked back to the trail from my wild camp spot.
Animals: Cows, sheep, songbirds, a bunny, that pretty pony, many very jolly field bred cocker spaniels including two liver chestnut ones who looked related, a springer spaniel, two whippets, two border terriers and a black border terrier cross, a red husky, a white golden retriever, and a crew of four perky border collies who proceeded to inspect me one at a time before rocketing off. It was so cute and it gave me a burst of energy.
Stuff I Thought About: Transformers, how I was carrying too much water too soon, how grumpy I was this morning, and how bloody confusing going through most towns is because they are so poorly way-marked. Honestly, I have no idea how the people hiking sans GPS cope! I also thought about how cute spaniels are because they seem to be ETERNALLY HAPPY. Additionally, since people here seem subtly disapproving of wild camping (or maybe it is just because I am female), I have started telling people that I am going to the next big stop (today that meant my declaring Melrose as my final destination for the day even though I had no intention of making it there today). Also, instead of saying that I am hiking the Scottish National Trail I just let people think that I am hiking a smaller trail instead. I look forward to being on the Highlands, where I think wild camping is more socially acceptable. It will also be easier there and less people will make it easier to pee!
Anything to Write About?: My camera spend most of the day in its sanctuary dry bag, which has a giant silica packet in it. It's OK, at least for now. Also there was a village today whose public toilets were charging a £.30 pence fee to enter—and then in the next village the public bathrooms were locked! Ugh! 
Further, I became quite obsessed with sitting on benches. The wider the better.
Day Four: Sodding Rain
Kilometers: 6 km
Traveled: A forest on the southern flank of the Eildon Hills to a thicket on the northern flank.
Things Seen: Misty forest and heather, plus a trail runner who reminded me of the running guy in The Legend of Zelda: Ocarina of Time because he was seemingly in the middle of nowhere just like that character.
Weather: Awful. A break in the rain after huddling in my tent most of the day lulled me into a false sense of security, which led to my entire main hiking outfit getting soaked. Got to Melrose but had to abort proceeding further because the conditions were hypothermic, so I backtracked to a thicket where I set up a  shitty wild camp. 
Camp: A thicket of gorse beneath an old maple tree, with the ground covered in mushrooms. Ground is sloped.
Injuries: None.
Food Eaten: Three Kind bars, some cheddar moon cheese.
Favorite Moment: Interacting with the friendly trail runner after he scared the heck out of me by accident (it is impossible not to startle me), and watching baby cows gallop after their moms super adorably.
Funniest Moment: Seeing the trail runner on the ridge.
Animals: Cows, crows.
Stuff I Thought About: Angry about my stupid decision to hike. How am I going to dry my gear in this frigging damp ass place? I have no data on my phone to check for local hostels or Airbnbs. 
Anything to Write About?: After reaching my new camp in the mushroom thicket I pretty much slept the rest of the day in my sleeping bag, which I sheathed with my emergency bivvy to protect it from all the wet gear in my tent. I was finally warm enough after I did this! Now it's the 26th and I am trying to wrap my head around hiking on because the next part of the trail heads into wilderness and my damned Pocket Rocket isn't working. (Also wet gear.) Might have to take a zero and figure this out.
Day Five: Insert Expletive Here
Kilometers: 10 km? I neglected to check my InReach. I did break my speed record again however—17 kph!
Traveled: A thicket on the northern flank of the Eildon Hills to Galashiels (then Edinburgh by train to dry my gear).
Things Seen: A lot of the River Tweed again, plus a cool statue of a cavalryman on his horse in Galashiels.
Weather: Overcast with some spitting rain once I managed to drag my poor cold soggy butt out of my tent.
Camp: A warm comfy bunk at a hostel in Edinburgh.
Injuries: None.
Food Eaten: Two Kind bars, some cheddar Moon Cheese, two cheese-and-onion pasties, a weird little pizza thing that I will not buy ever again, and a divinely tasty 500ml bottle of orange juice.
Favorite Moment: I didn't really have one; discovering that my hostel does indeed have laundry facilities, I guess? Oh, I did like seeing that I was finally done following Saint Cuthbert's Way—the signage on that trail in the last section was extremely confusing and frustrating, although at least it made me better at reading my map.
Funniest Moment: Honestly, today sort of sucked but I found it morbidly funny traveling past a hotel with sun in its name while in a deluge of rain. (I was mercifully safe from said rain on a train.) 
Animals: Cows, sheep, a greyhound, two spaniels, some labradors, and a very pretty jackdaw (they are corvids related to crows and ravens).
Stuff I Thought About: My lingering grumpiness over yesterday's foolish decision making, my stress over dumb hiccups with my train tickets, and my failed attempt to call my parents. Stupid time zones. Also, my probably unfair dislike of the town of Melrose. (It did not seem "walker friendly" at all—there was no laundromat! Or hostel! Yet it claims to be walker friendly, grah.)
Anything to Write About?: That orange juice was the best damned orange juice that I have ever put in my mouth. The oranges must come from Spain or something! I swear everything in Europe is magical tasting (except for the crud with artificial/alternative sweetener in it. Yuck!!!). Also there seems to be a greater effort to recycle now than the last time I was in Scotland, which is really wonderful to see because having to throw a plastic bottle that would be recyclable back home in the garbage hurts my soul. Tomorrow I will return to the trail.
Thanks to this hike I have a greater appreciation for drinking water now—it's not always that easy to come by on the Borders. Sometimes I wish I was a horse so I could just wade into the river up to my fetlocks and glug a whole bunch down. Instead I have to squat and tediously use my Sawyer Mini for like ten minutes.
Today when I picked up my pack after loading it up I saw a predator bird feather tucked into one of the pockets; I did not put it there. I don't recall encountering it on the ground and picking it up either, but I guess it's along for the ride. I think that it is either from a goshawk or an owl, but I can't tell for sure. My intuition says hawk.
My fingernails are filthy; I guess that's something I could maybe address here.
Day Six: Hiding Under Trees
Kilometers: 21.1 km, average speed 14 kph.
Traveled: Galashiels (after getting there from Edinburgh via ScotRail train which I passed out on) to a forestry gearing up spot. (Big gravelly area near logging with an FSR heading off who knows where.)
Things Seen: Many, many sheep, cute dogs, a giant rock cairn and the nicest, classiest old folks home that I have ever seen. Also a big tennis court because I guess that's a big deal here?!
Weather: Overcast mostly with two periods of fantastically awful torrential downpours that caused the trails and roads to turn into inch deep rivers. I attempted to huddle under trees, which worked the first time but not the second, necessitating me bringing out my ludicrously old space blanket for use as an impromptu umbrella. I probably looked hilarious. There was a single patch of blue sky in the morning.
Camp: A forestry camp thing. There's a baby larch tree right in front of my tent; I had no idea Scotland had larch trees! (My favorite tree.)
Injuries: Not really; my left leg was grumpy while I was resupplying in Galashiels' Tesco, causing me to limp, but it went away almost as soon as I began seriously hiking.
Food Eaten: Three Kind bars, two pieces of cheese strings, several Tuc cheese sandwich biscuits (sooo good), a delicious egg-and-avocado sandwich from Pret-A-Manger (it is a British coffee/sandwich shop chain,) a 500ml bottle of cranberry/raspberry juice, a 1l bottle of incredibly tasty apple/raspberry juice, and a couple of Fox's chocolate chunk cookies. (If my Pocket Rocket were working I would have bought ramen. Ahhh, I miss ramen!)
Favorite Moment: Getting to admire an astonishingly beautiful and friendly female field bred German shepherd that licked my hand! She was silver and black pure gorgeousness with the softest-looking brown ears. I wanted desperately to pet her but I held back because of COVID. Hate that damned virus! I also loved getting to photograph a one-eyed jackdaw up close outside Tesco while I was processing my resupply (getting rid of various bulky packaging). It looked really hopeful that I would drop something, and it got bored when I did not.
Funniest Moment: Getting barked at by an extremely feisty west highland terrier, who then stared at me suspiciously as I walked down the street away from her.
Animals: Cows, sheep, a jackdaw, crows, some goldish-colored bugs that were chillin' on livestock poop, which weren't dung beetles or typical flies, a magnificent field bred German shepherd, a field bred cocker spaniel, a sassy westie, and some other mutt dogs.
Stuff I Thought About: How much I want an umbrella (f***ing rain!) and how I intend to buy a quick dry shirt to replace my hiking dress as my everyday hiking outfit; the dress is a great idea for other, less rainy places, but due to the fact that my rain jacket is annoyingly short and my rain pants keep slipping down (despite my yanking on their drawstring), it keeps wicking water whenever I get downpoured on, which just ain't gonna fly. It's not safe. I am hoping that Peebles (about a day and a half away), will maybe have an outdoor store where I can buy a shirt. The dress can be my laundry/zero day outfit.
Anything to Write About?: I'm doing my best to get my gear better figured for the whole "drenching downpour all the time" situation. I am going to get a cheap plastic emergency poncho to throw on over my rain gear, which is waterproof, but being Paclite Gore-Tex it just feels horribly clammy when its face fabric is sopping wet. I also want to buy an umbrella, because then I will have a "tree" to hide under that moves with me, and doesn't have bloody holes in it.
Day Seven: Sharts
Kilometers: Zero
Traveled: N/A stayed put in my tent.
Things Seen: The inside of my tent and the unfortunate trees plus the grass that I violated.
Weather: Overcast with some sun.
Camp: A forestry camp thing. 
Injuries: Stomach bug, possibly mild Giardia; see day title. 
Food Eaten: Can't remember, but it was pretty much the same as yesterday, just minus the juice. My stomach hated all of it and I felt pukey but never actually ejected my stomach contents.
Favorite Moment: Talking to my dad and brother Kevin on my InReach and feeling their care from far away.
Funniest Moment: Hearing two dudes exclaiming over how light my tent looked.
Animals: Dogs
Stuff I Thought About: The awful weather the days previous, how horrible everything in my tent smelled, drying my gear, alternate plans if the weather remained pure terrible. I wasn't in a great headspace for the trail. I read and wrote all day. I felt sad when it was a beautiful evening and I was not hiking in it, but I felt that it was best to rest in order to let my body recover.
Anything to Write About?: I probably should not have camped there because there was a surprising amount of traffic, none of which I wanted to interact with. I literally huddled in my tent all day, trying to dry my gear (which I succeeded at!).

Day Eight: Best Day Yet
Kilometers: 18.1 km (lot of hill climbing) with speed of 14 kph.
Traveled: Big gravelly area near logging with an FSR heading off who knows where to an absolutely fabulous spot ringed in by the ruins of a slate stone fence and prickly gorse bushes, with views of the River Tweed and huge, beautiful larch trees.
Things Seen: Minch Moor, which is a huge rolling expanse of purple heather, the Cheese Well (I left an offering of a pence for luck from the fairies/whatever weather gods govern this place), what looked like a super old grave and pretty much the entire way I was walking on an ancient cattle drover's road that armies once marched on. So badass! There was also a cute monument to horses just before Traquair (pronounced Trah-kare), which was an absolutely spectacular town shining in the late afternoon sunshine.
Weather: Overcast with frequent patches of blue and lots of wind, which got very chilly after a while up on the Minch Moor; NO RAIN!!
Camp: Ahem; see "traveled."
Injuries: Felt a bit sick still; stomach was not on board with Kind Bars and I felt ill after eating two. Also had no interest in my Tuc cheese sandwich crackers even though they delighted me coming out of Galashiels. Condition improved after eating cheese; stomach wants simple food, I guess!
Food Eaten: Two Kind bars, a single Tuc cheese sandwich cracker, two cheese strings, and broccoli soup packet mixed with white cheddar and broccoli pasta side. Yum! 
Favorite Moment: Talking to two wonderful friendly couples who were both very encouraging and kind. It was lovely to socialize with such nice people, even if only for five minutes—plus their dogs were very cute!
Funniest Moment: Joking with myself that Traquair was the land of many sheep breeds because there were so many different breeds in the fields.
Animals: Cows, sheep, border terriers, border collies, rottweilers, a small poodle thing, a cocker spaniel, a greyhound, beautiful horses (Scottish horses are all so nicely taken care of), and a black and white Jack Russell terrier named George that really wanted to play fetch.
Stuff I Thought About: How the trail felt doable again, how beautiful everything was, and how much I really wanted hot soup. (Thank you Pocket Rocket for deciding to work today.)
Anything to Write About?: "Every hill makes you stronger," is my motto, and I have gained a better appreciation for hiking uphill, which I used to despise.
This is now officially the longest hike that I have ever done; no matter what happens, I have now beaten my seven-day thru-hike of the West Highland Way just in terms of time spent on trail. That's a good thought.
Day Nine: Fantastic Scotland
Kilometers: 28 km with speed of 14 kph
Traveled: Slategorse Camp (as I named it) to awesome camp in a sheep field overlooking the Pentland Hills
Things Seen: The River Tweed (for the last time), some cool bridges, a sweet railway tunnel, a weirdly modern village (Cardona), many beautiful mushrooms growing in tree plantations, the roofless ruins of an old house, the coolest police station that I have ever seen, a beautiful grassland forest, and the most epically beautiful sheep pastures ever.
Weather: Fabulous; sun with clouds. It was even warm for a spell this morning! Again, NO RAIN! Woohoo!
Camp: Gorgeous flat grassy spot under a pretty tree on a hill in a sheep pasture, complete with cute sheepies, with an epic view of the Pentland Hills—the last obstacle between me and Edinburgh! This first lag of the Scottish National Trail is nearly complete!
Injuries: Nothing, nada, just some sore feet from a job well done today. Appetite back in full! (Correction: I discovered and lanced a small blister on my heel; couldn't even feel it, not once today and I only discovered it after removing my socks.)
Food Eaten: Two Kind bars, two string cheeses (they were my breakfast,) a Lindt mint chocolate bar that was especially delicious and a nice way to toast my first sight of the epic Pentlands. I also ate a yummy bar made of peanuts from Germany called Mr. Tom's, which was super good and had a nice calorie count. Also ate two cheese and onion pasties from Gregg's, a black tea with milk and two sugars, and for dinner I am having two packs of Batchelor's Curry Super Noodles (880 calories wee!). (It turns out the Super Noodles are rather boring so I probably won't buy them again unless there's no more interesting options. They were extremely bland and I had to add two packets of salt before they even became palatable.) Also ate a tiny bag of Walker's cheese and onion chips (best flavor ever, according to them. I found them good but slightly bland? I would probably like them more if I was not hiking long distance and in need of salt wherever I can find it! Thank goodness for electrolyte tabs; they are a godsend in this land of saltless food!)
Favorite Moment: Seeing the Pentland Hills and knowing that I was really close to Edinburgh at last.
Funniest Moment: Watching sheep head butt each other for no reason; also making dumb cracks about The Mandalorian and its catchphrase "this is the way" because almost every long trail in Scotland is called a "way" for some reason. There was also a sheep with a really coughy sounding "baaa" and I joked with myself that it needed a lozenge.
Animals: Many dogs, cows, sheep of many breeds, a merganser, a sadly dead jackdaw, several songbirds (one of which I actually managed to photograph, gasp!). I also saw a group of crows/ravens (ravens? Their heads looked raveny, but I dunno), that I managed to photograph from a distance all sitting in a row on a fence, but that took off as soon as I took just two steps closer. The birds here are very nervous of humans! I also saw some birds of prey from a distance, probably buzzards. I have no idea why they call what are obviously hawks that. Weird name! Also saw a cute gray tuxedo kitty perched on a fence; sadly I wasn't fast enough to snap a picture of him!
Stuff I Thought About: Mostly songs that were stuck in my head, the cuteness of the fluffy half-grown lambs I saw nursing from their moms, and the pure suspicion of Scotland's cow population. Also the sheep; the wolves are long gone (sigh) but their instincts are as true as ever. I considered the reactions of animals a lot today, how horses will come up to you hopeful for a treat (then walk away sadly when you don't have one for them), how dogs bark at my backpack sometimes, how sheep nearly always flee when they see me, and how the snotty-nosed cows seem to be the ones most contemplating homicide. They'll lift a front hoof then put it down, staring at you unblinkingly, mucous flying from their slimy nostrils, and you just know that they are contemplating your murder (or at least scaring the ever loving shit out of you). I hate walking through pastures with cows! Give me peaceful sheep that want nothing to do with you any day. (And horses. Because horses are beautiful and cute.) On a different subject, Peebles, with its pretty high street, lovely riverside park, and fantastic buildings (including of course a clock tower. I adore how every settlement here has one that chimes every 15 minutes,) was my favorite town so far. Just lovely, and a good place to resupply with two convenience stores en route.
Anything to Write About?: The stretch between here and Traquair has been absolutely spectacular; it's definitely been my favorite part of the trail so far, especially the stretch I just completed where there were wild hilly sheep pastures for miles with no civilization anywhere. It was so beautiful and I could not help imagine what a fun place it'd be with a horse—you could gallop all you wanted. I feel really blessed and grateful to be here.
I had to climb over at least three farm gates today, one of which was quite rickety, which was of course rather alarming with a big backpack on. I couldn't work out how to unlock these gates, or I just lacked the arm strength for the mechanism, so climbing was easier, although definitely not safer. I am grateful for my agility that lets me climb over these things, and through fences when needed too!
Additionally, waterproof socks are such a must in this soggy, muddy land. I know that my feet would be in horrific shape without them and I am extremely grateful to whoever invented them. Thank you. You are awesome. 
Day Ten: Edinburgh in Sight!
Kilometers: 31.1 km
Traveled: Sheep field overlooking the Pentland Hills to forest near Balerno
Things Seen: Many fields of livestock, a lady on a flaxen horse, a big random outcropping of rock beside a parking lot, and the most uncomfortable cattle guards to walk across ever. North Esk Reservoir, a soggy wonderland of heather in the spectacular Pentland Hills, and Edinburgh!
Weather: Sun with clouds. Slow outta my tent this morning and roasted for it! Then it got kinda chilly and breezy but who cares when there's NO RAIN!
Camp: Kinda sloped spot in long grass in a thin strip of forest with a public trail right near by. Ugh. Silly cows on one side of the forest, wheat or barley on the other.
Injuries: Nothing really; just some discomfort from my pack being improperly balanced and sore feet from so many kilometers.
Food Eaten: Two Snickers, a Mr Tom peanut bar, Cadbury Star bar, Cadbury crunchie bar, a Skittles ice cream bar, a teeny bag of Walker's Ready Salted chips (delicious), a bag of Golden Wonder cheese snakes (like a weird cheezie, not great), and two packs of some Polish tomato ramen that was utterly delectable! Brand was Amino. (If British food is being too bland look for the foreign stuff, I guess. These noodles were light years tastier than the Super Noodles I ate yesterday.)
Favorite Moment: Seeing Edinburgh in the distance at last.
Funniest Moment: Joking horribly with myself that pellety sheep poo should be called "panic berries" after observing several sheep running away from me, pooping pellets all the while. (It should be noted that sheep are probably terrified of absolutely everything that is not another sheep. You can casually walk past, uttering reassurances all the while, and they'll still hurriedly trot or gallop off.)
Animals: Many dogs, cows (saw a small herd of belted galloways yee,) sheep in their many armies, a tuxedo cat, a fluffy black cat, two adorable friendly furry piggies with spots, seven Icelandic horses, other horses, an unknown bird of prey, grouse that made noises kinda like Donald Duck, an unknown duck, crows, and some silly songbirds.
Stuff I Thought About: Got grumpy about the deep ruts in the trail left by mountain bikers crossing the Pentlands, which were very muddy. Contemplated my upcoming zero day in Edinburgh a lot.
Anything to Write About?: A wonderful old Scot wearing a fabulous striped sweater set me straight about cows this morning. Having been fear mongered by every other Scot on the subject of cows, this lovely gentleman (who used to be a surveyor, thus presumably having made the acquaintance of many cows), told me that mostly cows are just curious; that's why they gawk at you. Every other person made cows out to be these unpredictable hell beasts, but this guy had a much more positive take; he did agree to never get between a mom and her calf, though. They are basically bears that don't want your food.
Another old male Scot spent ten wonderful minutes educating me on the history and geology of the Pentlands; it was much appreciated!
Day 11: First Lag Complete!
Kilometers: 12.1 km
Traveled: Forest near Balerno to Slateford
Things Seen: Fox (or badger) dens, fields of grain, weird modernish houses in Balerno, kids walking off to their first day of the school year wearing classy uniforms, and the Water of Leith rail trail to Slateford. On the rail trail I witnessed many winded-looking joggers, speedy cyclists, dog walkers, women pushing prams, horse poop, horse prints, sadly no otters despite my hopeful scanning, and the most epic mural that I have ever seen, covering the entire interior of a sweet old railway tunnel. It was very beautiful, colorful, and it featured a poem about a child's first experience taking the train. Very cool. Also walked over an aqueduct for the first time and it was a bit scary, having a channel of water of unknown depth on one side of me with a drop of death on the other.
Weather: Sun with cloud, a bit chilly.
Camp: Happily ensconced back in my favorite Edinburgh hostel; so far no roommates, wee!
Injuries: Sore feet and shoulders that are grateful to be having a well-earned zero day tomorrow.
Food Eaten: Two Snickers, a Kind bar (salted caramel almond are all I have left and I despise them ugh). Having resupplied at Sainsbury's, I also ate two apples, two pieces of foccacia bread, a small tub of cottage cheese, and two plums. Dinner will be rehydrated Alpineaire guacamole with spicy pepper cheddar and white rice (with two more plums for dessert).
Favorite Moment: Reaching the Water of Leith Visitor Centre and taking a dumb happy selfie with the SNT sign there (there are only three markers stating the trail's existence on its entire length; I have now been to two). I feel so proud to have conquered the first big section of the trail—Kirk Yetholm to Edinburgh! (Next comes Edinburgh to Milngavie, which is what I call "the canal section" in my head.)
Funniest Moment: Watching a guy tell his adorable tan and white to pit bull to pick up the stick she'd dropped; she did, galloping back to him with the most jolly grin on her face. It was so cute!
Animals: Many dogs including two English pointers (a breed I have never seen in person before,) a Weimaraner, several labradoodles, the first huskies that I have seen in Scotland (a commonish breed back home in Canada), a malamute looking thing that was too small to be an actual malamute, many labradors (my countrymen in dog format), and at least four border collies, one of which was especially well appointed in its fluffiness/grooming. (I told it so and its human asked it if it was paying attention to me, it was so great.) I also saw a lot of birds, including one that chirped in a bush next to my tent, unaware that I could see it, a bunch of wood pigeons, crows, magpies, and a few other songbirds. Sadly, no cats or horses; did see some cows and sheep, including a silly champagne-colored bull that was rubbing his head against the fence near my camp last night.
Stuff I Thought About: How weird it was to be watching kids start a school year, how it has literally been a decade since I shared in their academic toil. I love my freedom as an adult, but you know what? I miss those days, and I find it strange watching people my age with school kids, with babies. Sometimes I really feel like I am being left behind, and I don't know what to do about it except hike this trail. I do feel like I am beginning to heal, because a few days ago I spontaneously began counting the things I have to be grateful for, but I am still displaying traits of Avoidant Personality Disorder. I enjoy the wonderful little mood-boosting chats that I have with people on the trail, but I am also happy when they are over, and I am still happiest when I am hiking by myself, with just my trusty trekking pole for company. (Since it is always propping me up, helping me to my feet and stuff it kinda feels like a friend, even though it is really just an inanimate aluminum stick with a sharp carbide tip.)
Anything to Write About?: I'm grateful that I was born in the age before cell phones, when home computers were not yet a thing. I didn't get a cell phone until the final months of my last year of high school and I feel like my youth growing up disconnected has helped me greatly on this trail. I have yet to need a podcast episode or music to keep me company; I am comfortable with just the inane thoughts in my head. I frequently make up silly songs that I sing softly aloud (only when I am alone), and there's almost always a song fragment of some sort stuck in my head. I don't need to use up battery life on entertainment and when I do, it's usually just a chapter or two of an ebook as a treat to feed my mind.
Here's yesterday's made up song, which I think describes the SNT experience so far very well (imagine it to a singsong happy kind of tune):
Everywhere you look there's sheep poop,
Everywhere you step there's sheep poop,
Everywhere you go there's sheep poop;
Scotland is full of sheep poop!
Yeah… I consider my shoes mildly biohazardous. 
Also today I took the wrong bus from Slateford and accidentally went on a big long random adventure through Edinburgh, but I did not mind. It was nice to sit in a soft seat on the top deck of the double decker bus and be alarmed by every move it made (I kept expecting the bus to mount the pavement and tip horrendously). I'm glad to be in my hostel dorm room now, with a pile of clean laundry, devices taht are charging, and a full belly stuffed with fresh, less-processed chow. It's a good feeling and now that I am done writing this, it's time for a well-deserved hot shower! (Also badly needed because holy cats do I stink!)
Next up: Slateford to Milngavie!
Affiliate Disclosure
This website contains affiliate links, which means The Trek may receive a percentage of any product or service you purchase using the links in the articles or advertisements. The buyer pays the same price as they would otherwise, and your purchase helps to support The Trek's ongoing goal to serve you quality backpacking advice and information. Thanks for your support!
To learn more, please visit the About This Site page.