The Thru-Hiker's Gift Guide: Under $50
It's that time of year again. If you're looking for the perfect budget-friendly gift for the thru-hiker in your life, never fear: we're here to help. From the hiker just starting out to the one who already seems to own everything, there's something fun and useful in this guide for every type of thru-hiker. And the best part? Everything on this list is under $50.
Socks and Underwear
In backpacking, as in life, you can never have too many spare socks 'n' undies. It's the practical, un-sexy gift we all secretly want and need. On-trail, avid hikers can wear through a pair of socks in no time flat, and underwear can quickly get… well… you know.
Darn Tough Hiker Micro Crew Socks Men's | Women's
MSRP: $23
Materials: 59% merino wool/39% nylon/2% Lycra spandex
Darn Tough socks are made in the USA (and in an Appalachian Trail state: Vermont!) and are pretty much the gold standard for wool hiking socks. They're super soft, comfy, and durable, plus they come with a lifetime guarantee. All hikers covet Darn Toughs, and an extra pair or two definitely won't go amiss.
For an extra-luxurious gift, check out Darn Tough's deliciously plush, ultra-cozy Mountaineering Socks.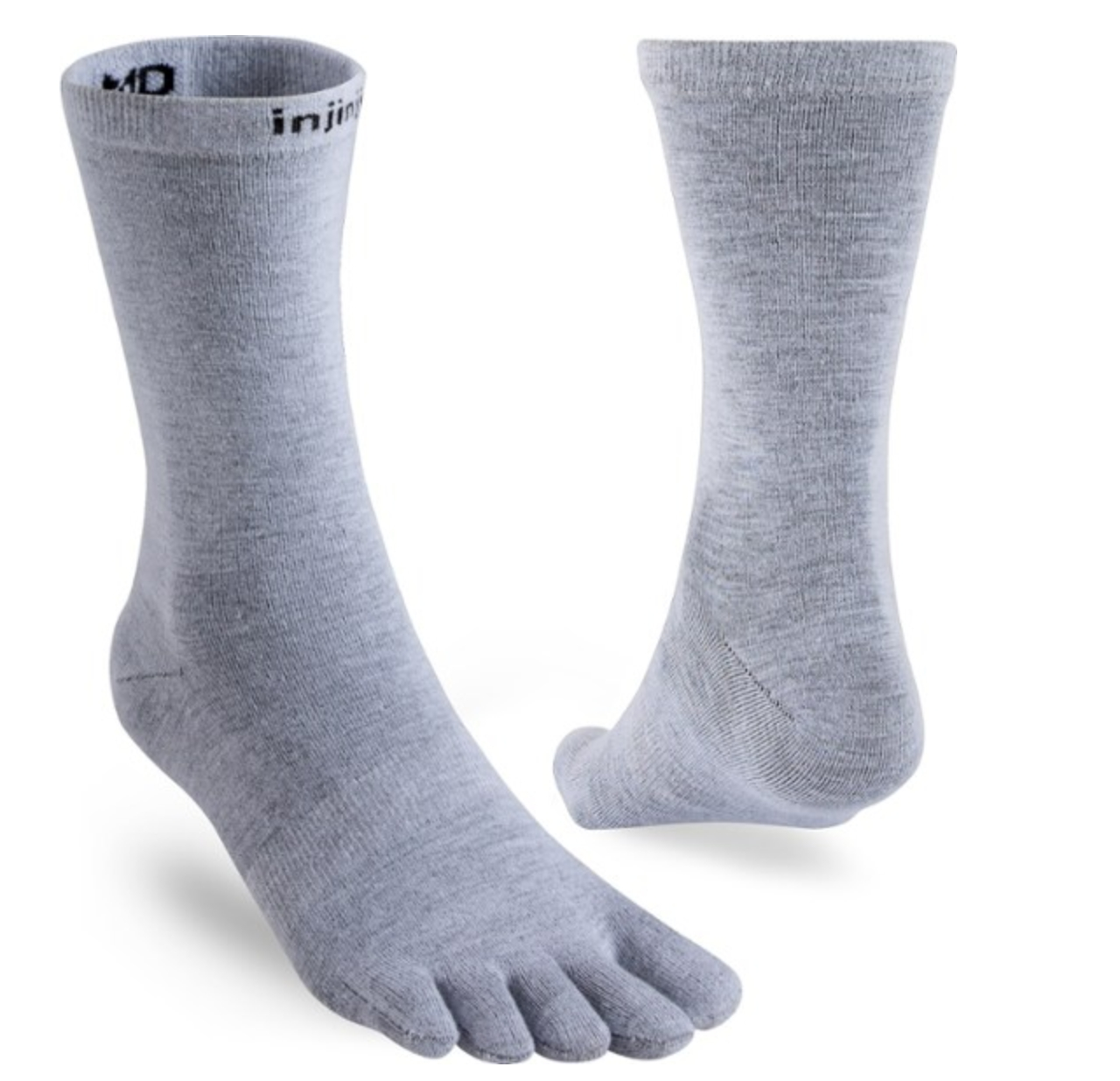 MSRP: $11
Materials: 75% CoolMax polyester/21% nylon/4% Lycra spandex
Injinji's skin-hugging toe sock liners provide an extra layer of sweat-wicking and protection between your sock and the skin of your foot. Many hikers swear by sock liners as a means of blister prevention. They're also available in wool if you want to make this gift extra-fancy for a few bucks more.
ExOfficio is the industry standard for odor-resistant clothing. The Give-N-Go line is popular among hikers because of its lightweight, breathable comfort and modest stank-reduction properties. (It's pretty impossible to eliminate thru-hiker odors, but many people claim these undies are still a significant improvement).
Accessories
PSA: The Trek has a store! Everyone needs at least one good buff in their life (especially now that a buff can double as a facial covering during the pandemic). We think our very own Blueprint Neck Gaiter is a pretty rad option. It's multi-functional, multi-seasonal, and we'll donate part of your purchase to nonprofits overseeing the Triple Crown Trails.
MSRP: $44.95
Material: Gore-Tex
On cold winter hikes, protecting your hands from rain is more than a luxury: it's crucial for safety. These waterproof breathable mitts can be worn while hiking on cold, windy, and/or rainy days for added warmth and protection. They're also great for keeping your hands dry while filtering water. You don't need rain mitts until you really need them, but when that time comes, your giftee will be glad to have them in their pack.
MSRP: $10
Weight: 0.22 oz
Dyneema, or DCF, is a cutting-edge fabric coveted by members of the ultralight community. Everyone should own at least a little bit of Dyneema (it's a really cool material), but it's crazy expensive. This wallet is probably a better starting point than a $700 tent. It's four inches wide by three inches tall (just enough for a few cards and some cash). Weighing in at only six grams is virtually weightless.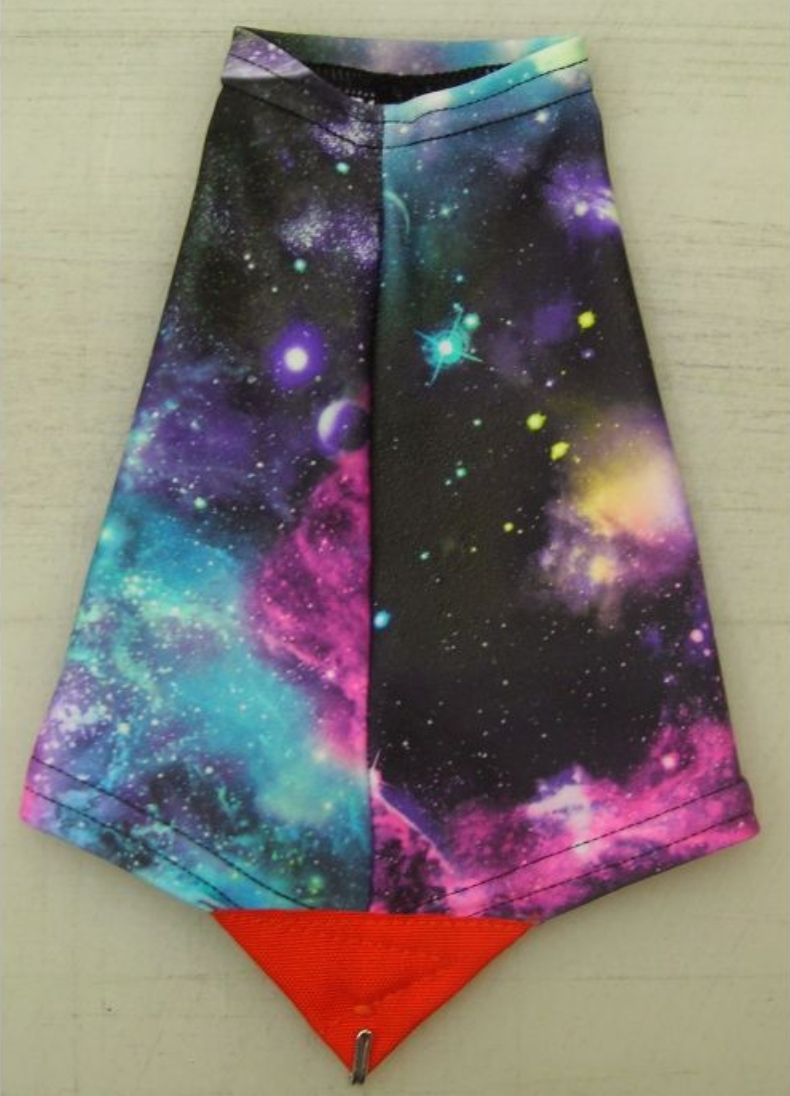 Gaiters are basically little ankle skirts that keep snow, mud, and debris from getting inside your shoe. Lightweight trail running gaiters suffice for most thru-hikers. Dirty Girl is the most popular brand, with literally hundreds of fun fabric patterns.
Gadgets
Thru-hiking isn't an electronics-heavy activity, but there are still a few devices that make life on the trail easier and more enjoyable, and gadgets are sure to be a win with gear junkies and newbie hikers alike.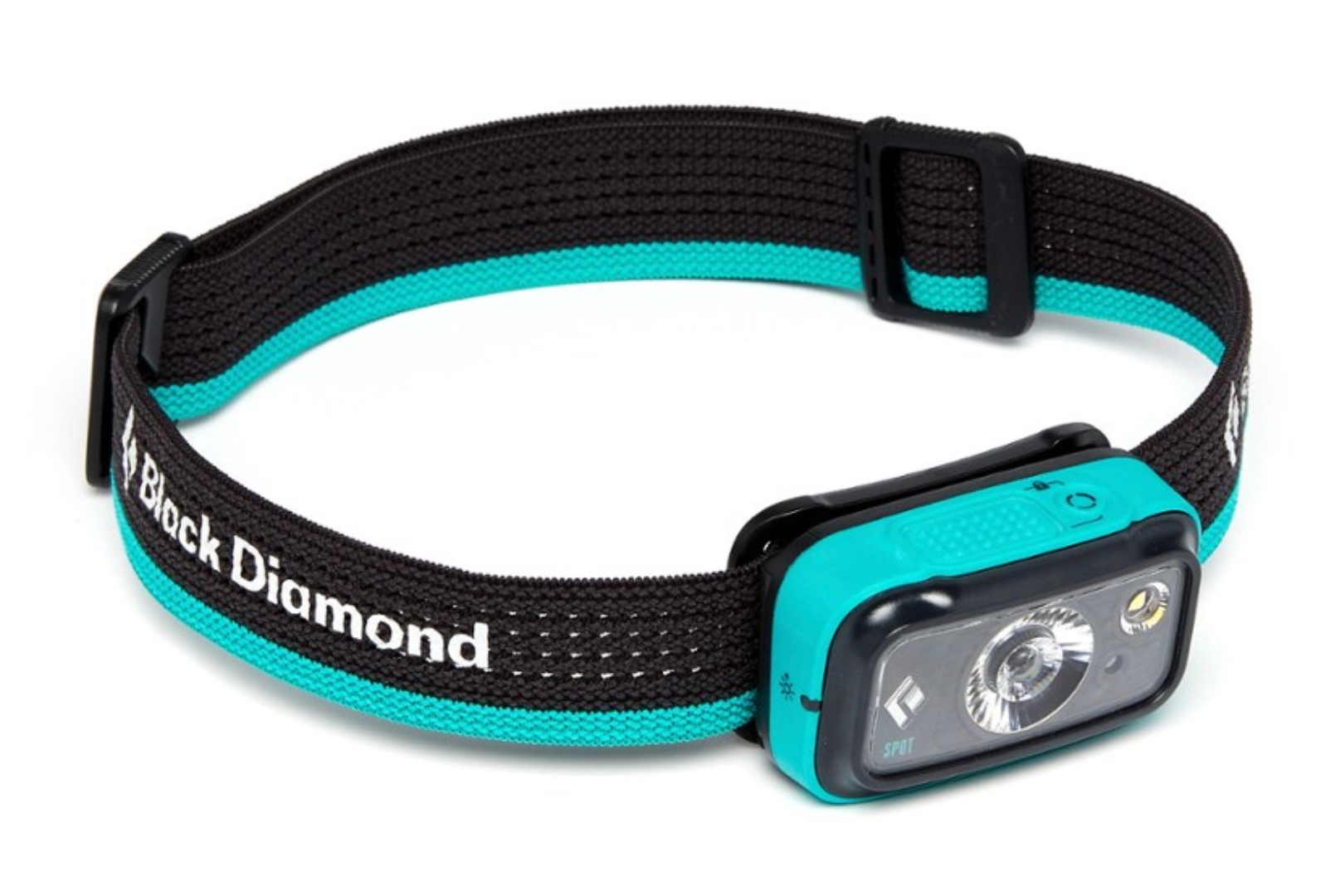 MSRP: $39.95
Weight: 3 oz
All hikers need a headlamp for night hiking and toodling around camp after dark. This thru-hiker favorite has several brightness settings, red light, strobe, a locking feature, and a battery indicator light.
We wrote about the best headlamps of 2020.
MSRP: $19.99
Weight: 6.3 oz
A battery bank will provide the user with three or four additional smartphone charges, so they don't have to worry about conserving their battery. This is a nice feature on-trail, where a phone comes in handy for everything from music and photography to navigation and communication. It can also be used to recharge other devices that charge via USB.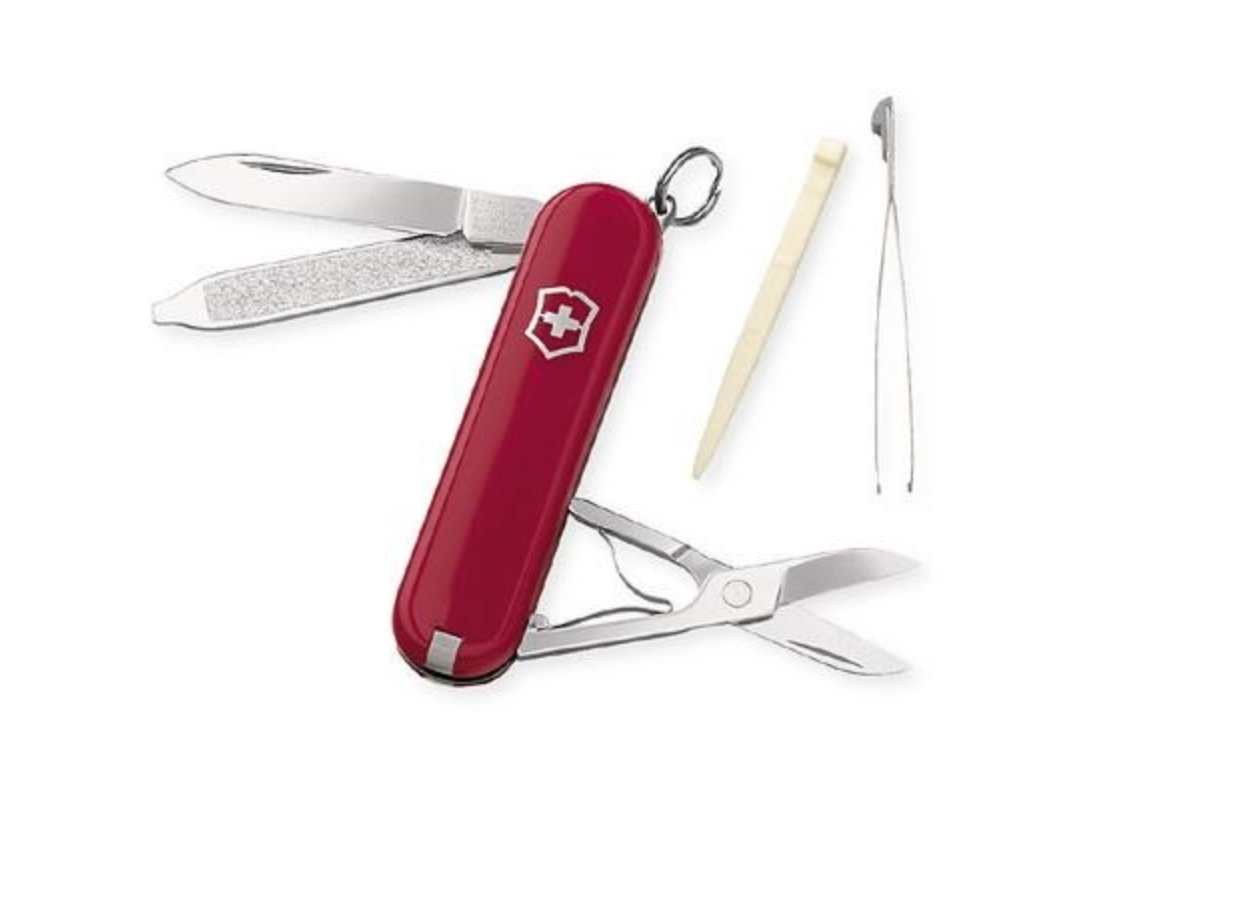 Swiss Army knives are famous for packing tremendous functionality into a compact package. This lil mini stabber will be more useful for cutting up cheese and summer sausage than fending off marauding bears. But since the former task is infinitely more likely to be an actual need, this 1.5 oz gizmo is the perfect tool for the job.
Food
All hikers are obsessed with noms. Help your gift-ee mix it up in the backcountry kitchen department with an assortment of fancy backpacking foods.
MSRP: $7.50 for a single serving pouch
They have a variety of exciting meal flavors at a reasonable price point. Not sure what to get? We like the Mexican Quinoa Bowl, the Herbed Mushroom Risotto, and the Pad Thai.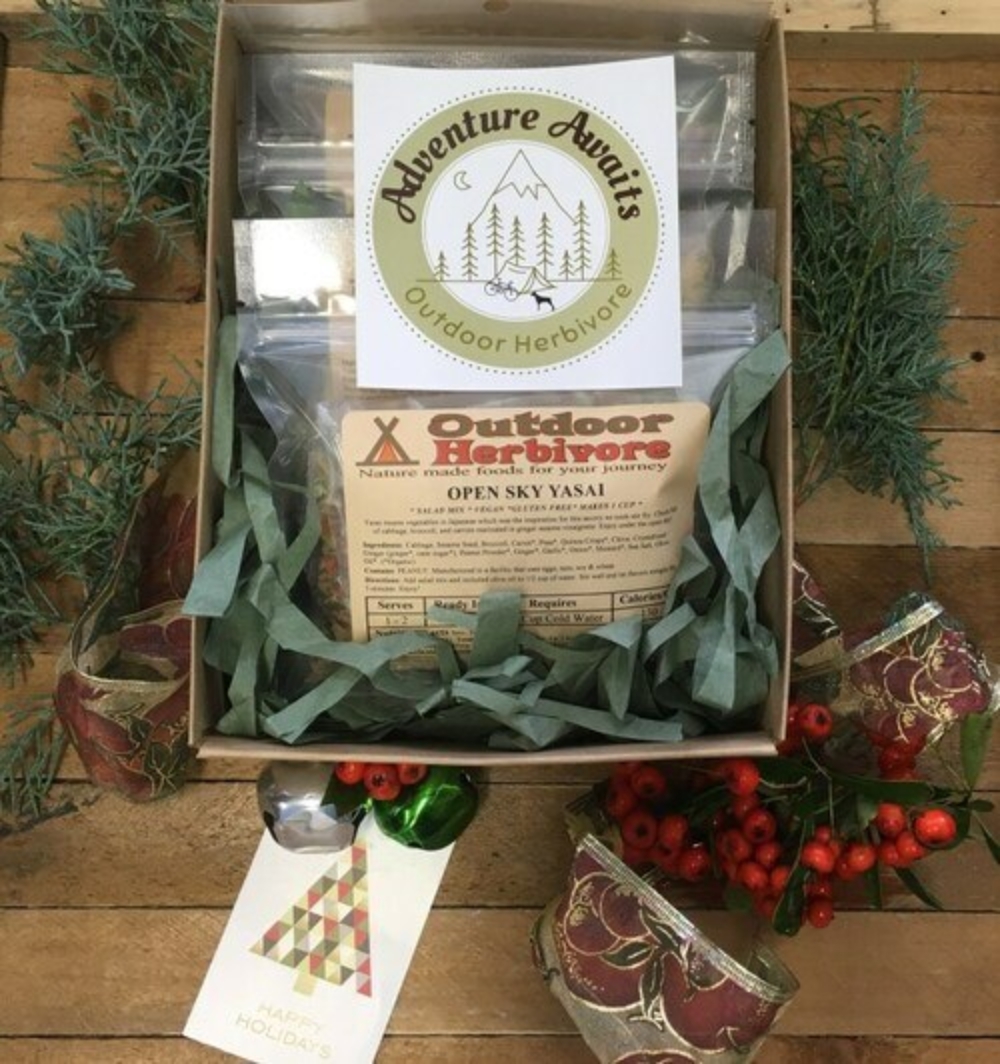 MSRP: $6-$9 per meal, or $39.99 for the four meal gift box
Vegetarian and vegan hikers love the unique flavors of Outdoor Herbivore. It's not in the gift box, but we have to give a shout out to their Instant Hummus, which is delicious enough to serve both on and off-trail.
Instant… bread? That's right. You have to cook Fryin' Pan Bread in a pot, rather than merely adding boiling water to the bag. Still, the result is delicious, delicious carbs served hot off the backcountry griddle. There are several variations on the standard Fryin' Pan Bread, including blueberry scones, pizza, and biscuits and gravy.
MSRP: $29.95
Weight: 2.6 oz
No point giving someone a bunch of freeze-dried backpacking food if they don't have a pot to cook it in! Every ounce counts to a thru-hiker, though. Swapping out heavier aluminum cookware for a minimalist titanium pot can save weight (and eliminate the metallic taste aluminum sometimes imparts). A 550 mL pot should be big enough for an individual hiker. Round the gift out by adding a matching long-handled spoon (for digging into the depths of a backpacking meal pouch).

Gossamer Gear has, to say the least, taken a unique approach to ultralight cooking by creating this DCF pouch that's designed rehydrate the user's dinner using their crotch heat so they can "cook" while they hike and have a hot meal ready to eat at camp, all without the weight of a stove, pot, or fuel. Not only does this make a great gag gift, but it's also legitimately functional. Many users report simply clipping the pouch to their pack for cold soaking convenience, rather than going the crotch route.
Intrigued? Check out our review of the GG Crotch Pot here.
Backpack Upgrades
Backpacks are big, expensive, and highly specific to individual needs, making them challenging gifts. But did you know there's a roaring market for backpack accessories, like removable pockets to increase organizational capacity and provide more convenient storage?
MSRP: $25
Weight: 0.71 oz
Hydration bladders make it easy to drink on the go, but they're not that popular with thru-hikers because they're heavy and difficult to fill and clean. But on the other hand, reaching back to grab a water bottle out of your backpack's side pockets mid-hike is inconvenient at best and a strain on your rotator cuffs at worst. The solution? An ultralight water bottle pocket add-on that attaches to your shoulder straps so that your water is always easily within reach. This mesh pocket from Zpacks weighs a fraction of an ounce and should fit most backpacks.
Because you can never have enough hip storage. The Feather Weight uses DCF and waterproof zippers, has a secondary mesh front pocket for added organization, and boasts 1.4L of storage capacity. That's plenty for snacks, tissues, a phone, guidebook pages, and anything else a hiker might want to have handy during the day. As a bonus, the Feather Weight is available in a variety of unique color options and patterns.
Trail Comfort Items
Hiking is hard. Help make trail life feel a little comfier with one of these lightweight, inexpensive accessories.

For just over an ounce, this massage ball can work wonders for sore, tight muscles at the end of a long day on trail. And sine sore, tight muscles are the hallmark of any thru-hike, this inexpensive gift is virtually guaranteed to be a hit.
MSRP: $39.95
Weight: 2.1 oz
An inflatable pillow isn't strictly necessary on a thru-hike, but having something soft to cradle your head is an incredible comfort to a weary thru-hiker. That's why inflatable pillows are so frequently cited as thru-hikers' favorite luxury item.
For thrifty hikers who prize weight savings and multifunctionality in their gear, Zpacks offers a pillow-dry bag hybrid for cranial comfort at night and waterproof organization during the day. Turn the DCF dry bag inside out to expose the fleecy interior. Then stuff unused clothes and other soft goods inside to create a cozy camp pillow with a minimal weight penalty. This unique piece is an excellent option for the hiker who already seems to have everything.
It's incredible how much of a difference it makes to have a sit pad protecting your behind from cold stone, mud, and poky sticks. This item costs little in terms of both money and weight but adds an incredible value to any hiker's pack.
Hiking umbrellas are all the rage these days, and with good reason. They provide both sun and rain protection with full ventilation. You can even get a hands free umbrella kit so that the umbrella can be attached to your backpack shoulder straps—no need to hold it all day.
Read: Why Sun Umbrellas are Becoming Thru-Hikers' Favorite Piece of Gear.
Small Necessities
Rain, sun, wind, and bugs are a reality of the trail. Help your hiker navigate these challenges safely and comfortably.
MSRP: $10.95
Weight: 1.3 oz
A head net weighs very little and provides some relief from the inevitable clouds of mosquitoes and blackflies that plague hikers on long trails worldwide.
Permethrin is an insect repellent treatment for clothing and gear (it doesn't go on your skin). Permethrin treatment is particularly clutch on the Appalachian Trail, where tick bites can transmit serious diseases such as Lyme. One permethrin treatment lasts about six weeks or six washings, and then your hiker will need to reapply. Pretty much any gear, including all clothing (except underwear), buffs, shoes, tents, and packs, can and should be treated.
Sexy? Not really. Practical? Yes. Having a little SPF on hand is always a good idea for someone who lives outside for an extended period, especially on trails with a lot of exposure to the elements.
At-Home Necessities
National Geographic Wall Map: AT | PCT | CDT
A wall map is a perfect gift for aspiring thru-hikers and veterans alike. They can use it as inspiration and a helpful planning tool before thru-hiking and will love looking back at and reminiscing about their favorite spots on the trail after they've completed. A wall map is also an excellent gift for family and friends who would like a way to follow along with someone's hike.
MSRP: $30
Author: Zach Davis
Fun fact: Appalachian Trials: The Psychological and Emotional Guide to Successfully Thru-Hiking the Appalachian Trail was written by The Trek's very own Zach Davis, and that's how this very site came to be. Not to toot our own horn too much, but App Trials is a must-read for aspiring thru-hikers. Long-distance hiking is physically grueling, but mental fortitude is a more important determiner of success. This book is packed with valuable advice for surviving the tough days and savoring the good ones. Getting a signed, personalized copy from Zach himself makes this an extra-special gift for anyone with dreams of hiking.
MSRP: $7
Author: Kelly Floro
Another home team special. This handy e-book doesn't cost a lot, but it can pay dividends for hikers trying to outfit themselves on a shoestring budget.
MSRP: $19.95
Author: Derick Lugo
Your hiker is sure to enjoy this entertaining and often humorous account of a New York City comedian's thru-hike on the Appalachian Trail. Read our review here.
MSRP: $16.44
Author: Barney Scout Mann
Legendary Triple Crowner and PCT trail angel Scout shares his narrative account of six hikers' journeys from Mexico to Canada on the PCT. Read our review here.
MSRP: $60 (on sale for $48!)
Authors: Juliana Chauncey, Zach Davis, Carly Moree
The ultimate thru-hiker prep kit.  A pair of signed books from the co-hosts of Backpacker Radio.  This bundle will only be available during this holiday season.
Affiliate Disclosure
This website contains affiliate links, which means The Trek may receive a percentage of any product or service you purchase using the links in the articles or advertisements. The buyer pays the same price as they would otherwise, and your purchase helps to support The Trek's ongoing goal to serve you quality backpacking advice and information. Thanks for your support!
To learn more, please visit the About This Site page.