The Trail Will Always be There
On this day two years ago I took my first steps north on the Pacific Crest Trail. Thinking back to those first days on the trail—to the endless bluebird skies, mesmerizing ridge walks, and the simple kindness of the people around me. I was eager to "crush ks" and"put up numbers" (in terms of eating junk food). And I was also determined to hike my own hike until I got sucked into a crazy trail family with four dudes. I pushed myself harder than I thought possible, hiked in the dead of night, and was hungry all the time. Yet I have never laughed so hard in my life or cried more tears of pure joy than I did on the PCT with the band of misfits I called my trail family.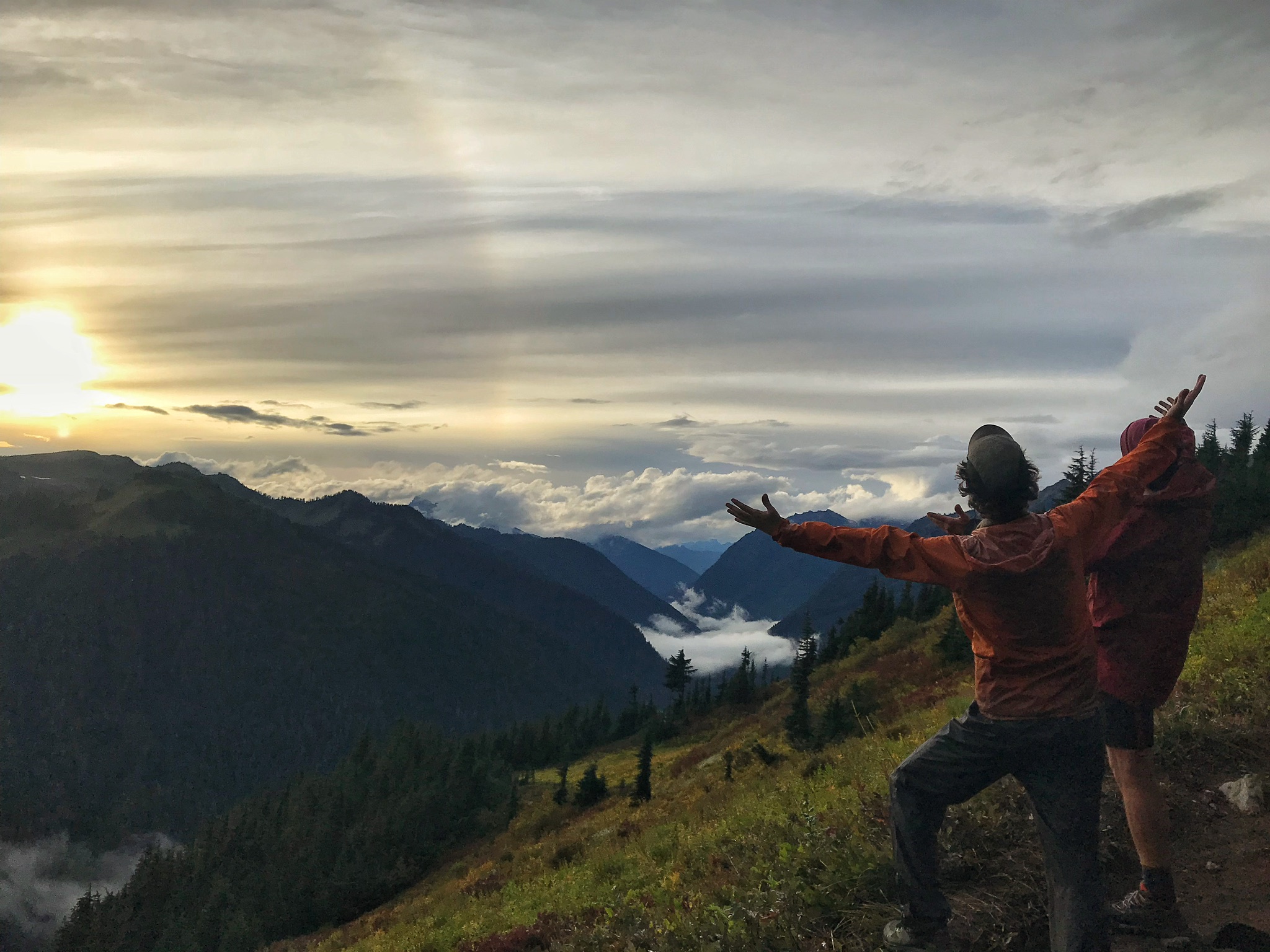 As I look back on those endless summer days I think back to the community of hikers I relied on. With the recent down time of unemployment my trail family was reunited over a five-hour Zoom call. Our first full reunion since the Canadian border felt like another evening on trail, listening to crazy stories and dreaming of the days to come ahead like no time had passed.


Even before I finished hiking the Pacific Crest Trail in 2018 I was already planning my next thru-hike, the Appalachian Trail in 2020. The plan was to instruct a full season for Outward Bound in Oregon, followed by a jaunt on the Wind River High Route in Wyoming before heading to Katahdin. That's right, I was planning to hike the Appalachian Trail southbound. My trail family on the PCT would joke about never trusting a southbounder (SOBO). We believed if a SOBO hiker mentioned trail magic ahead or an easy hitch into town we had to see it to believe it. We were definitely assholes, but in our delusional state our rationale was hilarious.
The summer months were projected to be action packed with minimal days off. I was excited for the adventure and personal challenge. My goal was to hike the AT southbound in under 100 days and in Bedrock sandals. I guess I really like suffering!
Not that I wanted to rush through the AT. I was curious to test my mind, body, and spirit on a fast paced thru-hike. The last days of the PCT my body and my gear were hanging on by a thread, yet I was excited by leaving everything I had left on the trail.
As I walked into Canada on September 20, 2018, I knew I had nothing left to give. The day before I set a new personal best for distance of 41.6 miles, my shoe was literally duct taped onto my foot, and the shirt that I had worn from day one had massive holes. While the final days on the PCT were difficult, it left me hungry for more. I had found my limit and was looking forward to pushing farther on the Appalachian Trail.
Now, all good plans have to fall apart at some point. For me I thought the breaking point in this brilliant plan was when I broke my ankle in a backcountry skiing accident in February. While I was trying to convince myself that my ankle wasn't broken I also remembered my upcoming hiking plans. I had six months to the day to get myself healthy and fit to hike.

Reality sunk in several days after the accident when the orthopedic surgeon told me my only option was surgery. My first question was when I could ski again and my second was if a thru-hike was possible six months after the injury. The doctor looked at me like I had two heads. He agreed to a minimum of three months before I could ski and thought six months was enough time to heal before hitting the trail. I left out the details of the fast pace and wearing sandals.
In February I thought my entire life was being derailed, especially since my profession as an outdoor educator relies on me being fit and healthy. Then COVID-19 came to Oregon in March. Like so many others I was laid off and all plans were put on hold. Those first days felt like a dream, and eventually the days began to blur together. Now it's been seven weeks since we went into lockdown and three months since I broke my ankle.
My hope for this extended time at home was to be productive. Seven weeks later I've finished reading the Game of Thrones books and completed 15 puzzles. I walked so many miles in my boot that the straps broke and spent hours on end sitting in the sun outside. For quarantine, I guess that's productive.
I've let my mind wander like those endless days on trail; letting my personal commentary ramble and occasionally having deep, introspective thoughts. What was weighing heavily on my mind was whether thru-hiking in August was possible? Would outdoor education exist this summer and in the future? And the gratitude and connection I feel for the community I have built in central Oregon.
As an outdoor educator and self-proclaimed steward of public lands I felt as though I had an obligation to my professionalism to stay out of the backcountry. I felt morally conflicted as to follow my impulsive brain to jump back into skiing or listen to my maturing brain about my newfound ability to be patient.
In the weeks leading up to taking off my dreaded walking boot I was conflicted between my morals and my desires. When the day finally came I was hesitant to get back on snow. Eventually I went on a recon mission up to the local Snopark. 
With the windows down and Lizzo blaring I drove up the familiar mountain road for the first time in months. Tears welled up in my eyes as the snowcapped peaks came into view. I knew it was time to get out there. The following day the restrictions were lifted, the skies were calm and blue, and I finally got back on skis.
So what does all of this have to do with thru-hiking the Appalachian Trail?
During my weeks in quarantine I have been thinking about my hiking goals and morals. I concluded that once "all of this is over" a thru-hike would definitely be necessary to regroup; yet I couldn't help thinking about the small trail communities and other hikers on the AT.
Not only was I craving a real sufferfest to test my mental and physical limits, but I was also searching for the community associated with a long-distance hike. Knowing that a thru-hike at this time would be unwelcome in small communities and my passion for stewardship of public lands; I decided 2020 is not the year to embark on a thru-hike.

These past few months have reminded me that these challenging times aren't about me, but they are about our community and society. Building and maintaining community takes time and is not easy. 
Walking is really the easy part of a thru-hike. Knowing when to not even start or stop is a tremendous undertaking; just like walking a long-distance trail is not easy. These past three months of time indoors have been immensely productive for personal growth and maturity.
The future is uncertain, yet my optimism is growing. The Appalachian Trail will always be there. When the time is right I'll embark on my trek to Springer Mountain. For now I'll keep it local and tag some peaks in the central Cascades. 
Affiliate Disclosure
This website contains affiliate links, which means The Trek may receive a percentage of any product or service you purchase using the links in the articles or advertisements. The buyer pays the same price as they would otherwise, and your purchase helps to support The Trek's ongoing goal to serve you quality backpacking advice and information. Thanks for your support!
To learn more, please visit the About This Site page.