The Very End
Waking up on Day 48 at Blueberry Lake was a wet one.
While it was a great spot to camp, we were in a grass meadow right next to a lake, the perfect recipe for dew and condensation. Everything was damp and optimism for the day certainly wasn't the highest.
After heading down from Blueberry Lake we would be entering the heart of the Jackpine Valley. It was still dark when we woke up but the morning light was just coming up as we hit the trail.
The days were really getting short compared to our 4am starts in Section A.
We left the lake and went down into a meadow and reached a very soggy trail which eventually disappeared and we got a bit lost. This was going to be the basic premise of the entire day. We eventually reached the Jackpine valley and got even more lost. Between lots of brush, a winding river, and large swampy areas it really slowed us down. Tanya and I both sunk waist deep in the camouflaged bog pit, a few minutes later I absolutely shredded my pants.
I have had these pants for well over 5 years and they are my go-to climbing and hiking pants, it's really incredible they made it this far. The Jackpine Valley was the last straw. I ripped my left pant leg from the knee down, and then basically all the way across the thigh. It was a very mentally challenging day.
Sometimes if I'm feeling rushed I try to speed up certain things, like just leaving the filter on my water bottle rather than filtering 1L. This means I usually drink about ½ or 1/3 of the water I would normally drink, which increases my grumpiness. I did this today and really shouldn't have.
By the time we hit lunch I was tired, thirsty, covered in mud, my pants were ripped, and I had a headache (probably from being dehydrated).
We sat down for lunch and I popped off my shoes, discovering I had holes on the bottom of my socks that exposed nearly my entire forefoot. The muck we were tromping through must have filled my shoes and acted like sandpaper on the bottom of my socks, wearing in a hole in just a few hours. Halfway through Section F+G and the trials of the trail were starting to kick in.
At lunch I went for a swim, and chilled on the shore of the river for a while and felt much better. Took some Advil for the headache and things started to turn around. The bushwacking continued but my attitude was much better. We were really pushing through some pretty dense brush.
By mid-afternoon we hit 1000km!
Despite around 30km that we had skipped (all of which were on the shoulder of the highway) it felt like a good accomplishment. This in itself was ½ of the 2000km I was attempting to hike for my fundraiser.
It was a good reminder that all of this was inspired by Jill, and she was my introduction to the magic of the Canadian Rockies. This trip was about more than me and having this reminder of my cause for hiking brought more purpose into the hike, despite the hardships we had encountered.
We took a few more morale breaks along the river, everyone was having a hard day and there was truly a sense that we were nearing the end of the trail.
I was happy to do everything I could to slow it down.
By 6:45 we arrived at a small spot along the river just big enough for all out tents. There wasn't a very good spot for our Ursacks so we all hung them on a tree, it looked like a thru-hiker Christmas tree covered with Ursack ornaments.
Smoke rolled in from the east just as we hit the tents.
The next morning we woke up early, Tanya and I shared an instant cappuccino on the shores of the river as the fog and mist was still rising.
Once we packed up and hit the trail it was about 20 seconds before we were already ankle to knee deep in stinky mud again. By this point it was just laughable as there was nothing to do but accept it.
The trail was hit and miss for a while before we eventually lost it all together. We hit an area that had burned so there was endless deadfall. Our GPS track may have been a good route at one point but we were really trying to just find the path of least resistance which involved lots of zigzagging through brush, deadfall, puddles and spiderwebs.
By this point my socks weren't really doing much, my heels were covered but the forefoot was commando.
Once we made it through we hit the river again but this time waded through it. It was between knee and waist deep and surprisingly warm. It felt like we were in the jungles of Vietnam as we walked downstream in the warm river water of the late morning.
It was a very special moment and felt like something that is so unique to the GDT. As part of the last section it was great to have some challenges thrown at us, but also be rewarded with some of the most unique experiences.
We hit our first climb out of the valley and had a nice break on top, we were starting to emerge from the Jackpine Valley, and besides my clothes, we were basically unscathed.
We dropped back down and cross the Pauline River, it was very silty, mid-thigh but moving slowly.
After this river crossing, we were headed up Big Shale Hill, the last big ascent of the entire GDT. At 800m it's quite big, even for GDT standards and was quite a struggle in the beginning. We were taking breaks every 200m we went up, which was very frequently because by this point, we were super strong.
After about 500m gain we finally reached the alpine and the trail disappeared which was nice but doesn't make the hiking any easier.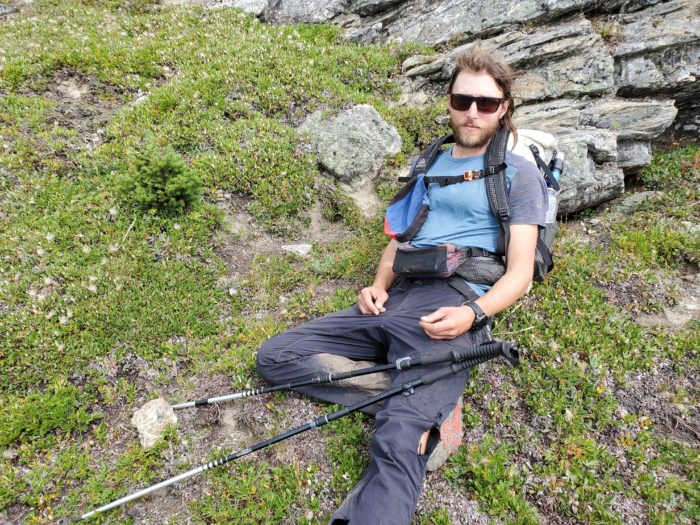 It was a slog.
We slowly made our way up through the alpine grass and shrubs until we made it to the top. The wind was absolutely howling, the strongest wind we had on the entire trail. We were planning on taking lunch at the top but that idea was quickly changed. There was a bit of a rocky outcropping we hid behind to catch our breathe and regroup but it was starting to lightly drizzle and the wind made everything pretty chilly.
We decided to drop down to treeline to have lunch, hoping we would have a bit of cover from the trees. We found a spot and laid out some of our gear to dry. It only took a few minutes for the wind to find us and I had to run after the tent as it started to take flight.
Just a few minutes later the rain came so everything was back in the pack then the rain gear went on for the first time on the entire trail.
We kept descending until finally hitting the valley bottom, which would probably be a gorgeous meadow but the gray skies and drizzle tarnished the views. We were simply just trying to get to camp as soon as possible now.
Between the warmer weather in the valley, avoiding the wind, and being bundled up in the rain gear I started to get really hot, and then of course became grumpy.
I took a few breaks to chill out and calm down.
We hit camp in a grassy meadow with some trees spaced around. Had the weather been nice it would have been a really nice place to lay out and relax. But with the cold drizzle and unpredictability, we were keeping it to the bare essentials.
There was a SOBO hiker, the first we had seen on the entire trail and we swapped some stories. All of us were a bit unsure of how they would fare starting so late in the year. We could already feel fall setting in and were anxious about what they may encounter.
They were on their 3rd day and it was the first time we heard first-hand accounts of the trail ahead. We were in for more SOBO hikers the next day!
With the border being closed due to COVID nearly all hikers were Canadian, or already living in Canada. The SOBO hikers we met were American as they were only able to enter Canada a few days prior, deciding that a postponed hike is better than none.
It intermittently rained throughout the night and we could already tell we were going to be in for a wet day tomorrow.
To our surprise we woke up the next day to a relatively dry tent and hardly any dew on the ground. It must have cleared up through the night.
We left at 7am and the rain hit almost immediately. Full on rain. We had made it this far but today was day 50 and mother nature was unleashing a downpour upon us. I finally tossed full rain gear on, for some reason Tanya decided she didn't want to put her rain pants on and I'm not sure she has ever used them to this day.
It rained for 7 ½ hours.
With the exception of about 20 minutes which I'm assuming was the Earth catching its breath and reloading before continuing.
My rain gear was working well until we had to start bushwacking. I opted for some lighter weight rain pants, which happen to be one of the most common rain pants on American thru-hikes, but northern BC/Alberta bushwhacking was no match for them. As soon as I brushed up against any bushes, I could feel water pushing right through the pants.
We pushed on all day without any breaks over 5 minutes. There were a few moments we huddled under a big tree to try and warm our hands, otherwise it was heads down and trudging onwards. It was too cold to stop moving.
It was so cold I could barely use my fingers, Tanya had to go pee and needed help undoing the buckle on her pack so she could take it off. She couldn't undo the buckle because her hands were so cold, I could barely do it either and it took several tries.
Heather realized her pocket had become a giant lake and her phone was now toast. Hopefully she could still salvage her photos.
It was becoming apparent how lucky we had been over the whole summer, a hike enduring this kind of persistent weather would have been an entirely different experience.
If weather was consistently like this, or if we had to deal with several consecutive days of this we likely would have quit, or at least taken time off to wait out the storm. It was hard, too hard.
The day likely would have been beautiful, we were walking through meadows with streams and mountains all around us. Unfortunately, we were all looking straight down and just trying to push through.
It was a true communal struggle day. Every so often someone would check to see how many km we had left and would yell it out. Then everyone would echo that number as a cheer to keep going.
We finally hit camp after slightly losing the trail, the last thing we wanted. We all immediately hit the tent and didn't get out for 4 hours. The rain persisted and the thunder rolled in. Upon taking my rain jacket off I also realised it wasn't doing much. I was soaked to the bone from head to toe and the weather was cold. My jacket must have been keeping in the heat however because I didn't realize I was wet until I took it off.
During one small break in the storm we all ran out and made dinner and attempted to air dry our clothes. By the end they were only damp rather than dripping wet, I was sure looking forward to putting damp clothes on in the morning… The next day called for 3 degrees (37F) at 8 am with 85% humidity. Frigid. That's the kind of damp, wet, cold you can't escape.
However, the next day was our final day and we would be hitting the Kakwa Lake Hut: a hut with a wood stove. Had there not been something to look forward to I'm not sure what would have motivated us to keep going.
The next morning we woke up soaking wet. Bringing our wet clothes and wet bodies into the tent meant the moisture had nowhere to go. Pair that with our 4-hour lounge and then sleeping all night with everything battened down meant condensation was king. With the rain pounding on the tent overnight this condensation was raining down on us all night.
Everything in the tent was wet.
It was a balmy 2 degrees overnight so we all slept in. We checked in at 6am but it was still cold so we bumped it back to 7.
Miraculously my rain pants had dried enough from yesterday and didn't get wet overnight so I had dry pants to put on, everything else was damp and clung to my skin.
The morning weather was unsettled but wasn't raining. We got going and were headed up to a pass, it felt good to move uphill as it kept me warm and I could start to feel a bit more normal. At the top of the pass it was dry so we took a break and dried out our gear in the bitterly cold wind.
It was a goofy day where we were all a little delirious after the struggle of the day before and knowing this would be the final day on trail. We found tons of berries which raised morale and I found my new favourite kind of wild berry, a Saskatoon berry.
The GDT saved all of the physical challenges for this last day. We had a sketchy river crossing, bushwhacked through willows, encountered knee to waist deep mud (which we later coined the "low route alternate"), then had to climb over some avy debris that was the size of several semi-trucks.
We continued on and hit the last campsite before the cabin. We all took some time to reflect and take in the moment.
There was nothing else ahead of us except the ending.
The last 5 or 6km were very muddy, we were caked up to at least our knees if we managed to stay on our feet. In these last few km I had lots of thoughts about this hike. What did it mean? Was it real? What would reincorporating into society be like? How could I save this mindset at this very moment and make it last? These feelings all turned into grief about ending the trail. It was going to end and there was nothing I could do to extend it. A life lesson that had become all too familiar in the past few years.
We started a gradual walk downhill, which I assumed would be towards Kakwa Lake. Stefan and I took a break together and we enjoyed the amazing views and the perfect weather we were lucky enough to have on these final moments of trail. The birds were out, we could feel the warmth of the sun on our bodies, the fall air was crisp, we were near the end of our journey and it felt like a blissful purgatory before choosing how we would proceed after this endeavor.
I truly enjoyed Stefan's company and was very happy we talked with him the day before our hike started. I didn't imagine being here at the end of this trip with him still by my side.
We continued down and then we saw the cabin. It felt like a giant slap in the face. I was hit with the reality that we had made it. Nearly 1200km over the past 51 days and we could see the end. I wasn't ready to continue so I sat and looked at the cabin for an unknown amount of time. This was it, what we had been walking towards every single day.
Eventually, I started moving again, seeing one final river crossing before arriving at the hut. I knew that once I crossed this river it would be over, there was no going back. It was a spiritual experience crossing that final river, like being baptized by the trail and then emerging as a GDT hiker. I was like a lizard shedding a layer.
We arrived at the cabin and went out onto the dock to look out on Kakwa Lake.  I jumped into the lake fully clothed, it felt right to end it completely immersing myself into the finale. Stefan and Tanya both followed.
We went into the cabin and got a fire going, absolutely piping hot. We started drying our gear and attempted to comprehend what we had just completed.
We heard a sound outside and saw another hiker arriving, it looked like she was having a very bad time. She had started the section earlier than us, so we had no idea how we passed her. Either way, she was in rough shape. She was hiking solo, and this last section seemed to really do a number on her. There is no way I would have been able to finish this section without the support from Tanya. Having a partner is essential for dealing with hardship that can't be explained but only experienced.
We helped her out and gave her some extra food. She was out of food because she had ended up hunkering down in her tent during the whole storm. A rough place to be, particularly alone.
The rest of the night was filled with all our treats we had been saving, lots of food and a hot fire that was almost too hot to sleep through.
We made it and the 6 of us were able to share the joy of completing such a wonderful adventure.
Affiliate Disclosure
This website contains affiliate links, which means The Trek may receive a percentage of any product or service you purchase using the links in the articles or advertisements. The buyer pays the same price as they would otherwise, and your purchase helps to support The Trek's ongoing goal to serve you quality backpacking advice and information. Thanks for your support!
To learn more, please visit the About This Site page.