Threat Level Midnight
After a few longer days of hiking, I "took the weekend off". In actuality, I still hiked quite a few miles… but I had two great friends who joined me for the weekend! Our adventures included an incredibly late night by a fire, gorgeous weather and views, and an impromptu visit to a brewery. All good things come to an end. They returned home and I continued on my journey South.
Day 91 (12.5 miles)
It was a very cold morning and the wind was still howling. I was the first one out of bed in the shelter. Hot coffee was a top priority, along with finding my down jacket. I packed up quickly and began hiking to get warm. The wind cut through my thin quarter-zip layer and sent chills throughout my body. There was an open field at the top of a mountain where the sun was strong. I stood there for a few minutes to warm up and enjoy the views.
From there I descended a few more miles into Rockfish Gap. I was officially out of Shenandoah NP for good. As I came to the road crossing a familiar face pulls up in a car. Ankle Biter, who I hiked with for a few days in MA, was in the area supporting his girlfriend on her hike. He kindly took me into town (hitching would have been difficult). I resupplied at a Walmart and then headed to a nearby AYCE Chinese Buffet. I'm pretty sure that they didn't make too much money off of this group of Thru-hikers. Baby Hands, a previous thru-hiker and father to another thru-hiker in the group, paid for our meal… an incredibly kind gesture.
I spent the rest of the afternoon in a McDonalds/Burger King working on my blog and crushing some coffee. Normally McDonalds WiFi is amazing, but this place didn't have WiFi at all. In fact, when I asked if it is working I was told "I don't know if the WiFi works". Luckily, the Burger King right next door had WiFi and coffee as well. My friend, Evan, let me know he would be arriving around 5:30pm. He was right on time! We made a quick trip for some beverages and then drove another 45 minutes to the parking lot where Elliot planned to meet us. Elliot wasn't able to leave until a bit later in the afternoon, needless to say Evan and I had some time to kill. We enjoyed a beverage or two, played cards, and eventually star gazed as the day turned to night.
Elliot got there earlier than expected. We hopped in his car and drove back to Rockfish gap (with a pit stop at McDonalds and Walmart). We were on trail by 11 pm, a bit of a late start. It was 4.5 miles to the nearest shelter, Paule Wolfe. We talked faster than we walked, but soon arrived to the shelter. There was someone in the shelter and at one of the nearby tent spots. We found a more secluded camp spot with a fire pit. Since it was already 1 am and the sky was clear, we decided to cowboy camp (sleep under the stars, no tent).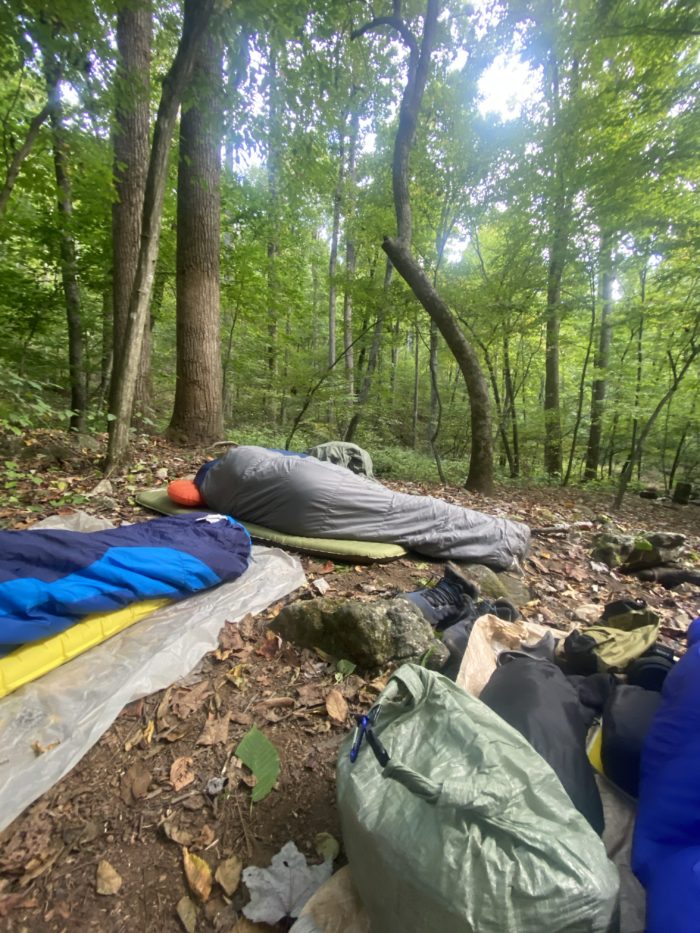 A fire was lit and conversations sparked. We talked until 3:30 am and then finally had the sense to get to bed.
Paule Wolfe Shelter: T1, S2, P3, W1, B1
Total Score: 6
Day 92 (15.2 miles)
We begrudgingly woke up around 8:30 am. I think we all wondered why we stayed up so late, but this is a reoccurring theme when we hangout together. Caffeine temporarily cured our exhaustion. At least enough for us to get up and pack our bags. The privy at this shelter was unique. It was perched on a hill, overlooking the camp area and with the front door cut in half.
There was a big climb that morning which did not help the already low morale. After 6 miles we reached the top! It was lunch time and we were starving.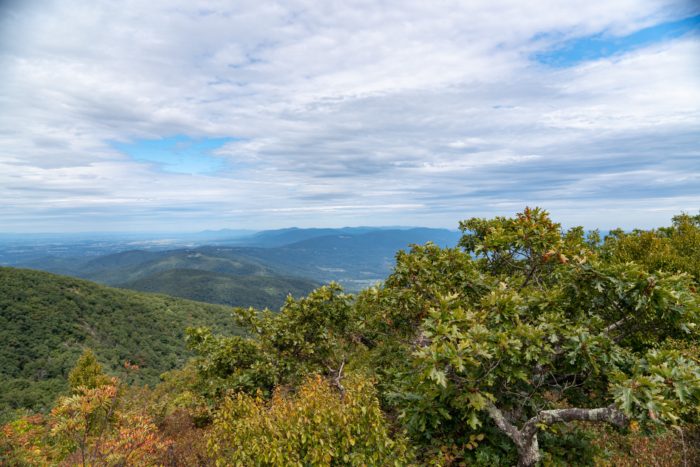 After lunch the trail got rockier. We meandered our way through good views and conversations. The possibility of an off trail adventure to a brewery was discussed the previous night. The road crossing about a mile before our planned camp spot led directly to Devils Backbone Brewery. We were all excited for a good burger and a beer, we just needed a ride.
Elliot and Evan were also excited for the hitchhiking adventure that would be required to get us there and back. We crossed the road and went to the parking lot to stick out our thumbs. Fortunately, we quickly started a conversation with a couple of guys sitting on the bumper of their Tahoe. They said they were also thirsty and would give us a ride there.
We grabbed a beer with the guys that drove us down and chatted with them for a bit. They weren't staying for dinner and left after their drink. We headed inside to the bar, the only place we could get a seat. We split nachos and each got a burger with fries. It was far better than the ramen and tuna we had planned on eating. It was dark when we left the brewery. I thought hitching was going to be difficult. Luckily, a nice older gentlemen picked us up after only 15 minutes of waiting. We then walked another mile or so to camp and had another fire. We were sure to get to bed much earlier this night!
Stealth Site: T2, S3, P1, W5, B3
Total Score: 90
Day 93 (18.5 miles)
We got up earlier this day, probably because we actually got sleep! There was a nice sunrise through the trees.
It was an instant coffee morning. If you have been reading my previous posts then you know what that means. I nearly ran to the nearby shelter to use the privy. We were all feeling much better this day. Our hiking pace was faster and spirits were high. We cruised up the big climb for the day and had lunch near the top.
It was a huge descent down the other side. Nearly 3,500 ft down in 5 miles. There were some aggravated hornets along the way that stung multiple hikers. We managed to go around them, but we could see them swarming. At the bottom of the valley was a large suspension bridge and a gushing creek.
Evan and Elliot were excited to have reached the car! They did a great job navigating some difficult terrain and sleep deprivation. They drove me to a nearby store to resupply and then back to the trail we went. They saved me some money by graciously giving me the food they packed but didn't eat. As we were saying goodbye rain began to fall. They drove off and I continued on the trail. I was thankful they were able to experience a relatively small section with me! It meant a lot that they drove hours to visit and reminded me of one of the many reasons I miss being home.
The rain turned to a steady downpour as I began the climb up to "The Priest". It was 3000 ft of elevation in just over 4 miles. A storm formed around me. Lightning flashed and thunder boomed. At the top of "The Priest" is a shelter with a log book that people use to confess their sins (typically trail related). I took the storm as a message that I must confess. As I neared the top the storm calmed and the skies cleared. I was soaked, but glad to be done climbing for the day. There was a good lookout of the surrounding valley.
I got water and confessed my sins at the shelter. It was fun to read the confessions of other hikers, some of whom I know. Another 4 miles to Spy Rock, where I intended to camp. Spy Rock had received numerous good comments regarding its sunset and sunrise views. I couldn't resist but to camp nearby. It did not disappoint! I also met a few other SOBOs, Dunk and Sticky Fingers, up there enjoying the view.
I was asleep soon after the sun faded. It was a long weekend, but one that I will remember for the rest of my life.
Spy Rock Campsite: T1, S1, P1, W5, B2
Total Score: 10
Thank you for reading this trail update! I hope you enjoyed the read and some of the pictures I was able to capture. It was a great change of pace to have Elliot and Evan join me. They provided some much needed humor and a reminder of what I have to look forward to when I finish the AT and return home. Until my next post, remember to keep wandering in your own direction!
Affiliate Disclosure
This website contains affiliate links, which means The Trek may receive a percentage of any product or service you purchase using the links in the articles or advertisements. The buyer pays the same price as they would otherwise, and your purchase helps to support The Trek's ongoing goal to serve you quality backpacking advice and information. Thanks for your support!
To learn more, please visit the About This Site page.
Comments
1
Love the pics. Thx.

I bet that short guy was tired from trying to keep up with you normal size people.
Balogna and Peanut Butter are only bad if you eat them together. Balogna is only good fried.