24 Insane Thru-Hike Transformation Photos
One of the (only) givens of a thru-hike is that you're going to undergo some sort of physical transformation. Each hiker is different—from extreme facial hair, to over 100 pounds of weight loss, to zero pounds of weight loss (but gaining serious leg muscle), here are 24 examples of the extreme transformation you'll undergo in 2,000+ miles of hiking.
Did you just finish a thru-hike? Send your before-and-after pictures to [email protected] for a chance to be featured in our next installment.
Russ L, 1979(!)

"These are my Before and After pictures from 4/4/79 to 8/31/79. I was sort of an inexperienced backpacker evident by all the stuff I was carrying on Springer Mountain. Within two weeks, I got rid of over 15 pounds of unnecessary equipment and quickly became experienced. This was an awesome experience of a lifetime and I think about the AT daily hoping to attempt the trail one more time after retirement."
Aaron G (Yukon), 2016
"AT thru-hike from my start date of March 20th, to my finish date August 31st. My start weight was 218, finish weight 178. A ton of fun, torture, enjoyment, pain, beer, and hunger."
Andrew D (No Way)
Alan G

"I lost 30 pounds and my legs just about doubled in size on my hike. My pale ginger self also got a tan for the first time in my life."
"I lost about 45 pounds and have kept it off since then. I've actually been in the best shape of my life since then – ran two marathons, 4 coming up and attempting a 50 miler in September. Just gotta stay in the same mindset!"
Joel Gardner

"I purposefully put on 20 pounds in prep for the five-month hike. Really glad I did that…. and I think I gained some muscle in the process."

"Here are my pics from the AT in 2016. I lost a total of 45 pounds. It was not only a transformation of body, but a transformation of spirit."
"That Before pic is awful. We 'prepped' for the AT by not exercising and eating like garbage. I (Maggie) lost 10 pounds and Rocky somehow lost zero pounds…. his fat just turned to muscle. Now we're a little smarter about diet and exercise."
Michael Civrny, 2016
"This is what the PCT did to me in 2016…"

"I was one of those rare hikers that didn't lose any weight during my thru. Maybe my body has a pretty firmly implanted set point. Maybe it was the fact that I devoured a pint of ice cream at every opportunity. No one can be sure. What did change is that fiery red bush growing from the lower half of my head, which served both as my Trail souvenir as well as an unintended shield against women."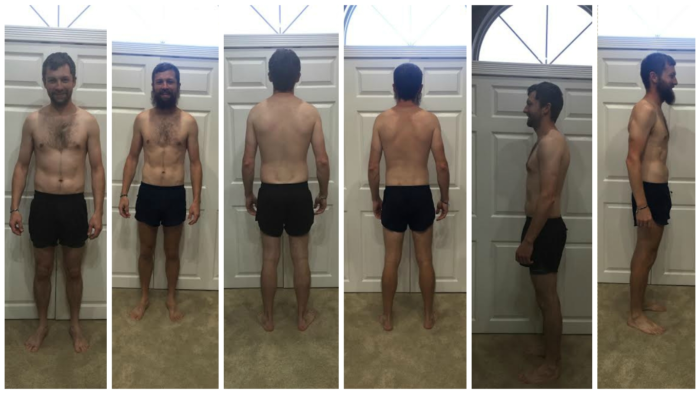 "Lost 13 pounds on trail, gained 20 when I got home. Back down to five less than before."
Emily P (Cinderella) and Sean D (Waterboy), 2016
"My boyfriend (Sean) lost 50 pounds during our thru-hike, but more importantly had the most amazing time of his life. On the contrary, I lost five whole pounds throughout the entire trip, and gained them back within two days of being home :)"
Eric 
W (Wiz), 2013

"I went NOBO in 2013. I started out at 270lbs with a 55lb pack. The Before photo was taken by Doug "Country Gold" Owens while we trucked up one of the mountains in Georgia. The After photo was taken atop Katahdin. When I finished I was 190lbs and my packed weighed 35lbs with a full resupply, two liters of water, and all of my cold weather gear. Start date 4/7/2013, summit date 10/10/2013."
James C (Bilbo)
*Pictured on the right in the Before photo
Kurt R (The Natural)
"I lost 77 pounds on my 2016 AT flip-flop. I have some lingering nerve damage to my feet."
Kayla (Musicbox) and Sean (Snorlax) with Skye Stalker (Dog)
"Dogs aren't allowed in Baxter so we had a photo or her at the summit."
Nutterbutter, 2012
"These are from before and after my 2012 thru-hike. I'm standing in the same position… not sure how that happened."
"First picture is Springer Mountain March 6th, 2016. Excited, nervous, ready for an adventure of a lifetime! Second is five months later descending Katahdin, officially a thru hiker! Aug 5th, 2016. The this is my first trailversary, one year after standing atop Springer. 21 weeks pregnant with my first child due July 2017. My baby will be here less than a year after I stood on Katahdin and will grow up knowing he or she can accomplish anything, because awesome runs in the family."
Taylor C (Swift)
"From fat frat star with mushroom cut to man-bun adorned hiker trash."
Jesse (Panda)
Affiliate Disclosure
This website contains affiliate links, which means The Trek may receive a percentage of any product or service you purchase using the links in the articles or advertisements. The buyer pays the same price as they would otherwise, and your purchase helps to support The Trek's ongoing goal to serve you quality backpacking advice and information. Thanks for your support!
To learn more, please visit the About This Site page.