Appalachian Trail Thru-Hiker Gear List
Although some will deviate from the below gear list in one way or another, this Appalachian Trail thru-hiker gear list serves as an excellent template for prospective thru-hikers, with some products we recommend below.
Shelters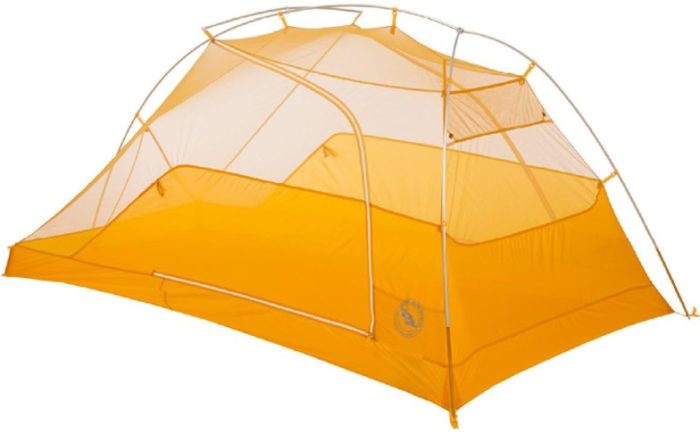 Your tent is one of the most important—if not the most important—piece of gear for your long-distance hike. It's literally your home away from home.
So how do you choose the right one? How do you avoid staring at a screen or walking around the same store for hours on end if you're the indecisive kind or just a little overwhelmed by the sheer volume of choice available on the market?

What you shouldn't do is jump on the ultralight wagon because it's the hip new craze, or grab the most recommended six-pound, three-person mansion just to stick it to the fad. You'll be running to the nearest outfitter (probably in tears) in search of a lighter upgrade faster than you can say Appalachian Trail.

Most thru-hikers look for a lightweight, durable tent with enough livable space and features to stay comfortable for the duration of weeks (or months) on the trail. That's what you should be looking for too.
When looking at a tent, ask yourself:

Can you live in this tent night after night, for weeks or months at a time?
Can you set it up quickly in the dark or rain? Both?
Is there enough room to comfortably sit up without brushing the sides of the tent with your shoulders? Does your sleeping bag hit the wall of the tent?
Can you crawl in and out of the tent without getting the floor soaked?
If there is enough room in the vestibule to comfortably stash your gear?
If you're hiking with a partner, do you want two doors for entry/exit?
Here are our top tents for an Appalachian Trail thru-hike. 
Hammock
Pack
Your gear list needs to go hand-in-hand with your pack. Are you an ultralight fastpacker or do you carry everything but the kitchen sink? Choosing the wrong pack for your base weight can lead to discomfort or even injury. Being honest with yourself is important.
Frameless UL packs have pretty hard limits for weight capacities, which means more than just considering volume—you also need to be aware of support and weight distribution. Unless all of your gear is ultralight, don't opt for an ultralight pack.
If you carry everything but the kitchen sink, you need to be wary of padding and endless pockets. While added comfort and organization can be tempting, a more featured pack means your base weight can increase by several pounds.
That might not seem like a lot while you walk around the store, but the weight adds up over hundreds of miles. It's all about balance. Some food for thought: if you've got a larger capacity pack (65-70 liters), you're more likely to fill it with things you don't need.
When shopping for a pack, consider:
Weight: Minimalist UL packs weigh less but also can't carry as much and are generally less comfortable
Torso size: Most outfitters can measure this for you
Women-specific design: Straps and belts designed to accommodate larger hips and chest
Ventilation between pack and your back
Padding: Adds weight and traps sweat, but is more comfortable and can be crucial for those with historic back or shoulder pain
Organization: Pockets and straps add weight but can help organize unwieldy/oddly shaped gear
Top Picks
While sleeping bags are a simple concept, there are several variables to keep in mind when choosing one. Size, weight, and temperature ratings can make or break base weight and comfort level. You'll want to choose your bag based on your ideal combination of temperature rating, fill power, weight, packability, and price.

A good warmth-to-weight ratio is the most important aspect of your bag. Unless you're planning for a consistently warm-weather hike, choose a bag rated to at least 20 degrees, or grab a liner for colder sections if you opt for a bag rated to 30-degrees and up.
A note to prospective NOBOs: many of your predecessors chose to start with a 10-degree bag for the early spring / Smokies section.
Make sure your bag is durable enough for the long haul, compresses so it doesn't take up too much room in your pack, and if you are worried about it getting wet, a bag with a treated fabric or treated down will be a good choice.

When shopping for a sleeping bag or quilt, consider:
Design: Mummy bags are warmest, but are heavier and bulkier than minimalist quilts
Fill type: Down is more expensive but performs better than synthetic. It is also more susceptible to water damage.
Temperature: Choose a bag rated lower than the lowest temperature you expect to encounter.
Women's-specific design: Narrower shoulders and wider hips, more insulation in hips and feet, more conservative temperature ratings
Top Picks
Sleeping Liner
A liner is optional, but it keeps your sleeping bag cleaner and can easily be thrown in the laundry. It's a great way to add warmth to your sleep system without shelling out for a brand new bag.
Do you want to be warm and comfortable? If you answered yes, you need a sleeping pad. Sleeping pad types are pretty straightforward. The options are foam, inflatable, or combination/self-inflating pads that have a thin layer of foam and also rely on air for comfort.
Pads provide both cushioning and insulation from the cold earth beneath you. Insulation is measured by the pad's R-value. An R between three and five is adequate for three-season use. For cold weather camping, look for an R greater than five.

Combination/self-inflating pads are durable and generally considered an easier set up than inflatable pads, but the added comfort comes with some extra weight.
Inflatable pads are lightweight, compress well, and generally have the highest R-values, but will need love and care–they're a little fragile and when their hearts get broken they tend to pop.
Foam sleeping pads are durable, less expensive, and serve many purposes, but they are bulky and don't provide the same cushioning as inflatable varieties.

These things should be kept in mind when making your decision/budgeting.
Top Picks
Hiking boots, shoes, or trail runners? Although trail runners are the popular choice and what the majority of thru-hikers finish the hike wearing, there is no one size fits all–each hiker has individual needs. If the continuing popularity of Solomon and Altra have you one click away from ordering the latest model and stowing them away until your hike, ask yourself–would I buy a car without taking it for a test drive first?
There's only one way to make sure they're the perfect fit and that's by trying them on.  Whether you go with the trail runner or a mid / boot, we recommend the non-waterproof versions when possible.  Your feet will inevitably get wet. It's just a matter of how quickly your shoe, and thus your foot, dries (and waterproof shoes take much longer to dry).

When shopping for footwear, consider:
Weight: They say a pound on your feet is worth five on your back in terms of energy expenditure. Trail runners are much lighter than boots.
Support: Boots provide more ankle support and protection from rough trail surfaces.
Traction: Make sure your footwear has a nice, grippy outsole.
Breathability: Trail runners tend to breathe better and dry faster. Mesh uppers are a must for breathability.
Durability: Trail runners cost less than boots but can wear out almost twice as fast.
Return policy: You may need to try several pairs of shoes to find the perfect fit. It's acceptable to return lightly used shoes to most outfitters, but don't abuse generous return policies.
Top Picks
Insole
Aftermarket insoles: some people swear by them, others get serious problems from them.  We recommend trying your footwear with the standard insole first. You can always add a beefier insole later on if you run into issues with foot pain.
Baselayer (Synthetic, Polyester, Capilene, Merino, Blend)
It's just a base layer, won't any old thing do? Thru-hikers sleep in them, hike in them, and since they're always wearing them, the clothes get washed less than they should. On top of being worn 24/7, base layers need to keep you comfortable in a range of conditions, from cold nights camping or sitting static to wicking sweat on a tough ascent… all without stinking to high heaven.
Going back to the original question–any old thing really won't do.
When shopping for base layers, consider:
Temperature
Use: Just for sleeping, or will you hike in them too?
Fit: Should be snug but not tight
Material: wool is more expensive than synthetic but is very warm
Weight
Here are some durable options that will not only keep you comfortable but also help keep the smell at bay.
Fleece Midlayer
Fleece midlayers aren't quite as warm and light as insulated down midlayers, but they're significantly more affordable. They also perform well when wet, in contrast to insulated midlayers, so you can wear them while hiking and sweating.
Insulating Midayer
Insulated midlayers have a better warmth-to-weight ratio than fleece in general. They're also more packable and provide more protection from wind. Both down and synthetic fill can be used as insulation.

Down vs. synthetic–that old chestnut. Down fill has a higher warmth to weight ratio but is generally more expensive, and you have to be careful to not let it saturate as down loses insulating properties when wet. However, there are now many choices for water-resistant down.
Synthetic fill, while heavier and less compressible than down, maintains insulating properties when wet, which can be a literal lifesaver on humid or wet trails.
Note for the girls: opt for women-specific jackets (down or synthetic)–the fit will be better and you'll have less empty space to heat up, which saves energy and keeps you warmer longer.
Rain / Wind Jacket
Good rain gear can make or break your outing, and it's something absolutely worth investing in. While you might be tempted to look for jackets and pants that are less expensive than their lightweight counterparts, paying for the higher-quality construction, materials, and performance is well worth it.
You'll want gear that's quick-drying, wicks sweat during periods of high exertion, keeps the rain out, and doesn't take up too much room in the pack.
Most thru-hikers don't carry rain pants, preferring to let their legs get wet and dry out in their own time. However, rain pants are advisable on potentially cold sections of trail such as the Smokies in spring and fall or the Whites any time of the year.
Umbrella
Umbrellas are optional, especially on the heavily wooded Appalachian Trail. Still, for not much added weight, an umbrella can provide both sun and rain protection with excellent ventilation. You just have to be careful not to snag it on any low-hanging branches.
Socks
Consider durability, breathability, comfort, and warmth. You want socks that won't slip, bunch up, or have you wincing in pain as you tape over raw blisters. Hiking socks should help regulate temperature, keeping you cool in warm weather and warm in cold weather. Although minimalism is the law of the land on the AT, you'll probably want several pairs of socks so you can give sweaty, rain-soaked socks a day off to dry before you wear them again. In cold weather, you may also want thick sleeping socks.

Hiking (Medium weight merino wool)
Camp socks (Heavyweight merino)
Underwear (2 pairs: 1 camp, 1 hiking)
Whether or not to wear underwear during a long-distance hike is a personal preference. For those who choose to go the way of the undergarment, ExOfficio has been a longtime staple of the thru-hiker. With smooth seams and the EGIS Microbe Shield antimicrobial treatment, these stay comfortable, chafe-free, and you have to wash them significantly less than you would a normal pair of underwear.
Camp pants (Leggings; Wool, polyester, synthetic)
Hiking bottoms (1 pair synthetic)
You might hate pants and be more comfortable in shorts, or perhaps you're a fashionista who wants to turn heads in the latest trendy hiking skirt. Choosing the right type of hiking bottoms is all down to personal preference. You should test your bottoms to make sure they'll be comfortable for hiking over an extended period of time. If you're rolling with ultralight, breathable shorts with a full range of movement, you'll want to have a good base layer or a set of wind pants you can throw on when it gets cold. Whatever your preference, durability and breathability should be considered.
Gloves
Keeping warm in wet and cold conditions is a morale booster, and investing in a good pair of gloves won't be a decision you'll regret. You'll want to look for gloves that are lightweight, warm, and maintain insulating properties when wet. Tech-savvy? You might want to check out sensor gloves!
Hat (Lightweight)
Camp Shoe
Camp and comfort both start with the letter 'c'–coincidence? Probably not. When you're strolling around camp after a long day of hiking your feet will be screaming out for a little R&R. Camp shoes will provide just that. They should be comfortable and lightweight. Crocs are the most popular choice and are also great for fording.
Stuff Sacks (3-5 waterproof)
Stuff sacks are optional. Some hikers choose to pack most of their gear loose inside a waterproof liner in their pack. Still, if organization and reliable waterproofing are important for your sanity, a set of quality, lightweight dry sacks is in order.
Cup/bowl/mug/pot (you won't need all of these… pick your cook setup to match needs)
Stove
Who doesn't love coffee or hot chocolate in the morning? When choosing a stove you should be looking at weight, boiling time, fuel efficiency and versatility.
Standard canister stoves like the MSR PocketRocket are the lightest, and sometimes come with a piezoelectric ignitor so you don't have to use a lighter (you should always bring one as backup though). Integrated canister stoves like the Jetboil Flash weigh more but are more fuel-efficient and boil water faster, meaning less wait time before din-din.
Most hikers use some form of canister stove with isobutane fuel, but solid fuel Esbit stoves and acohol stoves are also viable options.
Spoon
Water bottle (Lightweight)
Gatorade Bottle
SmartWater Bottles
First aid kit 
Antiseptic Wipes (2)
Triple Antibiotic Cream (tiny tube)
Ibuprofun (avoid consuming in high doses)
Antidiarrheal
Antihistamine
Bandaids
Sewing Needle
Duct tape
Emergency Fire Starter (Cotton wool balls in Vaseline) (2)
Toiletries (Toothbrush, toothpaste, floss, Vaseline)
Sunscreen
Mosquitoes and ticks (including deer ticks) abound on the AT. Lyme disease occurs in every state on the trail, and the disease can be transmitted from tick bites at any time of the year.
Permethrin (for clothing and gear—reapply approximately every six weeks on your zero day)
Guidebook
Water Purification
Giardia is not a party–so unless you want to risk catching the infamous germ or other waterborne illnesses, you should treat your water. There are a number of ways you can do this. Filters like the Sawyer Squeeze are a popular choice for their simplicity–fill a bottle, attach your Squeeze and you're good to go. (We compare the Micro and the Squeeze here.)  No waiting required.
Gravity bags take a little more effort but are great in camp and worth checking out too. Chemical treatments and tablets are also options but be sure to look at wait times when making a decision. Devices like the SteriPEN are also on the market. They use UV rays to treat water, although it's worth noting that batteries are required. 
Your headlamp is something you can throw in your pack (preferably in an accessible place) and forget about… then be really, really glad you have it. From night hiking to bathroom breaks to searching in your pack for your bear-bag rope, this is an indispensable piece of gear for thru-hikers.
You want your headlamp to be easy to figure out/change the settings, comfortable to wear for long periods of time and serve your purpose with high range and visibility. There are tons of options out there, but a simple, lightweight choice with long battery life is what you should be looking for. A bright option around 200 lumens plus a red light setting is ideal.
Luxury/comfort items (Pillow, mascot, journal, instrument, electronics, etc)
Hiking Poles
There are three types of hikers when it comes to trekking poles: those who swear by them, those who aren't fussed by them, and those who channel their inner Gandalf by using a sturdy stick found somewhere along the trail.
You'll have to decide which type of hiker you are but before making a decision, it's worth noting that trekking poles aid balance, make your knees happier on descents, and can help with climbing. They're also useful for pitching non-freestanding tents.

When shopping for trekking poles, consider:
Weight: Carbon fiber poles are more expensive but lighter than aluminum
Locking mechanism: Flick lock telescoping poles are easiest to adjust and most reliable
Handle: Cork grips are said to cause less blisters than foam grip
Straps: Trekking pole straps can help you to grip the pole properly. Contrary to popular opinion, they're not just for hanging off pegs in the shelter.
Here are a few recommendations if you decide you're the hiker who swears by them.  
Trowel
GPS
Misc.
What gear do you recommend?  Share your thoughts in the comments below.
featured image via Mellanie