Thru-Hikers' Advice for Beginner Backpackers
These hikers have over 30,000 combined miles between them, but they were all beginners once. Here's their advice for beginner backpackers, and anyone looking to get out into the backcountry for the first, second, or third time.
Our expert backpackers share their best advice on choosing gear (try to get it right, but it's not the end of the world if you don't), mental fortitude out on the trail (walking can get really boring), and preparation in general (the best way to learn how to backpack is to backpack). Have a question for us? Leave it in the comments.
Been out for a season or two and feel like tackling something longer? Check out these thru-hikers' advice for upcoming thru-hikers.
Mental and Physical Preparation
Utilize the wealth of information at your fingertips
Do your research. Read Trek blogs, check out Appalachian Trials, listen to podcasts about hiking. See if there are any local trail groups near you, find people with similar hiking styles on social media and reach out to them. Chat with experienced backpackers, and start with day trips or shorter overnights. – Laura (Hey Girl), AT 2016, PCT 2017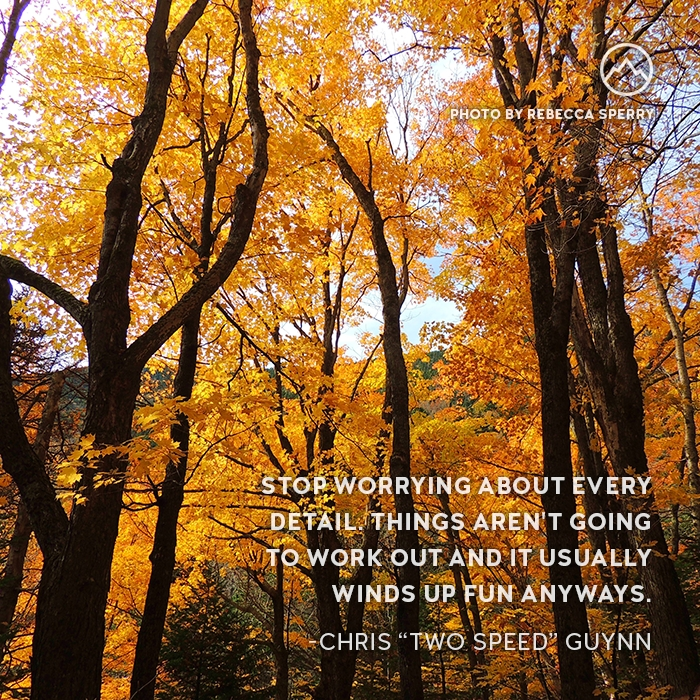 The best way to learn how to backpack is to go backpacking
The best advice that I heard and that I try to pass along to others, is that the only way to learn how backpack to or prepare for a long backpacking trip is to go backpacking. Like most newbies, I spent a lot of time obsessing over and stressing about gear and what to pack and what not to pack. I should have spent about 80 percent of that time just putting my pack on and going out for an overnight. Before my 2015 AT attempt, I did end up doing three or four one- to two-night backpacking trips. This resulted in a huge increase in my preparedness as I headed out for my thru-hike. Because of the trial and error that shorter trips offered me, I was confident in my gear choices, how much food to pack, and what to bring or not. Even though you'll be nervous and you'll probably way overpack, and you'll definitely forget something, just load up your gear, get in the car, and drive to a trailhead. Even if you only hike in one mile, spending that time in the wilderness will teach you what you need, what you don't, and give you a huge boost of confidence. Stacia, AT 2015-2016
Gear and Food
Keep the dirt out
Wear gaiters! They help to keep your feet cleaner and more dry as well as reduce the risk of injury or blisters caused by rocks and sticks in your shoes. They're inexpensive and easy to use. –Brandon (Moxie), AT 2018
Track your usage
Make a list (Excel) of what you actually used/needed from your pack and what you ate each time you go backpacking… it will help you to weed out the things that are extraneous. –Bug Juice, JMT 2015, AT 2016, PCT 2017, CT 2018
Choose your gear carefully…
Your happiness on the trail is a function of what you carry. In general, the lighter your pack is the happier you will be. On the other hand, extra weight can make you more comfortable when you camp. Research the weather you're likely to face. Make sure your gear is up to those conditions. Consider your options. Make lists of options for each purchase; read reviews. Hold off on your actual purchases until you've done your research. Shoot for a base weight of less than 20 pounds. –George (Old Growth) AT LASH 2016-2018
…But it's not the end of the world if something doesn't work
Don't be stubborn or brand myopic—ditch the gear that's not helping and use the gear that works for you. You will have time to see how you react to the trail (physically and mentally) so you can make tweaks. You can research, compare gear, and ask prolific hikers what they use, but you don't have the same body and you won't have the same experiences. If you have comfort items you can't live without, don't ditch them just to go ultralight. If you are a small-framed person and hate hiking unless your base weight is ultralight, then sure, ditch some stuff. It's all good if you're positioning your body and mind to give you a safe, meaningful trip. –Josh (Pace Car), AT 2018
Happy feet, happy hiker
Footwear is everything. The second your feet start to hurt, the quality and enjoyment of your hike dramatically drops. Before taking any sort of extended trip, take the time to really learn how your feet react to different situations. Do they swell when you backpack, but are fine during day hikes? Will they blister easily in the rain? Do they do better over long distances in trail runners or boots? Experiment with different types of shoes, boots, or hiking sandals, and really zone in on what keeps your feet happy. It doesn't matter what the latest hiking footwear trend is—buy what keeps your dogs from barking and stick with it, because nothing ruins a hike more than painful feet. –Colleen (Spot), AT LASH 2016-2018
Practice. Using. Your. Gear.
I cannot stress enough the importance of using your gear before you ever step foot in the backcountry. Set up and take down your tent/hammock until you can do it in the dark, because you'll probably have to. Use your water filter and figure out how to clean it. Use your stove and be familiar with how much fuel it uses. Do all of this at home so that you don't find yourself caught in a storm setting up your tent for the first time, or camping in the cold and not being able to figure out how to light your stove to cook yourself a warm meal.- Stacia, AT 2015-2016
Your appetite might get weird
Bring a variety of food. Long durations of exercise can wreak havoc on your gut, and you'll never know what you'll be in the mood for until you're out there. If your sweet tooth is going crazy when you're packing your food, you don't want to be stuck with just sweet food that makes you want to gag. I try to always bring something crunchy, salty, chewy, and sweet. My go-tos are Goldfish, sour gummy worms, jerky, Shot Bloks, and fig bars. That way there's always something I want to eat. -Maggie (Honey Badger), AT 2015
Life is easier with a lighter pack…
You don't need the most expensive or the newest gear to be successful, but everything will be easier with a lighter pack. The easiest way to drop weight isn't to buy new things, but to simply take less with you. Most new hikers, for example, bring several changes of clothes before they realize that they wear the same thing every day. Every little bit adds up, so it's important to really analyze what to bring and what to leave behind.- Megan (Sourstraws), AT 2016, PCT 2017, CDT 2018
…But one (or two) luxury items are fine
Allow yourself a luxury item. The ultimate goal is to only carry what you need, but giving yourself permission to carry something that may not be the most practical, but that brings you joy or comfort, makes for a better trip. I always carry a book, and usually an AeroPress coffee maker. I guess that's two items! -Elise (Blueberry), AT 2018
Always bring a fleece jacket or extra layer of some sort. Even in the summer it can get chilly on the mountaintops. And Emergen-C literally saved my life somewhere in GA.  -Carol (Overload), AT LASH 2013-2018
On the Trail
Walking can be boring
Backpacking isn't always about a physical challenge; it has a lot to do with mental strength as well. Walking for days on end can be really monotonous and it's hard to stay motivated. My solutions often included hours of listening to a good podcast, hiking in the afternoon with my trail family to have some conversation, or allowing for "smiles not miles" days where my only objective was finding a nice lake to swim in for a few hours. Whatever it is that works for you, know that you're not any less of a backpacker for struggling through the mental side of hiking.  -Alexa (Bonsai) PCT 2017, SHT 2018
Be adaptable
My best advice for beginner backpackers is to be adaptable. The plans you have will inevitably change in some way—the weather turns bad, the terrain isn't what you'd thought it would be, there is an unexpectedly beautiful view—and how you thought the day was going to be is suddenly completely different and you're "off schedule." Being able to roll with what the trail throws at you enables you to appreciate what your backpacking experience is, instead of what you think it should be. -Hanna (French Toast), AT 2018
Walk smarter, not harder
Shorten your stride/increase cadence when walking uphill to conserve energy and reduce strain on your legs. It won't seem to matter at first, but after climbing all day you'll definitely notice the difference.- Brandon (Moxie), AT 2018
Mood swings happen
Your emotions are gonna be all over the place. Hiking is hard; it stresses your body, which stresses your brain. When your body is feeling lethargic with exhaustion, a sugary snack or a caffeinated beverage can have you floating down the trail minutes later. Same goes for your emotions. There may be times you want to hitch to town and never put your pack on again, but then a bird chirps or your trail buddy tells a joke and suddenly there is no place you'd rather be. Just roll with it, and take advantage of the good stuff. –Sarah, AT 2017
Some things will suck
Get comfortable with being uncomfortable. You won't always be able to avoid a storm, plan logistics perfectly, or control the situation. Even the most experienced backpackers hit speed bumps and always have more to learn. Stay calm and embrace it. These are the moments you'll look back on and feel pride for getting through. Ultimately you will grow from the experience. – Meredith (Eleven), AT 2018
Look around before you panic
Trail markers can be far apart, or poorly maintained. If you ever begin to wonder if you're still on the correct trail because you have not seen a marker for a while, try turning around, and often you'll see a marker in the opposite direction before you will see one ahead of you. I've calmed myself down much more quickly this way. –Elise (Blueberry), AT 2018
Things won't always go right, and that's OK
Stop worrying about every little detail of your hike. Things aren't going to work out and it usually winds up fun anyway. The saying the trail provides is true almost to a fault. On my PCT thru-hike I left the Northern Terminus and went to Vancouver, Canada. It was a weekend and there were no hotel rooms that weren't $400 per night. The guy I rode the bus with and I were sitting in the fully booked youth hostel at 10:30 p.m. trying to find any room that night. Right when we had given up, another hiker we both knew walked in and offered to share his reservation that night. –Chris (Two Speed), AT 2017, PCT 2018 
Take in the views
There is always time to go to a vista. We all get to points in a hike when we are eager to be done. Many hikers I've spoken to said they wished they took more time to enjoy their hike, but I've never met someone who wishes they finished their trip faster.-Mackenzie (Wilt): AT 2018
Music is magic. Preserve it
Save music and podcasts for when you really want them. Don't cheat yourself out of the experience of sitting (walking?) with the discomfort, boredom, and surprising creativity of your own mind. –Anne, PCT LASH/MYTH 2016-2018; JMT 2016; Wind River Traverse 2012
Affiliate Disclosure
This website contains affiliate links, which means The Trek may receive a percentage of any product or service you purchase using the links in the articles or advertisements. The buyer pays the same price as they would otherwise, and your purchase helps to support The Trek's ongoing goal to serve you quality backpacking advice and information. Thanks for your support!
To learn more, please visit the About This Site page.