Thru-Hiking the Italian Alps from West to East in Three Months
A crazy dream lived in us. One of those things that you put on your bucket list of things to do before you're 30, before you have children, before you can not do it, or before you forget it. Crossing Europe on foot was already something, but to include crossing the Alps from west to east in this 6,500-mile thru-hike was another one.
From the Mercantour National Park in France, we reached Slovenia crossing the south of Switzerland and the Italian Alps. We have already told you about our experience in Switzerland, so here is our Italian crossing.
We traveled something like 650 miles (1,000+ km) in six Italian regions and climbed 230,000 feet (69,500 m) of elevation gain. As always, we tried to sleep as often as possible at people's places (30% of the time in Italy) and live on a reduced budget. However, the conditions of life in the mountains led us to spend twice our usual budget, an average of 20 € per day and per person for our crossing of Italy on foot.
Piedmont
After Sicily, it is the largest region of Italy, it is also one of those that presents one of the greatest variety of landscapes because of its various relief.
We already knew the Parco delle Alpi Marittime and went back there with pleasure and emotion. Its sharp peaks, covered with this unique green color, its innumerable mountain lakes and especially its extraordinary wild life. This new visit confirmed it; it is one of our favorite places of the Alps.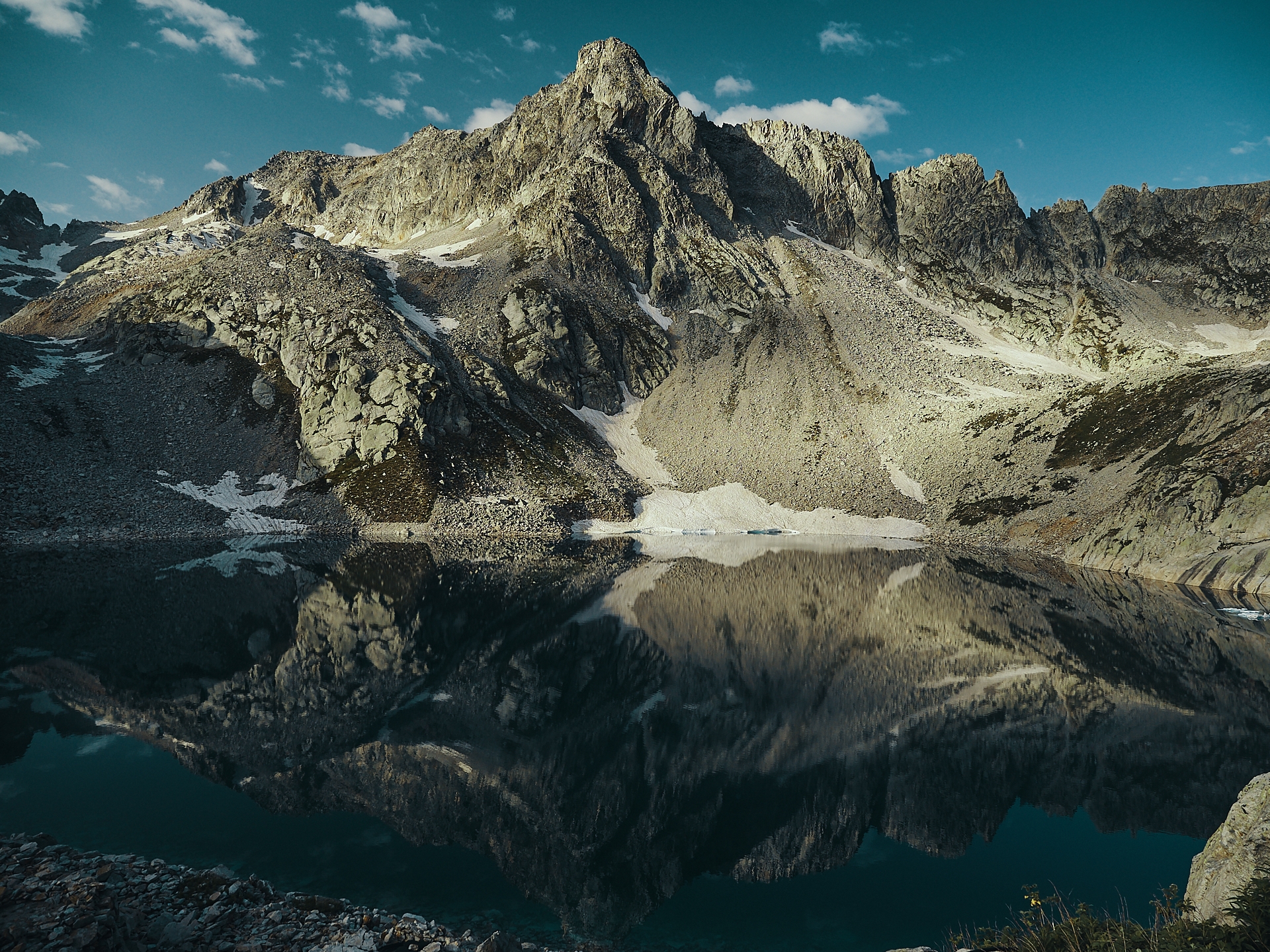 Our arrival in Italy was actually perfect. After a difficult pass in the Passo di Portette, we arrived at the Rifugio Questa at our friend Flavio's. He has been running this place for 31 years now.
From the beginning to the end of our crossing of Piedmont, we have been extremely spoiled by our wildlife encounters. Ibex and marmots in shambles, some chamois too, and many birds. Probably because we crossed quite a few people despite the season (July-August).
It was not in Piedmont that we really could learn Italian; everyone spoke French.
We had never practiced the "high mountain" and we did not plan to do it during our crossing of Europe. And yet… First, it's the Viso that played footsie with us. Arrived at his foot precisely, the weather was too bad to engage in such an expedition, so we decided to go around. No regrets; we spent a sublime night in the tiny bivacco of Punta Venezia, just above 9,800 feet (3,000m). A room with breathtaking views of Mount Viso!
As you may know, we invite people to join us for a section of our trip. In the Alps, we had to make a rigorous selection of the "candidates." It was hard to accept people who did not know the mountain.
Jesse arrived from the Netherlands at that time with a large section of the PCT to his credit.
Valle d'Aosta
The three of us entered the second region of this Alpine crossing: the Valle d'Aosta, and we climbed the Gran Paradiso (13,323 feet / 4,061m), reputed to be one of the 4,000+ summits most accessible of the Alps. A wonderful experience, which we have obviously prepared with the utmost care.
A few days later, Marie rested and worked in the valley, and Nil and Jesse took off to new heights. After a night at Capanna Gnifetti, they climbed Parrot Point (14,540 feet), Ludwigshöhe (14,242 feet), Balmenhorn (13,671 feet) and Vincent Pyramid (13,828 feet). 
After three weeks in Switzerland, we went back to Italy through Lombardy. We only spent a few days there before reaching the next region.
Trentino-Alto Adige
We thought we would finally practice our Italian speaking skills, but we discovered that the main language here was German. We felt a little stupid not to know this part of the Italian history. This region has always had an ambiguous situation, changing country along with the conflicts. At the end of World War One, Austria ceded it, or South Tyrol, to Italy.
The war has left other traces here in the Dolomites. Mont Lagazuoi is a gruyere. Miles of galleries cross it, dug by the Italian army. Today, we can visit these galleries from above until a few hundred meters lower.
A few days before, our map fooled us. We climbed to the Piz Boè, it was a very cold and foggy day, and we had the first snowflakes of the year. On the map, the trail seemed to go down very steeply on a short distance. In fact, it was a kind of via ferrata that disappeared in the fog a few meters below. Impossible with our packs, we turned around, lost two hours but found a much safer passage.
Its pictures are everywhere and the photographers were present when we arrived at Lake Braies. All the ingredients are there for the perfect photo: the blue-green lake, the white limestone all around, the pretty colors of autumn, the boats and the little church in the background. Yes, it was cliché, and there were too many people, but we will not lie: it was really pretty.
We were approaching the end of this Alps crossing but there were some wonders left to discover. Starting with the legendary Tre Cime di Lavaredo. At the end of October, we were alone and enjoyed the last days of good weather before long.
If since our arrival in the Dolomites we thought they were sublime, then how could we describe the Three Peaks? A rough, even brutal mountain, formidable screes, and a unique light.
Friuli Venezia Giulia
These were our last days in Italy; we were inevitably approaching Slovenia, and yet it was not over. These last days have been intense, rich in emotions.
First we got stuck several days in Forni di Sopra, fortunately hosted by a resident of the village. The storm Adrian hit hard northern Italy. It was not good to be in the mountains these days. 
When we left, we found the trails in poor condition. At least the rain that persisted left us the mountain for us alone. Well, almost.
Our goal of crossing the border was the Sella Prevala (3,920 feet). Up there, there was already a lot of snow, which largely slowed down our progress. At some point, we got scared too. The trail simply did not exist anymore and under the snow, the cracked rock was so many traps to twist an ankle, to hurt ourselves on the sharp rocks or to break the leg.
We paid attention, took our time; fortunately, there were several bivouacs around. It allowed us to move more serenely, knowing that we could stop to warm up, or split these efforts over several days. This is what we did and we have not regretted it as this place is beautiful, day and night or at first light of dawn.
We did it! It was beautiful, it was difficult and exhausting at times, but such an accomplishment! Slovenia is waiting for us, new culture, new language, new landscapes.
Until we tell you more about our Slovenian adventure, follow our adventures on YouTube, Facebook, Instagram and our website and read the interview we did with The Trek before our departure.
Affiliate Disclosure
This website contains affiliate links, which means The Trek may receive a percentage of any product or service you purchase using the links in the articles or advertisements. The buyer pays the same price as they would otherwise, and your purchase helps to support The Trek's ongoing goal to serve you quality backpacking advice and information. Thanks for your support!
To learn more, please visit the About This Site page.