"To the Man on Trail"
The much awaited conclusion to the San Luis Loop saga!
Burritos!
Ended up finishing War and Peace last night, then had a hard time falling asleep (probably due to my nap). Slept well, but woke often. Woke up before 6 am, got up, and dogs got up for a drink. Skipped breakfast and ready to walk by 6:30 am.
Warm compared to our nights at or above treeline! Just had Prima wear only boots since I was thinking it'd be a short day. They were pretty trashed after the last two days. Had a trail runner go by us early, then made it to the Animas! Great views looking back.
Passed the 2 gals with the dog at the bridge, then started up the dreaded switchbacks after a snack. Started slow and built speed and momentum. Really chugging along by the time we got to the top! Took a short break at 8 am, then made the rest of the hike to Molas Campground. Only saw 2 trail runners on the way and made the campground by 9:30 am.
Leashed the dogs, which they weren't happy about. Collected my box from the bottom of the stack, bought a burrito and Funyuns (!), then went to some picnic tables to sort everything out. Really dark and stormy over the Grand Turk, by passed us, then hammered the Weminuches. Glad we weren't up there! Ate the Funyuns, burrito, oranges, goldfish, and oreos. As I was sorting, the storm circled back and hammered us. Packed mostly everything by that point, so hid under a tree with the umbrella and dogs. Passed after about 15-20 minutes.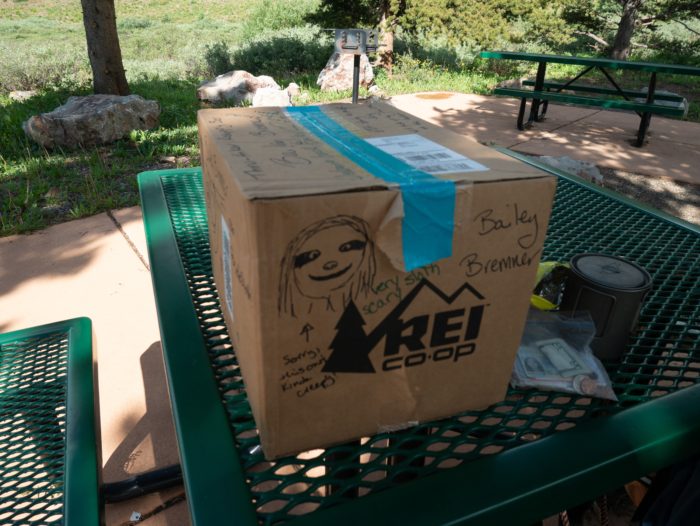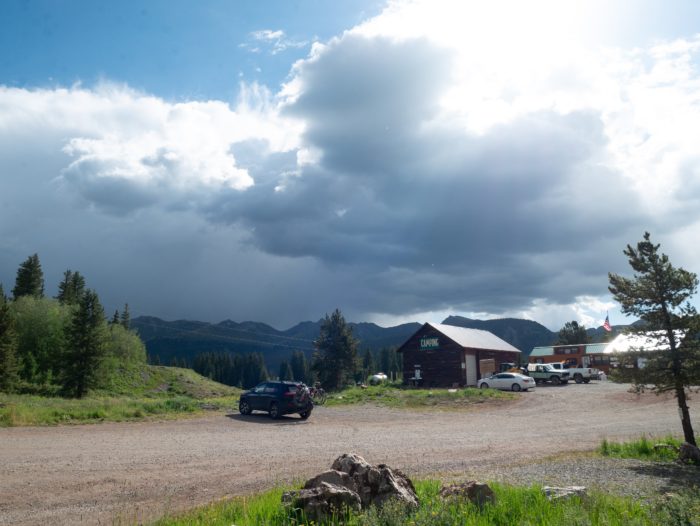 Walked over to the building and since my phone remembered the wifi password I was able to send some messages. Also bought Fritos and a push pop. Finished the last of the packing (almost 6 days of people and dog food!) and got peanut butter, a cheese stick, and another burrito to go. No stickers, I guess management changed last year. Pretty busy around the storms. The dogs also got to eat a whole ration since I had extra.
Started hiking about 11 am, surprisingly, my pack felt pretty good. Put the burrito in my rain coat to keep it warm. Another squall with some hail came through while we were walking back to the CT, so waited it out under a tree. Then it got warm and humid. Saw quite a few people on both sides of Hwy 550. Got rained on again and took a short break to eat the burrito by Little Molas Lake around 12:45 pm.
I have probably 5 pictures of that "Molas Pass to Durango" sign, but got one of the dogs next to it. Who knew 4 years ago when we day hiked that section that I would go on to do the CT, then hike this whole area with the dogs??? Felt really good again hiking up the hill, even with a full pack. Squalls kept coming through and we had our first peek of the La Platas and Engineer. Had an intact Lab run up to the girls, but they did very well.
Stopped above North Lime Creek at a nice spot I found around 2-2:30 pm. Looked for water, but didn't see any, so set up the tent. Good timing because it rained pretty good as soon as I was done. Once it passed, scrambled down the hill and got water.
Ate most of the trail mix and the green belly. Gave the dogs another bag of food too. Looked at maps and hung out, then made a Soon Veggie bowl about 4:30 pm. Bad idea! I was trying to eat down food so it'd fit in the bear bag, but even that light meal made me want to puke. I know I ate a fair amount today, but I think my stomach must have shrunk some too from the lack of food. I laid down for about an hour and a half to digest while it rained on and off.
Just finished putting the food away, I ended up having to hang some food in the dog pack. Of course there aren't any trees that are good for a proper hang, so we are crossing our fingers. At least I shouldn't be hungry the next few days .
Going to try to get up at 5:20 am tomorrow and hope the weather is okay for Rolling Mountain shoulder. Planning on camping at Celebration Lake. Will probably have to dry camp the day after due to that ridge, then hoping to camp at Taylor Lake this year. We shall see…
Saw some grouse this morning and have seen lots of hummingbirds the last two days. Saw a little fireweed with flowers and lots without. My gear is going to need a thorough cleaning this winter from the dogs! So happy to be out here, trying to enjoy our last few days.
Rivendell
Rained quite a bit last night, but slept really well with the dogs being all cuddly. Hard to be motivated to get up with it being wet and dark, but did so around 5:30 am. Nothing messed with my poor bear hang, so that's a plus. Got going between 6:30 and 6:45 am.
Lots of left over rain clouds, but otherwise nice hiking. Ate a poptart while I walked and stopped for water at the first good spot. Stopped about 8:17 am to filter water and take off layers. Got passed by a SOBO hiker. Took a while to find my rhythm, finally did shortly after.
SO. MANY. FLOWERS! Lots of pink paintbrush and those yellow buttercup things. This neat creek went under the hill for a long time just before the Engineer Trail. Got passed again shortly after that. A bit emotional near the Rico-Silverton trail: sad to be moving away, it's so beautiful here!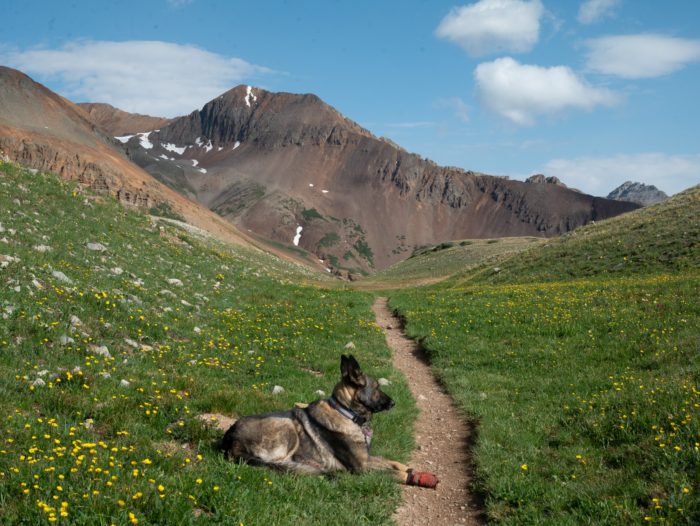 Passed two guys and a bi-colored German Shepherd Dog, then stopped for a break on the pass. Talked to the 2 guys- they were going to section hike, but bailed at Bolam Pass. Kept going. Even with some clouds, the views were wonderful due to all the flowers. Skittles got her face all red from the dirt, which was cute.
Made good time to Cascade Creek and ate some trail mix. Thought hard about exploring that beautiful basin, but it will remain a mystery a bit longer. Planned to go to that creek with all the white powder for lunch. Chugged along at a good pace, but still seemed to take forever. Dogs were hot too. Got there around 12 pm and talked to the first hiker to pass us. Also talked to a whole bunch of bikers and a section hiker who was also planning on going to Celebration Lake.
Pretty stormy over the pass and the Weminuches by this point, glad we didn't have far to go! Started again about 1 pm and it warmed up quickly. Lovely views, as always, from the ridge above Bolam Pass Road. The section hiker caught up and we ended up hiking the rest of the way together. Got to Celebration Lake around 3 pm, great since we hiked about 17 miles!
Dogs were happy to stop, but hard for me. Really difficult not to get sucked into the hiker vortex as more and more NOBO AND SOBO hikers have been appearing. Have to remember that yes I CAN hike 25-30 miles a day, but I don't NEED to with the dogs. I think it's easier to distance hike a route with dogs than a trail for that reason.
Hung out, ate teriyaki noodles and grits, and talked to the section hiker. A SOBO hiker also rolled in just before the sun disappeared. I really don't know what to tell these hikers when they ask if we are doing the CT… Camped in the meadow again with lots of mosquitoes and elephant's head. Planning on getting up at 5:30 am, taking a long break at straight creek, and putting in miles tomorrow night when it's cool. Only 4 days to go…
Hot, Dry, Ridge Walking
Woke up last night just as it was starting to rain, so closed the fly. Otherwise, slept really well! Woke up at 5:30 am, didn't hear the alarm. Had to pee really bad, then packed up and ate a poptart. The section hiker got up shortly after me and the Aussie guy hasn't been seen all day. Left before everyone else.
Had nice weather in the AM and made good time. Passed a couple in a Z packs tent, then noticed Prima lost a sock and boot. Chugged along and made it to the top of Blackhawk Pass around 9 am. Much better weather than last time and had awesome views. Filtered water and had a snack before heading down.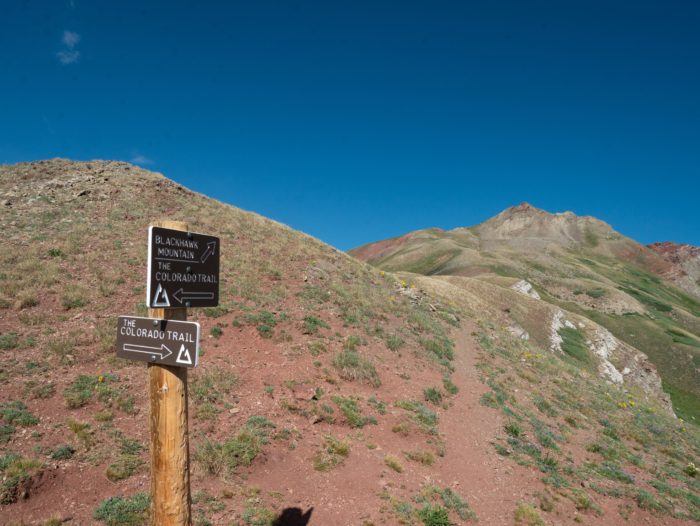 Stopped at Straight Creek, drank another liter, cold soaked some couscous, then filled everything up. Met a day biker from Ophir who has a Border Terrier too and the section hiker brought Prima's boot/sock just as we were leaving. Had to stop shortly after to pee as my hip belt pressed a lot due to all of the agua!
Nice views of the backside of Purg and the Needle Mountains. Kept going after Hotel Draw to that spot with the nice view of Blackhawk. Stopped there for lunch and to dry the tent. Ate 2 tuna packets and a cliff bar… The tent dried quick and there were lots of storm clouds, so kept going after less than 30 minutes (12 pm).
Got passed by, then passed a whole bunch of mountain bikes. Took a break at the top of a big climb, then continued on. At a road crossing talked to an older couple from Arizona. Gave them directions and they gave me two sparkling ICE waters after taking our picture. Took a break to drink 1 and let the dogs cool down. Lots of flies, so kept hiking. After less than an hour decided that was dumb, so started looking for a place to stop.
Noticed canopies and camp chairs, so by-passed a spot hoping for trail magic. It was the bikers who are apparently part of a guided group, no offers to share 🙁 Talked to the Z packs couple shortly after who had the same idea. They are from South Fork and were really nice, even gave me a Luna Bar! They are expecting to finish tomorrow.
Stopped right after at a nice spot (~3:15 pm) and took a long break (til 4:30 pm). Saw our section hiker friend who was in good spirits, but sore. Decided that I don't have the patience to sit at Taylor Lake all day, so am going to try to finish Friday. That means I can eat that food! Ate the Luna Bar and couscous during my break.
Nice and cool in the trees, but still warm in the sun when we started walking again. Prima kept worrying at her right front boot, so took it off. Easy hiking, but felt sloggish most of evening. A guy and dog, then 2 backpackers went the other way.
Lots of down trees around the established sites we passed, so settled on a more open/meadowy area about 6:30 pm. TONS of mosquitoes, so hiding in the tent. Gave the dogs water, Prima ate her and Skittles' dinner. I had another tuna packet and now am making the rest of the couscous. I think I put too much water in…
Planning on 5:30 am again and hoping to at least make the crossing of Junction Creek. Hopefully we'll take a long break, then go to Road's End or someplace similar. Getting so close to the end! Oh! Saw lots of deer, fireweed, paintbrush, larkspur, columbine (blue), and skunk cabbage.
A View of Durango
Woke up at 5:30 am this morning after sleeping really well last night. The dogs got up right away. Packed and had a granola bar for breakfast. Left Prima's feet alone since her dew claw was bothering her. Actually not that far from the intermittent stream or the overlook campsite. People were camped at both.
Prima was pretty gimpy by the time we got on the ridge, so stopped, wrapped her bad foot, and put socks and booties on. Got passed by those nice bike packers from yesterday. Also put on my jacket- it wasn't cold, but the wind was brisk. Also very overcast all morning. Kind of dulled the great views, but luckily it's not my first time hiking this area.
Talked briefly to a NOBO hiker, but otherwise empty on the ridge. I did see someone in the distance at Taylor Lake. We stopped at the stream coming out of the lake for a break, water, and some tuna. Dogs seemed tired, but in good spirits: leading out to Kenebec Pass. Only one car at the pass and 2 day hikers and an Aussie.
So many wonderful flowers all day long! Lots of elephant's head, bistort, columbine, and paintbrush on the ridge. Tons of larkspur heading down. Neat hiking through with a better knowledge of the area. Saw Utah, Sleeping Ute Mountain, Fort Lewis Mesa, and Chapman Hill.
Stopped just after the road on an awkward hill to make mashed potatoes for lunch (12 pm). After lunch we passed 2 weekend-looking backpackers  and had a mountain bike pass us. The rest of the afternoon was pretty quiet other than passing a guy that may have been a hobo. Got sprinkled on, then the sun came out and warmed things up.
Almost forgot, found a neat new flower that looks like a cross between a blue bell and sky pilot. Neat white curly q's inside the bell! Another positive is that the Soldier Canyon waterfall was flowing.
After getting pretty warm we arrived at the bridge about 2:30 pm. Stopped for a long break. I wiped myself down and made oatmeal. Also cameled up on water. Enjoyed the sunshine while it lasted, but glad it clouded up right before we started walking at 4 pm. I knew the next section had some good hills and was hot, but it still sucked. Luckily, most of the streams were flowing for the dogs. The uphill to Slide Rock and then to First Trail were the worst, then the walking wasn't so bad.
Met a day hiker/runner right before Roads End who was in a bad water situation, so shared some of our with her. Good thing I was planning on going past Road's End because there was a herd of Hereford cows/calves in there. Pretty short walk to the saddle before the downhill. Saw some more mountain bikers. Glad to stop, we are all beat!
Found a spot JUST big enough for my tent, hoping a dead aspen doesn't fall on us. Finished setting up by 6:40 pm. Gave the dogs food and water, then made my much anticipated dinner- poor thru-hiker's Pad Thai! Used a teriyaki bowl and sauce, sriracha, lemon juice, peanut butter, and chicken. I thought it was pretty tasty! Also ate some of my extra snacks, cleaned up, and put everything away.
Looked rather rainy over Durango, so tried not to dally too much. Good thing as now it is raining and thundering. I saw a lot of bear sign today, so made sure to hang my Ursak far away. Now I'm going to enjoy our last night on trail by listening to the storm and relaxing. Only ~13 miles to go tomorrow. We hiked over 20 (maybe 21 or 22) today.
What a ROUTE!!! It's truly been amazing and I feel so lucky to have spent the last 45 days blazing a new trail with my best friends. Boy, some parts were hard and we still have plenty to learn and work out for the future. However, I think we did something pretty neat and can't wait to see what we have in store next!
Home
After enjoying listening to the rain and thunder last night I slept really well. Woke up to the alarm and snoozed until 6 am. Loved listening to the birds, such as the Hermit Thrush. I've noticed that I've been much more aware of the bird calls on this trip. Not sure if it's because it was so much lonelier or what.
Decided to skip oatmeal and ate my granola and cereal bar instead. Got packed up and just put booties on Prima. Weird feeling doing so for the last time. Such a beautiful morning! Some clouds in the distance, but blue skies overhead and nice aspen groves to walk through right off the bat.
The dogs were sore, which isn't surprising with how hard we've been pushing. Heard a crash at one point and thought it was a deer, but it turned out to be a small, brown colored Black Bear. It just stared at us as we walked by. The trail wasn't as rocky as I remembered, but still hard on the dog's feet. Prima really gimpy on her bad foot, so took off that boot. Worried about her ripping off that dew claw due to the bandage, but she was fine.
Exciting to pass the Dry Fork trail and get glimpses of Perrins Peak. Starting to warm up by the time we got to Gudy's, but we made good time and got there before 9 am. Didn't see anyone up to that point, but started seeing trail runners and hikers from then on. Took a break at the bench to eat tuna and peanut butter packet. Nice views of Perrins and down the valley. Dogs were hot, but good sports about having their pics taken.
In amazing spirits and shape heading down the switchbacks, felt like I could run all the way home and started singing Cheeseburger in Paradise. Filled up on water at the bridge and kept dancing downhill. Saw 2-3 dogs. Took the turn off for the upper CT trail head and road walked out. Pretty busy- lots of traffic. The dogs didn't like walking on the gravely road and skittles got a bit gimpy. Took a water/shade break at the pavement. Leashed up Skittles and started walking again.
Fun looking at the houses, but lots of people driving fast. Only one person offered us a ride. One of our shorter road walks, so got to Sailing Hawks about 11 am. Took another break, then floated home! Pretty warm, so no one out (whew!), but the clouds/impending storms kept it from getting stifling. Met my room mate Cherie just as we got to the Dalla trail head, so she took our picture. The dogs were REALLY ready to be done.
Walked home and took off the booties. Rinsed off, put on clean clothes, then went to Maria's (bookstore) and Carvers to celebrate! I even got a free Root Beer instead of regular beer! And a cookie!
I am still full and it's 10 pm. Talked to some friends and family on the phone, then took the dogs to McDonald's for an ice cream cone and cheeseburger. Weird to drive and use my computer again after so long! Definitely going to try to go for a long run tomorrow around errands. Going to take a real shower, then go to bed on the couch.
The End!
"A health to the man on trail this night; may his grub hold out; may his dogs keep their legs; may his matches never miss fire. God prosper him; good luck go with him; and confusion to the Mounted Police!" -Jack London, The Klondike Tails
Note: This post is an edited version of my hiking journal.
Affiliate Disclosure
This website contains affiliate links, which means The Trek may receive a percentage of any product or service you purchase using the links in the articles or advertisements. The buyer pays the same price as they would otherwise, and your purchase helps to support The Trek's ongoing goal to serve you quality backpacking advice and information. Thanks for your support!
To learn more, please visit the About This Site page.