Trail Karma: Protecting What We Love Most
For most of us who seek the adventure, freedom and beauty of places like the Appalachian Trail, a pristine view off of a mountain peak is the pinnacle of what Mother Nature has to offer. It swells your heart with a feeling of unity and belonging. It brings about an understanding of the large expanse of our world and the smallness of ourselves within it. It leaves you with a sense of clarity, even if just for a moment until you return to your bustling life back home.
But in the same way, when we are out on the trail and catch a glimpse of it being abused, it is the beginning of the end for much of the beauty and freedom that the AT preserves. Trash abandoned on the Trail or at shelters, graffiti on signs, privies and shelters and the mismanagement of human waste are all ways in which the careless hiker begins a cycle of impact, regulation and regimentation that makes hiking less enjoyable. It is upsetting to see these impacts when out on a day hike, hiking a section of the Trail, or thru hiking. Even worse, the next time you hike that section of trail, you might encounter camping restrictions, intrusive signage or a ranger as a direct result of those impacts. This immaculate stretch of land from Georgia to Maine has no self defense against those of us who do not treat it with the love and respect it deserves.
Beginning this year, 2015, there is a new happening creeping up and down the AT. Trail Karma is an interactive website that educates about how to properly care for the Trail and also highlights the hard work of hikers along the AT who are doing their part. The most fun part of the site is a Tagboard that collects the entries from many social media sites that have the hashtag #trailkarma and displays them in one place. Any time a hiker is found along the trail executing an act of positive change on the Trail such as packing out discarded trash, other hikers are encouraged to snap a photo of it or share the story some how. There are even Trail Karma necklaces being passed out through out the hiking season to those who take matters into their own hands and help the Trail. In this way, this new website is aiding in the protection and restoration of the AT. By taking care of the Trail we love, we keep it free and open to use year round for all.
The Appalachian Trail is a unique place. Laws, rules and regulations will not help solve the problem like they do in cities. It is a place above such courses of action and if they were to be put in place, it would dampen the spirit of the trail as we know it. The AT is a land that relies on it's own community to self police and make decisions that are healthy for all involved. The Appalachian Trail Conservancy, all the trail maintaining crews and all the trail clubs along the length of the Trail can only do so much up against careless users. It is up to each and every one of us as individuals to do our part in preserving the Trail and keeping it healthy.
That means packing out all of your trash (not burning it or leaving it behind for others) as well as packing out trash that is left by negligent hikers around you. I know! It sucks pick up the junk of others! But when you love something you go to great lengths to care for it. At the very, very least, do not be that person that more contentious hikers are picking up after. If you feel the need to share with the AT community who and where you are, keep a blog. Don't carve it or write it onto every privy and shelter from Georgia to Maine. Always dig your cat hole deep enough. 6 inches is standard. You can be ultralight and forego a trowel but do not skimp on the depth of your cat hole. Besides the transmission of viruses such as Noro, shallow cat holes also invite animals to go digging. Further, surface human waste deposits lead land managers to consider requiring hikers to stay in designated areas. Both norovirus and camping regulations severely limit the freedom available on the A.T.
I deeply wish that all of these things and so much more went without saying. But for many new or inexperienced hikers, the concept of Trail Karma isn't self-evident: if you take care of the Trail, the Trail will take care of you. For those experienced backpackers, we all have a story of a fortunate water source or a beautiful campsite that made our trip, and so we know that the Trail will provide if we do our part. That's Trail Karma! And everyone deserves to be recognized for his or her small part played in the big scheme of protecting an incredible and unique place we all love!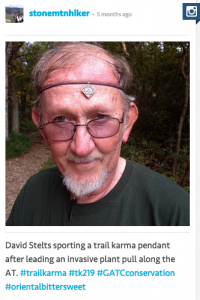 Affiliate Disclosure
This website contains affiliate links, which means The Trek may receive a percentage of any product or service you purchase using the links in the articles or advertisements. The buyer pays the same price as they would otherwise, and your purchase helps to support The Trek's ongoing goal to serve you quality backpacking advice and information. Thanks for your support!
To learn more, please visit the About This Site page.