Trail Update: Segments One to Four
Segment One: 16.8 Miles
I chose to take the alternate start to the Colorado Trail via the Indian Creek Trail, mostly because the dogs were allowed and there was overnight parking for our camper. I had also heard it was a prettier route with more water sources. A few miles in, I got my first view. On the Appalachian Trail, you're mostly in the "green tunnel," the exception being if you start early enough to catch some views before the trees grow their leaves back from winter. Here, it was quite different. Everything seemed so much more vast than I had expected; huge mountains surrounding deep valleys, one of which I had just climbed out of. I enjoyed the views for a few miles, then ducked back down to the valley to reconnect with the CT.
The main thought that stuck with me from that first day was how different this hike already was from my last one. When I started the AT, my pack and sleeping bag were a Christmas gift from 10 years ago and my base weight was over 30 opunds. Now my pack was sitting right around 10 pounds. The main difference has been the tread of the trail; the CT has groomed dirt or stone paths that cushion my every step, and the steepness of the trail is much milder. My pace in Georgia was around 1.5 miles per hour whereas here it's a cool 2.5 or 3 depending on the grade. I think I'm going to like this trail!
Segment Two: 11.5 Miles
I hit Segment Two at around noon on day one. There was a beautiful river with some young, fit hikers hanging around it. Some were sitting chest deep in the water in what looked like makeshift rock seats, others were sprawled out on the sunny beach. I immediately took off my shoes, grabbed my filter, and walked thigh deep into the water. After taking what I needed and splashing around a bit, the hikers on the beach told me they were planning to night hike the next segment to avoid the heat. It was a tempting offer, especially because I wasn't carrying any sunscreen. There was no water at all in the next segment, and the heat and sun were brutal. "Some guy went 3 miles uphill and decided to come back. He said there's no shade, you're totally exposed," my new friend prodded. I've never been crazy about night hiking and the foreboding tales of cougars kept me from accepting their offer. Not able to sit still any longer than an hour, I passed some hikers taking a nap in the shade on my way back to the trail.
I got one measly, miserable mile from the river before I called it quits. I was dehydrated despite having chugged a few liters at the river and had already drank half of the liter I was carrying. And I had 11.8 miles to go until the next water source! But because I'm wildly stubborn (no news to those who know me) I refused to backtrack miles and walked down an abandoned dirt road to find a spot to set up camp. Old roadbeds make great campsites because they are typically flat and clear of obstructions like trees and rocks. I walked down the roadbed and turned a corner so as not to be visible from the trail and stopped in my tracks. Someone had created a large lotus flower pattern with pieces of bright white marble. It was so strange, but so beautiful to come across. Though I'm a huge advocate of Leave No Trace, I felt a profound appreciation of this piece of art I had found left by another hiker like myself.
Segment Three: 12.3 Miles
The sunburn has already begun. I tie my hair up in a sort of head wrap when I'm hiking, and that left my neck completely exposed. Even with being on trail at 6 a.m., I found myself trapped on an expansive ridge that had been logged and provided no shade. Legs offered to meet me the next day to exchange my top for one with sleeves and pick up some sunscreen, which I graciously accepted.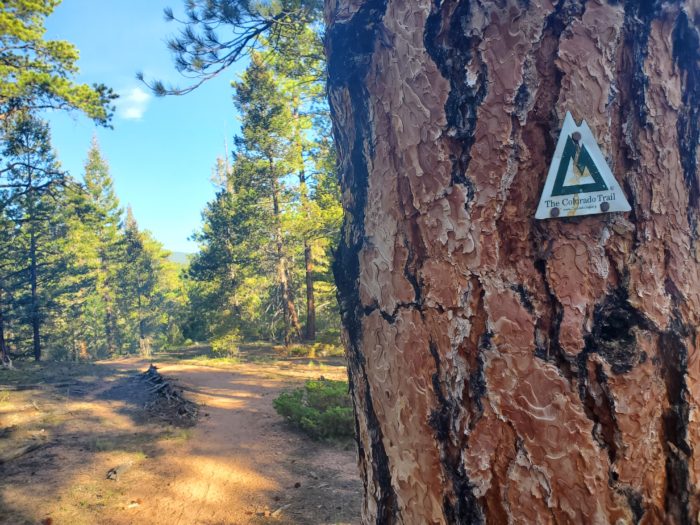 Around mid afternoon, I ran into two young hikers who had started the day before as well; they were making good time. I was taking a break, sitting next to the trail when the one with shoulder-length black hair looked at me in surprise. "Hi, I have a quick question. How do you get your pack so small?" I giggled. I'm not a gear nerd and I really had no idea how to answer the question. I stumbled through some of the gear that I had and the boys hiked on, seemingly satisfied with my rambling.
A few hours later, I saw the boys again at a stream. "Oh, I forgot to mention earlier!" I said. "I'm stove-less! That certainly frees up some space; no large dinners either." The boys laughed. "Oh, so you cold soak?" He was referring to the practice of soaking dinners in water and eating them once they rehydrate, a question that I frequently get when I tell people I don't cook. "Nope! I just eat lots of peanut butter and tortillas. It's my staple." They exchanged confused looks with each other and wished me a happy hike. People can say what they want about a hot meal at the end of the day, but it has never been close to a priority for me. But, then again, I've also been told I have the diet of an 8-year-old. And frankly, I can't argue.
Segment Four: 16.6 Miles
This segment, there was a long and somewhat challenging climb around midday and clouds had moved in to provide me with shade for hours. After I got over the peak, the trail descended into a meadow flanked by mountains on either side. I enjoyed the beauty for about 30 steps before it started drizzling freezing rain. As beautiful as the meadow was, it offered zero protection from the rain; and I had just dropped off my gloves and puffy with Legs that morning.
The beauty was undeniable, though. The vibrant purple and yellow wildflowers contrasted even more with the dark soil of the meadow under the moody sky. I scared a couple of short-eared bunnies across the trail and under rocks, while a few jet-black pointy-eared squirrels followed, almost in pursuit. I almost expected to see a moose and her calf just wandering along the edge of the forest. Seven miles later, at the end of the meadow right as I was entering the treeline again, the drizzle stopped. I almost started laughing, it was such an imperfect weather window.
Near the end of the segment, I ran into a hiker about my age, sitting on a rocky overlook just admiring the view. I walked up. "Wow isn't that something." I must've startled him a bit because he jumped up on his rock. "Oh, yeah! It's so incredible. My group kept hiking to the campsite at the bottom of the mountain, but I couldn't resist just sitting here for a while. Service is good, too! What's your name?" I smiled. It is so exciting to meet people who are having as good of a time as you on trail.  "Oats." "Oats! Is that a trail name or your real name?" I smiled. "Trail name. It might as well be my real one though, when I go by Oats it means I'm dong exactly what I want to be doing, hiking." He returned the smile. "I don't have a trail name yet. This is my first thru-hike. Anyway, if you're looking for a group you're welcome to camp with us tonight!" I appreciated the offer, but was still trying to avoid groups due to the pandemic. I politely declined and wished him a happy hike. As I started back down the trail, another older hiker was walking up. I heard the familiar, "Hi! What's your name? Beautiful view, isn't it?"
Before I did my AT thru-hike, I intentionally avoided reading any books about personal experiences on the trail; I wanted my experience to be my own. Since I've hiked, I've read a couple in the genre. My favorite has been Becoming Odyssa by Jennifer Pharr Davis. Early in her book, when she was still in Georgia, she referenced the popular statistic that claims only one in four hikers who start the AT will eventually finish. She would entertain herself in those early days by trying to guess who would make it and who wouldn't based on disposition or a 30-second impression alone. Barring any number of unexpected reasons to get off trail, I think my new friend will carry himself to Durango on disposition alone.
Affiliate Disclosure
This website contains affiliate links, which means The Trek may receive a percentage of any product or service you purchase using the links in the articles or advertisements. The buyer pays the same price as they would otherwise, and your purchase helps to support The Trek's ongoing goal to serve you quality backpacking advice and information. Thanks for your support!
To learn more, please visit the About This Site page.