Trail Update: Segments 10-14
Segment 10: 13.1 Miles
When I first hopped on trail that morning and got a couple miles under my feet, I noticed the sign for Mount Massive Wilderness Area up ahead. As I approached, I noticed the note. "YOU ARE ON THE ANCESTRAL HOMELANDS OF THE UTE NATIONS." Even though I felt an immediate pang of disappointment for someone's disregard for LNT, the note demanded to be read and understood by the hikers on this trail. I don't want to be incorrect in identifying the specific band of the Ute that occupied what is now Mount Massive Wilderness Area, but the Nations spanned Colorado, Utah, Wyoming, Nevada, New Mexico, and Arizona. An incredible range… and I was walking right through it!
A sense of profound appreciation and anger stayed with me for a while after I read the note. Appreciation for the opportunity I have now to experience this wilderness almost exactly as it was when the Ute Groups were here; and anger for their ancestral lands being unfairly seized at the hands of my ancestors. I then thought of the person writing the note… they wanted hikers to know and be respectful and treat the land right. As I moved through the wilderness I hardly noticed any trash; not even the corners of granola bar packaging. It gave me hope that we can start to set things right with cultures and nations that our history owes an apology to. And we have momentum going, so let's keep learning and improving and not just saying sorry but actually making change.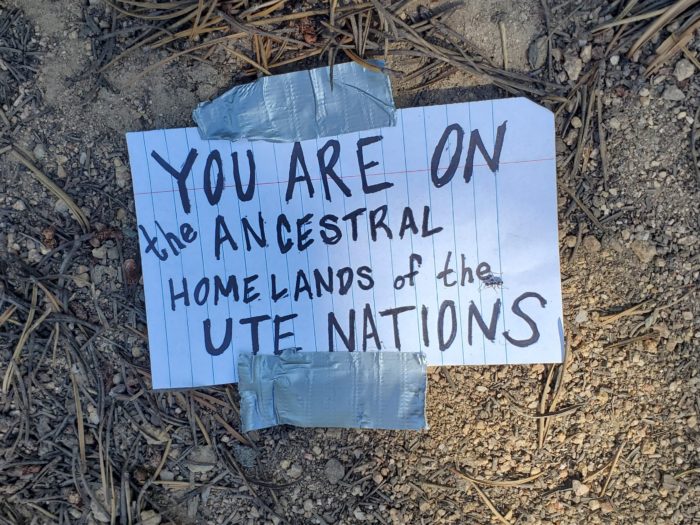 I used this source to do some research about the Ute Nations. Feel free to do some yourself! https://www.southernute-nsn.gov/history/#:~:text=The%20Utes%20were%20a%20large,Northern%20Arizona%20and%20New%20Mexico.
Segment 11: 21.5 Miles
This segment was rather busy; the trail passed through the Mount Massive and Mount Elbert trailheads, and it was a Saturday at noon. I saw many groups of people both on their way up  and coming down from the summits. Some wore flip-flops and others were dressed for the morning temperatures and had clearly banished all but the bare essentials to their day packs. My favorite passersby were always the pups, bonus points if they either wore a backpack or had little booties over their paws.
Some of my favorite interactions on trail are those with day hikers. They really know how to make you feel like a badass, even when you're covered in heat rash and are so sore you can barely move. I had hiked 25 miles that day when I finally reached Twin Lakes. After setting up camp, I passed a couple holding hands in their folding chairs about 15 meters back from the shore. I slowly filtered a half liter into my bottle, and immediately downed the entire contents. Then I filtered another liter and put a liter in my dirty bag for the morning.
As I slowly climbed back up the bank, the man asked me what in the world I had been doing. I told him I was filtering water. "From the LAKE?" He asked, clearly astounded I would choose this as my water source. "Yep," I said. "It's not ideal, but it's the only source for four miles. And I sure don't have four miles left in me tonight."
The couple looked dumbfounded. I don't blame them; sometimes I forget how strange this interest is to someone who never hikes more than a few miles at a time or whose experience with camping extends to their 25-foot RV. Their eyes got wider and wider as I explained hitchhiking, bear hangs, my pack weight, and my lack of a stove. They gave me an exhausted smile and wished me luck on my trip. It was as if I had exhausted them simply by explaining my daily routine!
And even though I definitely wasn't feeling strong at the end of that day, just talking about why I was out here, doing what I loved, gave me the morale boost I needed to do the same thing again in the morning.
Segments 12 and 13: 41.3 Miles
I had my first real thunderstorm on trail one night in this segment. The thunder and lightning woke me up around midnight, and I quickly checked the radar. The storm was heading my way and would be gone in 20-30 minutes. I didn't have a fear of thunderstorms before I did any long trails, but this was my first time braving one alone in my tent. I doubled over my sleeping pad, sat in the middle of the tent, and started munching on a peanut butter tortilla. The lighting lit up the entire sky and the thunder that followed was louder than any I had ever heard (only rivaled by some of the storms I went through on the AT). I was confident I had picked a good spot to tent and after 30 or so minutes of counting the time between the strikes and the sounds, the storm moved on and I finally went back to sleep.
The next day, I was trapped in a hailstorm, listened to the entirety of Hamilton, conquered a precarious five-mile road walk, oh and endured another thunderstorm. The weather gods were not on my side.
As I rounded the curve of the road toward Mount Princeton Hot Springs Resort, the storm I had seen coming over the mountain was on my heels. I walked past the pool, where many families were enjoying their vacations at the springs. Suddenly a massive bolt of lighting flew across the sky and landed on the other side of the ridge, not a mile away. The lifeguards blew their whistles and everyone scrambled to the bathrooms to hide. I ran under a fruit tree on the side of the highway, just in time for the hail to start. I thought of how funny I must look to the people at the resort. I had a pack and hiking poles having just walked down the highway and now I was bouncing to stay warm under a fruit tree next to their pool. But then again, they looked funny too, bouncing just as I was in their bathing suits. One couple had grabbed a padded pool chair mat and was holding it over their heads while they remained, unmoved, in their reclined seats. It hailed hard for about 20 minutes, but quickly subsided and the sun was shining once again.
Segment 14: 20.4 Miles
This segment was nothing short of beautiful. The mountains were moody, covered in overcast gloom, but the terrain was easy and I seemed to glide over it. I kept checking my Fitbit after the climbs and was pleasantly surprised by my pace. I was also motivated by Legs waiting for me at the end of the segment with our pups and (hopefully) some treats.
Even though it had been a few days since I had seen more than one or two SOBO hikers, I wasn't alone in this segment. Four horses trotted past me in the morning, and I could hear cows loudly mooing through the pastures in the afternoon. The cow pastures I was familiar with were very different than the ones I was walking through. These were mostly hard dirt and gravel with patches of wild grass and pine trees scattered about. Also lining the trail were the most immense cow patties I had ever seen. Even though the trail was flat and straight and I could practically walk with my eyes closed, I knew the second I would decide to rest them my foot would find one of those patties. And I wasn't going to give Legs another reason to call me a dirt ball.
Affiliate Disclosure
This website contains affiliate links, which means The Trek may receive a percentage of any product or service you purchase using the links in the articles or advertisements. The buyer pays the same price as they would otherwise, and your purchase helps to support The Trek's ongoing goal to serve you quality backpacking advice and information. Thanks for your support!
To learn more, please visit the About This Site page.