Trek Readers' Favorite Day Hikes Close to Home
Amid the economic and mental turmoil wrought by COVID-19, the outdoors has been a satisfying—if brief—escape for many of us. We asked Trek readers to share their favorite local hikes that have helped them through these tumultuous times, and their responses show that you don't have to take a long-distance hike to find solace in the woods.
Holly Parker
I know everyone thinks the Midwest is flat, but they're wrong. Southern Illinois has so many great trails. I have hiked all over the Shawnee National Forest. We have amazing bluffs, canyons, and waterfalls. We even have our own little thru-hike, the River to River Trail. Running 160 miles from the Mississippi River to the Ohio River, the trail passes through some of the most scenic landscapes in the Midwest.
Spencer Brotherton
Pilot Mountain in  North Carolina is great camping and hiking. Last time we visited we experienced a ladybug swarm taking place around the entirety of Pilot Mountain (pictured) which you can hike around as well as climb.
Russ Hobgood
 My overall favorite. Ten miles from home, on the York River side of James City County, Virginia. About 10 miles from Williamsburg it is easily accessible. Twenty  miles of trails to include mountain bike and equestrian routes. Elevations from sea level up to 100 feet. Includes a fossil beach dated to the Miocene age. You can loop trails together for as much distance as you want. The bonus, during the COVID19 shutdown, the governor left state parks open so those so inclined could get out for exercise alone.
Frank Erdman
My favorite local hike is the three-mile Yellow Trail in Bill Yeck Park near Dayton, Ohio. It got me through the quarantine each day working from home with a lunchtime hike. Rain or shine there was always something to see … foxes, deer, turtles, snakes, fish, and some great forest scenery.
Tracy "Scrappy" Buro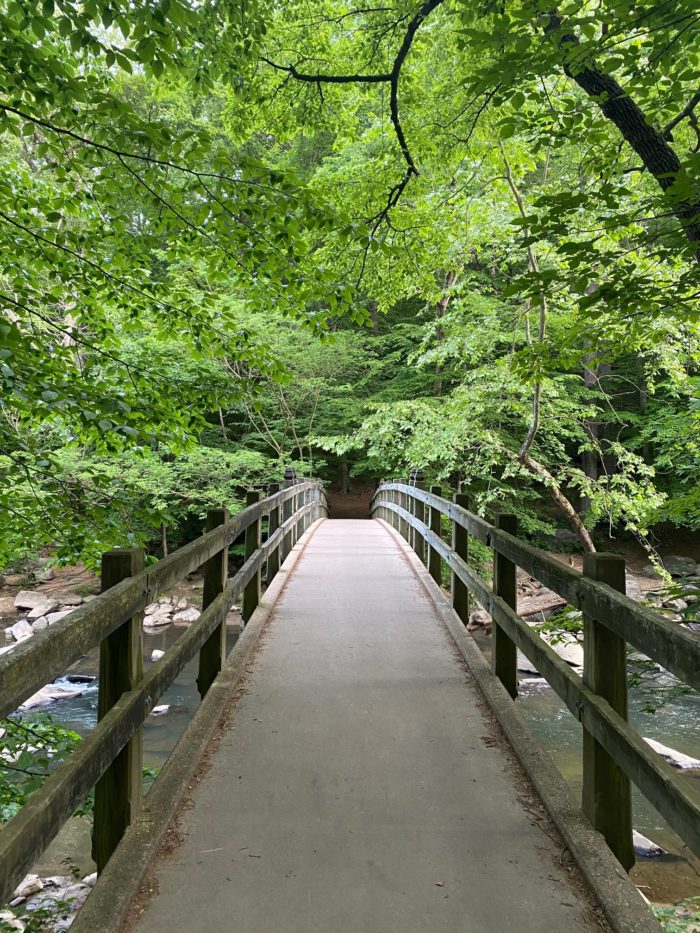 I live in Silver Spring, Maryland, just over the DC line. The best daily hiking spot in the area is Rock Creek Park, hands down. It's a 1,754-acre national park nestled in the heart of DC and it was the third national park designated by the federal government. The entire loop is about ten miles running north to south with side trails that allow for new loops and a feeling of seclusion and adventure, even when living in an urban environment (not to mention a global pandemic).
I am in RCP every single day, and sometimes twice a day. The trees and trail give me life and I am so grateful to have this gem a mile away from my house. There are rolling wide gravel paths, technical rock scrambling sections, wide lawns for lounging, narrow winding trails, and so much more. It's great for walking, hiking, cycling (on the road portions), trail running, and getting one's outside jollies met in general. In short, it's the best hyperlocal and daily hike spot in the area.
Jo Ann Hickey
I am fortunate to live near a 4,000-acre county park in New York, so when town parks and state parks were closed this was the only place for people to be outside, but just a half mile from any parking lot there was peace and quiet to be found. Even when the park closed due to reaching capacity there were pockets of tranquility and trails enough to easily do seven miles and only see a dozen people. And this is an hour from New York City. My favorite park.
Erik Barrus
My favorite local hike is Lake Blanche up Big Cottonwood Canyon here in Utah. I love it because it is about a 15-minute drive to the trailhead from my house. It is about a 3.5-mile hike with almost 3,000 feet of elevation gain. So it makes for a great workout with an amazing view at the top. There is a chain of three lakes that hold brook trout and grayling (I will often bring my fly rod with me on day hikes). I often see mule deer, moose, and bear up there. A great way to get out of the city in no time!
Kayla Percy
This is the Jacob's Ladder Trail at Christmas Rocks State Nature Preserve in Lancaster, Ohio. I love it because it is one of few spots in Ohio with a great overlook. My 6-year-old daughter and I love to take sunrise hikes here, as it is a quick hike in and it is so beautiful watching the sun come up over the foothills. We bring doughnuts, listen to John Denver, and lie back enjoying the peace and beauty of nature. It's these special moments that I know my daughter will look back on, and that's why it is my favorite local day hike.
Scott Brotherton
Kings Mountain in South Carolina.  I reside in Matthews (a Charlotte 'burb) and most people would likely put Crowders Mountain. You actually can hike from Crowders to Kings Mountain. if you have transport (it's about 16 miles). But Kings has so many trails that you can make or create your own loops, and there are two hefty loops (also both around 16 miles) already in place that you just can't beat. You may have to ford a creek or two and you can also take in a third park at Kings Mountain Military Park, if you venture out the Kings Mountain Recreation Trail.
Featured image courtesy Tracy "Scrappy" Buro
Affiliate Disclosure
This website contains affiliate links, which means The Trek may receive a percentage of any product or service you purchase using the links in the articles or advertisements. The buyer pays the same price as they would otherwise, and your purchase helps to support The Trek's ongoing goal to serve you quality backpacking advice and information. Thanks for your support!
To learn more, please visit the About This Site page.