Via Dinarica!??! First Week!!!
Let's go!!!  I know, I know… I haven't "finished" The Pyrenees High Route yet.  But I did complete the trail, nearly a month ago now, I just haven't wrapped up writing about it.  I'll get to it eventually maybe as a 'Throwback Thursday' post and/or when I have a good amount of time in a wifi zone during a rainy day, but sometime I'll get to it.  So stay tuned if you want the details on the last week out of the Pyrenees down to the Mediterranean coast.
This is the beginning of the Via Dinarica, a trail route that follows the Dinarica Range southeast from where the Alps essentially split into a couple different ranges near the eastern Italian/Austrian border.  This trail leads one through Slovenia, Croatia, Bosnia and Herzegovina, and cuts the corners of Montenegro, Albania and Kosovo.  I could go into more detail and certainly will over the next months, but if you'd like a great introduction Louisa Richards wrote a great article for The Trek in March of this year, you can read it here!
I arrived on a hot and sunny afternoon in Ljubljana (the capital city of Slovenia, pronounced leeoo-blee-ahna) by train via Paris, Amsterdam, Munich.  I had booked a mid-range hostel and upon arrival found that it was an art school that converts the dorms to a hostel during the summer holiday!  I would stay 4 nights and days to explore and get a good feeling for this new-to-me European city.  And oh, what a good feeling I got!
But this blog isn't meant to be about town stays, it's about trail, so let's get to it.  I took a short train from Ljubljana to Postjama to stage myself closer to the trailhead terminus (staying in another converted school). I got my first glimpse of trail leading across and away along the horizon from the top of a hill above the Postjama cave system (which is a huge underground limestone cave system):
Day1 – Razdrto to Gorenje (12.6 miles)
Climbs, chapels, and cave castles… cool!
I took an early bus from Postjama to the outskirts of Razdrto and walked the short way into the center of town where I found a monument (WWII I think) next to a AustrioHungarian style church to take my terminus pic:
Then it was immediately up 2,000ft to the top of Vojkova to attain the ridge I would walk for most of the day.  At the beginning of the climb I found a French guy camped in the trees that I had met on the train, but wouldn't see him again after this.
The climb wasn't so bad, there were paths straight up, sure, but my GPS tracks had me gradually wrap around the mountain to follow the less steep ridge approach from the West.  There was a small guesthouse near the top, but they didn't have water (well, they did, but you have to buy it) so on I went.
The ridge was pretty chill, mostly beech and oak, spruce and fir and a nice breeze blowing through.  I was surprised to find a couple blazes as well:
So far so good- nice trail, clear blazes, good temps.
Then, another mindblowing surprise.  I come around a corner in the forest and a meadow opens to my left.  I walk in and see this!
A castle in a cave!?! What!?  It turned out to hold the world record for largest castle in a cave.  I took the tour, which maybe wasn't entirely worth the €20 (I heard the Postjama caves were very much worth that price) but still had to happen.
After doing the tourist thing for a couple hours I had to head on.  I lost my cook pot in a cistern trying to get water at the end of the day.  This would be a problem if I cooked but I'm coldsoaking so it was just a small sad loss, and I was still able to get water.
I found a hunting camp at the edge of Gorenje that wasn't being used so I camped in a flat spot out of sight from the roads.
Day2 – Gorenje to Rakov Skocjan (14.2 miles)
A tipsy tower, overgrown trail, and more caves!
I was able to get a good night's rest and an early start, climbing the first hill which had views of the valley below and to the tall range to the northwest (hard to see with my phone camera, but if you look closely they're there):
A couple people doing early summits from the valleys and towns below were already up there.  A little ways down the other side was a large church, which come to find is very common here.
During the heat of the afternoon I found a tipsy tower church in multiple senses.  The bell tower was physically bent.  Also, there was a cabinet in the atrium with two beautiful bottles in it:
The red one was a sweet spirit, like a digestif, I was later told it's made with blueberries.  The clear one was strong!  Maybe a schnapps or a brandy, likely apple based- it had that fruity sweet nose.  The way to go was 2/3 red, 1/3 clear.
I stayed until, well, I got tipsy.  Then I had to walk some more.  There were some nice exposed ridges and some not so nice overgrown trail:
I definitely walked right by these blazes on the rock marking a turn.  I have a feeling this will be a frequent occurance on this trail.
The end of the day led me into Krajinski Park, a karst valley created by the collapse of limestone caverns.
I was going to camp in the caves but there were people, it was cold and damp, and I don't know the legality.  So I found a stealthy spot way off trail above the caves.
Day3 – Rakov Skojan to Cerknica (7.6 miles)
An unexpected nearo!?
The day started out normally, an early rise to take advantage of the cool morning temperatures and a walk in the woods.
The trail stayed mostly level in the forest for a while before opening a view over the seasonal Cerknisko lake valley:
I descended to the flats and wandered into Cerknica to resupply and water up.  While I was waiting out the high heat of the day by the fountain a guy called me over and said he had a good feeling about me.  He had a shirt similar to my town shirt and good vibes, so I had a good feeling too.
This random Slovenian told me there was an "ethno" music festival happening nearby that I should check out, at a castle!!!  I looked at my maps and the trail went right by it!  But it was two days walking distance which would have me arrive on Sunday as things were wrapping up.  I decided to catch a bus up closer so I could get the most out of the experience.
The bus took me to Nadlesk and I walked the last mile or two to the festival grounds at Snežnik Castle:
Days4+5 – Floating Castle Music Festival vortex  (0 miles)
Yup, not even a week in and already got  vortexed (a trail term for getting sucked into something off-trail for a while). I imagine this will happen a few times on this trail but this was very special.
I had a radio show in college that I played ethnic dance music from around the world and fell in love with Balkan folk music.  This festival was full of it, with some added South American and Spanish performers, and just a couple English and American folk artists.  There were easily over 100 performers that graced nearly 15 stages over 4 days (€30/day).
I could write an entire article about the festival and how absolutely amazingly wonderful it was, but again this is a trail blog so I'll just leave a couple pictures and move on.  There is some video footage on my IG so check that if you're interested and haven't already, the link is on my author page.
Day 6 – Snežnik Castle to Lake Bloke (14.7 miles)
Had to leave the festival, easy cruising.
I stayed later than most festival goers, lingering with the musicians and  volunteers as they relaxed after a successful festival.  I had planned to go to bed early to get an early start, but stayed up until 4am listening to jam sessions and storytelling around the fire.
I finally got going around 9:30, which is actually amazing all things considered.  It was overcast and a perfect day for hiking.  I retraced my footsteps for an hour or so, then blazed on up through forests, small villages and hamlets for most of the rest of the day.
Churches, churches, and more churches!
In the afternoon I passed the heat of the day at this church on a mountain top: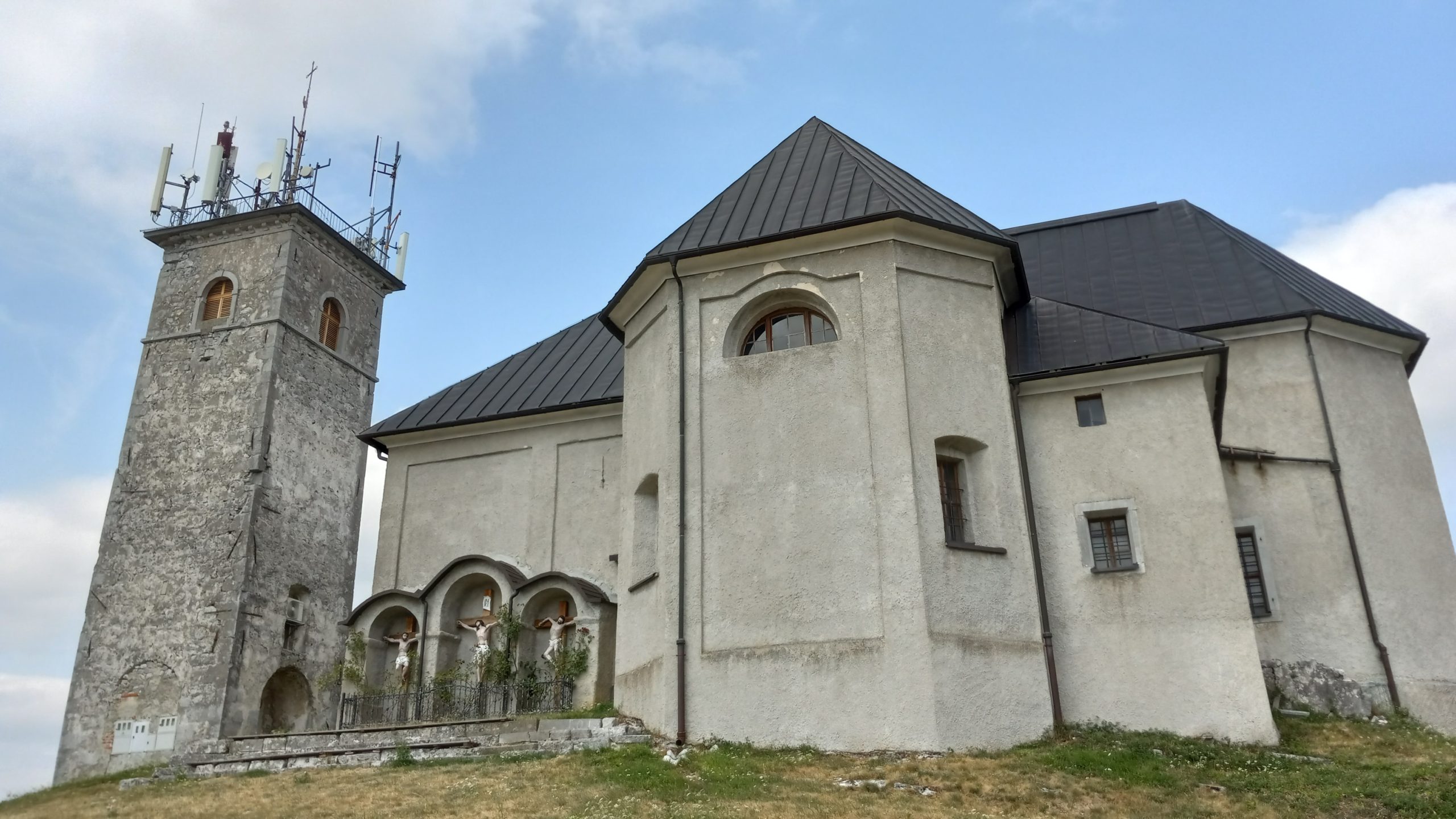 The imagry seemed iconic, a testament to humanity's tendency to build monumental empty, mostly unused spaces for God, now communication technologies, at the cost of humanity and virtue.  Maybe I'm reading too much into it, haha.
In any case, the end of the day led me to Lake Bloke and a "glamping" site (€18 to pitch my tent, ouch) because I desperately needed a shower and laundry.
Day7 – Lake Bloke to Cerknica (16.3 miles)
Back to where I left off.
I got a good start on the day and enjoyed the winding backroads of Slovenia.  There was mostly dirt and paved road walking all day with no much actual trail, but luckily also with very little traffic.
The trail weaved along gently climbing to each little hamlet.  Here are a couple:
The final climb took me to the top of Slivnica, which I was dreading from the original direction of Cerknica (1,600ft over a mile or two) but which wasn't bad at all from the southeast.
I had a beer at the refuge near the peak but headed down the dusty trail into the sunset like a proper western N.American.  I bushwacked my way up a shoulder peak and found a nice flat spot in the forest to sleep for the night, an easy mile or so up the hill  outside of town.
Affiliate Disclosure
This website contains affiliate links, which means The Trek may receive a percentage of any product or service you purchase using the links in the articles or advertisements. The buyer pays the same price as they would otherwise, and your purchase helps to support The Trek's ongoing goal to serve you quality backpacking advice and information. Thanks for your support!
To learn more, please visit the About This Site page.