Walking the Kissimmee River Floodplain on the Florida Trail
Floodplain should tell you what you need to know. It's not the Everglades, but it has plenty of water and mud to traverse. And a river runs through it, but I did not see Brad Pitt anywhere.
Leaving Lake Okeechobee
While there are many inflows and outflows to Lake Okeechobee, the Kissimmee river is an important one. This will be your route for the next hundred plus miles away from the Big O.
It starts out as another walk along a dike. This one is not nearly as large as the Herbert Hoover Dike. When is perhaps only 10 or 20 ft in elevation. The first 10 miles or so are typical crushed shell and lime Rock double track.
At this point you reach one of the locks on the Kissimmee River. It is staffed until 6:00 p.m. on weekdays and later on weekends. You will find the lock keeper eager to strike up a conversation.
There is nonpotable water from the river and a little bit of shade from the building. I found this to be a great place to have lunch while I chatted with the luck tender. I also got to watch him operate the lock to let two boats through.
The Kissimmee River
The river itself is an important waterway in South Florida. It begins in Lake Tohopekaliga, just south of Kissimmee. It supplies water into Lake Okeechobee. Both lakes and the river are all premier bass fishing destinations.
Because of the long distance flow of the river and its proximity to cattle and other agriculture, the river is considered to be somewhat polluted. The lock tender advised me not to drink it. Yet it is a primary source of drinking water for much of the trail ahead.
It is a very slow flowing river with only a slight discoloration. I only had to use it as a water source two times on my trip up the river. My other water sources were either municipal sources, hand pumps, or water caches.
Alligators are abundant in this River because of its low flow. And much of the surrounding land is managed by the southwest Florida Water District, Florida State Park system, and the Fish and Wildlife Commission.
State Managed Lands
Because of its natural state, there is an abundance of all sorts of Wildlife. There is no shortage of birds.
The land directly adjacent to the river is managed by various state agencies. But there are sections that are still privately owned. It is a patchwork of public and private land.
The general route of the trail is to stitch together these public lands with road walks around the privately owned ones. The sections on public land may be only 2 miles in length, or they may be 20 or more.
There are established campsites on these lands. And because of the timing of most through hikes there is still active hunting going on day and night. During the hunting seasons you are required to camp in the designated spots because they are safety zones.
You are also required to wear blaze orange during these hunting seasons. I am wearing a red shirt and a blaze orange hat. I have only met one other hiker so I can't judge if the general population of hikers are adhering to these safety restrictions. I hope they are for their own safety.
Campsite Reservations
Some of the campsites are back country campsites that you can only walk into. Other campsites have road access. No matter what type of campsite it is, you are required to have a reservation.
Luckily, the reservation process is very easy. There is an online portal where you can select the campsite and date and receive the permit as a PDF file.
I only had trouble getting one campsite, which was accessible by vehicle. When I passed the site, I saw that there were about five sites and they were all occupied by vehicles. There was still a massive amount of open space for tents. But five is five, and six there shall not be. At least I was able to get water there and move on to the next one that I had reserved.
Kissimmee Preserve State Park
The Kissimmee Preserve State Park is an oddity in the middle of the other lands managed by the Water District. Since it is a state park they have their own reservation system.
The park is about 20 miles of trail length, with the park office in the middle. If you want to camp at the campgrounds near the office, you must reserve ahead of time from the regular reservation system for state parks.
There are four backcountry sites which are walk-in and do not require reservations. But they do require a $5.50 fee which you pay as you pass by the office. The backcountry camping fee includes the $2 Park admission which you would have to pay if you were not camping and just walking through.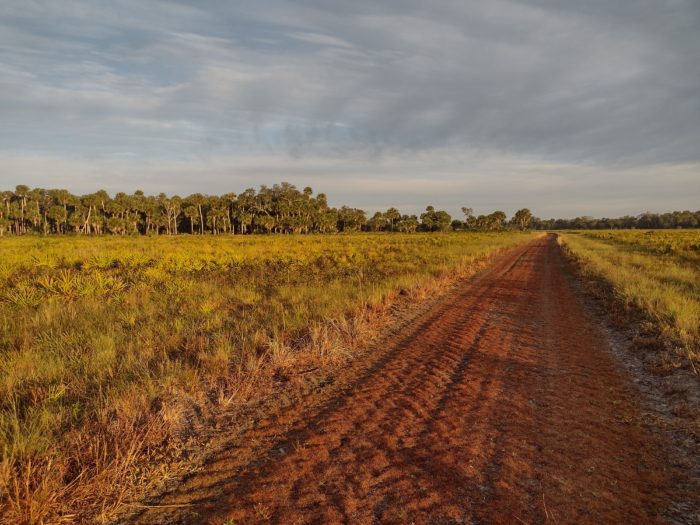 Almost the entirety of the Preserve is open fields and palmetto scrub with a few cypress domes and strands. There are very few trees. Right near the park office is a field set aside for stargazing.
The claim to fame for the preserve is that it was the site of the last sighting of the Carolina Parakeet. There is a statue erected in honor of the now extinct bird.
The mission of the park is to prevent extinction of further species. There are several endangered species within the park including the Grasshopper Sparrow.
Trail Conditions
The water management trails are about 2/3 conventional single track trail, with the remainder on very remote roads, either paved or dirt. None of these road walks are long or bad.
But the single track trails can be quite challenging. There is still a lot of water in the region, so there is walking through water or mud at least 20 times south of the Preserve.
Much of the time you are hugging the fence line to the private lands just to get the highest possible ground. The trail can be very rough and hard on the ankles here. Not to mention that they still can't avoid all the water.
This section of Trail was very hard on my feet. I still have my water shoes, so I would switch into them or walk a barefoot through the mud and water. This slowed me down tremendously. The constant muddy and sandy feet also started causing blisters.
The trail within the Preserve is double track road, which was freshly tilled for most of its length when I passed through. I think it doubles as a fire break. The soil was fairly well packed because it was damp, but it would be a nightmare if it was dry and soft. If you have ever walked on a horse trail in Florida in the middle of summer, you will know what I am talking about.
The southern half of the Preserve trail is quite dry with only a very few puddles of mud that you need to walk through. The northern half, however, is a wading or mud walking situation just about every half of a mile. I was not expecting how much this slowed me down.
North of The Preserve the trail is mostly dirt or paved road walking on lightly used roads. It does not get busy until the very end as you cross the Kissimmee River for the last time on a bridge on State road 60.
The River Ranch Resort
This is an oddity near the end of this section. It is a high-dollar resort with many amenities. The road walk takes you right by the edge of their property and within sight of the main facilities.
They have large rooms, Conestoga wagons, teepees, primitive camping, and cabins for rent. The rooms are just south of $200 a night. The glamping options can be in excess of $600 a night.
They also have several restaurants and a camp store which is really geared towards cooking in a kitchenette rather than hiking.
The Smokehouse used to be the great draw for hikers, but they are only open on weekends now that a new steakhouse has opened in the main Lodge. The general store also has a deli that has reasonable selections. There is also a Starbucks.
I stopped here to rest an achilles tendon which is getting inflamed. Luckily, I am here on a weekday where the prices are cheaper and the place is almost deserted. They are at 100% capacity this weekend, however. And previous hikers report that when it is crowded it is an unpleasant place to be.
Cell service is spotty here, and the Wi-Fi is not terrific. Many hikers use this as a place to send resupply packages, as I did.
Previous hikers report in the FarOut app that it can be difficult to figure out where to pick up your package from. Mine was not at the front desk when I checked in, but they had it delivered to my room within about 20 minutes. I can imagine on the busy weekends it will be much more problematic.
Pick One Emotion
I think I would have to pick disappointment. Not everything was disappointing, but some things were.
Trail conditions I think would be my first disappointment. I am nursing injured feet and tendons, so the frequent water walking is definitely not allowing me to heal.
The trail is along a river, and the area is called a floodplain, but somehow I guess I was expecting a nice dry perfectly groomed trail.
I could see water marks on some of the trees nearly 3 feet above ground level. I am absolutely grateful that water conditions were not that bad. I can only imagine how much of the trail had to be closed during that period and wonder how long that period was.
I think the River Ranch Resort was also a little bit of a disappointment. I am thankful that it is here and I am thankful that I was able to ship a box here. But I am disappointed in the poor cell service and Wi-Fi performance. Normally that should not be a big deal, but it is when you are trying to blog and taking a zero to do it.
They do not have guest laundry, and that is also disappointing. But they did give me laundry soap so that I could do my own laundry which turned out quite well.
Not everything on a thru hike will go perfectly as planned or expected. That is the entire purpose of actually doing the hike and not watching a video. Each hiker has their own unique experience. The same hiker doing it twice will also probably have unique experiences each time.
Being disappointed is sometimes to be expected. I have sore feet and marginally clean clothes. But I have not been eaten by an alligator. By the time I finish this trail, I will have forgotten my disappointment.
Affiliate Disclosure
This website contains affiliate links, which means The Trek may receive a percentage of any product or service you purchase using the links in the articles or advertisements. The buyer pays the same price as they would otherwise, and your purchase helps to support The Trek's ongoing goal to serve you quality backpacking advice and information. Thanks for your support!
To learn more, please visit the About This Site page.