Week 2 on the Camino – Taking alternates
Day 8
I leave Figeac and keep hiking on the GR 65 for now.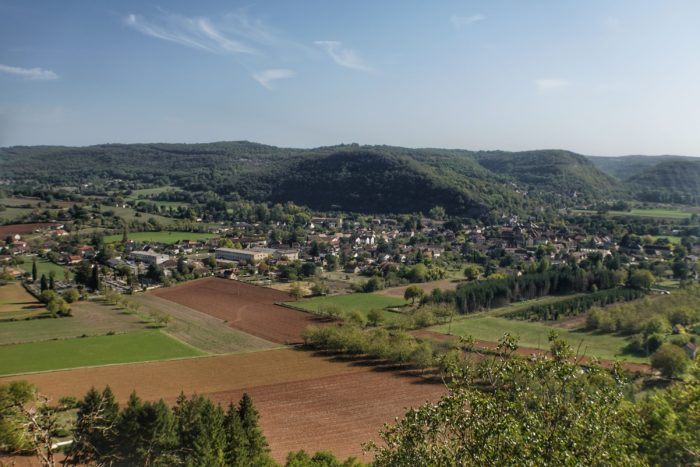 I think I had one too many beer last night and I'm feeling slugish all day.
And of course it just happens that I'm running low on coffee and forgot to buy some when ressuplying.
Lucky that it's such an easy trail.
I can just turn cruise control on.

I'm not very chatty with the people I meet and listen to music pretty much all day.
I arrive in Cajarc in the afternoon.
Apparently it was home for Pompidou (a former French president) and the birthplace of Francoise Sagan, a famous French writer.

I've craving a coffee all day, but it's late-ish and I'm afraid it'll keep me awake.
So I get a beer.
That does the trick just fine until the end of the day.
---
Day 9
I wake up this morning with the sun on my face, which is unusual, as I start hiking in the dark.
I turned my alarm off yesterday morning when charging my phone at the gîte and I forgot to turn it back on…
I'm definitely not a morning guy, and with no alarm, I could very well sleep all day.
But that was actually a much needed sleep.

Not much happening today.
As hikers are spread out on three different trails (with the alternates) on this section, I don't see a lot of people.

I pitch the tent 10km from Cahors which seems to be a big city.
And where I'll turn around to hike the Célé alternate.
---
Day 10
I arrive pretty early in Cahors and have a look around town.
Then I turn around and start the Célé alternate.

To be honest, the GR 65 between Figeac and Cahors was pretty boring and I quickly see that this is a much nicer way.
There are some good views of Cahors, the walk along the Lot river is lovely, and the trail goes through some really nice forest.
I haven't done a quarter of that way and it's already much better.

The strange thing is that I'm not seeing a lot of hikers, just three, considering I'm going against the flow.
A gîte owner told that roughly 45% of hikers take the GR 65, 45% the Célé alternate and only 10% the Rocamadour one (because it's a bit longer).
But it's very quiet right now.

In the last two days I've noticed that the trees are really starting to change colours.
I can't wait for the full on Technicolor forests.
---
Day 11
Yes, the Célé alternate is definitely better.
It's a beautiful and varied day.
Walking along cliffs, lush forests and visiting a prehistoric cave.

The Pech Merle cave itself is stunning, but it's definitely being able to see that 29000 years old art on the walls that makes it memorable.
And unlike other caves such as Lascaux, the most famous one, you actually visit the real cave and not a replica.

Still not seeing a lot of hikers today.
The rest of the day is really nice, but I'm feeling a bit tired.
But that's alright, I was planning to have a short day tomorrow and stop again in Figeac to do laundry before taking the third alternate.
---
Day 12
Another really nice day of hiking, with beautiful cliffs, cool hamlets and stunning mossy forests.
And I do love a good mossy forest.

Yesterday I thought "Oh, that's cool, I'll arrive in Figeac early in the afternoon, chill in a gîte and do my laundry".
Well, I call the gîte I staid at five days ago and it's closed. And all the other ones are full.
Oh well…

And I somehow miscalculated times and I actually won't be in town early today.
In fact, I actually have to walk seriously fast if I want to make it before 7pm to collect a package I ordered.

After walking seriously faster, I make it to Béduer, where the trail and alternate connect at 6.40pm.
I now need to hitch back to Figeac.
I haven't had any rain at all since I started and it's been drizzling a bit this afternoon.
For a while I thought I'd have my first rain at the exact time of what will probably be my only hitch on the Camino.
Miraculously, it's not raining and I get a ride right away.

I arrive at the shop to get my package at 6.55pm… but it's already closed.
I have to wait till 10am tomorrow.
I then do what I never ever do, I get a hotel room, as I found a really cheap one.
I actually seriously need a rest tonight.
I'm not even going in town to do my laundry, I'll do it in the morning.

The package I'm picking up is a cream I use on scars, chafed skin and whatnot.
I haven't been able to find that exact cream anywhere again and all the other ones I tried are crap.
This one is amazing and I can't imagine hiking without it.
---
Day 13
It was great to have a shower and a night in a bed.
I do my laundry before leaving and then start the Rocamadour alternate, following the GR 6 for a while.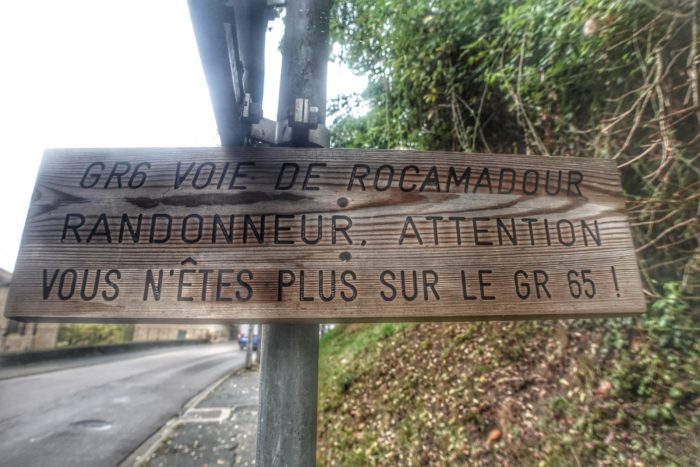 It's raining for most of the day, but it's a drizzle.
It's actually really nice to walk in chestnut tree forests having the smells and colours of the woods pop with the rain.

I have lunch in the beautiful vilage of
Cardaillac, where you can climb the clock tower.

I end up pitching my tent a bit late in a village by the church, before realising that the church's bells go on every hour…
---
Day 14
No more rain today, it's sunny and actually quite hot.

I spend most of the day in some really beautiful forests and it's a great time to walk here.
The colours started to change and leaves are falling down from branches, giving the woods an eerie vibe.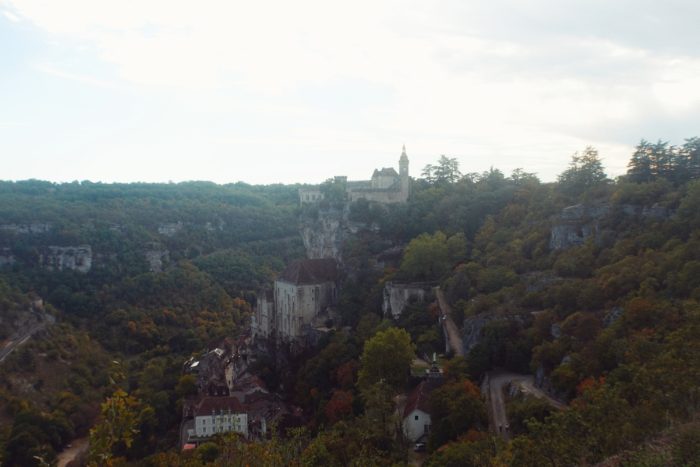 I arrive in the afternoon in Rocamadour, an old village on the side of a cliff and it's stunning.
It's a place of pilgrimage, as the body of Saint-Amadour was found here.
It's also the fifth most visited place in France and I'm here on a Saturday, when every hipster and his dog are in town.

So it's busy, but still worth exploring, and I actually end up spending quite a lot of time walking around.

The town makes this alternate (the longest) definitely worth it, and I'm not quite sure why the GR 65 between Figeac and Cahors even exists.
It's so uninteresting and boring compared to the two alternates…
But I guess if you're feeling lazy, it's slightly shorter and absolutely flat.
Affiliate Disclosure
This website contains affiliate links, which means The Trek may receive a percentage of any product or service you purchase using the links in the articles or advertisements. The buyer pays the same price as they would otherwise, and your purchase helps to support The Trek's ongoing goal to serve you quality backpacking advice and information. Thanks for your support!
To learn more, please visit the About This Site page.