Week 4 on the Camino
Day 22

I have to say, Gers county hasn't been the best.
A lot of road walking and not much else.
Definitely looking forward to being in Basque country.

I only see a couple of Belgian pilgrims stopping their hike today.
But when I call the gîtes in Aire-sur-l'Adour, they're all full again!
I just seem to be walking in and out of bubbles.

Also kind of looking forward to be in Spain, where the gîte situation will be simpler as there's no booking system.

I get some food in town, then leave with my headlamp on towards a lake I saw on the map.
---
Day 23
I get my first glimpse of the Pyrenees this morning.
This is really exciting.
The Pyrenees are my favourite hiking playground (maybe with Tasmania), and it's always awesome to be here.
Even if in that case, I'll be hiking there only for a day or two, I'm looking forward to it.

I've heard quite a bit of fear-mongering regarding crossing the Pyrenees, but considering the weather we're having, I can't imagine it being a problem
Plus, on the Basque country side, it's definitely not high mountain territory.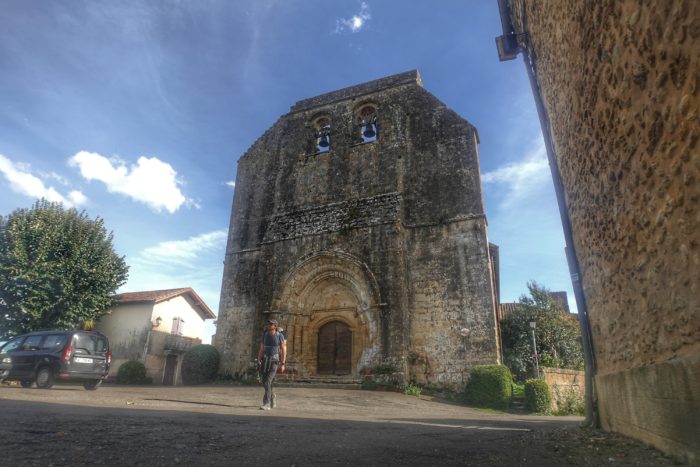 At lunch, I meet a pilgrim (the only one today) saying he has difficulties finding accommodation.
Because it's holiday time, there are more people on trail.
Which is weird because I have hardly seen anyone in days.

At the end of the day, I get an even better view of the mountain range, with beautiful Pic de midi d'Ossau, and it makes me want to go back there asap so I can complete my "Pyrenean Triple Crown" and hike the HRP (the high route going through the Pyrenees).

I have only three days left until Saint-Jean-Pied-de-Port, the end of the Via Podiensis, and the beginning of the Camino Frances.
Day 24
I have the Pyrenees on the horizon for a good chunk of the day.

I've started to see a lot of migrating birds around dusk and dawn the last few days. That's hiker's entertainment right there.

Another day with no pilgrims seen during the day.
I decide to stop at a gîte tonight so I can have a shower and charge my electronics.
It's only four of us, Hervé from Lyon and two Swiss that started the Camino in Geneva.

I have to say, I'm looking forward to being in Saint-Jean-Pied-de-Port.
I badly need new shoes and socks.

Apparently, they're closing the pass going over the Pyrenees on the 1st of November, whether there's snow or not.
That's good timing. I should be there a couple of days before that.
Though it's possible to walk around, but that will be nice to walk up there.
---
Day 25
I didn't realize it, but I entered Basque country yesterday.

Not feeling great this morning.
I feel really tired and have a headache, it kinda feels like a hangover, but I haven't had a beer in ages, actually.

I arrive in Navarrenx, where I resupply, get an energy drink, and take some aspirin.
Feeling much better after that.
I go to the tourist office to get my pilgrim passport stamped, but I can't find it.
That's a real bummer.
It makes for a great souvenir, and I also heard that you can't stay at some places in Spain if you don't have it.

By midday, it is ridiculously hot.
Really hard to believe that November is around the corner.
I don't recall seeing such weather ever in France.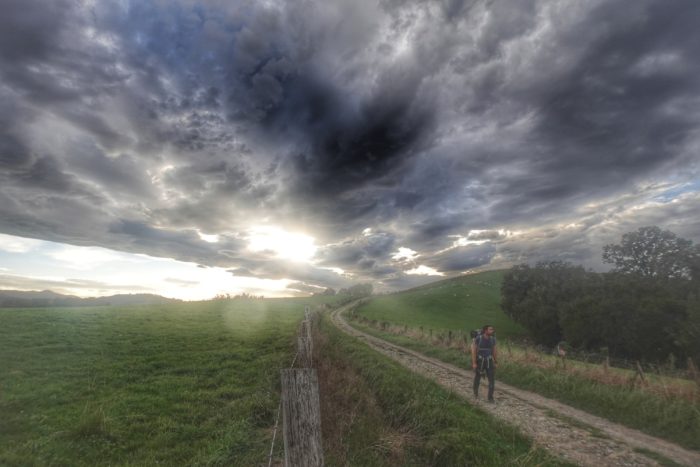 As I'm sitting on a bench in a forest for lunch, I'm joined by three pilgrims.
They're absolutely horrified that I'm walking 40km a day and tell me that I can't be enjoying myself.
I always have a hard time staying polite with people feeling comfortable enough to tell you that you're hiking the wrong way.
But I do.

Later in the afternoon, I make a short detour to Aroue to get water.
I see a gîte that has a big picnic table, so I stop for a snack break.
It is full of pilgrims.
I don't remember seeing this many in one place.
The person working there tells me about a Chapel where it's possible to sleep a bit further.
Sounds good, so I keep hiking for two hours.
And this bit is the best section of trail I've had in a while.
This is beautiful Basque country, with rolling green hills and great views of the Pyrenees.
And a good sunset doesn't hurt.
---
Day 26
Last day on the Via Podiensis and last day walking in France!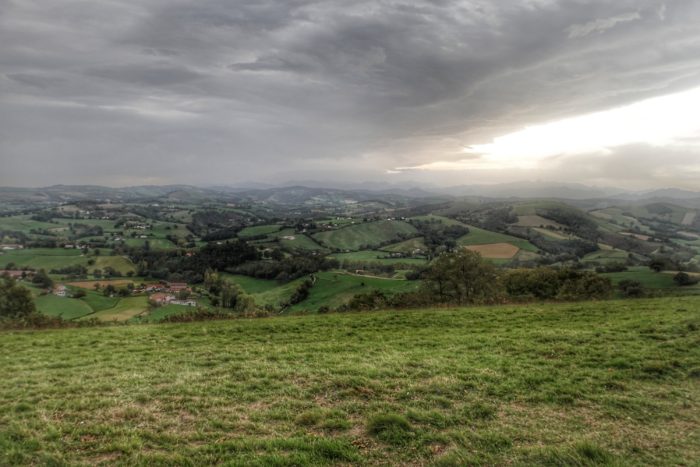 In the morning, I walk by a small Chapel that has really good 360 views over Basque country and the Pyrenees.

I bump into a few pilgrims today, including one… going the other way.
He walked all the way to Santiago on the Tours way and turned around to walk home.
That's pretty cool.
The Tours way is a different one that the one I'm doing, but being this close to Saint-Jean-Pied-de-Port, all the ways start to merge.

Then I finally arrive in Saint-Jean-Pied-de-Port, where I'll take my first zero.
I was also here a year ago, as the GR 10 (going across the French Pyrenees)goes through SJPDP.
I was just a few days away from finishing a 5-and-a-half month/5300 km thru-hike across France that ended up being the most epic/difficult thing I have ever done.
This is a beautiful Basque town definitely worth spending a zero at.
---
Day 27
First zero!
I thought I was alone in the gîte, but being awakened by two kids yelling, I realise I'm not.
So much for a sleep-in.

In the evening, I meet Han, a Chinese pilgrim.
He got stuck in Europe when Covid started and decided to stay, as he can work on his computer.
He's a really cool guy and studied cinema, which is right up my alley.
More people arrive later, it's very international.
Han tells me he saw a lot of pilgrims in town.
It's a holiday, so a lot of people are coming over to hike for 3-4 days, stopping in Pamplona.
---
Day 28
Right when I leave town, I come across a young guy from Bordeaux that is hiking for 3 days.
We walk together for an hour before a car pulls over and tells us that there's a fire and that they might close the pass going to Spain.
We're undecided, but we finally keep hiking.
After a while, another car pulls over and tells us that the trail is closed and that we need to go back to Saint-Jean-Pied-de-Port.
All the hikers around me keep hiking up, which is strange considering they've all been told the trail was closed.
I turn around and check the map.
There's a way to cut across and connect with the winter route that is open.

By lunchtime, I'm on the winter route, and I see a sign saying that I'm only 16km away from Roncevalles, the first Spanish town.
I thought that this detour would make it hard to get there today, but it's actually not that bad.

I see a lot of pilgrims, some very unprepared, wearing town clothes and town shoes.
I guess it is normal on a trail that might see half a million people this year.
And the Camino is definitely a great trail to make all the beginner's mistakes.

I walk for a while with a lady from Alabama, then later on, I end up bumping into Han, so we finish the day hiking together with also a lady from Wisconsin.
She's very surprised when I mention the Ice Age Trail, as she never heard someone not from Wisconsin mentioning this trail.

We split up in Burguete, as the Albergue we were planning to stop at is full.
I'll keep walking and camp, but Han is going to a place 2 km from town where there are dorms.

It's funny, I realize I was in Burguete 2 years ago when thru-hiking the GR 11 (that goes across the Spanish Pyrenees).
On the same day, I crossed paths with the GR 11 and the GR 10 (the one going across the French Pyrenees), which I hiked last year as an epic finale for my long thru-hike across France.
Affiliate Disclosure
This website contains affiliate links, which means The Trek may receive a percentage of any product or service you purchase using the links in the articles or advertisements. The buyer pays the same price as they would otherwise, and your purchase helps to support The Trek's ongoing goal to serve you quality backpacking advice and information. Thanks for your support!
To learn more, please visit the About This Site page.