Via Dinarica Week 4! Including A Vacation From This "Vacation"
Day 22 – Šugarske Duliba to Velika Rujno (16.7 miles)
A day for side quests aka "blue blazing".
The mist was thick, but it wasn't raining and the leaves and grass were actually surprisingly dry, I was simply inside a cloud.  The Czech crew and I (blue team!) started out about the same time, pausing a few hundred feet down the trail at the well to water up.
As the trail descended I emerged from the cloud and started to see the views Velebit is famous for- islands and sea, and blue hues of water and sky so vibrant against the white stones and clouds.
A little way down the trail I passed the Highlander Adventures checkpoint and was given MORE beer and some apples.  This event grew on me every day, at first I was a bit apprehensive about all the people but everyone was really kind and respectful, generous and most seemed to be having a really great time.
Midday I caught up with the Highlander hikers at the Tatekova Koliba cabin where everyone was hanging out refueling and waterimg up for the afternoon.
Side Quest #1
After that I was on my own journey.  A few miles down the trail I branched off to explore the Kamena Galerija (Camera or Picture Gallery).  This was another limestone labyrinth carved out of the hillside by water and time.  Here there were many more natural arches and holes in the vertical slabs, like picture frames!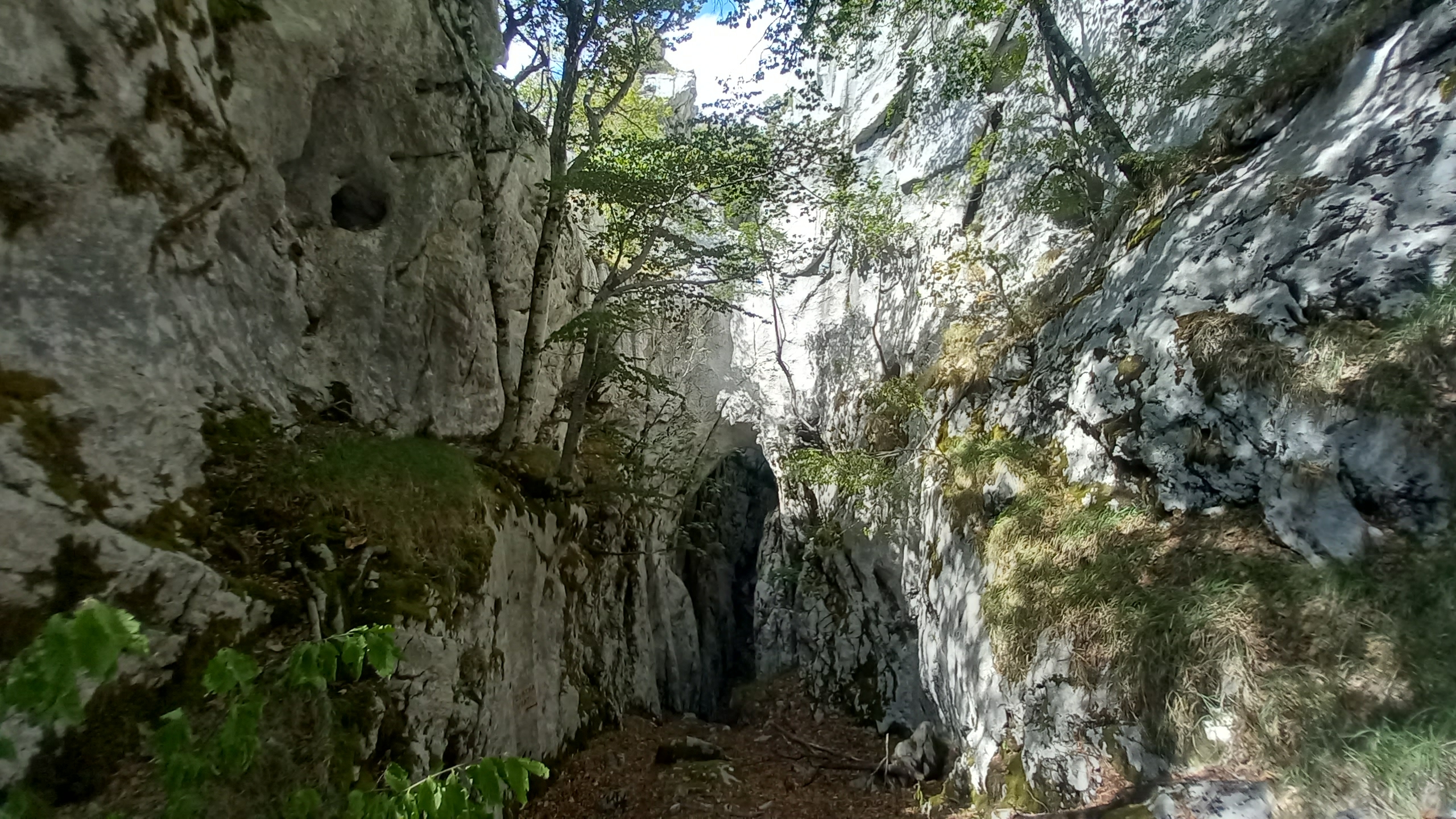 Also spotted were limestone needles, Chuck Norris, and a viper (didn't stop to take a picture, safely moved away and it slid under a rock)
Having completed the loop I picked up my pack and wandered down the trail.
Side Quest #2
I wanted to check out the Zavrata cabin a fair distance off trail to see if it was quality and had good water.
It was solid and old school, stone with a bunk room and an eating/cooking area, also a good amount of mouse shit.  There was a good well nearby and I was tempted to stay, but I had hours of daylight and the temptation of another Highlander checkpoint ahead.
So I climbed the ~700ft hill back to the official trail, emerging on a vast grassy plateau that imminently led to the checkpoint and the little tent village.  they also had a food caterer and were nice enough to give me a food ticket so I got a bowl of hot goulash, bread and a beer for dinner.
After it got dark my Czech friends and I heard a guitar and someone singing and went to check it out.  The maestro played some folks songs and some originals, I thought he was very good.  When he was finished I went to thank him and told him about my Floating Castle experience, and he said he and his girlfriend had been there too, as performers!  Small world once again.
Day 23 – Velika Rujno to Starigrad (13.8 miles)
Paklenica Canyon down to the coast.
I started a little late but wasn't planning a big day and it was going to be almost all downhill, so no big deal.  I followed a dirt road for a bit before branching off to climb a ~1,000ft hill up to the rim of Paklenica.
Then it was down another forest covered ridge to a viewpoint where I paused for a snack and to soak up the view and a little sun.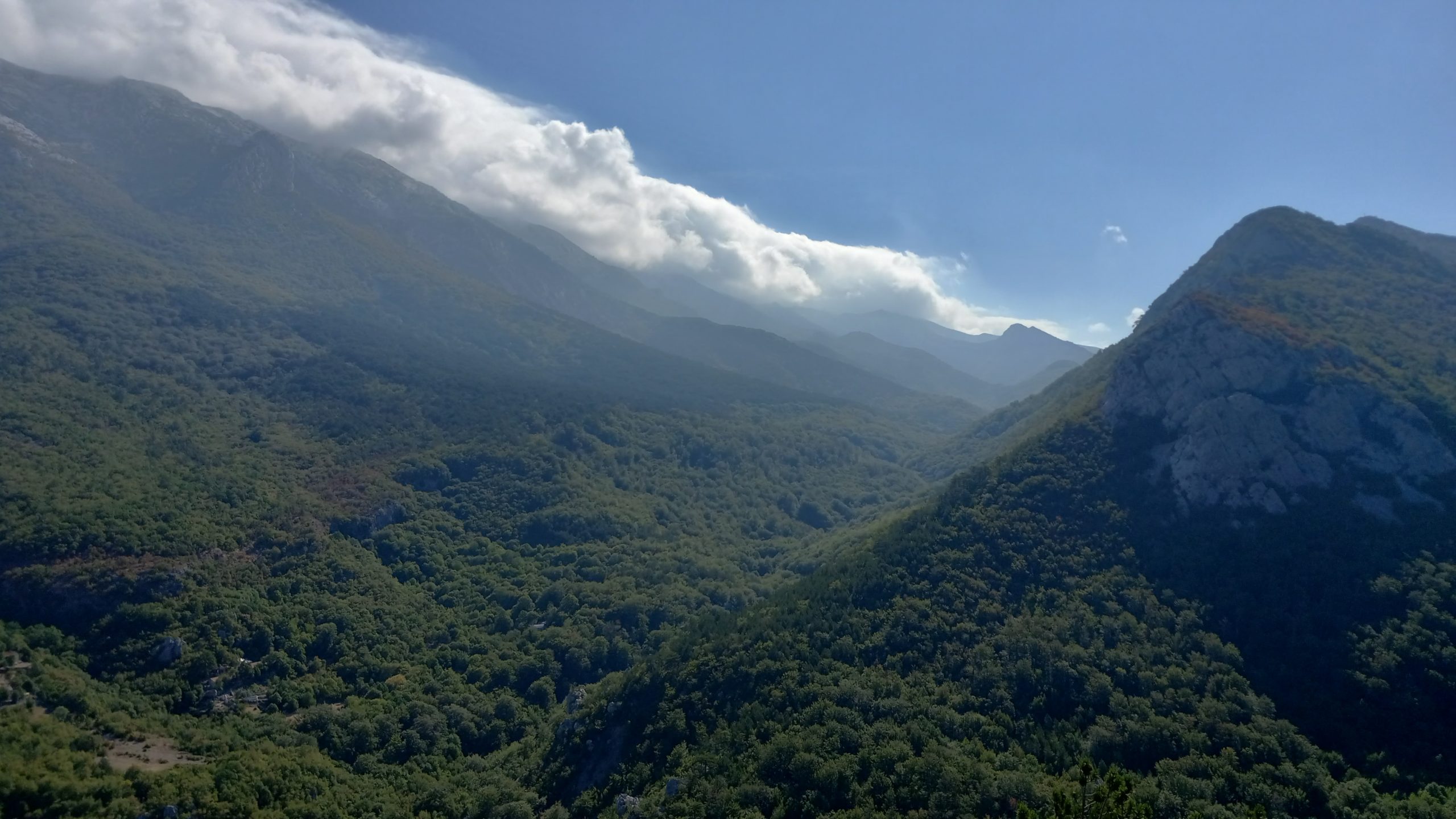 Just below the viewpoint is a little park village of three mountain huts beside a flowing stream, and yes I was very excited to find it was actually flowing!
I stopped at Paklenica Dom to eat and enjoy a glass of wine or two and some socialization.  After a couple hours most of the Highlanders and my Czech friends had all gone down to town, so it was time for me to head out too.
Rather than take the easy gradual downhill out, I decided to make one more 800ft climb to get up on the ridge of the canyon for more views.  I was not dissapointed!
What goes up must come down and I descended back into the gut of the canyon and the main trail.  Near the bottom is a sport climbing area with abundant anchored lines.  I enjoyed watching some people scale the cliffs for a bit, then it was time to get to town for food and to find a place to sleep.
Neither was difficult, I booked the cheapest place I could find and it turned outy Czech friends had landed there too.  We had some beers and some whiskey and it got late so it was time to retire.
Days 24-26 – Starigrad, Zadar, Dugi Otok, then in reverse. (0 miles)
Side excursion to an island and a big city.
I had been eyeing the island Dugi Otok for a while, both on the map and from the mountains.  It's not officially on the Blue Route, but it had a large area a National Park on it, some hiking trails, and small towns so I was intrigued.
Day 24 – Journey to Dugi Otok.
I caught a bus a little after noon to Zadar where I caught the ferry to Dugi Otok.
On the boat another Czech guy started a conversation with me and offered to drive me up to the northern end of the island, which couldn't have worked out better.
We checked out a campground which was full and crowded, and so we collectively decided to drive some back roads to see if we could find something better.  Not far away we found a perfect spot with parking for their van and good hidden camping just off the beach for me.  We had dinner together and then enjoyed the sunset and said our 'see ya later's.
Day 25 – Back to Zadar.
I had been planning to hike the length of the island but there were no trails, I wasn't sure about the coast (though it might have been fun to try), and the main road was busy with no shoulder.  Also, I was looking ahead on my maps and feeling anxious about what I have left to accomplish.
I walked a ways down to the very quiet harbor town Soline to wait for a bus.  I was thinking I could connect busses to get to the South end of the island just to check it out.  The bus took me to the ferry port, where I found out there were no busses to the South end.
I thought about hitching but was having trouble finding water and on a whim decided to just buy my fare back to the mainland since the boat was leaving in less than an hour.
Day 26 – Zadar, then back up into Paklenica.
It was a Sunday and I was really hoping to find a desperately needed new pair of shoes.  Luckily there was a place in a shopping center a couple miles away from the bus station that was open and carried my shoes.
I timed it so I got there shortly after they opened, then booked it back to the hostel to check out.  Then I was able to get a bus ticket back to Starigrad with an hour to spare so I could resupply in the massive grocery store across the street from the station.
I made it back to Starigrad, paused at a restaurant for water and fried food, then started back up the canyon.
It was midafternoon by this point and the canyon was cool and shaded, so I made good time back to Paklenica Dom where I hung out drinking homemade wine and grilling meats with the very cool host and her friends, then stayed the night.
Day 27 – Dom Paklenica to Vlaški Grad (10.8 miles)
Ridge walking and rain.
I got another early start to try to open possibilities of two cabins down the trail.  The initial climb would have been brutal in the afternoon sun but in the cool morning air I made it back up to the ridge in good time.
Having reconnected my footsteps and rejoined the official trail I climbed higher and shortly after passing through a little pass came upon Sturge shelter.
I had a second breakfast then moved over to the well a few hundred feet up the trail to camel water and fill bottles.
I topped out for the day at 5,800ft on Vaganski peak, then wandered down to get out of the wind for a bit of lunch.  As you can see from the picture, black clouds were gathering and as I finished my lunch I started getting pelted by fat rain drops.  There was nowhere to hide, so I put on my poncho and got moving.
Lightning definitely struck the ridge several hundred feet above me, but luckily the thunderstorm concentrated to the North and I was given a window to get to the next cabin, Vlaški Grad.
It was another nice cabin, likely by the architect I mentioned in my last post.  The storm cell to the North was moving in, and another massive one has formed to the Southeast, so I opted to stay dry and hang out with the bottles of Rakia and Meditza someone had left.
Just before the clouds really let loose a Czech family showed up and said they'd stay the night too.  They took the upstairs and I had the downstairs.  We were treated with a first class sunset after the storm.
Day 28 – Vlaški Grad to Gračac (24.3 miles)
Road walking all day.  Seriously, all day.
A couple miles down the hill from Vlaški Grad I left Paklenica National Park and so the trail became dirt road once again.  Road walks usually mean minimal grade though, so I didn't have many steep climbs or descents through the day.
I found myself in much more exposed terrain with not a lot of cloud cover or water sources.  I still enjoyed it though, very beautiful landscape and easy walking.
Eventually the road did lead me to some forested areas near Gračac:
The last 3 miles I walked into town were along paved roads.  I made it in early enough get a cheap room and all my clothes washed and dried in the sun before it got dark!
Affiliate Disclosure
This website contains affiliate links, which means The Trek may receive a percentage of any product or service you purchase using the links in the articles or advertisements. The buyer pays the same price as they would otherwise, and your purchase helps to support The Trek's ongoing goal to serve you quality backpacking advice and information. Thanks for your support!
To learn more, please visit the About This Site page.