Week 5 on the Camino
Day 29
Well, it's an incredibly quiet day.
I hardly see any pilgrims at all, which is really weird considering how many were on trail yesterday.
Though I chat with a Spanish guy cycling the Camino and he tells that he also paddled it.
I never heard of anyone paddling the Camino, that's really cool.
He did it following the Camino Norte, which is the coastal one.

The trail is really nice today, a lot of forests and pretty Basque country.
I'm really surprised at how little roadwalking there is compared to the French side.

BUT, I'm not going to lie, it's very sad to see how disgusting the trail is.
There are tissues and all sorts of rubbish everywhere.
I'm very curious to understand the thought process of people doing that.
"It's ok, the nature cleaners will pick it up."
Right…

I walk the end of the day with Stan, a French guy, that's from near where I'm from.
We arrive in Pamplona, which I think is the biggest city on this Camino.
It's quite a shock.
---
Day 30
That was a crappy night.
Snoring going on all night in the hostel room and it was crazy hot in the room.
I just couldn't fall asleep and hardly got two hours of sleep.
Knowing that I'm basically a zombie if I don't get 8 hours of sleep, that's not going to be the easiest of days.
I even consider starting to walk during the night, but even with no sleep, a bed is nice.

Leaving Pamplona, there's a hill with some really nice views over the plains around.
There's a lot of villages to go through today and they're pretty nice.

It's probably the first day in a month that feels like an autumn day.
It's grey, it drizzles on and off all day.

I hike for a while with two French that also started in Le Puy-en-Velay.
Then I hike with Anna, a nice Croatian lady living in France.
She's a bit ambitious with her goal for the day and when I tell her that she's going to walk more than two hours in the dark, she decides to slow down and stay in her tent rather that going to town.
She's doing the Camino with no food and no money, knocking on people's doors asking for it.
I'm really surprised at how many people do that kind of stuff on the Camino.
I have more than mixed feelings about that.
In my opinion, doing that on a trail (or network of trails) that sees nearly half a million walkers a year is the quickest way to deteriorate the relations between pilgrims and locals.

As she needs to find food, we end up walking quite a bit in the dark.
We find a place for our tents that's definitely not great.
After pitching my tent I realise that there are a zillion bugs around.
I left with the zipper of my tent broken, thinking that bugs wouldn't be that bad this close to winter, but this is nuts.
There is now way I can sleep like this, so I pack everything and walk about ten minutes to find a better spot.
---
Day 31
No bugs last night in the end.
And we're back to summertime.

It's a pretty cruisy day, even though I feel like I caught a cold.
In the morning I find Anna and walk with her for a while.
I'm walking all day through nice countryside and I'm still surprised at how little roadwalking there is.

Arriving in Irache, there's the infamous wine fountain.
It doesn't work!
Needless to say this is a very disappointing moment.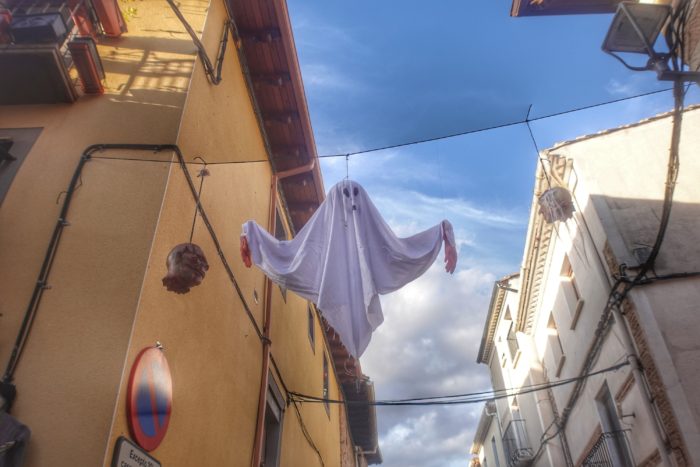 I keep hiking till Los Arcos where I stay in a very, very quiet albergue.
I mostly stay in gîtes and albergues to get social, but it's been a running gag from the beginning that wherever I decide to stay, it ends up being awfully quiet.
Starting from today, the first of November, my plan was to finally really slow down and do around 30km a day, as I have now a month left until my deadline.
But I'm not sure I'm that interested in staying in albergues anymore if it's not social, so I might just keep the same mileage, or at least play it by hear.
---
Day 32
It's colder than usual this morning, but I get a beautiful sunrise to start the day.
It's very pretty and it's nice to walk through the vines changing colours.

It's a pretty international day.
I meet a Romanian lady and an Irish guy.
The lady can't believe that I'm understanding the Irish, that has a crazy thick accent.
She's bouncing a big backpack from albergue to albergue, though I wouldn't say she's slackpacking considering she's also carrying a normal size backpack during the day.
I heard that people having bags delivered to albergues get a bad reputation on trail, some even saying they're not "real" pilgrims, whatever that means.
In my book, the more people are on trail, the better.
If some people that would never ever consider doing a long trail do go hiking because of the facilities the Camino offers, I think it's great.

Later on I walk with a really nice Danish guy.
It's not even 3pm when I get to Logroño but I call it a day and stay in a donativo where most people I saw today stay at.
Can't remember last time I did that.
It feels so wrong that it feels great.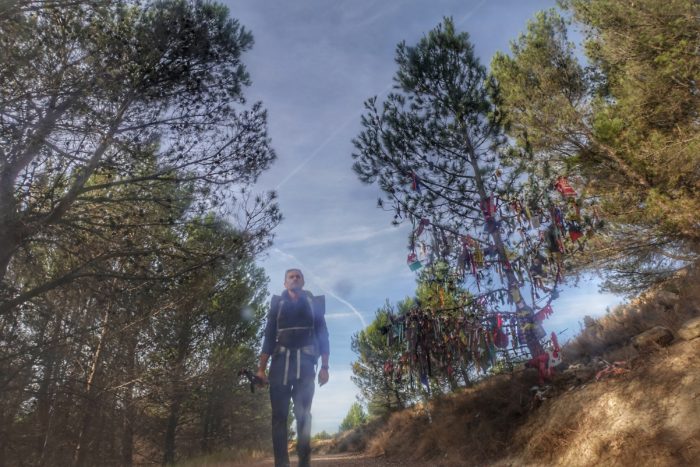 I get a beer in front of the spectacular cathedral before going back to the donativo I'm staying at.
The people I met today are actually kind of a very international trail family.
They don't walk together but stay at the same places.
It's funny, talking to Martin, the Danish guy, he kind of feels trapped into it and its micro-dramas.
I tell him to hike 5 km more one day and he'll lose the group.

It's nice to have a dinner with all the pilgrims and the priest.
Sadly, there's a French guy that I've seen a few times before, that is pretty drunk.
He's a nice guy, but seems very lost in life.
There are a few awkward moments, like when he's admiring his plate for way too long.
Well, hopefully he finds love, because that's what he's here to find.

After dinner we go in the church next door to have a multilingual prayer, then Anna, the Croatian lady I met a few days ago, wants to take advantage of the accoustic to sing a bit.
A pretty magical moment.
---
Day 33
I spend most of the morning walking with Maurice, a French hiker.
Most of the day is through vine country and it's really nice with the changing colours.

The only other pilgrims I see today are the ones that were at the albergue last night.

I stop in Nájera where there's a cheap albergue.
Most hikers from yesterday also stay here.
I was planning to go further, but I had to make a detour to get data for the hiking app I work on, and it took longer than expected.

I go grocery shopping and get a couple of beers.
The cashier lady says something I can't understand.
Then she says "Free beer"
That I understand.
She goes and grabs another beer for me as apparently there's a 3 for 2 deal.
A nice little surprise at the end of the day.
---
Day 34
I get treated to a beautiful sunrise in the morning on my way to Santo Domingo.
I'm really loving autumn hiking more and more.
The colours and the beautiful light make it definitely a different and really interesting alternative to summer hiking.

Before arriving in town the sky looks spectacular.
Though you don't really know what direction it's going to take. Could be a very sunny afternoon or rain and thunderstorms.
Turns out it will be sunny, but this is a very windy day all day long.

I bump into Maurice in the morning, then a Brazilian guy.
And that's pretty much it for the day.
By far the most quiet day on the Camino Frances so far.

I see some kind of buzzard attacking a rabbit only a few meters away.
That's definitely some next level trail entertainment right there.
The rabbit is ok.
For now.

I get a pilgrim menu in Santo Domingo and keep hiking till I get to the village of Redecilla del Camino, where I stop in an albergue where I'm the only one.
---
Day 35
It's a pretty boring morning, walking through fields and along roads.

In the afternoon I get to a forest until the end of the day and it's really nice to have a change of scenery.
Especially considering there weren't any trees to be seen for pretty much a week.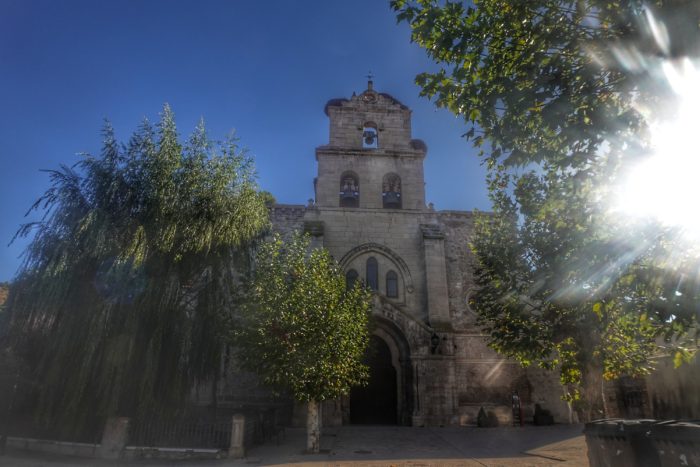 I was hoping to stay in an albergue in San Juan de Ortega, but it's closed.
I walk ten minutes and pitch my tent in the forest.

I haven't seen a single pilgrim all day, and I don't think I saw one yesterday afternoon.
That's really weird.
I didn't think it was even possible on the Camino Frances, unless you walk it in January/February.

Anyway, tomorrow should be only 25km to get to Burgos, which is apparently a big but beautiful city.
Affiliate Disclosure
This website contains affiliate links, which means The Trek may receive a percentage of any product or service you purchase using the links in the articles or advertisements. The buyer pays the same price as they would otherwise, and your purchase helps to support The Trek's ongoing goal to serve you quality backpacking advice and information. Thanks for your support!
To learn more, please visit the About This Site page.