Welcome Home!
This section holds a special place in my memories. NJ was a great state to walk through, but its best trait is that it connected me back home. This update covers the entire state of NJ as well as my entrance into PA at the Delaware Water Gap. Another hike and I changed our morning routine to include waking up at 4 am to beat the heat and save on our water consumption. This not only achieved those two things but also led to some cool sunrise views and animal encounters! I hope you enjoy this update as much as I enjoyed reliving it.
Day 62 (21.6 miles)
Severe dehydration hit around 2:30 am. Apparently consuming alcohol and way too much Chinese food is a bad combination. The drive-in offers tenting but no water. I got up decently early and went to a nearby bagel shop for water and a sandwich. There were tons of other hikers there, many of whom stayed at the drive-in. I was officially in the SOBO "bubble".
It was a tough hitch out of town. A nice engineering professor offered us a ride just as morale was low and we were about to quit trying. Most of the morning was spent on an easy ridge. Lots of small ups and downs but nothing tiring.
Surprisingly NY was pretty rocky in some places. Sometimes there would be short sections of steep rock scrambles, reminded me of the long scrambles in Southern Maine.
Mountain Goat and I soon crossed into NJ! My last state before PA.
I didn't take a lot of breaks, nor was there a lot of water this day. I got to another hot dog stand, but it was closed. Luckily, there was a nearby farmers market where I got a soda, orange, and some much needed water. After a long break we continued down the trail. 6.5 miles left to finish the day.
The trail was in great condition and the weather was gorgeous, but hot! There were long sections of boardwalks and some cool wooden bridge crossings.
It was getting late in the evening. I saw a few deer crossing the trail and noticed a rusted old car in the woods. An odd place for such a vehicle, but a rather unique find!
I arrived to the Pochuck shelter just before 7 pm. Mountain Goat came in shortly after and said that he saw 2 bear cubs. We talked over dinner and decided that we would try waking up extremely early the next morning to beat the heat. A decision that would prove worthwhile!
Pochuck Shelter: T1, S2, P1, W5, B1
Total Score: 10
Day 63 (19.6 miles)
My alarm went off at 4 am. I hit snooze and hoped I was dreaming. A few minutes later I saw MG's red headlamp. I thought to myself that if he was committed then I should be too. It was around 5 am when I left camp, just a few minutes behind MG. The morning was quiet. A short ways down the mountain there was a spigot to fill up water. It was attached to a creepy ranger cabin that looked like it hadn't been touched in years.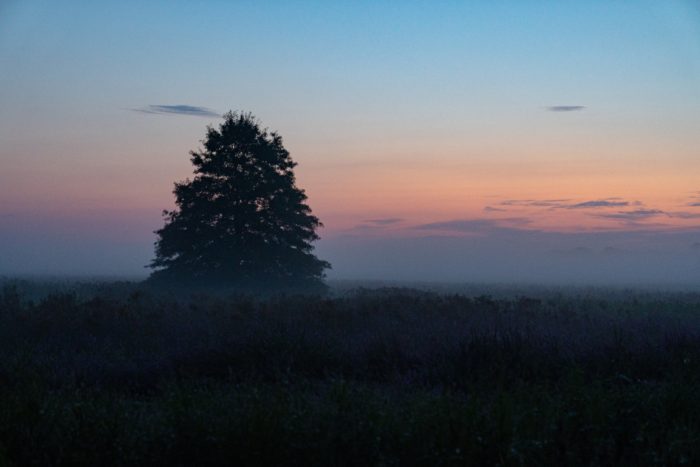 At the bottom of the mountain was a long walk through a boggy field. The path was wide and easy to follow. I watched the sun rise and cast rays of light through the dense haze resting over the fields. At this point I knew that I made the right decision to get up early. 5 or so miles into the day the trail cuts across a road that leads to a general store.
I stopped in for a Bacon, Egg and Cheese. MG had already arrived and was relaxing on the front porch. We sat around for a while but we disturbed from our spot when a crazy old man would not leave us alone. He told us that he couldn't get hired because people thought he was "violent" and that he hasn't been taking his meds recently. That was our que to get back on trail.
Another easy 6.5 miles led us to Marcia Lake where there was a place to grab water and relax. It was not even 11 am and we had done around 12 miles. Just 1.5 miles further was the High Point State Park Office which had cheap sodas!
Some rain began to fall as I was leaving the park office. I welcomed it and continued on. It was early afternoon but the heat was already coming on. My heels were in a lot of pain this day, not an enjoyable last few miles. To make matters worse, the shelter that we planned to stay at didn't have a water source. I carried 3.5 liters up from the nearest source I can find. My luck was that the shelter had a kind individual who was constantly filling water jugs there (but it isn't smart to rely on caches). The Mashipacong shelter was packed with people. The tent sites were nice and I relaxed there for the remainder of the afternoon.
Mashipacong Shelter: T1, S4, P5, W5, B1
Total Score: 100
Day 64 (16.5 miles)
Another 4 am morning, they are the new standard! I hiked a fast 3 miles to a lookout for sunrise. It did not disappoint and I met MG there.
I cruised another 6 miles before 8 am. There was a road crossing through a small town but not much was open. MG and I were able to score a soda which gave us the energy for the next climb. The terrain and the views today reminded me of PA, probably because it is pretty much the same mountains.
7 more relatively mindless miles to a tent site. Water was scarce again and I ended up hauling 4 liters to the site. We managed to get to camp just before noon. It was a "rest day" of sorts. I ended up just napping and relaxing in the shade of a large pine tree. The heat was horrible that afternoon and I was extremely thankful to not be hiking!
"Tent Site" : T1, S3, P2, W5, B3
Total Score: 90
Day 65 (20.9 miles)
I somehow got up before my 4 am alarm. Likely because I was excited to cross into PA! MG wasn't up at his normal time, I figured he might have wanted some additional sleep. Turns out he just snoozed his alarm a bit longer than expected. I saw his headlamp turn on at 4:45, just as I was leaving camp. The hiking was a bit creepy this morning, lots of animals rustling in the woods around me.
I stumbled upon 2 porcupines. The first one just scurried off. The second one, which I encountered a few minutes later, was not happy with me. We was seated in a somewhat upright position with his head down and eyes closed. When I shined my light at him his eyes opened and he looked at me. He then put his head back down and closed his eyes. I knocked my poles together to get his attention. He moved 5 feet down the trail and repeated the same sassy maneuver. Once more I banged my poles and that did the trick! The trail was porcupine free and I moved on my way.
I made it to the Mohican Outdoor Center, about 10 miles down the trail, by 8:15 am. I was able to score a coffee and bagel, as well as charge my phone and grab some water! MG arrived shortly after and then we talked with a middle-aged woman who was interested in our hikes. At the end of our conversation she offered us some crackers and an apple. It was 11 more miles to Delaware Water Gap. We smashed through the miles, it was the excitement of feeling home that drove me.
I honestly don't remember much about the trail other than that it was indistinguishable from PA. We crossed the Delaware River sooner than anticipated. I was elated to say the least. I had dreamed of this moment for years and it finally happened. I walked from Maine to PA and crossed that famous painted sign.
Less than a half mile down the trail was a free hostel run by a church. They had bunks, a common room with WiFi and showers. A great place to spend the rest of the afternoon since it was only 1 pm. MG and I were able to do laundry and resupply as well as have many hours of relaxing.
Later that day we went to get BBQ nearby. It was good but a bunch of their options were sold out. I got a calzone for "dessert" at the pizzeria down the road. By the time we got back to the hostel the place was hopping. There were 14 hikers registered for the night, thankfully there was some outdoor tenting as well. This was one of my favorite and most memorable days on trail!
I hope you enjoyed reading about my journey back home! It was exciting to finally live something that I have dreamed of for years. I'm looking forward to my time in PA, which will likely include some days of NO HIKING! Until my next post, remember to keep wandering in your own direction.
Affiliate Disclosure
This website contains affiliate links, which means The Trek may receive a percentage of any product or service you purchase using the links in the articles or advertisements. The buyer pays the same price as they would otherwise, and your purchase helps to support The Trek's ongoing goal to serve you quality backpacking advice and information. Thanks for your support!
To learn more, please visit the About This Site page.
Comments
1
Shocked that you did not see a bear in NJ. I am practically tripping over them. Good luck finding water in PA.