Well the first days are the hardest days don't you worry anymore…
It's June 16th 2016, 3 o'clock in the morning and I'm walking the streets of Manhattan with with some good friends. We all seem like the average tourists except me with my huge pack containing my home for the next few months. We arrive at the greyhound station and say our goodbyes as I leave to board my bus to Bangor, Maine. I scan the isle for an empty seat and pick one next to a man on his cellphone speaking a language I do not recognize. I hope to sleep the estimated 11 hour drive away. Little do I know, this man holds the world record for the loudest snoring human being known to man, so sleeping is out of the question. I stare out the window with a tired, crazed look on my face until he gets off at his stop few hours later. Finally, sleep! I wake up feeling well rested hours later. A young man is now in the seat next to me. He's wearing a worn out white beater and long shorts with nothing on his person but a black plastic garbage bag. He reeks of alcohol and has a black eye. I smile and nod a hello and put in my headphones. He taps me on my shoulder and asks if he can listen to my music so I share a headphone with him and he tries to convince me to come with him (to who knows where) with lures of money and alcohol. I politely decline letting him know I have other plans (and please stop putting your arm around me.) Thankfully my stop comes up and I can R-U-N-N-O-F-T! The shuttle to the Appalachian Trail Lodge is there waiting for me. I board with 3 other hikers. Preston and Christina, a young couple from Florida (we later band together to form the avocado sqad) and Carl (our trail father) who is doing a section hike on his two week vacation from work. We get to the lodge and after a load of laundry and a nice meal I'm off to bed. I awake bright and early for another shower  (who knows how long till the next one??) and a quick bite to eat before boarding the shuttle to Baxter state park. We leave our packs at the Ranger Station and fill our day packs to begin our summit up Katahdin. As we start our hike, Christina and I take the lead at a quick, excited pace. We giddily drink water from a stream and comment on all of the beautiful scenery. The hike quickly turns into rock climbing and we are so grateful we don't have our big packs for this! (Although later in the trip we will encounter similar scrambles with our big packs) We cross paths with day hikers and other thru hikers as well. The rocks become larger and more rugged and the views are more and more breathtaking the further up we get. We come up to a large boulder with a metal monkey bar and a nail embedded into it to assist us in climbing. Christina decides this is as far as she is going and I take a moment to meditate for strength to not only climb up this but to climb down as well safely. I finally muster up the courage and continue on alone. 
Before I know it I'm in the clouds. Up and up I climb, it is otherworldly inside the mist with glimpses of the world below here and there. Several times I think ' I'm almost  there!' Each time being a little closer to the truth. I take a short break and chat with a fellow hiker and to my delight I see Christina coming up with Preston and Carl! We all continue on and eventually make it to the top!
I eat a small lunch of second hand peanut butter, (compliments of the AT Lodge) take a look around, and snap some photos. I witness a NOBO reach the top and it's a beautiful moment. Now to get back down (how hard could it be?) We start down and it begins to pour down rain. Ok, this is fine, a little rain never hurt anyone just as long as it doesn't…. *THUNDER CRASHES* Uh oh…. I'm beginning to get a bit nervous as I climb down these boulders praying that we don't get struck by lightening on top of this mountain. Climbing down is surprisingly harder than we expected but I keep a smile on my face and prayers under my breath and before you know it we are below treeline; the sun is shining and the birds are chirping. I am ahead of the group, alone again and singing songs to myself. I stop at a waterfall and meditate for a while and soak in what I just accomplished.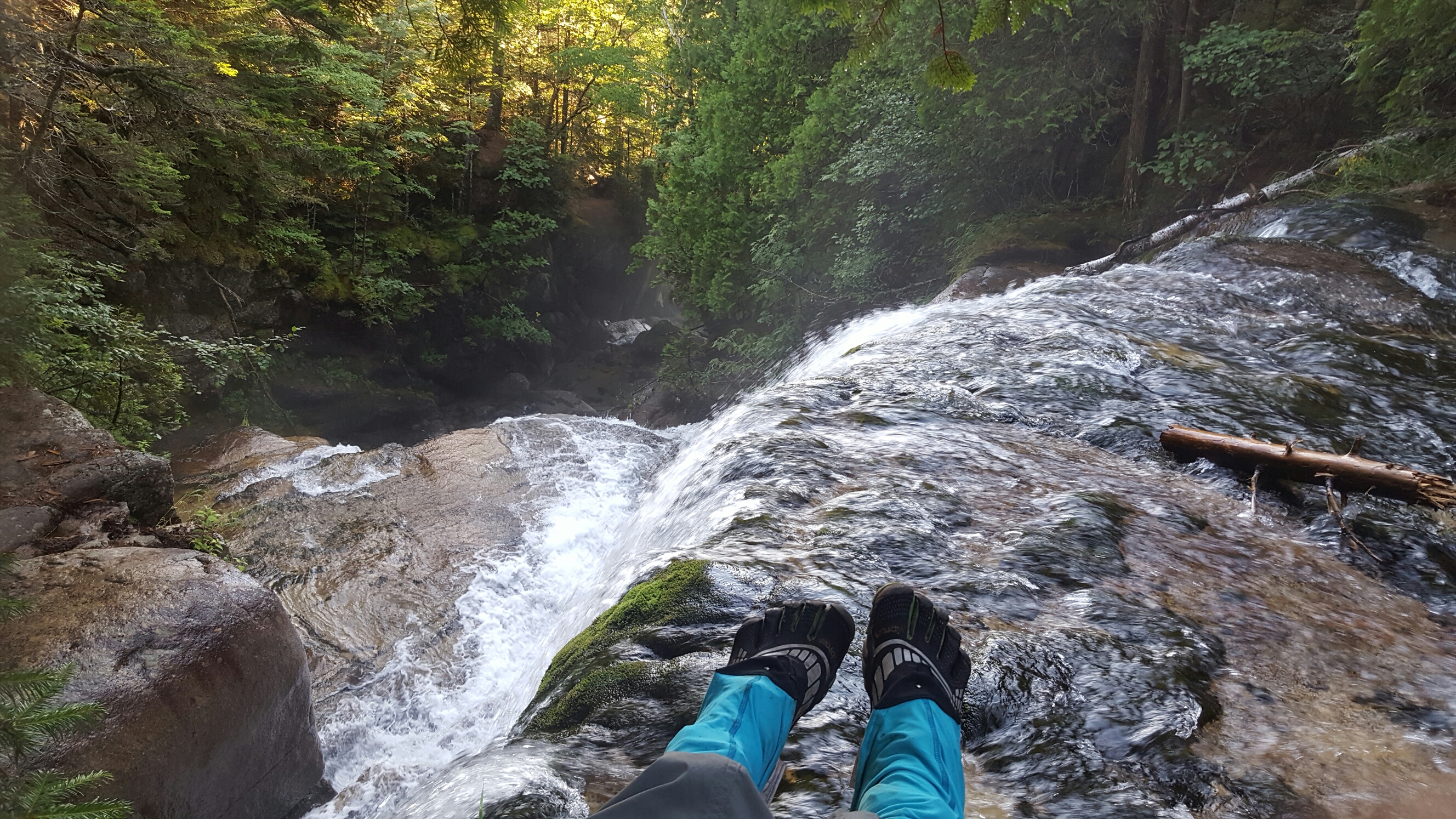 Once I get to camp I make a quick MRE, set up my tent, get some knot tying tips from Carl to hang my food bag (pesky rodents) and go to sleep. The next day Carl is gone before we wake up (why'd you leave us dad!!??) so it's just the avocado squad. We hike ten miles into Abol bridge and are greeted with a hot meal (they have veggie burgers!) and an ice cold beer. We enjoy a small celebration for climbing Katahdin and for starting our thru hikes before setting up camp for the night.
We head out the next morning reading a warning sign telling us that for the next 100 miles there are no services, resupply, or civilization. We each feel a little uncomfortable as we read this but continue with high spirits. The next few days are a cycle of hike, eat, filter water, sleep, and repeat. We meet other hikers along the way each with their own unique stories and reasons for hiking the trail. Many are section hikers (the sane ones) the rest are either SOBO (bat**** crazy) like us or NOBO (crazy but not as crazy). On day 6 of 12 I plan to stay at the White House Landing, a hostel that picks you up by a boat off the trail. The avocado squad plans to join me. I take a short lunch at a campsite before I get to the dock and they get ahead of me on the trail. They thought that I had gone ahead so they left without me and AT&T doesn't work on the trail so I missed the boat, literally speaking. I have no choice but to continue on solo. I'm a little sad but at the same time I know that some alone time in nature will do me good so I keep on truckin'. That night I stay at a sandy beach all to myself. The sunset is to die for and the sunrise the next morning is the same. It's a beautiful start to my birthday! I get ready for the day, finding wild blueberries to add to my breakfast and think of the book Blueberries for Sal.
It's the first birthday I've spent alone. I think of what it would be like if I were home with my family, maybe have a potluck style dinner at my moms.. but the views I see are definitely worth it. I do 9 miles before 1pm which is quick for me! I stop at a shelter for lunch and a NOBO girl Wildfire convinces me to spend the rest of my special day next to the little waterfall there with her. I'm glad I do and end up taking a swim and enjoying trail life with other hikers. I'm gifted a shot of Southern Comfort and a handful of granola bars. It's a great birthday! I realize that the food I brought to last me the entire 100 mile wilderness isn't enough and I fear that I will have to make due with the protein powder I have left. I'm burning more calories than I ever have in my life and I'm consuming only hundreds a day. I pray that I make it out ok and that I don't fall over from exhaustion. One morning I awake after most everyone in the shelter has left except for a man, Pilgrim. We are chatting as he goes through his food bag and he hands me something and says "Why don't you take this with you?" I look and it's a giant bag of granola. I didn't tell him I was out of food, so this was just a godsend. I ask him if he's sure and he assures me that he packed far too much food. I begin to weep and say thank you and explain to him that he just saved my life and how I was out of food. He begins unloading cliff bars saying please take them all! I am so grateful and amazed at this blessing I have recieved. My cup runneth over. The climbs are the hardest for me but they get easier as the days go on and each view is more breathtaking than the last. My last day I wake up and walk faster than I've ever walked. Dreams of showers, hot food, cold beer, and clean laundry fill my head. I hear the hum of traffic off in the distance and  have never been happier to hear the sound in my entire life. I'm practically running at this point. I come out of the clearing to see the highway and I start to cry tears of joy (something I haven't experienced much in life but have several times in this trip). I've made it out of the 100 mile wilderness!  I've never experienced anything this challenging physically in my life, so much blood, sweat, and tears have gone into this literally speaking. I did it! I made it past the first major leg of my trip! I try to call for a shuttle but again AT&T fails me, so I start walking with my thumb out. I get picked up about .3 mile in by a young man in a hatchback. "Goin to Monson?  Shaws?" I answer yes to both and we chat lightly on the way there. Monson is a very cute town. I arrive at Shaws and thank the good Samaritan for the ride. I am greeted by a young man with dreadlocks and he offers me a soda or a beer  (PBR FTW!) and he shows me around. I get settled into my bunk room, get a shower, and my laundry started and get a whole pizza to myself (with guacamole!!!) And anther drink and spend time with other hikers. I see my family in these people. An older couple from Germany are like parents to me on the trail. They are always smiling with words of encouragement for me. I met a father and daughter who have been doing sections since she was 12 and are finishing up the last leg, she is so much like my little sister. An older couple and I reminisce having our mothers read to us as children and I'm reminded of The Wind and the Willows.   I'm so glad to take a zero day and get rested before heading back into the woods. My shoes have holes in them already am having new ones sent to the next town. I feel so accomplished and am so excited to see what the rest of the trail holds for me.
Affiliate Disclosure
This website contains affiliate links, which means The Trek may receive a percentage of any product or service you purchase using the links in the articles or advertisements. The buyer pays the same price as they would otherwise, and your purchase helps to support The Trek's ongoing goal to serve you quality backpacking advice and information. Thanks for your support!
To learn more, please visit the About This Site page.