Why I'm hiking the Camino
I'll be honest, for a long time I thought I'd never hike the Camino.
Then I liked the idea of hiking it when I'm older, considering it's an easy trail and can be done in relative comfort.
And here I am, starting soon my Camino walk from Le Puy-en-Velay in a few days.

I'm not exactly what you'd call old (41) and I could probably have a better use of my "not yet in pain" knees (meaning hiking hard trails while I still can), but I realised there's an important factor when doing a thru-hike : timing.
Sometimes you just feel like a trail is right for you at this particular time and it might not be the case in a year time, when a trail you would have never considered hiking today, somehow feels like it's now a priority.
So yeah, in a nutshell, it's the right time for me to hike the Camino.

The reasons why I never wanted to hike it in the first place are probably the same than a lot of thru-hikers who would never consider it.
It's waaaaayyyy too busy, and the numbers keep going up every year.
From 3500 pilgrims in 1989, there were 350.000 in 2019.
100 times more in 30 years…
That includes every single Camino, and there are a ton of them. That also includes Spanish students that only hike the last 100km of the Camino Frances because it helps them get better grades if they validate a Camino certificate…
But still, that's a lot.
Then the Camino doesn't quite have a reputation of being a "scenic" trail (whatever Camino way you chose).
That is to say, if you want to see the most spectacular scenery in France or Spain, there are better trails.                   
Also the fact that it's not a "wild" trail can turn some people off.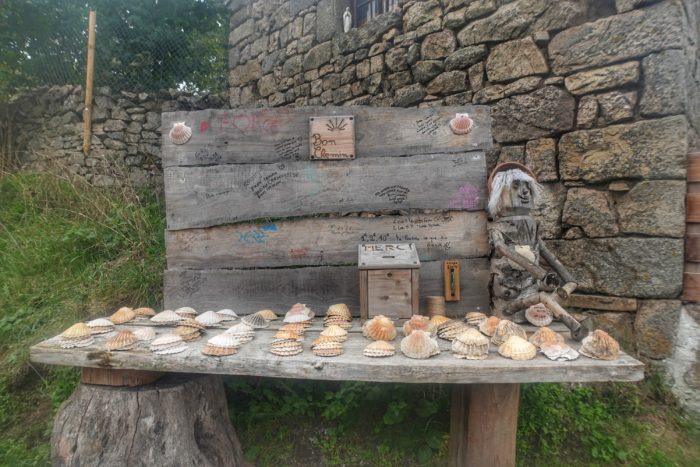 And it's not a trail that has a "thru-hiking culture", or even a hiking culture similar to other trails in the sense that pilgrims on a Camino might very well not care about the hiking part of it and might have no interest in going on another hike in their life.
Though it could be argued that it's also the case for a lot of thru-hikers.

It's also a trail where it's really easy to get sucked in doing it with a lot of comfort.
Knowing all of that, I chose to hike it in October-November, when crowds have disappeared but you still get the social experience, minus the busy highway feeling.
Especially important this year, as it's a holy year, meaning all Camino records have been broken.

It will be cold but manageable.
I'll be tenting, but it's good to know there are reasonably priced accommodation options all the way for the really miserable days.
Most pilgrims don't camp, but not tenting would make this hike undoable for me budget-wise right now.
I chose the Via Podiensis, then the Camino Frances.
And time allowing, I'll be hiking the Camino Finisterre, that goes from Santiago to Cape Finisterre, that was believed to be the end of the world by the Romans.
And then from the Cape to Muxìa.
This Camino adds another 120km or so to the hike.

As I said, there are a zillion Caminos, and for Spanish people and people overseas, when they say "hiking the Camino", they usually mean the 748 km Camino Frances starting in Saint-Jean-Pied-de-Port.
But for French people, the 784km Via Podiensis starting in Le Puy-en-Velay is the most common and traditional way to hike the Camino, before joining with the Camino Frances.

Le Puy-en-Velay was where Godescalc, the first known French pilgrim left from.
It is also hiking central and the departure for the Stevenson trail (one of the most famous and popular trails in France), the pilgrimage of Saint-Regis, the Regordane way and the GR 3 (that follows the Loire river) goes through it, as well as some other trails I forgot.

There are three other main Camino ways in France, starting in Paris, Vezelay or Arles.
But they are a bit less popular.
In Spain the Camino del Norte, going along the coast is becoming more and more popular, though not nearly as busy as the Frances.
It can also be combined with the Camino Primitivo, that joins the Frances.

Then there are all the other Caminos, where it's unlikely that you'll see a lot of pilgrims until you reach Spain.
Anyway, that means that the Via Podiensis combined with the Camino Frances is where I'm most likely to find people and things open at a time of the year where it's quiet.
The main reason for me to finally hike the Camino is definitely the social aspect.
I spent enough time in recent years not seeing hikers on the trails I was on, that I'm ready to shake things up and get more of the social aspect a long trail can offer.
That means I will definitely reduce my normal pace.
Not that I'm a fast hiker at all, but I hike long days. And that won't be possible anyway as the days will be much shorter.

One thing that really triggered my interest was how different all the people who hiked the Camino I met were.
All ages, all origins and very different reasons to walk.
From the old Japanese farmer lady to the 20yo Canadian looking for a European experience, to the religious Korean, there's a wide spectrum.
It's the most international and diverse long distance trail in the world, and that became a good enough reason to hike it for me.
The camaraderie on trail is always something that brings sparkles in their eyes when previous pilgrims talk about the trail.
Becoming a "Camino addict" is a thing. Some people keep coming back, sometimes exploring new ways, sometimes sticking to the one they know and love.

I have a deadline, as I have to be at work around the 5th of December.
Meaning I have two months to hike about 1700km, which seems more than doable.
If it takes longer than expected, I'll skip the Camino Finisterre.
I'm really excited about starting this hike.
It's going to be different.
Affiliate Disclosure
This website contains affiliate links, which means The Trek may receive a percentage of any product or service you purchase using the links in the articles or advertisements. The buyer pays the same price as they would otherwise, and your purchase helps to support The Trek's ongoing goal to serve you quality backpacking advice and information. Thanks for your support!
To learn more, please visit the About This Site page.