You're Tougher Than Any Bedraggled Trail!
Resupplied and Rejuvenated
A night at Nye's Green Valley Farm B&B was a welcome respite from the trail after picking up supplies for what should be the final push to the northern terminus of the Long Trail. It was a chance to clean up, dry out, do laundry, and recharge my phone, headlamp, and power bank. Several other thru-hikers were doing the same, and we all shuttled to the Village Tavern in Jeffersonville for food, drink, and trail talk.
Although I didn't push the story of my journey on other hikers, it would eventually come up in conversation. Sharing it with others reminded me to be thankful for where I am now, compared with this time last year. I had started to take my recovery for granted. It really is amazing that I'm back, not just hiking, but backpacking THIS trail. To say it's been challenging for me would be a big understatement.
Earlier in the summer, I posted an online trail update to my local hiking group, STOGA describing how difficult the Long Trail was. In response, my hiking buddy Dave commented, "But you are definitely tougher than any bedraggled trail!" I appreciated the encouragement and got a kick out of him describing the Long Trail that way. He borrowed the word "bedraggled" from one of my previous blog posts where the Trail Devils chose that as the word of the day after surviving a tough stretch of trail. Referring to the Long Trail as bedraggled is a bit irreverent; after all it's the O.G. of long-distance hiking trails. But maybe, it just might counter the aura of toughness associated with this trail. Given the barrage of challenges I've encountered during this hike, I'll take any mental advantage I can get.
With about 5o miles to Journey's End, I finally stopped second guessing my decision to finish this hike. And when things would inevitably get tough again, I'd remind myself of Dave's words and smile. Maybe I am tougher than any bedraggled trail. Or maybe I'm finally learning to embrace the challenges of the LT.
All Signs Point to Canada
The breakfast and morning vibe at Nye's B&B was great, but I was itching to getting back on the trail. Eva, Justin, and I caught the first shuttle to the trailhead a little after 10:00 am. I put my trail runners in the back of the van so that our driver Marsha didn't have to open the windows for fresh air like she had yesterday. I couldn't believe how stinky my new Altras were after just four days on the soggy trail. Marsha would have agreed!
It was drizzling lightly as we all put rain covers on our packs at the trailhead in anticipation of the heavy rain expected later in the afternoon. My pack was a little heavy with a full load of food, but it felt great to be walking. Some of that feeling was the result of some much-needed foot care and donning clean, dry socks at the hostel. But it was more about just being back on the trail.
The footing was good in the lowland forest, and the uphill grade coming out of the Lamoille Valley wasn't that steep. Even when it was, I was able to maintain a good pace. Somehow Eva and Justin dropped behind and I was on my own. The cool mist, rain, and smell of wet leaves suggested that Fall was just around the corner. My relationship with trees and the forest is something I had become more aware of over the last year. I felt very much alive and "at home" in this damp forest. It made the walking easy.
When I crested Roundtop and saw the sign indicating, "Canada 46.8 Miles", it hit me. The border was no longer an abstract idea. Suddenly it seemed within reach, and I may actually finish this hike! That revelation was reinforced by a big road sign hanging in Roundtop Shelter that said "Canada Border" with an arrow pointing north! Its placement in the shelter was clearly the work of some ambitious hikers with a sense of humor. It probably took quite some effort just to get the sign to the shelter. But it was perfect!
I had the shelter to myself for a while as the rain began to pick up. Alone with my thoughts, I started to consider the significance of reaching the border and completing the Long Trail. It's been quite the challenging and improbable journey over the last 14 months. What other unexpected challenges may lie ahead?  How will I feel when I reach the border? Should I do something profound to mark the occasion? Several thoughts were racing through my mind. But first things first. I still had to get there.
A Full House
My solitude was short-lived, and it ended up being a full house at the shelter. Most of the hikers from Nyes showed up in the early afternoon. A fast-moving, ultralight hiker came in a little later. He was attempting to do the entire trail in 12 days! We made room for him in the shelter and listened as he described the conditions coming from Mansfield today. He said the ascent of Whiteface was like climbing a waterfall. Everyone could picture it when he described water pouring down the inside of his shirt. It was the perfect example of "wetnical", a term coined by Eva to describe trail sections that would be easy to navigate when dry but become more technical and challenging when wet. Thankfully, it wasn't that bad when we made the same climb yesterday.
He was soon followed by several other hikers (and dogs) looking to get out of the rain. Most saw how tight it was in the shelter and set up their tents nearby. Some of them used the shelter to cook or organize their gear before moving to their tents for the night. I was glad I had been there first to pick a dry corner to set up my sleeping pad and bag. It kept me out of the line of fire of the dogs who jumped on the platform and shook off the rain before their humans could stop them!
For the most part everyone made the best of the bad weather and tight quarters. Several hikers were snacking on Pop-Tarts in the shelter, bringing me back to my old backpacking days in the '70s. It was fun hanging out and comparing notes on how far to go in the current conditions. Everyone is hiking their own hike, but there are some commonalities.
I felt great today and was tempted to push forward to Corliss Camp. As the shelter started to get crowded, I was thinking that maybe I should have. But it would've been a tough day due to the weather and late start. The next three days look to be clear and warm, so it makes sense to ride out today's rain and wait for better conditions. With plenty of time to study the maps, I planned a couple of different mileage options that should work depending on how I feel each day. I should be able to reach Journey's End by 9/24 which was my target date.
Mud and Maples
The rain gave way to a spectacular morning, with shafts of warm sunlight filtering through the lingering mist and dripping leaves. After two days of rain, the prospect of three days of sunshine sounded great. It was probably wishful thinking, but maybe some of the mud would actually start to dry out.
Most of the NOBO hikers from Roundtop were headed for Spruce Ledge Camp just over 15 miles north. That was a bit of a push for me, but I was reenergized after the stay at Nyes, and the short walk to the shelter yesterday. I wasn't sure I would be able to do 15 before dark, but it was a good time to try. As Justin put it, we'd need at least one big day of about 15 miles to line up the finish in five days from our resupply in Johnson. Camping on the northern third of the trail is mostly limited to the shelters, so it's always a balance between food supply and distance. It forces you to look ahead a little and target specific shelters. Most of us were carrying 4 or 5 days of food coming out of Johnson. I had 5.
If I could cover the 8.5 miles to Corliss Camp by about 1:00, it would put me in position to get to Spruce Ledge before dark. If it was any later than 1:30, it would probably be better to stay put at Corliss. So, I set an aggressive pace. It was good rolling terrain – nothing technical, but muddy. Very muddy. If I wanted to cover miles today, it was best to just walk right through the boggy areas rather than log hop or dance along the edges.  I spent much of the morning slogging straight through the boot-sucking mud. So much for wearing clean dry socks!
The trail weaved through a large area of private property that was a maze of plastic tubing stretching from tree to tree for collecting sap from the abundant sugar maples. It was impressive. While passing through the maple forest, I could hear the sound of chain saws off in the distance. Just past Laraway Lookout, I saw a GMC crew hard at work installing new puncheons in some particularly muddy spots.
I waved and thanked them for their hard work as I put first tracks on the freshly cut logs spanning a mud pit. This stretch really needed them, but so did many other sections of the trail. You could probably spend an entire career installing puncheons on the LT and still not finish the job!
The trail then followed the base of some impressive cliffs. Thin sheets of water showered from the ledges above after the heavy overnight rain.
I stopped to photograph the sunlit droplets as they splashed and refracted into little rainbows, often getting showered in the process. I could see Eva up ahead taking photos as well. It was a magical place that I just couldn't pass up, even though it might prevent me from getting to Spruce Ledge today.
Man or Moose?
It was mostly downhill from Laraway Mountain to Corliss, descending a thousand feet over 3.5 miles. The footing improved as the elevation dropped and I was able to cruise for a while. At this pace, it looked like I might meet my self-imposed deadline for pushing on to the next shelter today.
I knew I wasn't far behind Eva and Justin and thought they might be taking a lunch break at Corliss Camp. Hoping to catch up with them, I was literally running down the trail as I came into camp and unknowingly startled a nearby bull moose. I didn't see it, but Eva and Justin did. They were sitting at the table having lunch and thought they saw me coming up the small rise into camp but wondered why my pack looked so big. They soon realized it wasn't a pack they were looking at, but moose antlers. The bull moved off quickly just as I popped out on the trail! We had a good laugh while looking at a blurry photo of the big bull. Imagine that – little "Porkie" chasing a big moose off the trail!
After lunch I tried to resume the fast pace, but the ever-present mud created slippery conditions. Often there would be swirling patterns in the mud, smeared boot prints leaving evidence of others slipping and sliding. I tried to avoid stepping in those spots but sometimes you had no choice. I fell a few times including a muddy slide where I bonked my head on a tree. Ouch!
The discomfort in my groin reappeared for a while today. Thinking the hip belt buckle might be a contributing factor, I changed its position to one side. Relieving the pressure helped. Overnight I felt a lump in my lower abdomen that disappeared when I pressed on it – "bloop". Yep, that's got to be a hernia, and I think I just pushed my bedraggled intestines back into place! Running with a full pack this morning probably wasn't the smartest idea.
I slowed down after shaking off the last tumble into the tree, but otherwise did well covering the 15 miles to Spruce Ledge before dark. Other than being fatigued, I felt okay but will need to watch for concussion symptoms and monitor the hernia over the next few days. With just over 30 miles to Canada, now is not the time to get an injury from being careless or overdoing it. I crossed my fingers, hoping I hadn't already done just that.
This Train is Rolling to Canada
There was a palpable energy at Spruce Ledge, with a dozen hikers in camp including Legacy, Blind Eye, Full Moon, the Ices, AKA, No Hitch, Eva, and Justin. We were all thinking and talking about the finish. It was 30 miles to International Line Post 592, the northern terminus of the Long Trail. You could almost smell it. Like everyone else, I was torn between sprinting to the end or slowing down to savor every minute. Some planned to get there in two days, some in three. We'll see how far I get tomorrow, but I'm on schedule and could potentially finish a day early if I stick with the group.
I was feeling pretty beat after the long distance and fast pace today, but the excitement buzzing through camp kept me awake for a while after settling into my sleeping bag. I opened my journal to recap the day and wrote: "This train is rolling to Canada!"
Time to Go Solo
As much as I enjoyed the collective energy of this group, I decided to go solo from here to the finish. Slowing down would be safer and allow time to be alone with my thoughts and reflect on this journey. Hiking alone would also improve my chances of encountering a porkie or other wildlife. I took my time coming out of camp in the morning, purposely waiting until everyone else left.
I planned to go about 8 miles to Tillotson Camp. Some others mentioned the same plan, but I suspected they'd push on to the next shelter once they got there. I made it a point to stop frequently to observe the forest and take photos. It was a way to force myself to slow down rather than race to the finish. I really wanted to enjoy this final stretch. This plan also guaranteed I wouldn't be able to reach the next shelter before dark if I was tempted to go for it. It was time to hike my own hike.
Sunlight filtered through the overhead leaves illuminating Devil's Gulch, a jumbled maze of wet moss-covered rocks, a cave, small pools, puddles, puncheons, and a narrow cascading stream. The play of light and shadow in the rocky hollow gave it a mystical feel much like the dripping cliffs from yesterday. I took several photos while picking my way through the slippery rocks, but intuitively knew it was unlikely I'd capture the essence of this place. Sometimes I think it's better that way, just being present and observing your surroundings, rather than relying on photographs that may not do it justice. I stowed the camera back in my shoulder pocket.
After Devil's Gulch the terrain was good, and I cruised about halfway up Mount Belvedere before slowing again. I kept thinking I must be near the top, but there were several false summits. Eventually I reached the side trail to the true summit and fire tower just as some of the hikers from Spruce Ledge were leaving. Somehow, I managed to catch up even though I was purposely taking my time. They had lingered at the summit, enjoying the scenic vista after a tedious climb. Since I briefly had an audience, I made a lame dad joke about the seemingly endless climb up Belvedere, prompting a few eye rolls and an involuntary laugh or two. Well, at least I cracked myself up.
The weather was perfect and the view from the fire tower was great. Some of the trees to the north were starting to change color. I could see Jay Peak and beyond that, Quebec. There was good cell signal at the top, so I checked in with Emily to let her know I was safe and on schedule, and then called Jimmy to confirm that I would reach Journey's End on Sunday. He was meeting me there to give me a ride home to Pennsylvania.
It was late afternoon when I arrived at Tillotson after stopping to collect water from an inlet spring above Lockwood Pond. Even though my water filter is effective at removing giardia, filling up above the series of beaver ponds seemed safer. It just meant carrying the full water bag in my hand for a quarter mile to camp rather than filling it from the pond outflow at the shelter. I did a little rock hopping across the outflow stream to get better views of the pond and beaver dam for a few photos in the late afternoon light.
Tillotson Camp was quiet compared to the last few shelters. As expected, the rest of the crew from the last few days had pushed on to the next shelter and it was unlikely I'd see them again. Sharing the camp with me were Ghost and Hello, two SOBO hikers. After tonight, I wouldn't see them again either.
Old Splatterfoot
With another sunny day in the forecast, I decided to break out my dry socks. I had been strategically saving them for drier conditions, and today was the day. My feet were happy for about a mile and a half before they fell victim to the mud again. It was relentless today, even after two full days of sunshine. The cumulative effect of all the slips, falls, and restless nights in noisy shelters had me feeling a bit fatigued and sluggish at the start of the day. I took an early break on top of Haystack and fueled up. That really helped, so I made it a point to rest and snack more frequently. The descent from the summit wasn't as technical as the SOBO hikers had suggested, but I took it slow anyhow.
I'm not sure where a second wind came from, but by mid-afternoon I was feeling much stronger. Hiking all day on my own, my thoughts drifted back to last year and my progress since then. That seemed to give me a mental boost. And I needed it for this stretch.
The terrain here was mostly mud and boring PUDs (hiker-speak for pointless ups and downs). Some of these PUDs had names: Bruce Peak, Buchanan Mountain, Domey's Dome, and Gilpin Mountain – as if someone thought that naming them and putting signs atop these nondescript wooded summits would make them seem less pointless. They still seemed like PUDs to me.
Interestingly, the 1937 Long Trail Guide Book lists them as South Splatterfoot, Splatterfoot Summit, and Splatterfoot North Lookout. I was thinking that Bedraggled might be a better name for one of these PUDs, but "Old Splatterfoot" seems far more descriptive of the muddy terrain. Domey's Dome, however, is still Domey's Dome. I like that one.
A Rare Switchback on the Long Trail
Later in the day, I met Doubletrack who was doing a fast out-and-back day hike with his dog. We talked for a bit when he caught and passed me north of Domey's Dome on his return leg. It turns out he hiked the entire LT last year starting on July fifth – the day after me! It's likely we met on the trail last year, but we weren't sure. He filled me in on the upcoming terrain and asked if I needed any snacks or supplies. His car was parked up ahead at Jay Pass. I didn't really need anything but joked that if he had a cooler of cold beer in his car, I'd gladly take one! Sadly he didn't, but we shared a laugh about it.
He pushed ahead over the rocky descent at a pace that I couldn't match. But his dog Bud kept stopping to wait for me to catch up. I think he was looking out for me. (I can't remember Bud's actual name, but Doubletrack called him that several times) Bud refused to leave me behind so Doubletrack slowed down and waited as well. Once we reached the trailhead, Bud's work was done, and he headed for the car as I crossed the road. Throughout this journey, the people (and dogs) of Vermont often adopted me like that. It's a fantastic community that is proud of the Long Trail and really supports hikers.
There was a young couple at Jay Camp when I arrived. Dumpling and her dog Ninja were on a short backpacking excursion, and Yucca had walked in from the nearby trailhead to meet them with food and drink. They were discussing whether to stay the night or head home while Ninja was sound asleep in the shelter. They felt bad about the prospect of waking him. As I fired up my stove to fix dinner near the fire ring, they asked about my hike, and I shared some of the story.
When they packed up to leave, Yucca asked me if I wanted a beer, saying he had one left. Yes, please! When he handed me a Switchback Ale, I joked that I didn't think there were any switchbacks on the LT! This "Switchback" was a rare and welcome exception, a fitting reward for covering twelve tough miles and 4000' of elevation gain today.
Critters in the Shelter
Throughout this journey, I had hoped to encounter a porcupine – a meeting of the porkies so to speak. After reading my father's account of battling porkies throughout his hike, I thought my Long Trail journey wouldn't be complete without encountering one. But it hadn't happened yet, and the chances were getting slimmer by the day. I had barely gotten settled in at Jay Camp when I heard some movement outside the shelter and then on the roof. Could it finally be?
Sadly no. There were several mice running along the inside edge of the roof, circling the perimeter in reconnaissance. And then a bold one ran out onto the floor right in front of me, headed towards my pack. When I stomped my foot, it skedaddled in fear, reminiscent of a scene from an old Tom and Jerry cartoon. They may not be porkies, but it looked like I might be skirmishing with these pesky little rodents during the night.
I sealed the plastic liner in my Ursack just as I would to prevent bears from being attracted to any food odors. After hanging my pack to get it off the floor, I leaned my trekking poles lightly against it as an extra measure. Any critters attempting to get into the pack would tip over the poles, creating a racket to alert me, and hopefully scare them off. I was ready! But my food storage practices were too effective. The mice gave up quickly and moved on. I had the shelter to myself and slept well without being disturbed.
The Penultimate Push
Morning arrived, bringing with it clear skies, warm sunshine, and an air of excitement. If all goes according to plan, today will be my last full day of hiking. It's eleven miles to the border, but why rush? I'm meeting Jim at Journey's End tomorrow at noon. Today was a day to celebrate this journey. I was deliberately mindful of where I was, and what was ahead of me today. It was only seven miles to Shooting Star Shelter affording plenty of time to really enjoy the final stretch. But first I'd have to climb Jay Peak, the last tall summit in my path. Before setting out I cleaned up in the small stream, rinsing my shirt, shorts, and socks knowing that I could hike them dry in the sun.
The steady pace up the lower flanks of the mountain felt good. Gradually the trail narrowed and got steeper. Alone with my thoughts, I stopped a time or two to write a few paragraphs while things were fresh in my mind:
"Breathing heavy, quads burning, and fingertips sticky with sap from grabbing the stunted Krummholz pines, I pulled myself up the steep pitch onto the windswept granite staircase that led to the summit. It was glorious!"
Writing contemporaneously like this was a different way of being present and "in the moment". In the past, I would try to hold my thoughts and observations until the next break, and then put a word or two into the notes app on my phone to jog my memory later. It didn't always work and I'd sometimes lose my train of thought before the next break. The modest distance planned for today gave me the freedom to stop and do something fun and creative like this. Why hadn't I thought of it sooner?
The natural rock staircase just below the summit was a cool challenge. There were times on this hike when I'd be intimidated by steep rock scrambles. But Jay wasn't exposed like Camel's Hump or Mansfield. The rock didn't have any sheer, dangerous drops so it was a fun rock scramble without the worry.
My reverie was broken by the throngs of people on the summit. It was a beautiful Saturday morning, and the trees were just beginning to display the colors that Northern Vermont is famous for.  The tram was running from the base area, shuttling leaf-peeping tourists to the top of Jay Peak for the expansive view. After being alone last night in the shelter and having the trail mostly to myself the last couple of days, it was a shock to suddenly be surrounded by the noise and frenetic energy of so many people.
I'm sure the tourists thought I seemed odd and out of place carrying a big pack as I scaled the bare rock rather than walk up the ski trail that paralleled the Long Trail. I was determined to follow the white blazes the entire way from Massachusetts to Quebec and wasn't interested in taking short cuts, no matter how easy. I could feel several eyes on me as I got to the top.  I'm guessing many had never seen a thru-hiker before – or caught a whiff of one if they were unfortunate enough to be downwind!
After a few summit pics, I found some chairs just below the tram station and took my pack off to have a snack and post an update or two. The sun felt warm as I mixed an electrolyte drink, snacked on dried fruit, and slathered some sunscreen on my face and neck. I thought about walking over to the summit café to see if it was open. A sandwich and a beer sounded more enticing than another protein bar.  As I was about to check, a maintenance crew pulled up in a four-wheeler to deliver supplies and equipment to the top. They said hello and seemed genuinely interested in hearing about my hike. Vermonters are awesome that way!
I asked about the café, and they said it wasn't open. That was probably a good thing because having a beer before the rocky descent off the peak would have been a dumbass thing to do. I could've taken the tram down to the base area for a meal, but I was itching to get back on the trail and away from the crowds. Lunch could wait until the next shelter.
Attaboy!
There was a confusing dogleg on the ski trails that required turning my GPS on to see where the LT went. It seemed like every ski area on the LT had a confusing stretch like this! After finding the trail, I picked my way carefully down the long descent from the summit, reaching Laura Woodward Shelter for a late lunch. There was a message for me in the shelter logbook written earlier today:
"Porkie, if you're seeing this, I have another one for you: drypass. Dry + bypass. – First Gear.
p.s. Almost to Canada!"
I understood immediately. Eva had been making up some funny trail terms and this one meant a rare detour around the big mud puddles. I didn't know anyone named First Gear, so it must be Eva. And there was an entry just before it by someone named Bucket. What the heck? Eva and Justin were using trail names on their last day on the LT!  I wonder how they got them. They were only a half day ahead of me, and for a moment I wished I was still hiking with them and finishing today.
A pair of day hikers from Quebec stopped and joined me at the shelter for lunch. Their dog Bandit kept trying to steal my food! They yelled at him in French to leave me alone. Bandit didn't seem to understand French. Or English. With a name like Bandit, I'm thinking it wasn't just hiker hunger motivating the attempted thievery! I laughed, and carefully guarded my lunch as I ate quickly.
The hikers were using the climb of Jay Peak as training for the Pemi Loop in the Whites. Dogs aren't allowed on most trails in Quebec and the terrain on the LT is more rugged than their local trails, so they often cross the border to hike in Vermont. They confessed that in an act of irreverence, they sometimes purposely pee on the U.S. side when skiing or snowshoeing along the border slash. As they packed up to leave, I asked if they would be offended if I peed into Canada when I reach the border tomorrow. They gave me their permission, stating that anyone who hikes from Massachusetts to Quebec has earned the right.
The last few miles to Shooting Star were slow and deliberate. After Jay peak, the heavy lifting was done, and the remaining miles to the border should be little more than a victory lap. And it sure felt that way. Throughout the afternoon I met several SOBO hikers just starting their LT journey. As we passed each other going opposite directions, it felt like I was hiking through a receiving line of high fives, fist bumps, congrats, and attaboys!
A Restless Night
Shooting Star was a great setting for my last night on the trail, a simple open shelter perched on a big rock slab. Chaga, another NOBO thru-hiker who had passed me a couple miles back was already there. We were both excited about finishing tomorrow. A local couple, Matt and Nicki arrived just as I was unpacking. They had hiked in from North Jay Pass for a birthday celebration at the shelter, and generously shared some snacks, great conversation, and a sip of whiskey. It was a festive mood as we all had something to celebrate!
There's a feeling of security with four-walled shelters knowing you can close the door to keep out unwanted guests. But it separates you from the forest. My last night on the LT was in an open shelter, and that felt right. I could see the dark silhouette and shadows of the trees, feel the wind, and breathe in the night forest air. I didn't sleep much. My knees were screaming in discomfort, even after taking ibuprofen to calm them down. The downhills are brutal on old knees like mine.
But it soon turned to a comforting type of restlessness fueled by excitement, introspection, and a sense of accomplishment. I reflected on the journey knowing it was coming to a close. Today was one of the best days of backpacking I've ever experienced and part of me didn't want this adventure to end.
There were many questions on my mind. If given the opportunity, would I change anything about this experience? How will I feel when I reach Journey's End?  How should I feel? Will I want to cheer, cry, do a dance, throw my arms up in triumph, taunt the universe, shake my fist at this bedraggled trail, shout at the top of my lungs hoping to hear an echo from the hills of Quebec, or calmly bow in reverence to the iconic border monument? I have no idea how I'll feel, but one thing is for sure. Tomorrow promises to be bittersweet.
Greetings from Quebec!
Of course, the final few miles weren't a cake walk. There were a couple of short steep climbs, and not surprisingly, more mud. But the finish wasn't as bad as Hindes described in 1931:
"The trail from the peak to the border was terribly difficult. Even if it had been well cleared and blazed, it would have been one of the hardest stretches of all. We encountered everything that makes for bad going: bogs, steep grades, shale, soggy leaves, and long, long miles, they seemed long, long miles because we were so anxious to reach the end…"
Just as I was thinking these were indeed "long, long miles," I looked up and there it was, the sign for Journey's End and the Northern Terminus of the Long Trail. And beyond that stood Line Post 592 at the Canadian border. I made it!
To my surprise, there was no big swell of emotions now that the journey was complete. It just felt right, being here in this moment, as if it were preordained. From the instant I saw the sign at Roundtop a few days back, I felt a quiet confidence forged from perseverance and a sense of accomplishment. I had been battling fatigue for several days, but somehow was able to tap into an inner strength that had been elusive for parts of this journey. Now that I finally made it, I realized that all the emotions that this triumphant moment deserved had already been expressed several times during the past year.
After a moment or two of reflection at the marker, I walked back to face the Long Trail and solemnly bowed in appreciation for the journey it took me on. Then I grinned, took off my pack, and peed on Canada (with permission of course)!
I called my brother Tom to give him the news and then texted a photo of the border marker to several friends, fellow hikers, and family members. For most of them, it was a surprise since I hadn't announced my return to the trail.  Greetings from Quebec!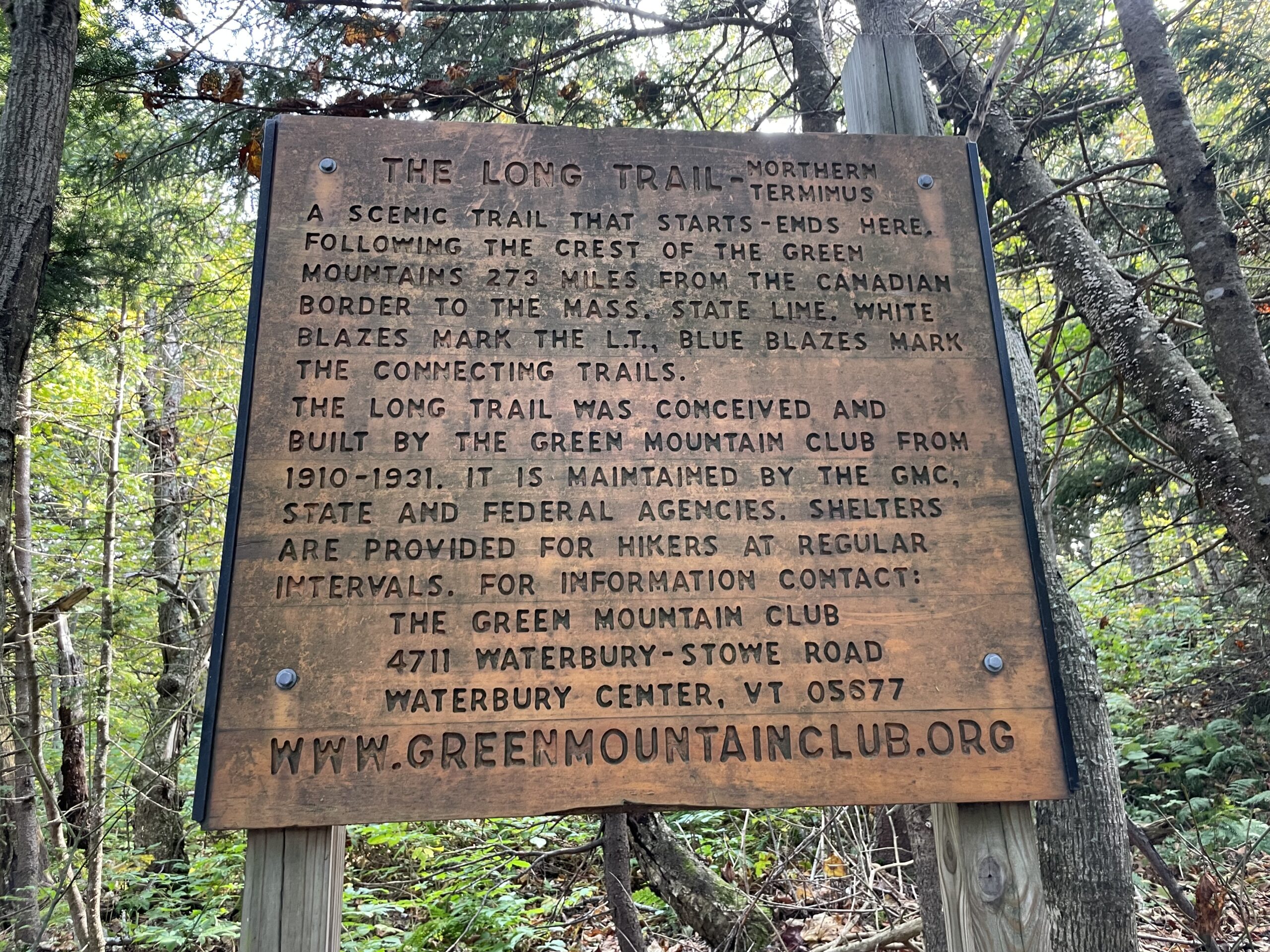 Journey's End
It was still about a half-mile on the approach trail to reach Journey's End Shelter where I was meeting Jimmy for lunch and libations. The forest was different here, mostly mature deciduous trees, and more open as if it had been logged earlier than the stands of smaller trees on the ridge tops. It didn't feel like the LT anymore – it was easy walking. I was a little ahead of schedule, so I walked slowly and stopped to respond to the congratulatory texts coming in. My phone was pinging almost non-stop, and I could barely keep up with the positive messages pouring in!
When I reached the shelter, it was still buttoned up. At Shooting Star last night and again this morning, Matt hinted he might deliver some trail magic to Journey's End even though I told him Jimmy was meeting me with lunch. Matt and I met for the first time just last evening, and here he was offering to help me celebrate. It was more proof that the camaraderie and generosity of the Long Trail community is truly amazing! But at the moment, the shelter was deserted. I opened it up and looked in the logbook, smiling as I read entries from yesterday:
"Legacy signing out! Pizza time!"
"Bucket out."
"Canada Baybee! – First Gear"
Following their lead to keep it short and sweet, I simply added:
"Porkie is an 'End-to-Ender'. Hell Yeah!"
Soon I heard voices on the trail and surmised that Jimmy and Matt met each other on the approach trail. Sure enough, that's what happened – double trail magic! It was a beautiful day and Matt had his young boys with him. They hung out with us at the shelter for just a few minutes, not wanting to get in the way of the celebration. Before they left, I thanked Matt for the beers, and his boys for guiding Jim to the shelter. It was his first time hiking uneven terrain after a recent hip replacement and I had been a little concerned about that.
After they left, Jimmy and I sat for a while enjoying the sandwiches and beers and talked about past and future adventures. It was good for both of us to relax. He had driven a long way to get there, and I had certainly walked a long way.
What an incredible day! Against all odds, I had just completed a very challenging journey, and was able to celebrate it with both my oldest and newest friends. I handed my trekking poles to Jimmy to use on the walk out, as I shouldered my pack for the final time on this hike.
Tough or Bedraggled?
Thanks Dave, for suggesting that I may be "tougher than any bedraggled trail". At times, that thought put a smile on my face just when I needed it most. In some ways the word fits. Synonyms for bedraggled include adjectives like messy, unkempt, scruffy, untidy, and disheveled; words often associated with thru-hiking and hiker trash!
In the end however, I just couldn't bring myself to think of the Long Trail as bedraggled. I have too much respect for the challenges and legacy of America's oldest long-distance hiking trail.
But my personal journey on the Long Trail? Yes, my hike would absolutely qualify as bedraggled. It sure wasn't pretty. In addition to the typical challenges of weather, terrain, and trail conditions, my journey included a brush with death, surgery, a long recovery, historic flooding, trail closures, physical limitations, self-doubt, and now a hernia. Bedraggled indeed!
I also can't bring myself to say I'm tougher than the LT.  Am I tough? Yes. Toughness is a requirement to finish the Long Trail, but this journey also humbled me. The Long Trail will do that to you. I was thinking about that as I wrote in the shelter logbook on my last night. Chaga, Nicki, and Matt all approved when I read my words out loud before closing the book and turning off my headlamp:
"Porkie coming in for a landing. I kicked ass for the first hundred miles of the LT. The next eighty miles kicked mine. The final ninety miles? Let's just call that a draw."
Porkie,
End-to-Ender, Long Trail Class of 22/23
Affiliate Disclosure
This website contains affiliate links, which means The Trek may receive a percentage of any product or service you purchase using the links in the articles or advertisements. The buyer pays the same price as they would otherwise, and your purchase helps to support The Trek's ongoing goal to serve you quality backpacking advice and information. Thanks for your support!
To learn more, please visit the About This Site page.