Zenbivy Light Bed Double 25 Review
If you and your partner miss the feeling of sharing an actual bed while backpacking, the Zenbivy Light Bed Double 25 may be for you. It's not just a double quilt: it's an entire sleeping system, complete with a fitted sheet, an insulated hood, and hooks and loops to keep everything in place. With so many features to keep you cozy and warm, it feels almost like sleeping at home.
MSRP: $548
Limit Rating: 25°F (-4°C)
Comfort Rating: 35° (2°C)
Weight (Quilt + Sheet)
40×72: 3 lb 15 oz (1.79 kg)
50×77: 4 lb 1 oz (1.84 kg)
Weight (Quilt alone)
3 lb 2 oz (1.42 kg)
Double Quilt Dimensions
One size: 81″ x 91″
Sheet Sizing
40×72 sheet fits (2) 20"x72" mattresses
50×77 sheet fits (2) 25"x77" mattresses
Quilt Materials
Insulation: 800 fill-power HyperDRY™ fluorocarbon-free water-resistant 90/10 duck down
Shell: 20d Nylon Taffeta
Liner: 50d Polyester Pongee
Sheet Materials
Insulation: 800 fill-power HyperDRY™ fluorocarbon-free water-resistant 90/10 duck down
Fabric: 20d Nylon Taffeta
Circumstances of Review
My partner and I took this sleeping system on multiple overnight trips in late October and early November. We used it in the backcounty of Utah's Zion National Park and the Columbia Gorge in Oregon. The temperature ranged from low 40s to 24°F. With the weather being colder than anticipated, we found the quilt kept us plenty warm. It was used with a double-wall two-person backpacking tent.
Neither of us had used a double quilt system before, but we both liked the Zenbivy Light Bed Double 25. It was much more comfortable than each having separate sleeping systems.
Features
Two-Person Sleep System
The main feature of the Light Bed Double is that it's designed for two people to share one quilt. You need a significant other or very close hiking partner to take full advantage of this product. Even with two people, the double quilt feels much roomier than using a single quilt solo.
You also are contributing both of your body heat into the shared space. I usually like to cocoon myself in a quilt, but found that in the double quilt, I didn't need to because it felt much warmer than I'm used to. It's luxurious and almost makes it feel like you're in a real bed. The fitted sheet with an insulated hood to combine two sleeping pads really makes it all come together.
Fitted Sheet
Just like your bed at home, the Zenbivy Light Bed Double 25 comes with a fitted sheet for your mattress(es). The sheet takes a bit of practice to get on correctly, but once you get it in place, it works well. With the sheet, the sleeping pads felt like one big mattress; I didn't notice where one pad ended and the other began.
We used two Zenbivy Light Mattresses as part of this system, and they paired well together. We also tried other sleeping pads to test the fit, concluding that rectangular pads work best. Mummy pads will work too, but not quite as seamlessly. They don't fill out the sheet completely, leaving extra room and a gap by your feet. The thickness of the two pads plays a role as well; you want them to match as closely as possible.
However, the fitted sheet is still compatible with any two sleeping pads that are appropriately sized.  There are two size options, 40"x72" and 50″x77", to match whatever size pads you have.
Insulated Hood
The fitted sheet also incorporates an insulated double-wide hood. I had never seen anything like this before, and I LOVED it. It is also designed to fit a backpacking pillow perfectly within the hood. I've been a quilt user for a long time as I don't like the constricting nature of mummy bags, but I often cocoon my head inside my quilt to keep warm. The hood on the Double Bed made it so I could hide my face and hands away in a warm space that can't twist and suffocate you as a mummy hood might. It's really the best of both worlds.
Hook & Loop Attachments
The fitted sheet includes hinged "wings" that have a series of hooks and loops to attach to the quilt. They were well designed to attach far off the edge of the quilt so no air drafts could sneak between them. The hooks do add another step in the setup process, but they add value too.
The first night we used the bed, we forgot to clip in the hooks on my partner's side, and apparently, I stole the quilt away from him at one point in the night. Whoops. On subsequent nights we made sure to hook in both sides and didn't have this issue again. So be warned, if one of you is a blanket hog (guilty as charged), you better clip in. Sometimes we would notice by the morning (or in the evening if we were in and out of the tent enough) that one or two of the loops had become disconnected, though never enough to cause draft or issues with the blankets.
Fixed Foot Box Design
This quilt has a fixed foot box. This makes it so no drafts enter, but it also allows you to get your feet out from the covers for ventilation easily. I was worried it wouldn't come up high enough and I wouldn't get enough warmth on my feet, but it wasn't an issue. It had a nice tucked-in feel.
Materials & Durability
The fabrics the quilt and sheet are made of do not feel like your typical ultralight materials. The inside is lined with Zenbivy's Pongee fabric that's meant to feel like sheets at home. It felt cozy, especially compared to typical ultralight fabrics. The material also lets less down feathers escape than other quilts I've used. Over the handful of nights we used the quilt, I never noticed any come out of it. I didn't feel the need to baby these fabrics at all and can see them holding up extremely well in the long term.
Temperature Rating
The quilt is advertised with a 25-degree temperature rating, but that is the limit. The comfort rating is 35℉. That being said, we took it out on a night under 30℉ and were plenty warm. We were actually sweating when we woke up. It did take a little while to get warm when first getting in, but we were already cold when we got in the tent.
We paired the bed with a double wall tent and two Zenbivy Light Mattresses with an R-value of 5+ apiece. Both of these probably helped increase our comfort with the temperature. With this setup, I wouldn't hesitate to take it even colder. Your mileage may vary with a different mattress/tent setup.
Our warmest night with this setup reached about 40 degrees overnight, and it was comfortable at that temperature as well. Being a quilt, it is possible to stick your feet out or unclip and throw some of it off your body to cool down in warmer temperatures. I would bring this for most summer camping in addition to the shoulder seasons.
READ NEXT –
Packability
Something to consider about a two-person quilt is that only one person can carry it; there's no splitting the weight. While large, the quilt packed down well enough, and there were no issues fitting it and other items into one 40L pack. We were at least able to pack the sheet separately. We managed to split the weight by having one person take both sleeping pads and the sheet, while the other carried the double quilt. The weight and volume math doesn't perfectly add up, but it's close enough.
The Zenbivy Light Bed Double 25 might not be the best choice for hiking partners on longer hikes or who plan on hiking apart at all. If someone can't push the miles to an agreed camp spot for some reason or any kind of emergency happens, one of you will be without a life-saving insulation layer. For individuals and couples that want more autonomy, Zenbivy's solo beds might be more appropriate.
READ NEXT – Zenbivy Light Bed 10 Review
Weight to Comfort
This sleep system has quite a few luxury features, which come with somewhat of a weight penalty. It's not the lightest two-person sleep system out there, but you're getting some nice bonuses for the extra weight, such as the loop and hook system and the insulated hood. You could always leave the sheet behind to save 13 ounces.
I think the Double Bed's weight penalty is worth it for the extra features. You're splitting the weight between two people anyway! This works great for my partner and me as the trips we take together are usually shorter than my solo efforts. If both you and your hiking partner eat miles for breakfast and want to go as light as possible, this may not be the best system for you.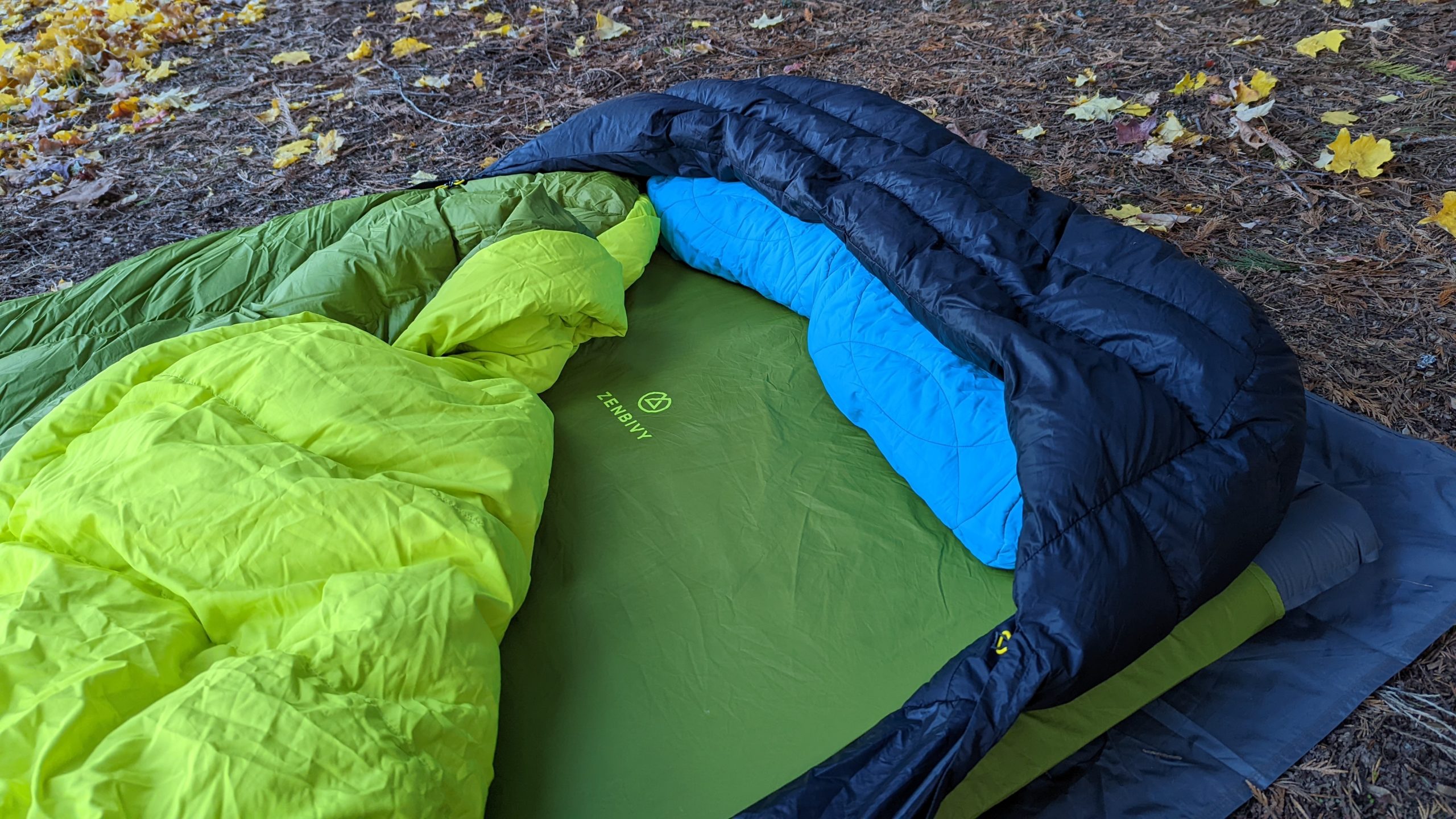 Add-Ons
Zenbivy sells a few add-ons that pair well with this sleeping system. The Zenbivy Light Mattresses come in two sizes, 20×72" and 25×77", and have an R-value of 5+ apiece. The brand also sells pillows and a 15L dry sack to pair with the double quilt.
We got to try all of these out as well. The Zenbivy Light Mattresses were extremely comfortable and fit the sheet perfectly. The two together really felt like one big mattress and kept us toasty warm. They did seem to take a while to blow up, either by your own breath or with the included inflation dry sack.
I can take or leave the pillows, but I don't normally sleep with one in the backcountry. However, I did like the soft fabric of the pillowcase. On the flip side, my partner really enjoyed the pillow. So the jury is still out on whether this should replace your smelly jacket as a pillow.
The dry sack was a tight fit for the quilt and an awkward size to fit into a backpack. We left it at home and just used a pack liner to have the quilt fit the space of the bag better. However, I did like that the dry sack had a one-way valve to let air out but not in when closed.
Zenbivy Light Bed Double 25 Pros
Two in one:  There aren't many options for two-person sleeping systems compared to the plethora of regular sleeping bags and quilts out there. Making two sleeping bags work together as one is a difficult task, and the Zenbivy bed does exactly that. It makes cuddling on cold nights possible without any cold or hot spots.
Luxury Features: The Zenbivy Bed comes with a lot of well-thought-out features that make it feel like sleeping in a real bed. This includes the insulated hood, the hook and loop attachments, the fitted sheet, and the soft materials chosen for the insides.
Comfortable in a Variety of Temperatures: The temperature rating is accurate, if not even conservative. This quilt will keep you warm if you pair the rest of your sleeping system well. At the same time, it's easy to kick your feet out or vent if you get too warm since it is a quilt at heart.
Zenbivy Light Bed Double 25 Cons
Setup: The sheet and hooks do take a bit more time to set up, adding an additional step most sleep systems don't have. However, the extra effort is worth it to keep everything in place and to take advantage of that sweet insulated hood.
Weight: At around four pounds, the Double Bed is on the heavy side compared to other two-person sleep systems. Depending on your setup, it may even be heavier than taking two separate single sleep systems. It is still generally lightweight enough for backpacking. You could leave the sheet behind to shave 13 ounces at the cost of not having your sleeping pads strapped together.
Packing: Having one quilt between two people makes packing more complicated than normal. It also takes up a large amount of room in one pack. You'll have to figure out what one person can carry to help split the weight and volume more evenly.
Overall
The Zenbivy Light Bed is a great sleep system for two that will keep you warm and comfortable. The fitted sheet, combined with the loop and hook system, steps up the comfort game. The entire system is versatile so you can maximize its usage and comfort. It offers ventilation in summer while also keeping out drafts with the hook system and insulated hood when it gets colder.
The price point for what you get is comparable to other products in its category. My partner and I both enjoyed using it and will continue taking it on all of our backpacking trips together. For those looking to cuddle up in the backcounty, the Zenbivy Light Bed Double 25 can't be beat.
Shop the Zenbivy Light Bed Double 25
Comparable Products
Therm-a-Rest Vela Double 20 Quilt
MSRP: $429.95
Weight: 45 oz
Enlightened Equipment Accomplice 20 2-Person Sleeping Quilt
MSRP: $480
Weight: 36.75 oz
The Zenbivy Light Bed Double 25 was donated for purpose of review.
Affiliate Disclosure
This website contains affiliate links, which means The Trek may receive a percentage of any product or service you purchase using the links in the articles or advertisements. The buyer pays the same price as they would otherwise, and your purchase helps to support The Trek's ongoing goal to serve you quality backpacking advice and information. Thanks for your support!
To learn more, please visit the About This Site page.