ZERO here and gone and SLACKPACKING fun
Left to right, Shrek, TAM (Trail Angel Mary), Greyhound, TAB (Trail Angel Bobbi) & Chopper in front of Linda Mood Schoolhouse where Shrek drank the last trail magic coke (Greyhound got the 2nd to last).  Slow dude (me) got shut out.
Our 1st 0 (zero) day has come and gone and we're now into week 4 of our SOBO FLIP-FLOP thru-hike of the A.T.
It's Monday night and yesterday was the 0 mileage day.  We probably spent 75% of our free day driving around SW Virginia figuring out how TAM & TAB could drop one of the vehicles and hike a little with us with another vehicle at the end.  The plan is to do that Mon.-Wed. and then "slack pack" (carry just what's necessary for the day) and live large at the Comfort Inn each night while taking advantage of the free hot breakfast each morning!
The additional advantage is the great dinners we can experience.  Tonight we drove 23 miles to Wytheville, Virginia to the 1776 Log House Restaurant and had great dinners and desserts (like almost as good as Mary's Peanutbutter Pie and Kentucky Derby Pie)
They had really cool gift shops, but hiking and gift shops don't compliment each other very well.  Great food, however…..WONDERFULLY compliments hiking (see below)
Greyhound & Shrek enjoying sizzling skillet steaks!
Today's SLACKPACKING hike was 15.4 and amazingly EASY (knock on wood).  Weather was beautiful and the speed demons finished at 1:30 and I finished at 2:10.  TAB & TAM hiked the last 2.5 with their hubbies. 
Tomorrow's hike is 16.3 and TAB & TAM are meeting us 1/2 way with SUBWAY SANDWICHES!!  Who says a thru-hike has to deprive you of life's simple pleasures;o)
Our last SLACKPACKING day is Wednesday.  Thursday morning we're back on our own and weather is supposed to get cold and nasty (snow showers maybe Thurs., Fri., Sat.) and should be in Damascus, Virginia Saturday around noon, where we hope to be in Woodchuck's Hostel.  The next day  (this Sunday) we'll be saying goodbye to Virginia and welcome to Tennessee to start week 5 (when weather is supposed to improve)!!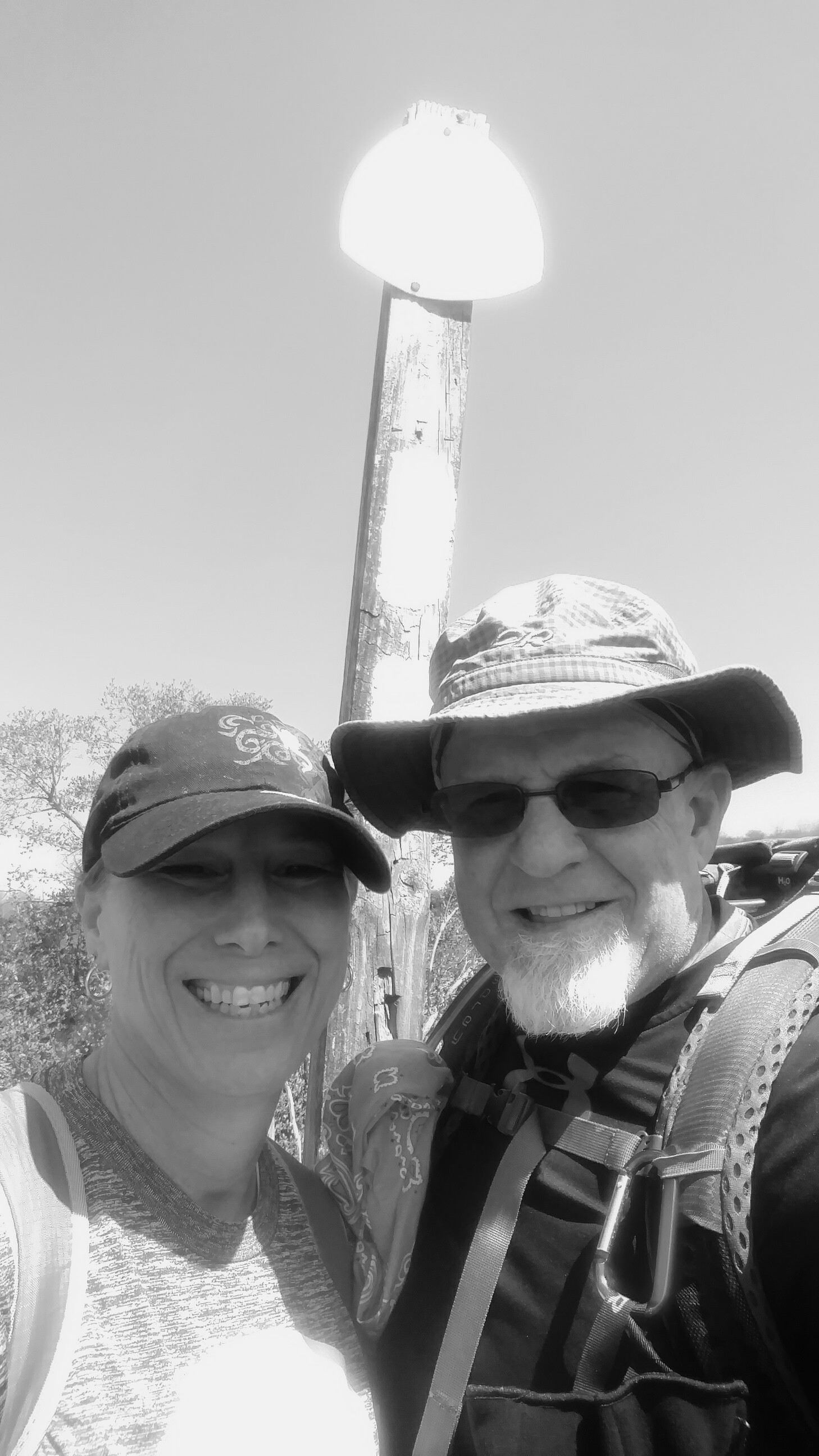 TAB (favorite wife Bobbi) and SOBO Flip-Flopping thru-hiking husband Chopper in front of an AT sign at lunch Monday.
Today's hike is History, tomorrow's hike a Mystery and right now is a gift!  It's why it's called the Present!
Affiliate Disclosure
This website contains affiliate links, which means The Trek may receive a percentage of any product or service you purchase using the links in the articles or advertisements. The buyer pays the same price as they would otherwise, and your purchase helps to support The Trek's ongoing goal to serve you quality backpacking advice and information. Thanks for your support!
To learn more, please visit the About This Site page.
Comments
2
Love hearing about your trip! I think I might have missed your earlier blogs and was wondering where you started, why you decided to start there and go south? I am planning on thru hiking next year and am trying to figure out where to start on a "flip flop" plan. Let me know what went into your decision. I am thinking that I would begin in Harpers Ferry and go north and then come back to Harpers Ferry and finish by going south. Your thoughts?
In the meantime, continue to have a great time! I am enjoying all the details!

Therese,

Thanks for reading my blog….. We knew we didn't want to start with the masses in GA. My brother really wants to finish at Katahdin. I live in Eastern Virginia and have In-Laws in Lynchburg, close enough to Buena Vista to make for a good starting point. It was really about logistics for us.

Starting in Harper's Ferry is part of a flip-flop a lot of folks employ starting South. Going North, you'd want to be careful not to start too early….flip-floppets succeed at a 58% rate, which is also appealing. Plan well and research it and dive in! Good Luck

Chopper