Thru-Hiking the 1,100-Mile Florida Trail With My Blind Dog
Katana and I have been hiking together since our maiden thru-hike of the Appalachian Trail in 2014. She was three years old and I was 24. In 2016 we began the next progression of our addiction… a thru-hike of the Pacific Crest Trail. It was in the middle of this hike that Katana was plagued by and diagnosed with glaucoma, a disease of the eye which causes blindness. She was blind in her left eye within 36 hours of the disease onset.
When a dog loses sight in an eye due to glaucoma, the normal procedure is to remove the eye. The pressure brought on by the glaucoma causes a great deal of pain, equivalent to a severe migraine. After hiking around 800 miles of the trail with me, Katana went home to have her eye removed. Several weeks later, she was cleared by her ophthalmologist for full activities and rejoined me on trail for the final 500+ miles I had left to hike. She finished the PCT strong as a one-eyed dog, even hiking a 30-mile day through snow in Washington.
Two years later in 2018 (after many other one eyed adventures/miles), the glaucoma set on aggressively in her right eye. We knew it was only a matter of time, but I'd hoped we'd get more than just a couple years with her remaining eye. Once it became 100% apparent she was completely blind, we had her right eye removed and Katana became a "no eyed dog."
It was very emotional for me to see her without eyes. Going blind seemed like a cruel joke for a dog who'd seen and done more than the vast majority of people. Her confidence took a major hit. She was unsure of herself and very cautious with her movements. It would sometimes take her minutes to find the courage to jump up or down from a couch or bed, or cross a threshold leading inside or outside. It was heartbreaking to see this animal who'd hiked thousands of miles across various parts of the country be unsure about crossing the living room.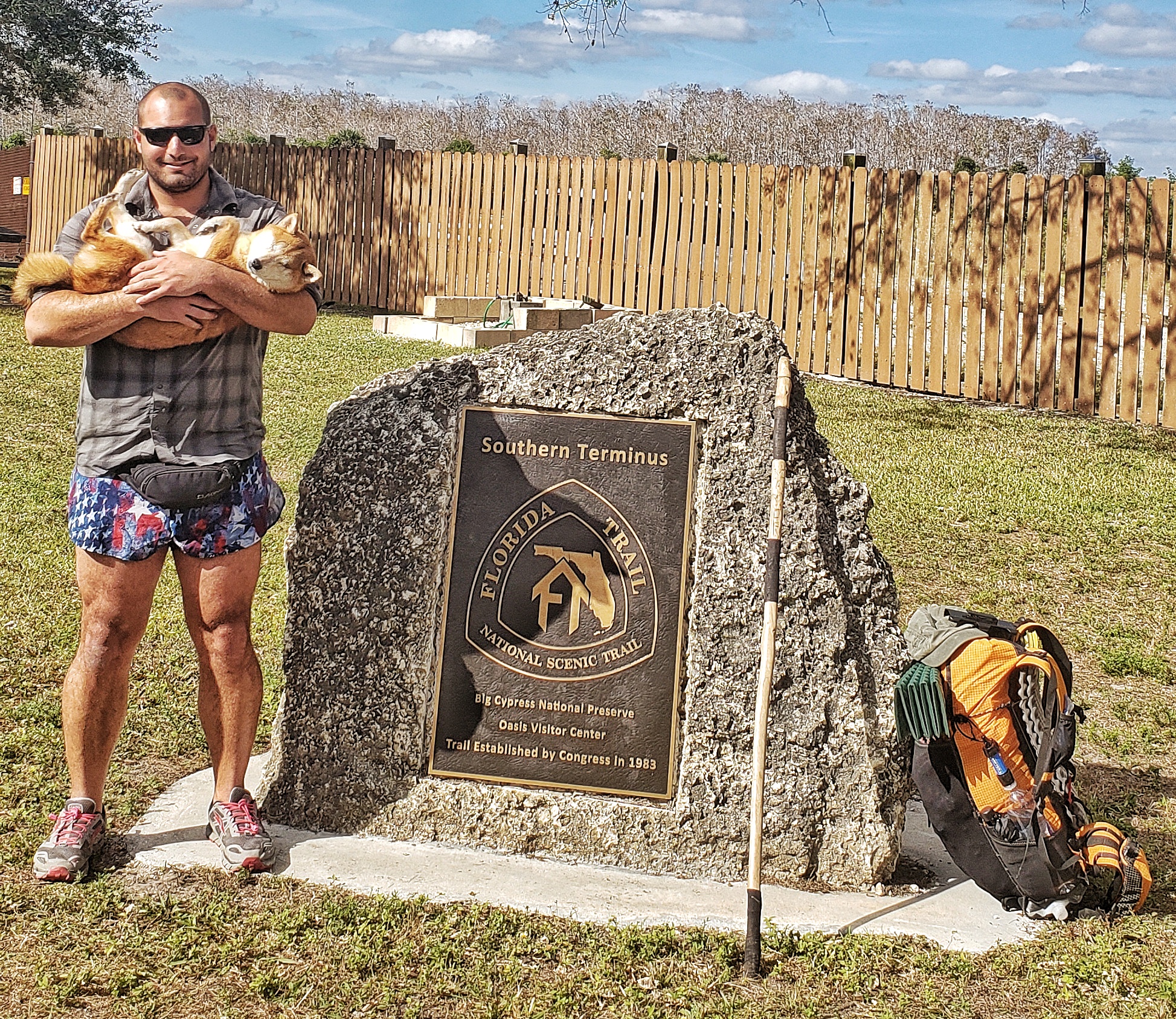 I worked with Katana on a daily basis, practicing commands and trying to regain her confidence following me—or simply navigating her environment on her own. She was getting better, but it was a tossup from day to day. While her progress was heartening, remembering the dog she used to be was nearly too much to think about. I knew if I wanted to get her confidence back to anywhere near what it used to be, we'd have to do something more extreme than simply practicing commands around the house and the local trails. We needed to completely immerse ourselves in her blindness and live it together out on trail.
I'd had my eye on the Florida Trail for a few years, but never made any official plans to hike it. After Katana went blind, it seemed like the perfect trail to help her come to terms with her new circumstances. The Florida Trail was mostly flat, it could be hiked in winter, there was no "do or die" seasonal window to finish it, it would only take a couple months to complete, and we would never be more than a few hours from any friends or family in case of an emergency.
Taking Katana on the Florida Trail as a recently blind dog was a calculated risk. Call it… immersion therapy. As a former athletic trainer, I am no stranger to initiating "SAID" (Specific Adaptations to Imposed Demands) on myself,  or my past clients. The body and the mind will adapt to whatever you throw at it—you simply have to know what to throw, how much of it,  and how often.
In the case of Katana, in order for her to be as successful at being blind as possible – she needed to "live" her blindness. To explore and reach her full potential, she needed to be worked with full time, in constantly changing and evolving environments/landscapes.
Katana could memorize the layout of a house and live out the rest of her days in familiar comfort… but then she would only be great at navigating one place. Our life does not call for that. We both need her to be good at navigating any place, and for that she needed confidence and experience on a level we could never have achieved working only a few hours a day at home. We both needed to live it 24/7, and there was no better opportunity than doing another thru-hike together on a trail which would allow me maximum flexibility to work with her.
Taking a recently blind dog on a thru-hike to learn how to navigate their dark world is akin to throwing a child who can't swim in the deep end of a pool. They're either going to sink or swim. Raise the stakes as high as you can, while still being in relative control of the situation and people/animals will amaze you with what they can do.
When I brought Katana on the Florida Trail, it was either to sink or swim… the only catch being I wasn't going to let her sink. We'd been eating and sleeping her blindness for months, but once out there on trail,  we'd be breathing it as well.  The breathing is where the magic happens. It's where the greatest devotion is required, and where the greatest changes and adaptations occur – in anything. Professional and Olympic athletes didn't get where they are by being dabbling in their respective professions. They got there by eating,  sleeping,  and breathing their passions. This goes for anything in life,  not just sports or physical activities.
Katana ended up rising to the occasion in spectacular fashion. In my heart of hearts I knew she would do well out there,  but I never dreamed she would do as incredibly as she did.
The hike was at many times brutal. Compared to other trails we'd hiked together, the Florida Trail was about as monotonous and grueling as it comes… especially with a blind dog. It would have been a tough hike without a dog (or even a dog with sight), but doing it with a blind dog was the greatest continuous test of patience and perseverance I've ever experienced over the course of several months. Never in my life have I had to detach myself from my present circumstances so many times in order to just get through them, than I did on this hike.
So many grueling situations that required an inordinate amount mental endurance to remain "tru to the thru." The detachment is not a negative thing, but a strategy to preserve morale and keep up the mental fortitude to continue placing one foot in front of the other without experiencing the breakdown of your mental and emotional integrity due to stress, misery, pain, boredom, or discomfort. It can be as simple as finding a happy place inside your head; taking on a passive indifference to what's going on around you; or cracking jokes about your predicament with any compatriots who may be sharing in the struggle with you, even though everyone feels like they want to die.
The official trail began in Big Cypress in the Everglades, west of Miami at the bottom of Florida. From there it wound its way 1,100 miles north and then west across the state to Fort Pickens in the far northwest panhandle of the state, right across from the border with Alabama. We started the trail January 8th and finished March 22nd. It took us 73 days to complete the 1,100 miles, which was on par with how long I figured it would take us to do it. Given Katana's circumstances, I had estimated two to three months.
Katana did amazingly the entire time. She loved every second of the freedom of the trail, and exploring new places every single day. I truly think that's every dog's dream.  Katana hiked more than 200 miles of the trail herself, while I carried her more than 800 miles. Thankfully she's an agile, compact dog who only weighs 21 pounds. I could set her across the top of my pack and shoulders, and she could lay up there for miles at a time like she was lying on a couch back home. The system worked incredibly well.
The trail itself was often what one might consider a nightmare. It was wet, muddy, buggy, and at times we were wading through water, mud, or swamp for miles at a time, sometimes up to my waist. There were countless instances in which trail conditions were not conducive to a blind dog—swamps, deeper water, gators, snakes, road walks along busy highways, severely overgrown trail, blown down trees, as well as the absence of any trail whatsoever. Regardless, Katana got to hike on her own every day when trail conditions were cooperating, even if it was only for a mile or two. There were many days when she would get in four or five miles straight at a time, and even one day where she clocked over 10 miles without me ever needing to pick her up. If the trail hadn't been as brutal as it often was, she would have racked up a lot more miles. It was a tough, wet year to hike this trail.
Seeing her do so well was emotional. She was hiking like nothing had changed since our nostalgic days when we first got into long-distance hiking. It's not an exaggeration when I say I couldn't tell she was a blind dog about 80% of the time she was out there. She could follow me down the trail, but she preferred to lead, just like old times. I don't know exactly how she did it,  but she could lead me down the trail perfectly, without hitting a single obstacle while accounting for every twist and turn in the trail—it was unbelievable! Katana went from cautious and timid to confident and curious. Whenever we stopped to break or camp,  she was off and exploring the immediate area, mapping out her surroundings and cataloguing smells. At these times I didn't notice a single difference in her behavior or demeanor compared to when she had sight. The plan and gamble of bringing her out there was a success, and set her up with an abundance of confidence for a lifetime of blindness.
The greatest changes I saw in Katana definitely pertained to her confidence. She stopped second guessing herself and her surroundings and began taking big bites out of life like she used to. She gained back her spark, as well as the flair and sass that have always made her unique.
All I wanted for Katana on this thru-hike was to get her back to as close to the dog she was before the glaucoma took her sight. In a sense, I was trying to undo the changes the blindness had affected. By the end of the 1,100-mile trek, I would say we were more than successful – she is as close as ever to the dog she used to be when she had eyes. She can run through the house without a second thought, navigate multiple doggy doors to get in and out of the backyard, and leap up and down from couches and beds without hesitation. Before the hike, when she made a mistake or bumped into something, she would clam up and abandon whatever it was she was doing.  Now when she makes a mistake or bumps into something while playing, she takes it in stride without seeming to even register it (aside from not repeating the mistake). She's back to her old self and her old shenanigans – I couldn't be more happy or proud!
If there was one universal lesson I'd want people to take away from our experience, it would be…  You can't always stop what's coming, but you can decide not to quit or give up without a fight.
Follow our adventures on our website and Instagram, and check out Lost on the Appalachian Trail  and Racing Winter on the Pacific Crest Trail for accounts of our AT and PCT thru-hikes.
Affiliate Disclosure
This website contains affiliate links, which means The Trek may receive a percentage of any product or service you purchase using the links in the articles or advertisements. The buyer pays the same price as they would otherwise, and your purchase helps to support The Trek's ongoing goal to serve you quality backpacking advice and information. Thanks for your support!
To learn more, please visit the About This Site page.