10 Secret Tips for Thru Hiking the AT
**WARNING**
The following post is rated R for strong language! Parental supervision is advised for those who are not comfortable with the mention of butts and poop!
When preparing for the Appalachian Trail, there are some topics out that you just can't find much information about on a forum or in a book. It's even difficult to get more experienced hikers to tell you about these topics. And the worst part is that most of the topics I am referencing are things you have no idea that you even need to be seeking information about! The following list below is several secrets about life on the trail. Some are more like suggestions and rely on a bit of personal preference. Others are things you will most definitely face in your time on the trail. Some may sound a little strange and you may not want to think about them, but believe me, a clean butt goes along way on the AT! (Wait, what?! Yeah, just keep reading.)
10 Secret Tips That No One Tells You About Thru Hiking the AT
1. Knorr's Rice Sides Are Better Than Knorr's Pasta Sides
Knorr's Pasta Sides are the go to food on the AT but for some reason, less people know about their close cousin, Knoor's Rice Sides. Maybe "past sides" has a better ring to it or maybe it's that commercial on TV that's vastly exaggerates how tasty a pasta side can be, but the rice sides don't get as much love. At least, not in the beginning. Eventually everyone starts getting sick of eating the same thing and a natural turn to the rice side happens. Eureka!! I could have been eating Thai, Chipotle and BBQ Back Rib rice instead of flipping back forth between Alfredo and Chicken Broccoli noodles?! AND it doesn't stick to my pot as badly when I cook it?! New fave!
2. Cabot Seriously Sharp Cheddar
The hardest, most versatile and most available cheese along the AT, this is an awesome cheese to carry even in the heat of summer. It will sweat and get a bit soggy but when the hiker hunger hits, you won't mind scraping away a layer to find a still perfectly fine block of cheese underneath, even on the third day in summer.
3. Shoe Defroster
The only thing worse than squishing your feet into a completely soaking wet pair of shoes is ripping open your blisters as you force your feet into frozen ice blocks shaped as your shoes. When in extremely cold weather, everything will freeze. Your shoes included. You can avoid this by stuffing them in a water tight bag and shoving them down into the foot box of your sleeping bag. (I used a two gallon Ziploc in the Smokies when the world frozen over for a week.) They are still swamps in the morning but at least you can get you feet into them.
4. Compactor Bag
Line your backpack with a thick trash bag and you pretty much don't have to worry about ever using a pack cover. (I still used a pack cover despite also using a trash bag liner for insanity induced superstition reasons involving controlling the sun, but that is neither here nor there.) Shove all your gear into the bag, roll it up and its water proof, even if it gets dunked in a river! Just don't leave any thing important exposed in an exterior packet during a rainstorm.
5. Breakfast (and Morning Chores) In Bed
For those of you who have a freestanding tent, chances are that you can disassemble most of your tent before you even have to get out of your sleeping bag. Exciting right?! I carried a Big Agnes Fly Creek and along the way someone showed me that I could take down the body of the tent with out taking down the rain fly first. (See above photo) It takes a bit of maneuvering but it is an excellent trick on those mornings when you wake up to heavy rain. You can put everything you own into your pack but the poles and the rain fly before you even have to get wet.
6. Handling the Norovirus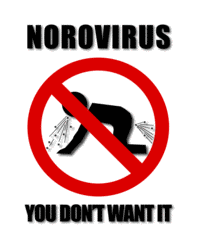 For anyone who hasn't heard of the Noro, it's a day long sickness where you violently leak form all orifices and are left feeling like a starved zombie for severl days following. It's the hiker plague. It spreads rapidly in close quarter living, particularly when the people in those close quarters live pretty dirty lives. If you should come across an out break of this heinous sickness, your initial reaction will be to hide from it: to tent instead of sleeping in shelters, to tent far, far away at that, and to avoid privies. This will work for a while but you are only staving off the inevitable. Your best bet is to drag and infected hiker to a hotel room, make out with them as much as you can, wait to be infected yourself and enjoy the comforts of being able to flush your refuse away instead of adding to the stains along the trail left behind by the casualties… It's the only way. Okay, so obviously, don't do that. But to help avoid an outbreak altogether bury your poop and wash your hands. If one arises, use stupid amounts of hand sanitizer and if at all possible wash your hands as many times a day with soap and water as you can muster. God be with you if you need this advice.
7. The Glory of Vagasil: The Miracle Whip of Chaffing
On the trail, I heard of an alarming amount of hikers who used Vagasil for chaffing. It is much more available along the trail in small towns than products like Body Glide. Once I ditched my underwear for spandex shorts in North Carolina, I never dealt with chaffing again, so I can't personally speak on the soothing attributes. But if we are going to be blunt, and thru hikers are very blunt, then one reason this product is so liked probably has something to do with its make up. Most chaffing happens in the dark nether regions down below and it isn't surprising that a very mild formula feels best on inner thighs, butt cheeks and nads rub raw.
8. Keep a Clean Butt
Butts and poop are dinner talk on the AT and you forever become desensitized to it because everyone has to do it (a lot) on the trial.  Despite how little toilet paper you may have or how exposed of a location you have to drop the kids off at, make sure to wipe your butt well! It sounds obvious and stupid but as a thru hikers you will probably talk about the status of your butt with others and its surprising how common sphincter irritation is. (See how I just worded that? That's for all you not yet thru hikers) Walking only make it worse and I've seen some bad suffering from this ailment. Also, get used to butts and poop.
9. Watch That Diet
In normal life, that means lay off the Wendy's Sea Salt Fries. On the AT that means eat more salty, high fat snacks and drink more Gatorade, sodas and beer. Eat lots of sodium. Losing all your salt really messes with your body. Many ailments can be fixed by adjusting your diet. When you are sweating out all your salt, eat more of it. When you are tired to the bone, eat more food high in protein to keep you going. Eating in general will make your life better on the AT. You don't realize that you're starving yourself until you begin to finally eat enough (which is SO MUCH more than you think it would be).
10. Frogg Toggs: Trash That is Worth The Money
I always thought rain pants were unnecessary on the AT. I just tried to keep a pair of butt covering material dry if one was wet but some times the best use for rain pants has nothing to do with precipitation. In an ever changing climate like the Whites of New Hampshire in Summer, some days you are sweating all day and the next you are shivering all day. It's unpredictable so it is best to be prepared for the worst of both sides. For just $20, I was able to pick up a pair of Frogg Togg's before I hit the Whites that played wind breaker and extra layer on top of the intended purpose of rain pants. One of the only pieces of gear that are as cheap as they are lightweight, you can chunk these guys as soon as you feel like you're in the green for good weather again or keep them for emergencies.
Affiliate Disclosure
This website contains affiliate links, which means The Trek may receive a percentage of any product or service you purchase using the links in the articles or advertisements. The buyer pays the same price as they would otherwise, and your purchase helps to support The Trek's ongoing goal to serve you quality backpacking advice and information. Thanks for your support!
To learn more, please visit the About This Site page.
Comments
2
These tips are great!!! Definitely things I look for when researching hiking tips!!

You noted: "When you are tired to the bone, eat more food high in protein to keep you going." Are you sure protein is better to counteract being tired than carbs and or fats?

My research revealed that Norovirus will wash off with soap and water but will not kill it so do not even think about rinsing in a stream. Hand Santizer will not kill Norovirus either so sanitizing and dry wiping with a disposable rag may be beneficial assuming you wipe away the virus onto the bag. Noro can go airborne also so zip that disposable rag away in a sealing plastic bag. Any hand washing should be done with vigor.