Failure Is the Path to Success
Wow I learned so much from so many mistakes. I suffered, I bled, and I had heat exhaustion while having the time of my life. I had a freaking blast. Big Bend was so much more than I had imagined and I grew up in El Paso, which in Texas is practically next door. To me it is has the same grand scale of nature that Yosemite has. The OML trail was challenging and spectacular.
On the trail in the midst of misery and pain all I could think was how cool it was I could do this. I could do this. I had a freaking blast.
We got a late start out of Austin on Thursday and got to our room in Terlingua too late to make our water drop for Sunday . There are no water sources on the trail that are reliable and the rangers wisely don't share any knowledge due to the number of rescues due to lack of water. On Friday after making our Sunday water drop we decided to carry two days of water instead of doing the two-hour trip for the Saturday water drop. That was a huge mistake we made due to time constraints and overestimating our abilities and underestimating the trail. We should have made the drop and cut our miles short or picked a beginner friendly hike. Mistake number one taught me the value of weight, how to correctly wear my pack and how to better judge our mph. I have been training with 25 to 30 lbs but hit the trail with 16+ lbs of water to bring my weight to somewhere around 43 or 44 lbs. The trail starts with 3500 ft elevation gain followed by 6000 ft drop on a rocky, rocky trail. Going down I finally figured out our to correctly wear my pack. I won't tell you what I did because I think everyone and every pack is different but when you get it, you know. With my training hikes and everything I have read I figured we could do 1 1/2 to 2 mph easy. We did 1 mph on average and we were moving as fast as was safely possible.
First night, I fell on my tent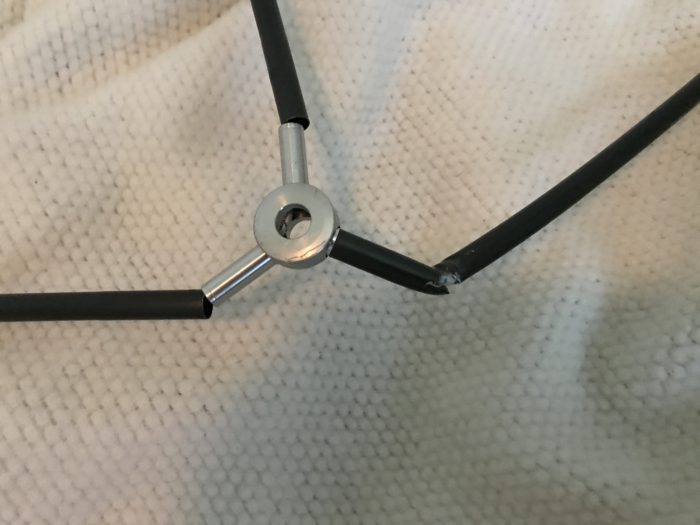 Let's see what else went wrong that first day. I lost my cell phone, fell on my tent and broke it (I temporarily fixed it with duct tape and a tent stake) but when I fell on my back pack and looked like a turtle and didn't have my hiking partner take a video of me laughing and trying to get up was the worse. It could have gone viral. I need to get better at this social media, you tube, instastuff
Second day I hiked all day in shorts and had my legs shedded by a bush we called prickly little bastard ( my pants were in my pack!). At one point I had a run in with some kind of pointy little devil that put a hole in my gaiter and my leg. The leg would not stop bleeding even with pressure so I had to dig my first aid kit out of my pack so I could apply a large bandaid. Next time besides wearing pants I will keep my first aid kit more available as my sock was bloody by the time I stopped the bleeding. As bad as my legs look the only pain I had was when I applied alcohol to my legs at camp that night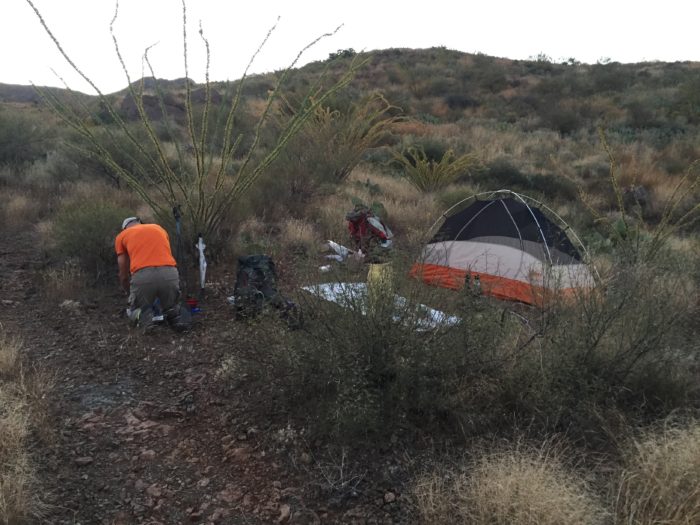 Lying in my tent that first night looking up at the Milky Way I realized that I found the prefect home for that night and as it turned out we were good in selecting camp sites as we pushed it till dusk before stopping and then leaving the next morning to find out that was the last place to camp for miles. I realized that my home of my heart is the trail.
I loved every minute of the trek. The mistakes were a huge learning experience. The Chisos Basin is magnificent. The Milky Way is absolutely awesome. Did I mention how much fun I had?
Our mistakes combined with our time frame did not allow us to complete the trail and that is a good thing because now I have to back to do it the right way. It was my first backpacking trip and I think I did really well especially in my gear selection.
Next up gear selection
Affiliate Disclosure
This website contains affiliate links, which means The Trek may receive a percentage of any product or service you purchase using the links in the articles or advertisements. The buyer pays the same price as they would otherwise, and your purchase helps to support The Trek's ongoing goal to serve you quality backpacking advice and information. Thanks for your support!
To learn more, please visit the About This Site page.