Quarantine Dreams: 11,000 Miles in 2022
"If your dreams don't scare you, you aren't dreaming big enough."
I first came across this quote in an interview I read somewhere with one of the greatest adventure athletes of all time, Heather "Anish" Anderson. She had recently completed her Calendar Year Triple Crown, becoming one of the only people to ever accomplish such a feat, as well as the first woman. At the same time, I had just finished my first thru hike of the Appalachian Trail and was beginning to feel the repercussions. These were physical, of course, but also deeply mental and spiritual. I realized that my values in life had shifted. Having felt what it's really like to live each day with purpose, waking up with a fresh mind and excitement for the unknown I would surely be facing, I found it increasingly difficult to relate to the world around me. And so, naturally, I immediately began to plan my own next adventure. 
The Second Adventure
The following summer (2019) I set out on the Pacific Crest Trail with 3 of my best friends from my first thru hike. I quickly made more friends and proceeded to have another beautiful summer of adventure and living life to its fullest. But something was different this time around, which was brought to light when 2 of my 3 starting friends decided to get off trail about 3 weeks in. The two girls (now a couple) had been struggling with a nagging question: "if we know we can do a trip like this, why are we doing it?" The two realized that what they wanted most from their summer and their savings was a new adventure. The girls immediately bought plane tickets to Alaska and ultimately spent their summer filled with different yet equally satisfying adventures.
Now sure, the PCT is a different beast than the AT, but the question is still valid and still ate at me for weeks and months to follow. I would argue that the most exciting feeling on one's first thru hike is that of the unknown. What will it really be like out there? What kinds of people will I meet? How far will I be able to hike in a day when I get in shape? Can I really walk all the way from here to there? Constantly asking these sorts of questions and in turn finding answers is what makes thru hiking so deeply satisfying. Reaching that terminus is a profoundly powerful human experience. For finishers, the answer to the question becomes yes: I can walk that far.
Hiking and Purpose
And so, with many of these questions already answered, a second thru hike can easily lose its steam. If we've already proven that we can spend a summer walking 2,000+ miles, do we really need to do it again? For many of us, that answer is no. We got the answers we needed, we made epiphanies and friends, and our adventure itch has been scratched. But for others, it can be merely a first step. Success was sweet and the journey was totally worth it, so let's keep chasing that. I felt healthy, I felt holistically connected to everything around me, I felt happy. I saw what it meant to live, and I want to continue to do that. 
After my friends left the PCT, our remaining group was left to wrestle with those same concepts that took our friends off trail. For me personally, that meant dealing with my purpose on trail, because my friends were right: I was pretty sure I could physically handle walking all the way to Canada. So, as happens with life, other challenges crept in and presented themselves. These weren't the challenges I came on trail to face, but I battled with them nonetheless. And when I reached that finish line at the border, it again all felt worthwhile. 
Another One Down
With 2 successful thru hikes of 2 of the triple crown trails behind me, the next step seemed obvious. I knew (and know) that the Continental Divide Trail was (and is) in my future. But there was another idea that was taking root that had me as excited as I've ever been to try something, an idea that still makes me as giddy as I remember being on my very first day on the Appalachian Trail: an idea that scared me.
The Christmas after finishing the PCT, I received a book written by a notable hiker, Jefferey "Legend" Garmire. In Free Outside, Legend recounts the tale of his Calendar Year Triple Crown he took on back in 2016. This was the second time since my foray into thru hiking that I found myself so entranced with such an audacious accomplishment. All three of the big trails in a calendar year, holy shit. If I thought tackling one of those trails in a year was a high, what could that kind of accomplishment do for a person?
I'd like to find out.
And I'd like to take it a step farther.
A Dream Takes Shape
After reading Free Outside, I began doing some research. I wanted a CYTC in my future, but in the meantime, without a steady job or direction at the time, I wanted to knock out some other trails. I also wanted to learn what paths have looked like for CYTCers. What I noticed is that the primary window for a CYTC doesn't begin until sometime between February and April. That makes sense, no need to be out there in the dead of winter on these trails.
Then I came across a trail that is not only possible to hike in January and February, but actually recommended. That trail would be the Florida Trail, which just so happens to be connectable to the AT as part of a greater route called the Easter Continental Trail, which connects a series of trails from Key West all the way into Canada along the Appalachian Mountain Range. 
Now here was a perplexing question: by extending the AT to the southernmost point in the continental US and north to the Canadian border, could somebody hike border to border on all 3 of the Triple Crown trails in a calendar year? 
I'd like to find out.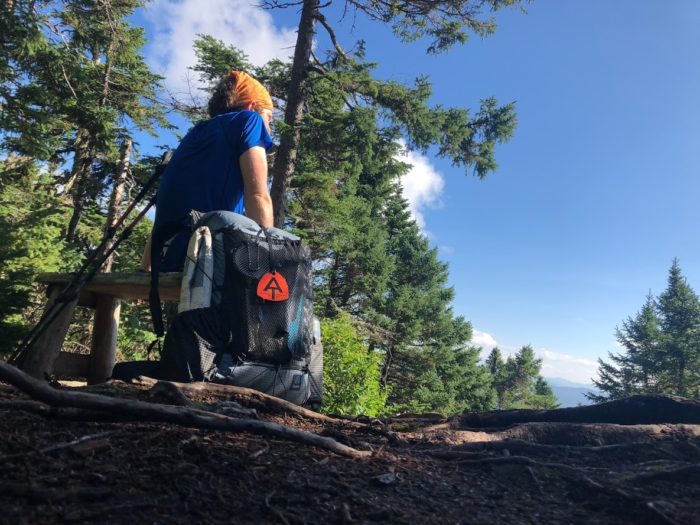 What Is the Limit?
Now that the ambition was this high, I had to see just how high it was (human nature in our modern society tells us we need to compare ourselves to others, right?). By adding nearly 2,000 miles to the CYTC, this trip (if I ever had the gall to attempt it) had to be the most ambitious in the history of modern backpacking. Well then I heard about Cam "Swami" Honan. 
Swami is another of the world's greatest modern adventurers, with an absolutely staggering backpacking resume of 10's of thousands of miles under his belt. The most notorious of these are his "12 Long Walks" which he completed between the summer of 2011 and winter of 2012. Along the way he racked up 14,342 miles during his 18 months, including 10,244 miles in a single calendar year, which I believe to still be the standing record.
What Is My Limit?
So, I found the mark. Unfortunately, it happens to still be a few hundred more miles than my own route, which I have begun to realize is one I'm pretty sure I'm going to have to attempt. Well I can't get that close without at least shooting for the record right? And I'm already being insanely ambitious, so what's a little more hiking on top of the madness? And better yet, what trail would actually be feasible to hike starting in late October? Maybe there is even one out there that could be personally meaningful to end this trip with?
As it turns out, there is: a trail spanning the length of the state where my backpacking ambitions began during my college years: The Mountains to Sea Trail of North Carolina. This 1,200 mile trail spans from Clingman's Dome in the Smokies all the way to the coast where I grew up vacationing on the beach. I believe this state will be my home some day, and it could be a beautifully fitting end to this adventure.
What's more, if I hike West from the coast, I could even continue hiking south from Clingman's Dome when I finish that trail, connecting up with the Benton MacKaye Trail, ending my journey at Springer Mountain, the place where it all started for me years ago. And to top it off, there's even the possibility of finishing this entire journey on exactly my 30th birthday at the end of December. The romantic symbolism of that timing strikes me as significant and exciting.
Mortality
Part of the motivation of attempting this journey when I am is that, well, I'm getting old. Now sure, I fully believe that my heart and spirit can and likely will be young for some time to come, but biologically speaking, I'm within a few years of my physical peak. If I am ever going to have a shot at something as objectively insane as this trip, that time is very soon. So why not now?
And so today I sit here, in my apartment in Birmingham, Alabama, feeling so removed from the hiking community and my former life of adventure I've fallen in love with, dreaming and yearning for the thrill of adventure again. And as I type out these words announcing my intent to actually attempt this trip in a mere 10 months, my heart and spirit are overflowing with joy.
I may not finish this trip. I may not even get halfway through. Hell, the whole thing is undeniably a long shot. But now is my time to try. This dream terrifies me in all the best ways, and that's how I know I'm doing it right.
January 1, 2022, I set off North from Key West in an attempt to hike 11,000 miles across 7 long trails. I invite you to follow along, and I hope I see you out there.
Affiliate Disclosure
This website contains affiliate links, which means The Trek may receive a percentage of any product or service you purchase using the links in the articles or advertisements. The buyer pays the same price as they would otherwise, and your purchase helps to support The Trek's ongoing goal to serve you quality backpacking advice and information. Thanks for your support!
To learn more, please visit the About This Site page.