On to Arizona, by Way of Zion
After finishing the PCT, I was forced to come to terms with life beyond the trail. I had accomplished what I set out to do, and thoughts of home, friends, and family occupied my brain. Obviously I missed all of those things after four and a half months on trail, but was I ready to go back? Luckily, we had arranged to spend a few nights in San Diego as a trail family before moving on to our next adventures, so I had plenty of time to sort things out in my head.
Zero Days
We spent our first night in Campo, celebrating our hikes with killer burritos and a few large beers. The next day, we caught a ride into San Diego and headed for Scout and Frodo's. They are legendary trail angels, responsible for hosting and shuttling over a thousand NOBO hikers each year (seriously, they keep logbooks!). Scout was on the AT, nearing completion of his Triple Crown, and Frodo was staying with her mother at the time, but they were still incredibly gracious and let us stay at the house anyway.
For the next three nights, Leafy's mom had hooked us up with a hotel room near downtown. On the way there, we stopped at REI to replace a few items. I had finished the trail in shoes that I picked up in Chester, which now had over 1,350 miles on them. I figured it was time to treat myself to a new pair. Several staff members chatted with us, and before leaving they gathered everyone together to congratulate us on our achievement.
Relaxing at a hotel with free breakfast and dinner, plus a free evening happy hour every day, we were in hiker trash heaven. It was the first time since beginning the hike that I had multiple zero days in a row, and I was already feeling strange surrounded by convenience and refreshment available with the push of a button.
Since linking up with the Dirty Southbound gang, we had tossed around the idea of hiking the Arizona Trail (AZT) after completing the PCT. On our last day in San Diego, I finally decided that I wasn't ready to go home yet. Kirby, Per Bear, and I started making plans to head east.
Fuck It, Let's Keep Hiking!
Five days after completing the PCT, we took a bus out of San Diego and started hitching. On the way to the beginning of the AZT, we wanted to take a few days to hike through Zion National Park. We were hoping to make it to Zion by the following afternoon, but were quickly and soundly disabused of that notion.
The first night, we didn't even get as far east as the PCT and slept in the city park in Lake Elsinore. We spent more time standing on scorching pavement than we did in cars the next day, making pitiful progress only to Barstow on the old Route 66.
At this point we were eager to get back to the comfortable and predictable life on the trail. From Barstow, we took a bus to Vegas, where we could spend a few hours on the Strip before boarding a bus to St. George, Utah. At the Vegas Greyhound station, our bus was canceled 30 minutes prior to the scheduled 1 a.m. departure. Which meant we had the pleasure of "sleeping" in the station until the next bus at 7. I rate the experience 0/10, and wouldn't recommend it to my enemies.
Within about five minutes of getting off the bus at a gas station in St. George, Per Bear secured us a ride into the park in an RV! Overnight, we had gone from the scrappy Mojave Desert to the impressive slick-rock formations on the Colorado Plateau. Along the road to the park, we drove past the venue for Red Bull Rampage. As an admitted mountain bike junkie, I had my face plastered to the window staring in awe at the cliff walls that riders were already practicing on.
We resupplied and had lunch just outside the park. It was pretty funny thinking about going on a two-night backpacking vacation from what was now looking like a six-month, well, backpacking vacation. At the permit office, we were lucky to get reservations for campsites along the route starting that day. No more waiting.
The ranger seemed a bit confused that we wanted to do the 50-mile Zion Traverse in just two and a half days, but to us it seemed like a reasonably leisurely itinerary. We caught a ride quickly in the parking lot with some climbers who somehow made room for us in their gear-stuffed hatchback and took us up to the Lee Pass Trailhead.
Zion Traverse
With the sun already setting, we began the downhill hike to our campsite just a handful of miles out. I was immediately fascinated by the new environment. The surroundings were much more colorful than Southern California, accented by the evening sunlight reflecting off the tall red walls of Kolob Canyon. Our campsite had a fantastic view, a perfect spot for our first night back on trail. Much farther away now from any major population center, the stars that night were piercing and beautiful.
We slept in but packed quickly and entered Kolob Canyon. At this elevation, there were deciduous trees growing along creeks and clustered around springs and seeps. They glowed with fall colors, a sight I had been missing dearly. My mind kept drifting to thoughts of the Grand Canyon, just 100 miles into the Arizona Trail. As the trail joined La Verkin Creek flowing between the canyon walls, I knew I was going to want to spend more time exploring the canyons of the Southwest.
The trail was quite sandy and we made pretty slow progress in the morning. After exiting the canyon, we had lunch before making our way across the high plateau toward Zion Canyon. We started seeing more parties of backpackers, each one clearly enchanted by this stunning park just as I was. Near Wildcat Canyon, we saw two hikers who were just finishing the Hayduke Trail. It joined my list of trails to hike before our conversation was over.
Across the plateau, we arrived on the West Rim as our shadows stretched out in the evening light. I devoured half a bag of chips while staring out at the canyons spreading below me like giant cracks in the earth. We gathered some water at Potato Hollow, then began the last five miles in the dark.
Despite the intensifying wind, it was one of my favorite night hikes. I heard all kinds of small critters skittering about, and the stars were nearly bright enough to light the way. I spent some time with the headlamp off anyway, just to feel closer to the night. Our beautiful campsite offered some shelter from the wind, and I fell asleep that night so glad that I decided to keep on hiking.
Angel's Landing
It was an early start the next morning, since we were hoping to beat the crowds to one of Zion's main attractions. The descent into Zion Canyon was impressive and beautiful. We descended switchbacks blasted out of the walls, then wound our way out onto slick-rock mesas before dropping another level. The entire trip to Angel's Landing was downhill, and as we got closer I got my first impression of just how gnarly that hike was going to be.
The half-mile spur trail along a narrow outcrop is worth a trip to Zion all on its own. While it wasn't peak volume, there were still plenty of people already up there, causing a few delays at extremely narrow points. I maintained a steady grip on the chains all the way out, but the vertigo was all worth it at the end of the trail. The view from Angel's Landing is absolutely one of the finest sights a person can lay eyes on. Plan your trip to Zion right now!
I had cookies for lunch before descending to the river to finish our hike. Yep, just cookies. Going down Walter's Wiggles we passed even more people going up, so we definitely avoided the peak crowds. Not ready to leave the park just yet, we took the shuttle bus up the canyon to the end of the road. We got to wash socks and feet that were caked in sand before heading back to the visitors center to try to get a ride.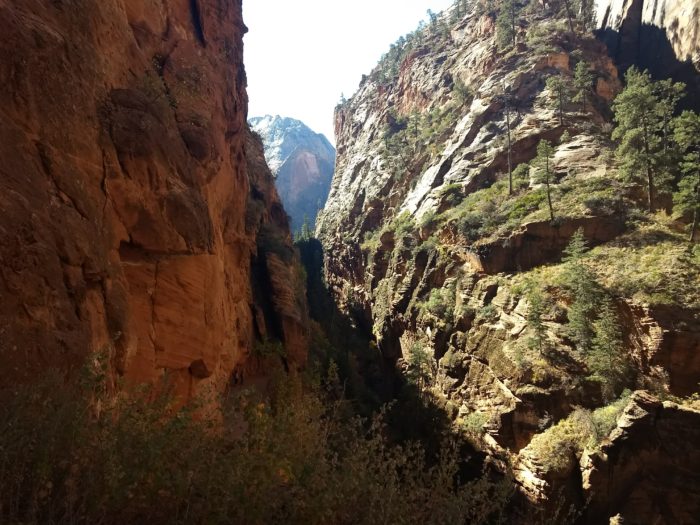 Zion is one of the few national parks that allows hitchhiking. After only a brief wait, we got picked up in a Hummer leaving the park. Never thought I'd catch a ride in one of those! The couple driving were from Palm Springs, near Mt. San Jacinto, so we had some fun conversations before they dropped us off. The plan was to get to Page, Ariz., for resupply and then we would figure out how to get to the trail from there.
We got our ride to Page, arriving about an hour before the Walmart closed. Looking at the Northern Terminus for the first time, we realized that we had to go almost an hour back the way we had just come to get to thetrailhead. We could have just resupplied in Kanab, Utah, and gone straight to the trail! Instead, we slept in an arroyo behind the Walmart in Page to the sound of howling coyotes. How did my life get so glamorous?
We made our first tracks on the AZT the following day. It had been ten days since we arrived at the Mexican border on the PCT, and we were on our way once again to go see our neighbors to the south.
Affiliate Disclosure
This website contains affiliate links, which means The Trek may receive a percentage of any product or service you purchase using the links in the articles or advertisements. The buyer pays the same price as they would otherwise, and your purchase helps to support The Trek's ongoing goal to serve you quality backpacking advice and information. Thanks for your support!
To learn more, please visit the About This Site page.