AZT Day 33-36 (mile 402.6-462.2)
Day 33: 18.4 miles (stealth site, mile 421)
Today was a good day! It was Truffles 28th birthday so it was fun to celebrate him by doing something that we both love. The morning was chilly when we initially got out of the tent, but we warmed up quickly on the first uphill section of the day. The trail followed a stream bed and we cross crossed over the creek several times, even scaling a small waterfall as we made our way north.
We went in and out of the Mazatzal Wilderness all day, we have began calling it the "Mazel Tov's". The higher we climbed, the better the views became. We stopped to take pictures and to enjoy the scenery. It's nice to see something other than desert and saguaros for a change! The trail kept going up and eventually we were back in a lush forest with more alligator junipers and ponderosa pines. I have loved the high elevation forests because it makes me feel like I'm back home hiking through the Smokies. The biggest difference is the dramatic rock outcroppings and sheer mountainsides.
We went up and down the rest of the day. We saw a tiny amount of snow that somehow had yet to melt, and Truffles tried to ambush Radiator with snowballs. We stopped for lunch on a shady ridge and tired to nap, but the wind made it almost impossible to stay warm. Water through this stretch was sparse at best, and we had our sites set on Bear Spring. FarOut comments made it sound sketchy, but when we got there we all decided we would rather go thirsty than to drink from the murky, sulphuric smelling water.
Thankfully we found a still flowing stream just a couple miles from the nasty spring. We cameled up and hiked the rest of the way into camp. The last mile or so the trail became littered with rocks and it was slow going. We found a couple decent tent sites just before a creek half a mile before our intended campsite and decided to call it a day early. This gave us just enough time to set up camp and eat dinner before it grew dark.
Day 34: 14.6 miles (Brush Springs, mile 435.6)
We are finally back into the trees (kind of)! The landscape has shifted dramatically throughout this section, we are no longer in the desert. Maybe we're technically in a high desert because we're still seeing a lot of different plants we saw further south (prickly pear cactus, hedgehog cactus, yuca, etc), but we are definitely weaving in and out of a forest. We've passed lots of different pines and oaks, and things are finally starting to look green.
We planned a fairly easy day that allowed for plenty of time to lounge around during long breaks. The wind kept us up part of the night, and we were glad when the sun finally peaked over the ridge and started to warm things up. We hiked uphill for the first several miles before coming to a rock outcropping with views into the valley beyond. We decided this was the perfect spot for a break and proceeded to lay out in the sun and snack.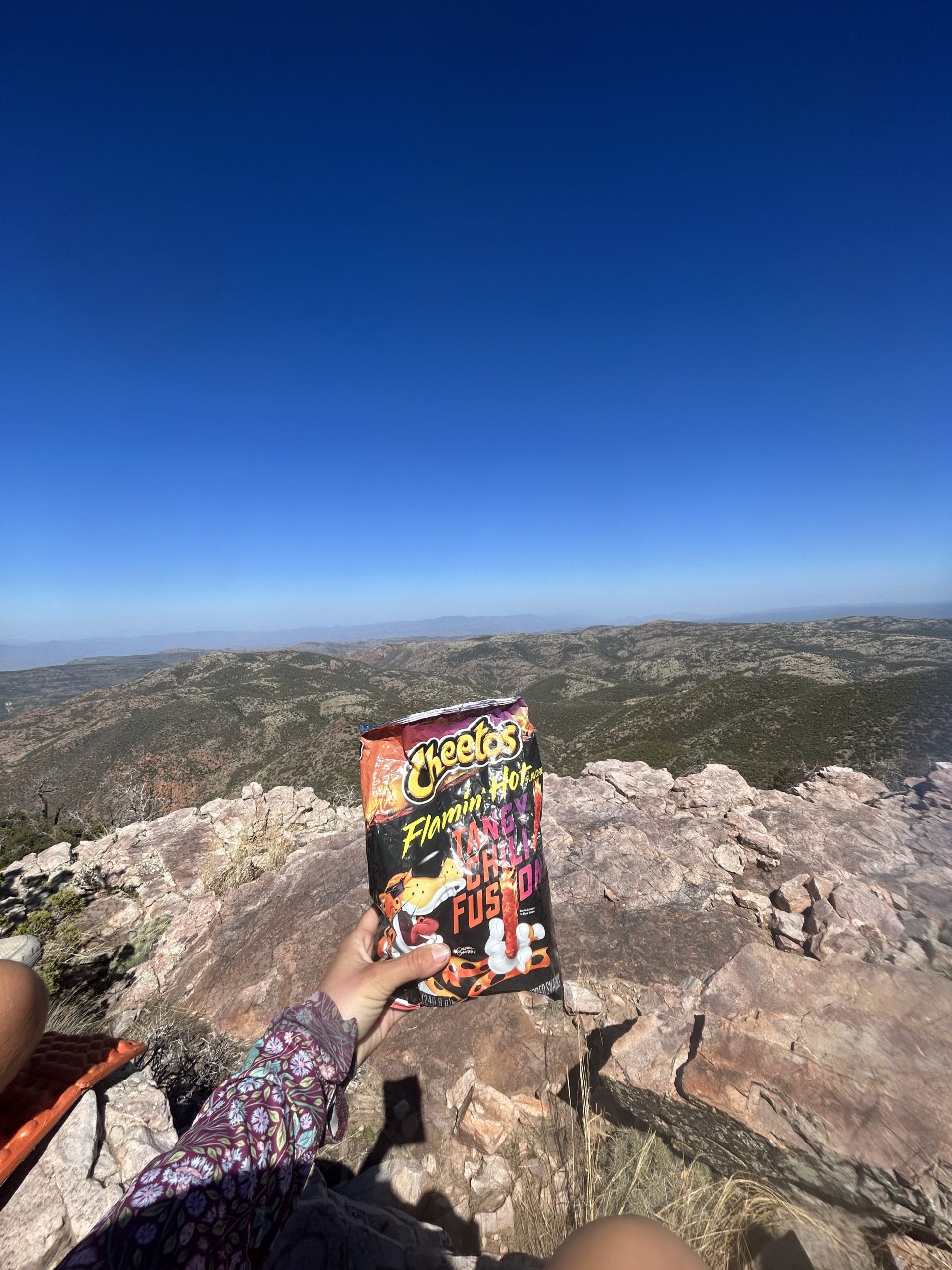 Most of the day was spent walking over rocks and trying not to trip. We went up and down a lot today, working hard enough on the uphill to break a sweat and cooling down enough of the descents to consider breaking out an extra layer. I downloaded a new podcast and listened to that most of the day. We had clear views along the ridges and tried to soak in the scenery as much as possible.
The water situation today was less dry than yesterday, we passed over plenty of still flowing creeks. The comments on FarOut have been an invaluable tool when it comes to planning ahead for water carries. We cameled up at a water source just before lunch and found a shady spot in the pines to relax for a while.
Our last push for the day took us up and over a hill and dropped us down into a wooded valley. The views from the top were beautiful, the sharp contrast in colors just made it all the more vibrant. The yellows of the grass were set against the red dirt, the green trees looked painted against the blue sky.
I really enjoyed the afternoon until the descent got steep and rocky. We carefully hiked the last couple miles into camp. Our campsite for the evening was lovely, there were multiple flat spaces all in the shade of a towering oak tree. A stream ran through camp, and there was a freshly cleaned fire pit ready to be used. Truffles got a fire going while we ate, and he grilled a packet of cubed Spam over the fire. We retired to our tents before the sun went down and the temperatures dropped.
Day 35: 15.2 miles (stealth site, mile 450.8)
Today felt like just another day. We woke up with the sun and were hiking by 7am. I thought most of the morning would be spent going downhill to the East Verde river, but I was wrong. We went up an awful lot to then just cut right back down the mountain to the river. It was cool this morning (Radiator said it got to 34 degrees last night), so it was nice to warm up right off the bat with a climb. Thankfully the grade was gradual, we were rewarded with cell signal at the top.
After the initial ascent the trail took a turn and shot us straight down the mountain. I had the realization today that although the mountains are starting to look green, it's not actually trees. It's mainly just shrubs. We've seen plenty of pines and other conifer trees, but they haven't been as plentiful because of all the fire damage in the area. I loved walking through the green shrubs, but it just made me miss the long green tunnel I'm used to at home. We did get to see more wildflowers today, they've been sparse since we've been in the Mazatzals.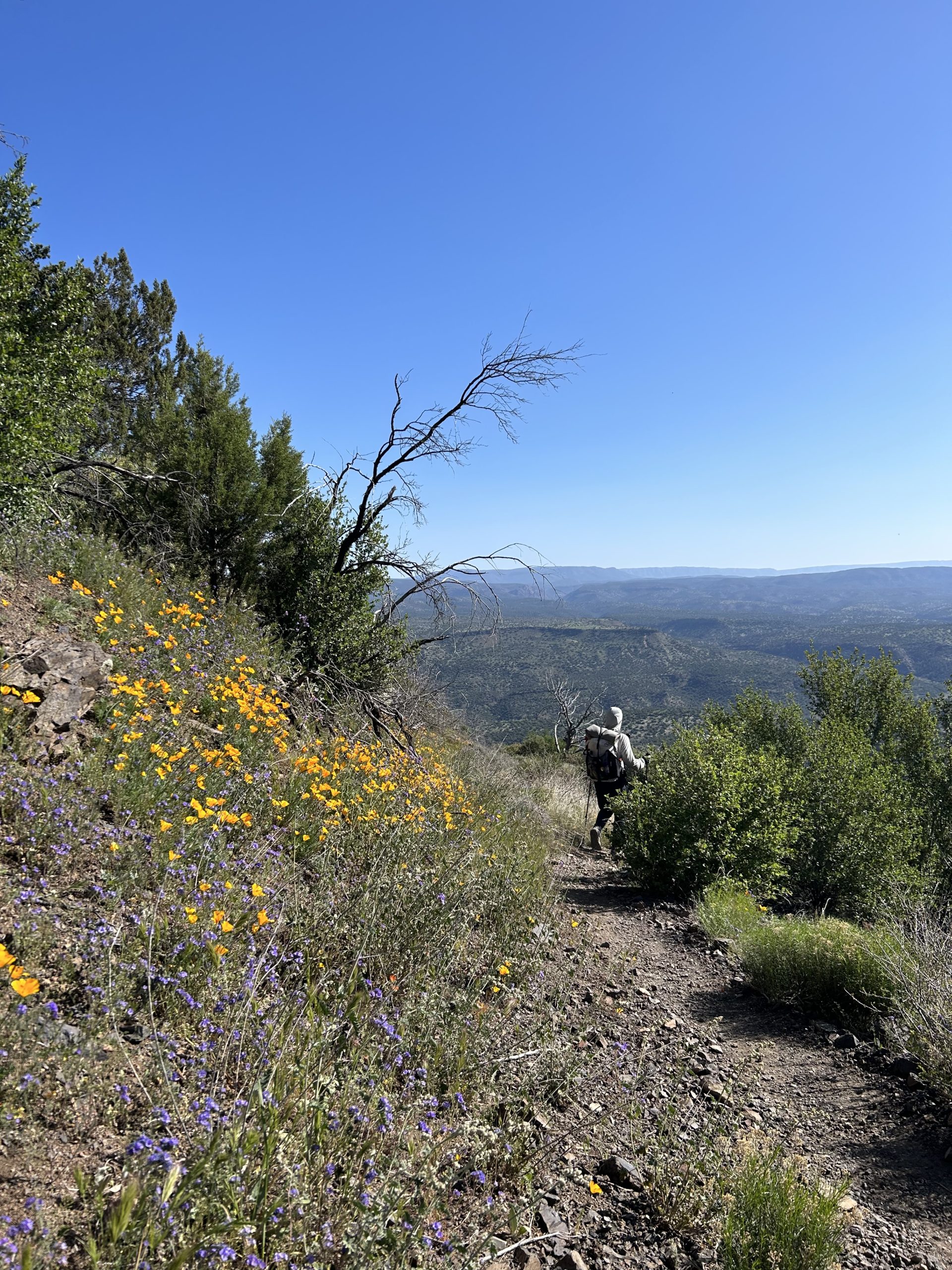 We finally made it down to the river and were happy to see the water level had receded significantly. Some of the comments on FarOut made it seem like the river was nearly impassable, but more recent comments encouraged that waders would only get waist or thigh deep. We picked out a shallower looking section and set off one at a time. The water was cold but the shock passed quickly. I used my poles to ensure I had solid footing and slowly made my way across. The water got up to my knees and I pulled my shorts up higher in case it got to my thighs. In the deepest section the water was several inches above my knees, but thankfully I managed to stay dry. The current wasn't storing and crossing was very easy. Truffles and Radiator followed suit and soon we were all on the other shore drying off in the sun.
Since we had easy water access and plenty of shade, we decided to take an early lunch by the river. We relaxed and ate and managed to waste an hour or so before we finally got moving again. The rest of the day was mostly uphill or ridge walking, but the first climb after the river was short and steep. I followed Radiator up the rocky hill and decided to push ahead once the three of us crested the ridge.
I hiked hard and fast for the next few miles. I was listened to to podcast and zoned out during most of the afternoon. The terrain on the ridges was relatively flat, but there were plenty of rocks to navigate around. Our plan was to fill up with water at Rock Creek and then hike until we found decent campsites. We made it to the creek and couldn't find any still flowing spots, but there were still plenty of pools of water to scoop up. We all were loaded down with water and managed to hike another mile or so before we found some non rocky flat spots in the middle of what we decided was a cow pasture. We dodged cow paddies while setting up our tents and ate an early dinner in the shade of a juniper tree. Excited to go to sleep early again tonight.
Day 36: 11.4 miles (Pine, 462.2)
Town day! Our goal was to be able to eat multiple meals in town, so we tired to leave camp early. We goofed off a lot this morning and managed to leave at 7am, our typical departure time. We had camped on a ridge, but still had a little bit of elevation to gain over the first few miles. The uphill was gradual and we were able to make good time as we cruised up the hillside. We were greeted with mountain views when we reached the top.
We rolled over the ridge and tried to keep moving. I fantasied about breakfast food, and that was my motivation to keep moving. Thankfully we had gathered plenty of water at the water source before camp last night, and we had enough to make it into town so that we didn't have to stop and filter more water. We crossed the Mazatzal boundary for the last time and celebrated with shots of peanut butter whisky and cheers of "Mazel Tov"!
We descended slowly over several miles and the trail switched between dirt track and rocky trail. The closer we got to the town of Pine, the more pine trees we saw. The further north we go, the more conifer trees we've seen. The trail leveled out and we walked in a valley for a short distance before turning uphill yet again. This was our last bump before town!
After going up and over the last hill, our final obstacle was a creek crossing. FarOut comments from previous weeks said that the water level was high, but we were able to rock hop across without getting our feet wet. Some dogs from a house close by even came down the creek to sniff us and help us across the water. From there it was less than a mile to AZ Hwy 87 where Pimento was waiting with the car to shuttle us to town.
Our first stop back in civilization was The Early Bird Cafe where we got hiker sized portions of delicious breakfast food. We ate our fill and headed to the Ponderosa Market for resupply. While Radiator shopped Pimento, Truffles, and I went to the Pinewood Tavern for drinks.
Our last stop in town was to That Brewery. We ran into several other hikers and spent a while trying their variety of brews and ate a late lunch. When we finished, the four of us piled back in the car and drove back to the trailhead.
When we were in Superior a few weeks backs, we got news that the northern rim of the Grand Canyon was closing until June because of snow. That report came amongst many other Facebook posts on the AZT page from hikers that were slogging through snow and mud further north on the trail. People were scrambling to find snowshoes for goodness sakes! Pimento, Truffles, and I decided that we didn't want to hike through mud and snow, so we made the decision that we would quit in Pine. I'll be writing a separate blog post about this decision and my feelings about not finishing a thru hike. I say all this to say that today was our last day on the AZT.
Radiator made the decision to keep hiking north with hopes of reaching Flagstaff (hopefully even further). The three of us drove him to the trailhead and said heartfelt goodbyes. We had hiked with him since the first day, it was going to be weird to not see him evermore and hike behind him each day. We wished him luck and parted ways.
Now what? We've decided to take the scenic way home and will road trip through northern Arizona, Utah, and Colorado on the way home. We will be making a very special stop in Colorado, I'll have a big announcement coming soon about this endeavor! Thanks for following along on my adventure in the AZT. I don't think this is the end of the trail, we've still got about 350 miles to complete from Pine to the northern terminus before I can check it off the list.
Affiliate Disclosure
This website contains affiliate links, which means The Trek may receive a percentage of any product or service you purchase using the links in the articles or advertisements. The buyer pays the same price as they would otherwise, and your purchase helps to support The Trek's ongoing goal to serve you quality backpacking advice and information. Thanks for your support!
To learn more, please visit the About This Site page.