CDT Day 61-69: Flying High
CDT Day 61

Warm morning. Beautiful sunrise.
It's cold walking in the shadows of the mountain.
Until I start climbing. There's an alternate that will allow me to go over five 13ers in five miles. Am I taking it? Hell yea. I run into another hiker, Snickers, just before the cutoff for the alt so we traverse it together. It's beyond amazing.
Steep climbs and descents, bouldering, a little climbing and navigating.
So much fun.
There's nothing better than peak-bagging.
We finally end up back on the CDT and make out way down to the highway, which is literally bumper to bumper traffic heading south.
Everyone we saw in Grand Lakes yesterday heading back to Denver after the holiday weekend. For once, walking is a faster mode of transportation. Luckily the traffic heading north is non-existent and I quickly get a ride down to Winter Park where I take the free bus to Fraser to resupply. I run into Graham, a fellow thru-hiker who I haven't seen in awhile, at Safeway and we hitch back to the trail together. We do another five miles in the evening up to some amazing ridges walking with the best sunset.
We find water just as it's getting dark and set up camp. The moon is so bright. I'm full for once from eating and packing out town food. It's freezing, camping in a valley, but at least I'll probably sleep good. I even have some white noise from some nearby power plant.
CDT Day 62

Cold night, but surprisingly I wake dry. The morning starts with all the climbing and all the views.
It's hazy, but I don't know of any fires nearby, so not quite sure what it's from.
After climbing all the ridges, it's a massive descent down to the highway.
Cross under that and walk a few miles on a paved bike path.
Feels weird. Then it's a steep roadwalk up to the trailhead for Grays and Torreys, two popular 14ers. Lots of day hikers leaving. It's weird to be around so many people all the sudden when we have mostly had the whole trail to ourselves. It's fun people watching. People are hilarious. I load up on water because I won't find anymore until tomorrow afternoon. Which means a heavy pack for one of the steepest climbs on trail. Ugh.
We start the climb up and by the time I summit both 14ers, I can't see another soul around.
Perks of peak-bagging in the evening.
Then it's a fun ridgetop walk with some steep drop offs on either side.
I love this kinda stuff.
It's very slow going though with all the elevation and I don't make it to camp til sunset.
I'm camping above 13,000 feet so it's a little chilly, but the clouds and wind seem to have died off so I might just have an ok night.
A cold night on a ridgetop is better than a cold night in the valley. At least I'll have the sun hit me first thing in the morning.
CDT Day 63

Sunrise is epic!
So worth camping up high! Today starts with an alternate route: The Argentine Spine. Apparently it used to be the official CDT years ago, but for some reason, they changed it to drop down to the valley and do a boring road walk. No thanks. The spine follows the ridgeline for miles and has some fun bouldering and nativagiting.
And some epic views.
I'm so thirsty after having to haul so much water up and over all the steep climbs yesterday and since I'm up high, there is no chance of water. But at one point in the morning I see what looks like a small puddle off the trail a bit when I am passing through a saddle and sure enough, it's a little flow of water!
The day consists of endless ridgewalks, big elevation climb and loss, steep climbs, and all the views.
I see some cool old mining equipment.
And tons of mountain goats!
I keep feeling a few raindrops throughout the afternoon, but nothing comes out of it. I'm smoked after a few hard days of rocky terrain and lots of climbing. But it has been so worth it.
I would rather work my butt off all day and have this kind of scenery than have it be easy with nothing to see.
I think I'll sleep good tonight.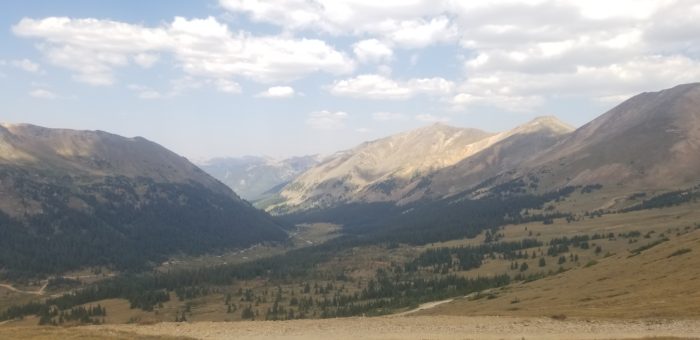 CDT Day 64

It's almost a full moon and it's soooo bright. I almost can't sleep, but it gets really cold and I pass out and sleep hard. I wake to frost on my tent. Yikes. I've got a big climb over a big mountain today.
The views on top are rad and I can see both Breakenridge and Copper Mountain below me on either side of the mountain.
I make my way down to Copper Mountain Ski resort. The resort is right off trail since the trail runs right through the ski runs and they keep some of the restaurants open in the summer for the mountain bikers and other random tourists that frequent the mountain.
It's pretty chill. I am more than out of place with all the rich mountain bikers and golfers, but I'm so used to the looks I get now as I walk though touristy areas covered in dirt, it doesn't even bother me. I find a comfy chair in the shade by an outlet and I post up to charge my devices and grub down. The loaded nachos are actually big enough to fill me up.
Rare occurance. I hang out for a couple hours and hit the trail full of energy.
For about an hour… then my stomach reminds me that I can't process food like cheese and meat anymore and the rest of the evening is a little rough. I might have to start rethinking my town food choices, it seems my body is only able to process trail food at the moment. I find a meadow above treeline to camp, risking the cloudy sky.
It gets cold fast and I scold myself for forgetting to dry out my tent and sleeping bag in the sun while I sat at the resort. For all the hiking I've done, you would think I would be a little better at this. I shake off the ice and reason that at least the sun should hit me in the morning first thing to warm me up if it's a cold night. Assuming the clouds move out…
CDT Day 65

It's a beautiful morning.
I have a relatively easy 15ish miles to the highway where I hitch into Leadville, the highest city in North America!
I am instantly in love. The main street is full of all the old buildings.
It's a bit touristy, but still feels like a local small town.
The side streets are full of all the tiny old houses the miners lived in. Leadville is known as a big outdoor community and it shows. I drop one of my trekking poles off at a gear store to get a new tip put on. The owner said she doesn't have any tips in stock, but she will pull one off another pole. People are awesome. Lunch is obviously a priority and I have so much fun people watching all the super touristy people and influencers with their snazzy cameras.
Then I head over to Melanzana, the makers of some of the top UL sweaters in the outdoor industry. You can't order them online and they only sell them in their one store in Leadville and you have to have an appointment to buy one. And appointments are currently booked a month out. But I've heard they occasionally let thru-hikers just show up and get one. And sure enough, I'm in luck! I guess I look trashy enough and the guy manning the counter lets me know I can get one. The only colors in my size are grey and burnt orange. The orange it is! And it is seriously the comfiest thing I've ever worn. And so warm!
I head up to the hostel, the only cheap place to stay in town. Their bunks are booked, but they let a few of us camp in the backyard. A shower and laundry never felt so good. I hang out with some other hikers and a bunch of mountain biker kids and their parents who are in town for a high school race. Eventually I borrow one of the bikes and ride down to the store. After not riding a bike in months, it feels like the hardest thing ever. Apparently I only have hiking muscles at this point. I cook up some dinner at the hostel and enjoy the homey feelings of lots of great outdoor people hanging out and getting to know each other. I curl up in my tent and go to bed happy and surprisingly pretty warm for being above 10,000 feet!

CDT Day 66

I sleep well despite waking up to fireworks at one point in the night that were gunshots in my dream and had me wake up in a slight terror. I try to sleep in, but when I hear the other guys packing up, I give in and get up.
Hot coffee is already made inside and I toss a microwave breakfast skillet with some leftover salad, OJ, fruit, and a donut and enjoy eating my breakfast at an actual table… inside… not freezing my butt off. It's the little things.
I pack up and head downtown walking into a beautiful morning.
I walk by a coffee shop that is owned by a couple former thru-hikers and see Stash, a hiker I've been seeing off and on the past week or so and a couple other hikers sitting outside. I join them and we chat about trail stuff. I love the ability the trail community has to give you instant new friends and to normalize sitting down and talking to people you don't know and finding out all about their life. I wish real life was more like this. I suppose it's our obvious contrast to the real world that allows us go be drawn together so easily and the fact that we all have something in common, that we're hiking the same trail. But it just makes me think, how awesome would it be if it was normal to walk up to strangers all the time and find something in common with them and get to know them.
Eventually I pull myself away from the hiker hangout, run down to the post office to mail my old sweater home since I have my new amazing Mele and grab my pole from the outfitter, which they didn't even charge me for! Trail magic!
I walk towards the outskirts of town and get a ride instantly back up to the trail. I cruise through most of the day. The CDT joined the CT (Colorado Trail) a few days ago and the trail had been pretty dreamy since then. It's a much better graded trail and way more popular. I hiked the CT two years ago so I've been having tons of deja vu moments the past couple days since I've already hiked this section. Feels like home!
By the end of the day, the trail gets dark and quiet since I'm mostly in the trees. It could be creepy, but I love hiking at this eerie time of day. It feels so comforting to have the woods all to myself. I find a place to camp after sunset. It's already cold and the weather forecast said it's supposed to get below freezing tonight so I bundle up and hope since I'm away from a water source I will be a bit warmer. I stuff my face with all the random food I acquired from the free stuff at the hostel that others had left. Ramen, salad mix, chips, and a beef stick in a hot dog bun. Not bad. And lots of trail mix and Lucky Charms. Mmmm, I forgot how good Lucky Charms are.
CDT Day 67

Coolest morning yet. Holding my hot coffee is the only way to keep my hands from stinging. So thankful for my new Mele hoodie when I start walking.
Keeps me so warm. I have an easy morning and make it town to Twin Lakes.
There's a little store here and a hotel and restaurant and that's about it. After I buy my resupply, I sit outside the store and talk to an old local and he tells me about how much the area has changed in the last few years with house prices skyrocketing and all the Denverites discovering the area. It seems a lot busier than when I was here two years ago when I did the CT so I would have to agree.
I have a long walk along the lakes.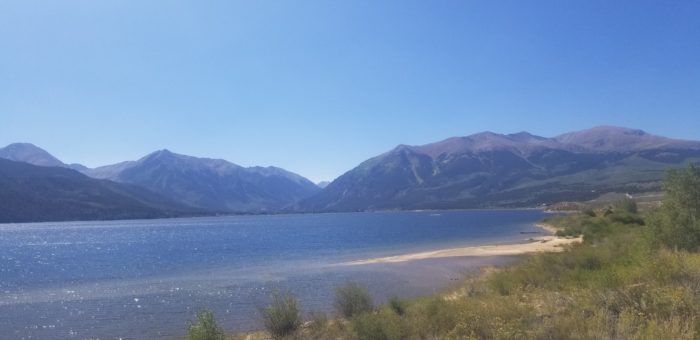 Then I start climbing. The CT and CDT split here and the CDT takes the West Collegiates route and the CT takes the East Collegiates. But when I did the CT previously, I took the west route so I figured I'll take the east route this time to see something new. The trail is quiet once I get away from the lakes and is full of pretty cottonwood trees.
It's very soothing.
Eventually I drop down into a beautiful valley with a reservoir and a meandering creek that feeds it.
I find a place to camp a little above the water hoping that will help keep me a little warmer. Although I'm camping below 10,000 feet tonight so that should help a lot too.
CDT Day 68

Brrr. Another cold morning. Definitely feels like fall. I have a massive climb to warm up. And then another. I meet a couple hunters. One of them just shot a bear! He's packing it out and it doesn't look light. I make a spur of the moment decision to take a side trail and climb Mt. Harvard, a 14er. It's not the standard route to climb it so I have the whole trail to myself. Well there's actually not a trail the whole way so I get to chose my own route. It's so much climbing.
I'm smoked when I get to to the top. And then I realize it's not the top. Of course there's a false summit. There's always a false summit. There are actually like four on this route. I get to do a lot of bouldering which is fun and some scrambling and finally make it to the actual top. There's an ammo box with some summit signs and I awkwardly try to get a selfie with both me and the sign and a view.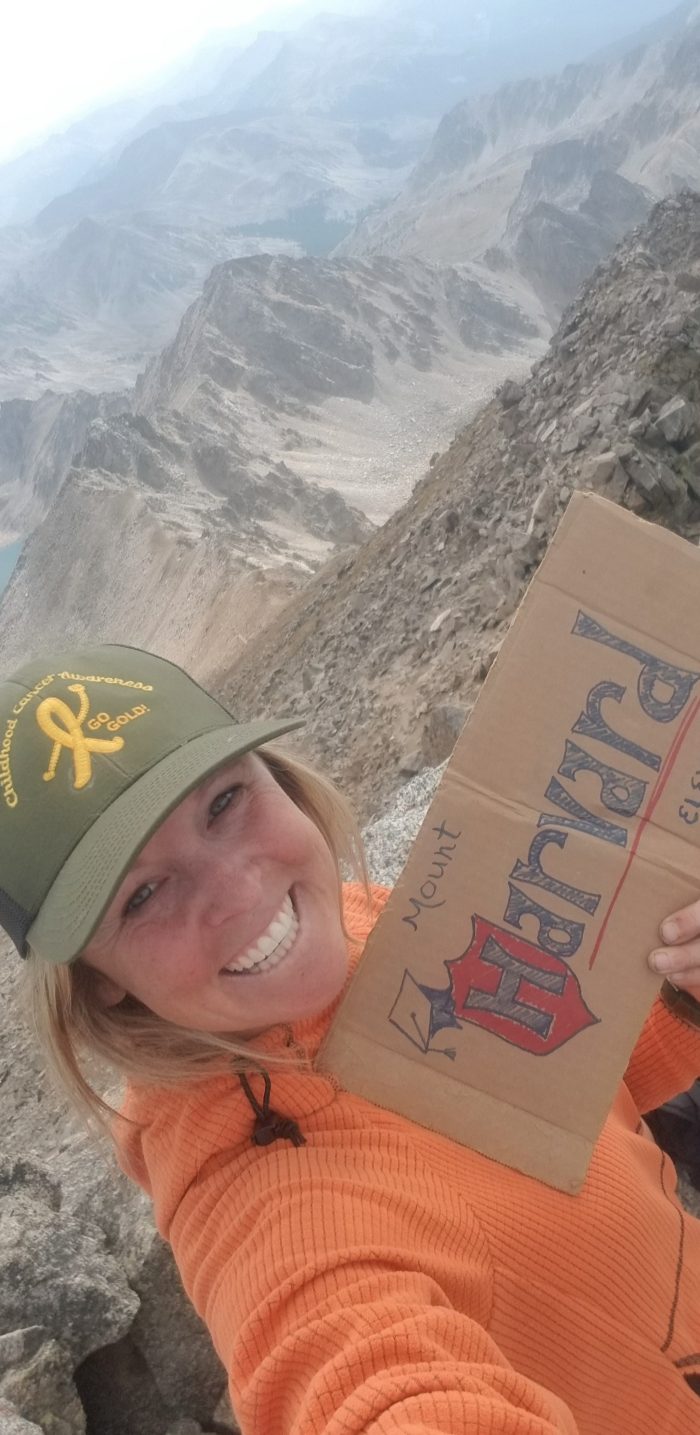 Not so easy.
Speaking of which, the views are stunning.
I don't stay long on top because I know it's gonna take me a while to get down with how steep and loose it is.
On the way down I see a few fat mountain goats. They look like polar bears as they run away from me, so funny. I finally make it back to the actual trail and grab my gear that I had hid behind a log before I started. No reason to carry extra weight if you don't have to. I kept my food with me though because the last thing I want is for a bear to steal my food while I'm out here. Luckily all my stuff is still there and I push on another four miles and find a place to camp. I'm smoked. 14ers will do that to ya. A herd of moose run by my campsite, at least 10 of them, so cool! The sky is slightly cloudy and the wind picks up when the sun sets. I think a front is moving in tomorrow. Praying I dont get drenched or worse, snowed on!
CDT Day 69

Brrrr. Colorado mountains in September are amazing. Honestly, I think it's the best time to hike here. Bugs are mostly gone, and thunderstorms too. Way less tourists after labor day. It's warm during the day, but man are there some chilly nights! Until I get snowed on… then it will probably suck really bad.
I get warm once I start moving though and a massive climb really warms me up. And the views from the top don't hurt either.
Then I start passing trailheads and actually seeing people. Hikers. Dogs. Cars. I run into a group of mountain bikers and we keep passing each other back and forth for the rest of the day. Two of the guys are really good and I stare in amazement as they zoom through the technical terrain. The other two are not so good and I feel bad watching them struggle as I walk faster than they ride. These trails are hard enough to hike. I can't even imagine trying to ride them.
Eventually I pop out on a road and walk down to Mt. Princeton Hot Springs, a fancy little resort town that is known for their hot springs. Obviously. A dog tries to follow me out of town, but eventually the owner drives by and he follows the car. Dang. Almost had a trail dog. The canyon walls are stunning and it's fun to think about what life must be like for the people who actually live here, with these mountains right in their backyards.
I have another big climb to get out of the canyon and then it's cruising along a nice trail as I watch the clouds roll in darker and darker and feel the occasional rain drop. Being on the east side of the mountain range, I am in a high desert environment and I feel like I am back home.
I find a place to camp and kick some dried cowpies out of the way to set up my tent under a tree in case it starts really raining tonight. I'm hoping the storm holds off until tomorrow when I will be sleeping in town, but we'll see.
Affiliate Disclosure
This website contains affiliate links, which means The Trek may receive a percentage of any product or service you purchase using the links in the articles or advertisements. The buyer pays the same price as they would otherwise, and your purchase helps to support The Trek's ongoing goal to serve you quality backpacking advice and information. Thanks for your support!
To learn more, please visit the About This Site page.