Day 20 & 21 Superstitions
Day 20
I got up "hiker late" again today. I slept a little fitfully at first because my right foot was so sore it would wake me and then no idea why the fitfullness continued. I'll have to start taking ibuprofen (good old vitamin I) until my next zero and new shoes arrive in Pine (next town). One thing that was different this morning was my tent was covered in condensation. I did notice the area I was camping was a bit more grassy, similar to the dry grass you would see on a southern bald. This is only the first time I've had a soaking wet rain fly to deal with. On the AT it seemed like this was an everyday issue, however I wasn't worried because there was unlimited amounts of sunshine on the AZT. So I stuffed my damp tent in my bag and headed out.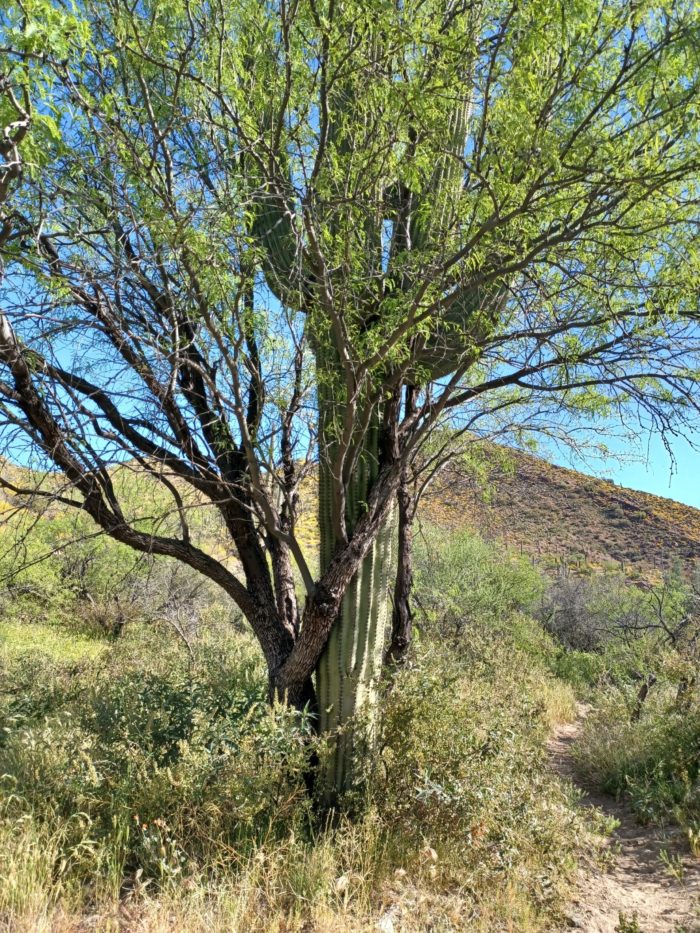 The trail ahead was full of clear creeks and rolling hills. I knew today would be tough as I would ascend the Superstitions at the end of my day (of course!)… nothing like a big climb in the heat to end the day. The trail followed some rough 4 wheeler type roads and since it was Saturday, lots of people were out and about. I got off trail again and had to backtrack when I missed the 3 pebble cairn signaling me the trail was leaving the dirt road and veering back into the woods. It seems like I had Farout open in my hand constantly except in this one spot…erg.
I knew water would be plentiful at the top of the first ascent so I didn't over burdern myself with extra liters. I was glad I didn't as this climb had much less switch backs than usual. It started to feel like I was home again, huffing and puffing during a steep up. The sun was bright but the heat was manageable. I finally made it to the first ascent and had a flat walk for a bit while more off road vehicles passed. Everyone wanted to know what I was doing and about the AZT. One kind lady asked if I needed anything but I was keen to get going as I had another up to conquer.
I made my way up, the second climb being nowhere as tough as the first. The loose gravel did make the steep section slippery, luckily no big shell shock moments. I quickly chatted with another hiker whom I had met in Kearny and will likely see her again soon. I made it to a camp spot just short of the next water source. I had enough water to get me through the night and I knew there weren't a ton of camp sites at this elevation so I took what I could get. I also didn't want to go too much further so I could time my arrival at Roosevelt Lake to pick up a mail drop monday.
As I was setting up some deer, a mama and baby came strolling by. I haven't seen many deer on this trail. They looked more gray than brown like the ones you would see on the AT. I had a nice quiet night enjoying a big backpackers pantry meal! Eating in the heat is starting to get easier!
Day 21
I set off for my second and final day in the Superstitions. This day had some climbing but not nearly as much as the day before. The trail was quiet and I was able to refill my water quickly. The terrain was moderate but I lost the trail a few times due to a very large down tree, a few social trails and one large field without any markers, cairns or visible enterance back into the wooded area. I tried not to be too frustrated with the lack of markers in this popular hiking area.
I passed a few groups that were on weekend backpacking trips but I did not see anyone else clearly hiking the AZT which is surprising. I normally run into an AZT section or thru-hiker atleast once a day. However I'm sure they will turn up near town. Towns always seem to bring thru-hikers together.
I happily tucked into my food bag as I knew I would be getting a mail drop at a small convenience store at Roosevelt Lake tomorrow. This portion of the trail has a fairly long stretch between nearby towns, most hikers chose to stop in either Kearny or Superior then again 193 miles later in Pine. This long stretch requires hikers to carry about 8 or 9 days of food depending on how quick they are. Most don't prefer this because you have to hike the Superstitions (which are tough) during the beginning of your long carry so it's even tougher. Luckily there is a marina (crazy right??) that you will pass about halfway where you can get a mail drop at the convenience store. A lot of people opt for this to lighten their load. This was my plan for tomorrow.
The afternoon was hot but not unbearable as I began my last climb. I finally reached the high point (High staddle I believe it was called) and stopped to take one last look at the Superstitions. It had been nice but I think I might prefer the more southern mountain ranges like Rincon or Santa Rita. I also got cell service for the first time in days! I had a quick chat with Eric to confirm my mail drop arrived but needed to keep it brief to preserve phone battery.
I waved goodbye to the Superstitions and made the descent back into Sagauro territory! I camped at a nearby creek with many green giants looking over me. While in the Superstitions many of the plentiful wildflowers disappeared, I am hoping to see them again soon. I miss their gentle touches on my arms and legs leaving puffs of yellow pollen as I walk by.
Affiliate Disclosure
This website contains affiliate links, which means The Trek may receive a percentage of any product or service you purchase using the links in the articles or advertisements. The buyer pays the same price as they would otherwise, and your purchase helps to support The Trek's ongoing goal to serve you quality backpacking advice and information. Thanks for your support!
To learn more, please visit the About This Site page.