Day 6- Raining Caterpillars
Being camped at a trail junction near a parking lot is always interesting. John heard someone's music at 2 am. A large group of day hikers amassed just down from the tents laughing and chatting at 6:30 am. We packed up amid mosquitoes and hustled down the trail.
So it turns out the 'bobcat' that kept us from camping at that one place was actually a bunny. We saw a second one today and John says, " Oh, that's what I saw – not a bobcat after all." In his defense, they do look different then the bunnies at home. But I would have liked the chance to hang out with one at camp.
Dropping Down to Say Hi
Last night we actually moved our tent because of the caterpillar poo. It would rain down from the tree and ping loudly against the Dyneema. Then you could hear it roll down the side. How can something that small be so loud?
Today the same caterpillars were hanging all over the trail. Even if someone had just walked by- you never knew when they were going to swing down and hit you in the face. The trees at our break were covered with strings from the caterpillars- so much so they looked like they had been decorated with tinsel for Christmas.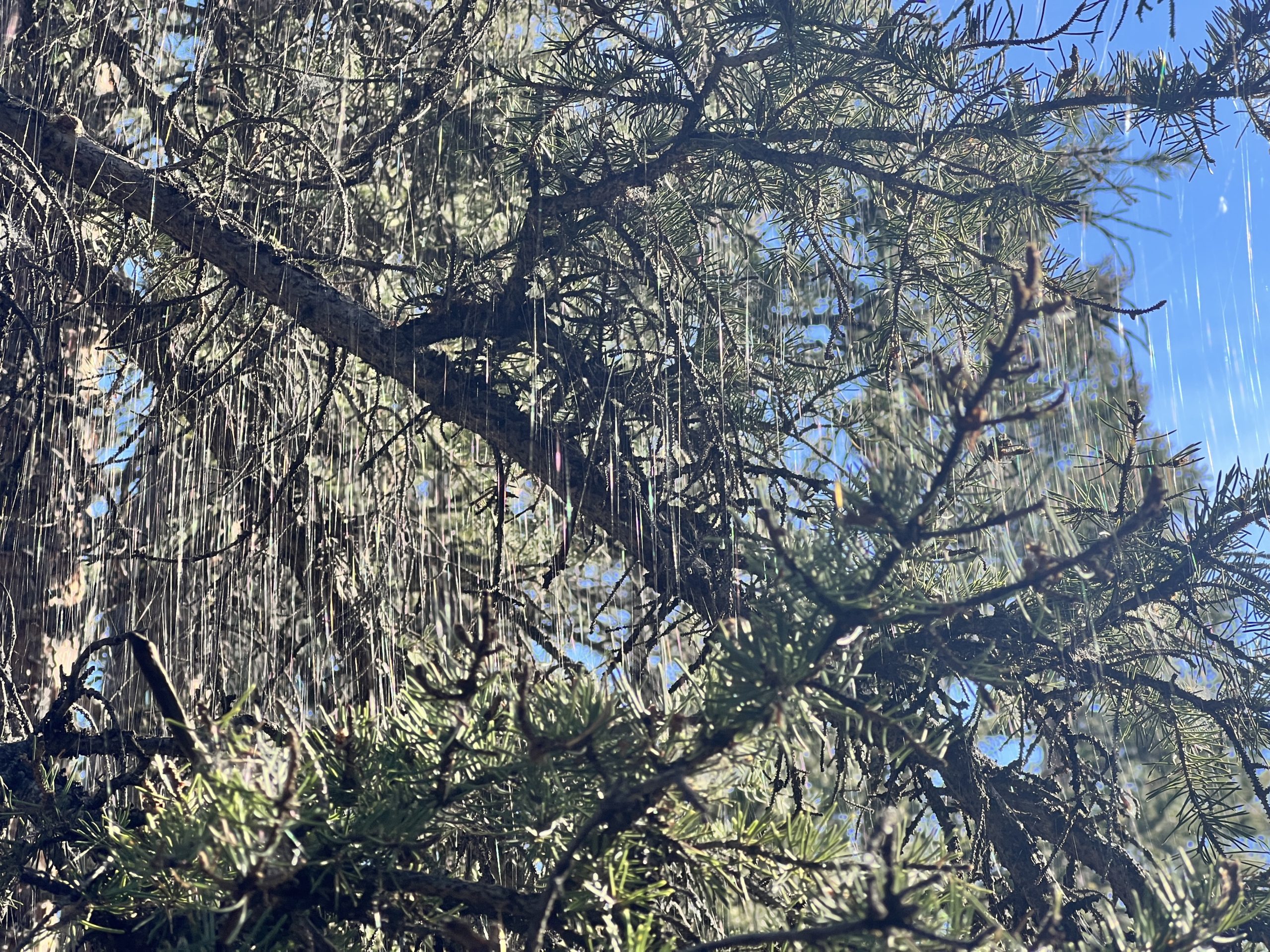 .5 Up, .5 Down, .5 Up
The sun here is not the same sun that shines down on me while I'm at the pool. The sun here wants to burn my skin, steal my moisture and make me cry. Between that and the fact that I breath hard over 10,000 feet- the last mile and a half to camp just seemed hard. I kept repeating to myself "point 5 up, point 5 down, point 5 up". We only hiked 11.4 miles today, but sitting in the sun for lunch and then hiking uphill exposed made me feel so tired.
If Our Campsite Was on Zillow
Campsite on the ridge. 3 tent sites and 1 fire ring. Current HOA rules prohibit use of the fire ring. Amazing view, flat spot, only 3 miles to town. Must be willing to temporarily relocate for thunderstorms. Nosy mosquitoes neighbors- Permethrin required. But did we mention the panoramic view of the Kenosha mountains and all of South Park? (Not as seen on TV- it's a real place, look it up).
We also got to meet someone thru-riding the trail. It was really neat getting his perspective. And of course we talked about Old Bay seasoning since he was from the east. Having a multi use trail is a mixed blessing. More people to care about the trail, but you have to dodge bikes and horse poo.
Affiliate Disclosure
This website contains affiliate links, which means The Trek may receive a percentage of any product or service you purchase using the links in the articles or advertisements. The buyer pays the same price as they would otherwise, and your purchase helps to support The Trek's ongoing goal to serve you quality backpacking advice and information. Thanks for your support!
To learn more, please visit the About This Site page.