Distance Doesn't Get Easier
Due to the technical difficulties of my previous post (which took me hours and hours of waiting in a McDonald's to upload), I'm going to start making them shorter. This section covers from just after Killington until Bennington Vermont. As the post implies, some things just don't get easier. In this case I am not talking about hiking distance but rather missing your partner in long distance relationships! I hope you enjoy this post as much as I enjoyed writing it.
Day 44 (10.9 miles)
"Slept in" again and made coffee at the Airbnb. We packed up, cleaned, and watched some more Key and Peele and the Office sketches. I stretched out which felt amazing after a rest day. After leaving the house we grabbed a bite to eat a Café on the way to the trailhead. I got a large breakfast burrito… I could barely finish it! Kara and company dropped me off around 1:45 pm. I gave them each a much cleaner hug this time before they departed. As Michael Scott once said "Goodbyes are a bitch" and I felt that hard this day.
The entire hike that afternoon I thought about them. I thought about how much I was missing back home. All the movie nights, board games, puppy kisses, and family time. I wanted to call them and tell them to come back and pick me up. Take me home to comfort, but the fire to keep going kept me on trail. I love it out here but the temptations of being comfortable and surrounded by love clouded my mind. It was at this point I realized that the rest of the AT is going to be a mental battle as well as a physical one. One thing I have learned is that when you love people a lot, the distance doesn't get easier!
There weren't a ton of great views this day but there was a beautiful gorge with some rapids. I filled up my water there and dunked my head. A number of families were swimming and jumping off the rocks!
I stealth camped along a stream that night. Even with the late start I was still able to get nearly 11 miles of hiking in. It was an early night due to staying up late that weekend!
Stream Stealth Spot: T1, S2, P1, W1, B4
Total Score: 8
Day 45 (22.4 miles)
I woke up late this morning, still exhausted after 11 hours of sleep. I needed the rest! I began hiking around 7:30 am and it was already incredibly hot. It's days like these that drinking water lots of water is essential. Dehydration can sneak up quick and ruin a day of hiking. A few miles into the day I met a fellow SOBO, Shaggy. He told me about a cool place to camp on top of Bromley Mountain. There was a ski patrol lodge with outlets and a great view! I immediately targeted that as my goal for the day.
The trail this day transformed from smooth dirt to rocks and roots. It winded through ponds and lakes and reminded me of my time in Maine. I didn't mind it at all, in fact it was a great change of pace. Many people told me how beautiful Vermont was and today proved it to me.
I crossed over stream after stream and walked past pond after pond. After a relatively dry section of trail it was great to see all of this water!
There were a few climbs but I didn't mind. My body was feeling good and the scenery was keeping me going. This was much needed as I was still constantly thinking of my loved ones back home. After hiking 15 miles, I took a break at Peru Peak shelter for lunch. There was a beautiful stream flowing past the front of it. I popped off my shoes and relaxed! In the early afternoon I headed out to finish the 7 miles to Bromley. There was no water along this stretch so I carried a few liters in order to camp at the top. Well worth the effort!
I planned to take pictures of the sunrise and sunset but the weather had another plan. Shaggy and a NOBO, 12 below, also stayed in the lodge that night. There was electricity and places to sleep but no water. Just as the sun was setting a large storm rolled through. I was able to snap a few quick pics before running to the lodge for shelter.
Although the storm ruined the sunset, it brought with it colder weather. Something that I have been looking forward to for a while. Chilly winds blew across the top of the mountain and through the windows we left open. I cozied up in my sleeping bag and slept great!
Bromley Patrol Lodge: T1, S1, P2, W5, B2
Total Score: 20
Day 46 (21.5 miles)
Woke up to my buzzing alarm for sunrise. I looked outside and realized it was a complete whiteout. Turned off the alarm and went right back to bed. Around 6 am I got up and began moving the stiff joints. I made coffee using the French press and snapped a picture of my delightful view.
To my surprise it wasn't actually raining, just a dense fog morning. I descended off of Bromley and crossed the road into Manchester Center, VT. I didn't need to resupply yet so I walked right over and up the other side. I stopped alongside a creek and refilled my water. It began to rain just as I was finishing up. For some reason I thought it would be a good idea to chug 1.5 liters of water without having much in my stomach. A half hour later I got tunnel vision and nearly passed out. I'm assuming that I threw off the sugar, salt, water balance (if that's a thing) in my body. I ate a large protein bar and started feeling better. Not a great way to start the day.
The rain was on and off all morning but it was enjoyable hiking. There were more beautiful streams and ponds that I passed through.
I stopped for lunch at Stratton Pond and allowed myself to eat as much as I wanted. I met Fuzzy Duck and Shower Beer there. They had night hiked the previous night and slept in at the shelter.
After a long break I climbed up Stratton mountain. One of the nicest climbs of the entire AT so far. Perfectly timed switchbacks and not a single downed tree to cross. Whoever designed that trail deserves multiple awards and a McDonald's happy meal. The fire tower was awesome but the clouds obstructed the view a bit. I wanted to camp up there but it is not allowed and I'm a natural rule follower.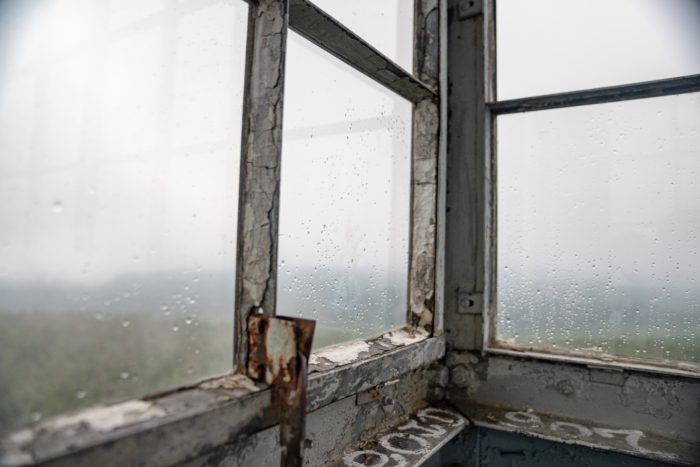 Another break and then I continued down the other side to a stream that I camped next to. There were a number of other hikers there and we worked together to build a fire! I hadn't had a fire on trail in a while. It was great to enjoy some good stories and the hot flame before a chilly night.
Black Brook Campsite: T1, S2, P3, W1, B4
Total Score: 24
Day 47 (20.0 miles)
Finally woke up at a decent hour again, I guess I got caught up on sleep! There was a nip in the air, perfect weather for a puffy jacket and warm cup of coffee. Tore down the tent and packed up. I surprisingly felt good besides a few aches and pains which is normal. The terrain was very muddy this day. My strategy was to jump to and from all of the rocks and roots. Nothing out of the ordinary for the AT. I came upon the beautifully placed Kid Gore shelter and saw Fuzzy Duck.
I then went up the final push to Glastonbury Mountain where there was another fire tower. It was partially cloudy but I still got some great views. There was a section of trail that someone really didn't want you to go down. There were multiple "Do Not Enter" signs which naturally made me curious of what lied behind them. I didn't go down the trail but there was likely a chest of gold down there that I wouldn't have wanted to haul out anyway.
After an hour lunch and some stretching, I continued down the trail. There were still a lot of miles to cover and it was already the afternoon. I called my dearly missed fiancé and talked to her for over an hour as I walked. Just as I was telling her that I might run into one of my high school teachers, I saw a familiar face coming down the trail! My prior teacher also quit her job to be out here (although she is now retired). It was awesome to run into her after following her progress on social media.
I ended the day at the Melville Nauheim shelter. There were some other hikers and some cute dogs there. I socialized a bit but honestly I was pretty exhausted. The next day I intended to head into Bennington for a resupply and shorter day of hiking. It was an early night after a large supper and writing in my journal.
I hope you enjoyed this trail update and I'll be posting more shortly! I'm excited to get to my home state in just a few weeks. Thanks again for reading and remember to keep wandering in your own direction!
Affiliate Disclosure
This website contains affiliate links, which means The Trek may receive a percentage of any product or service you purchase using the links in the articles or advertisements. The buyer pays the same price as they would otherwise, and your purchase helps to support The Trek's ongoing goal to serve you quality backpacking advice and information. Thanks for your support!
To learn more, please visit the About This Site page.
Comments
1
I like the shorter post. I do not get as tired reading them. Good luck.