Gear Review: Garmin inReach Mini
The Garmin inReach Mini set the standard for lightweight backcountry communicators when it was introduced in 2018. At 3.5 ounces, it's the lightest two-way satellite communicator on the market. The two-way messaging is reliable, and audio sounds confirm that a message has been sent and when one is received. The SOS signal is monitored 24/7, and two-way communications are possible if a rescue is necessary. Weather reports, route-tracking, GPS location, and social media map-sharing all combine to give the Mini a full-featured package.
MSRP: $350
Weight: 3.5 ounces
Dimensions: 3.9 x 2 x 1 inches
Battery: Rechargeable internal lithium ion
Functions: Two-way texting, weather forecasts, location and altitude display, tracking
SOS button: Triggers signal to a 24/7 search and rescue monitoring center (satellite subscription required)
Network: Global Iridium satellite network
Colors: Orange and black. I chose orange because it seemed harder to lose.
Best Use
The Mini is a must for staying in touch on trail when cell coverage is spotty. From multiday trips to thru-hikes, you'll be able to let others know you're safe, and to get messages back to let you know all is well at home. And it's easy to get weather forecasts powered by Dark Sky. But look elsewhere if you'll be route-finding off trail.
Circumstance of Use
This has become my go-to communicator with my wife while I'm on trail. Cell phone text messages can take awhile to go through, or eat up battery while trying and then failing to go through. I've never had a problem with Mini text messages. It chirps to let me know that my message has been successfully sent, and rings when I receive my wife's reply. I've created preset messages that say: Leaving camp this morning; Checking in, everything OK; Stopping for the night. (For now I just use "Checking in" on day hikes.) With the Safety plan I can send unlimited preset messages. And the message my wife sees on her phone includes the latitude and longitude of where I'm located, and a link to a map showing my location.
Getting Started with the Mini
Setting up the Mini is fairly simple. Create an account and select a satellite suscription at explore.garmin.com. Turn on the Mini (top right button) and follow the onscreen prompts. To finish activation, which can take up to 20 minutes, you'll be told to go outdoors with a clear view of the sky. The Mini comes with minimal printed instructions so it's best to go to Garmin's website for detailed information on how to use all the functions. And then take a hike and scroll through the different functions to see how they work.
Bluetooth Connectivity
Download the Garmin Earthmate app on your smart phone to link your phone to the Mini using Bluetooth. Linking your phone to the Mini allows you to sync contacts you've created in your online account; choose among basic, premium, and multiple location forecasts; and change how you see data (miles or kilometers, Fahrenheit or Celsius). You can also send text messages from your phone (typing on a phone is much easier than on the Mini), and use the Mini GPS signal to plot your position on maps you've downloaded in Earthmate.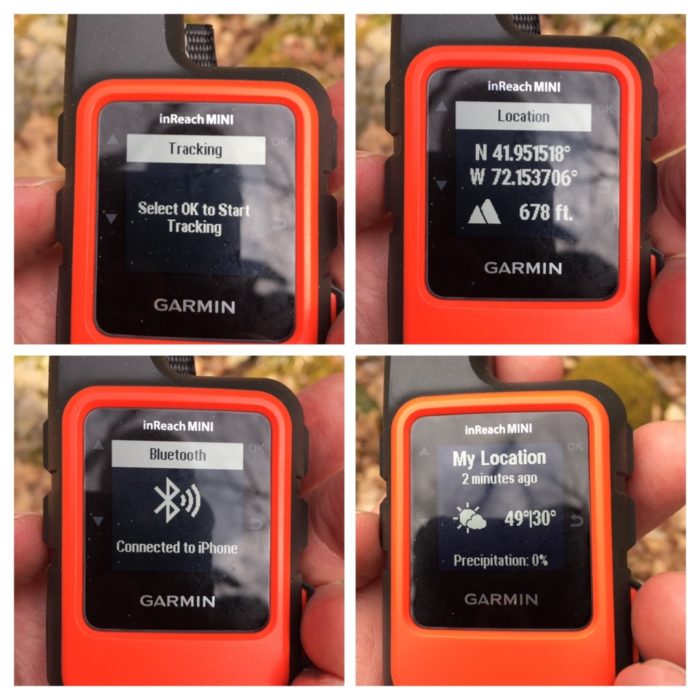 The Screen
Home page: Displays the date, time, and status icons. It also displays tracking and weather information when those features are in use.
Scroll up or down for these functions:
Messages: Send a preset message to a predetermined contact; pick a longer quick text message you've set up online and a contact to send it to, or to post to Facebook; write a full-blown message (this is laborious) and choose a contact.
Mail: Check for email
Tracking: Start tracking, and choose from among tracking intervals.
Location: Shows latitude, longitude, and elevation
Speed: Shows your hiking speed, and lets you set the units you want to use for miles, wind speed, temperature, pressure, and bearing.
Bluetooth: Confirms that a phone is connected, or allows you to disconnect a phone and pair a new one
Mark a waypoint: Includes waypoints, routes, and TracBack (a feature that allows you to track back to the beginning of your activity if you've marked a waypoint)
Weather: Shows the forecast you chose (basic or premium).
Utilities: Includes contacts, test your service, and data use.
Setup: Allows you to choose the brightness of the main display screen, turn on tracking, and set tracking intervals.
Sounds: Mute sounds, set sound levels, and choose the tone for messages sent and received, and when the Mini is shut down.
Time: 12-hour or 24-hour time. The time zone is set automatically.
Units: Set miles or kilometers, Fahrenheit or Celsius.
Language: Chose the language you want to use
Text Messages
Preset messages: These come loaded with the Mini, but you can create up to three at explore.garmin.com and determine who will receive them, along with a link to Mapshare. There's no charge to send preset messages, but a reply does count toward your free limit of 10 per month. Preset messages can be sent to phone numbers, email addresses, and other inReach devices. They can also go without cost to Facebook, Twitter, and MapShare. Unused text messages do not roll over month to month.
Quick text messages: These are up to 20 messages that can be set up on at your online account. Choose on the Mini who a message goes to. There is a charge for more than 10 of these messages and the replies.
Free-form message: Messages you type on the Mini (time-consuming) or using the Earthmate app on your phone. There is a charge for more than 10 of these messages and the replies.
Weather Reports
Basic forecasts: Three-day summary, and weather reports count as one text message. Forecasts include precipitation, daily high and low temperatures, percentage of cloud cover, wind speed, wind gusts, barometric pressure, wind chill, and humidity. You can also see the weather in the Earthmate app on your phone. And the forecast will update throughout the three-day period.
Premium forecasts: $1 for each forecast, which provides a seven-day outlook.
There are also marine forecasts, with basic and premium options. The forecast location must be on the ocean or another large body of water.
Sending Out an SOS
This is perhaps the most important function of the Mini, and one I hope to never use. The EOS International Emergency Rescue Coordination Center (used by many satellite communicators) operates 24/7 to answer an SOS, track your device, and notify emergency responders in your area. A delivery confirmation that help is on the way will be sent after you trigger an SOS, followed by updates on the status of the response team. You can also respond to the emergency response service, or cancel the SOS request after it has been sent. An SOS also can be sent through a smart phone using Earthmate. The SOS button on the Mini is housed under a hard-rubber covering, guarding against accidental activation.
If you have a medical emergency, Garmin offers additional help for Mini owners. These services do not cover someone else in your party.
Search and rescue costs: Up to $100,000 a year, with a single-response limit of $50,000, for search and rescue costs.
Medical evacuation: If you are hospitalized, transportation to the hospital of your choice anywhere in the world, up to a limit of $100,000. You will be transported in a medically equipped and staffed aircraft from anywhere in the world to the nearest medical facility, and then to a hospital near your home. The service is available if you are 99 miles or more away from home.
Battery
The rechargeable internal lithium ion battery lasted 96 hours (four days) when all I did was send preset text messages and get a weather forecast, with tracking turned off. Garmin says it will last up to 90 hours using 10-minute tracking with five-minute logging (the default tracking interval); up to 35 hours at 10-minute tracking with one-second logging; up to 24 days by turning off Bluetooth, reducing the brightness of the display screen, and using extended tracking; and up to one year when powered off. Battery usage increases when Bluetooth is turned on. The Mini turns on and off quickly, so turning it on only to send and check messages might be the easiest way to extend battery life on trail.
In the Box
USB cable: For charging. I plugged it into my cell phone wall-charging plug to charge at home.
Carabiner clip: Yes, you can clip it to your pack or clothing, but like everything else I carry, I'm more comfortable putting gear in my pack. I carried the Mini in my pack's hip belt pocket.
Spine mount adapter: For attaching the Mini to belts or backpacks.
Documentation: Scant information. Go to the Garmin website for full documentation.
Cool Functions
Texts
Unlimited preset text messages, and free typed messages depending on your plan. Typing a text message on the Mini is painfully slow. It's much easier to type a text through the Earthmate app on your smart phone, which connects via Bluetooth to the Mini to send the message. Unused text messages do not roll over to the next month.
My take: A must. I use the unlimited preset text messages, which I set up in my online Garmin account.
Earthmate app
Download maps on your smart phone using the free app and monitor your progess while tracking is turned on. Type text messages to send through Bluetooth. Check on weather forecasts, and update them through the app.
My take: A definite plus. It's nice to see many of the Mini functions on the larger screen of a cell phone. Free-form text messages are easier to send on a phone through Earthmate. You can also request weather forecasts and updates on your smart phone using the Mini.
Garmin connectivity
Send and receive messages through compatible Garmin devices, including connected wearables and handhelds. If the message from another Garmin device includes the location you can navigate to it using the Mini.
My take: A nice function if people you're hiking with also have a Garmin. I never used it.
Weather reports
Forecasts based on your location, or a location you choose manually. Receiving a three-day forecast counts as one text message; premium seven-day forecasts are $1.
My take: A definite plus. I used the basic service, which gave me three days of updated forecasts.
SOS
Triggers an interactive SOS to the 24/7 search and rescue monitoring center. Garmin says someone at the center will notify emergency responders in your area and keep in touch with you until they arrive. An SOS can be sent on the Mini or through Earthmate.
My take: An absolute must.
Tracking
Shows your route on a map accessible through the Earthmate app on a smartphone. You can also share your route on social media. And for basic navigation, a compass shows bearing and distance along a route or to a waypoint. Set up tracking on the Mini.
My take: The map showing your location is a plus for me because it tracks miles hiked and average speed so I have an idea of how much farther it is to my destination. But sharing my route on social media is definitely not for me.
Navigating
Create a route in your Garmin account, and navigate to it on the Mini.
My take: Navigation with the Mini is a weak point because it follows straight lines between waypoints, not trails.
Waypoints
These are locations you record in the Mini, and they can mark where you are, where you are going, or where you have been. Creating or editing a waypoint updates your MapShare web page.
My take: Nice for letting people know where you are or where you're going. Not especially good for navigating (see Navigating, above).
Subscription Plans
Garmin has three plans for the Mini: Safety, Recreation, and Expedition. Each plan offers 12-month contracts, or the Freedom option that has higher monthly fees but the choice to only pay for a month when you're using it. All Freedom plans have a $24.95 annual fee on top of the monthly fee.
Safety Plan
This is the one I have, with the Freedom option. There's an annual fee of $24.95, including activation, and $14.95 a month for service. You can suspend the monthly fee when you're not using the Mini by going to your online account. It doesn't cost extra to suspend and reactivate service. The Safety plan without the option to suspend service is $11.95 a month for 12 months.
The Safety plan includes:
Unlimited SOS
Unlimited preset messages
Ten text messages a month, which include non-preset and received messages. The basic weather report counts as a text message. It's 50 cents a message if you go over ten messages in a month.
Tracking points and location requests are 10 cents each. Tracking points refer to the individual "breadcrumbs" sent by the Mini at user-selected intervals ranging from 10 minutes to four hours. Location requests allow friends or family members to follow along with your trip on the MapShare page of Earthmate associated with your Garmin account.
Recreation Plan
$24.95 a month for annual plan; $34.95 a month with ability to suspend service. Includes 40 free text messages, unlimited preset text messages, and unlimited tracking points and location requests.
Expedition Plan
$49.95 a month for the annual plan; $64.95 a month with ability to suspend service. Unlimited text messages, tracking points, location requests, and basic weather.
Garmin Explore Website
The Garmin account you create allows you to monitor your monthly usage; view your device data on the map; view your conversation history; add people to your contacts, including emergency contacts; set up preset and quick text messages; set up social media accounts, including your MapShare web page; and sync your device and smartphone.
Preparing for a Trip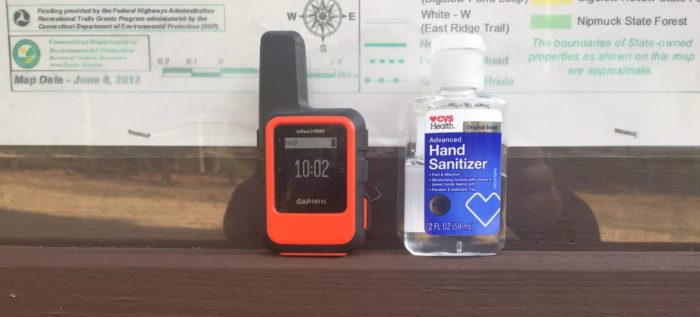 Garmin recommends these steps before leaving for a trip: confirm you have the setup you need, including contacts, messages, and social settings; sync your devices so they have the latest data; and send a test message to [email protected].
Garmin inReach Mini Pros
Lightweight: At 3.5 ounces, you won't know you're carrying it.
Reliable: All the functions worked when my cell phone struggled to find a signal.
Rugged: The outer casing appears able to withstand accidental drops.
Peace of mind: Knowing you can always gets a message through to someone at home is important to me.
Garmin inReach Mini Cons
Cost: Expensive upfront purchase price, and the fees can add up if you use tracking, weather forecasts, or text messages beyond your 10 free per month.
Battery: Four days if the Mini is constantly turned on. Longer battery life would be a plus.
Bluetooth connectivity: Earthmate is the only way to connect a phone to the Mini; separate apps on a phone cannot connect to the Mini.
Overall Value
The inReach is the smallest and lightest two-way satellite communicator I've found, but it's not the least expensive. The MSRP is $350, and I've seen it on sale for as low as $280. The MSRP for the Spot X two-way communicator—probably the Mini's closest competitor—is $250, and I've seen it on sale for $200. The two communicators offer similar features and subscription prices, though the Mini is half the weight and size of the Spot X. When deciding which communicator to buy, I was sold on the Mini's richer features, size and weight, and better reliability based on user reviews. I haven't been disappointed.
Shop the Garmin inReach Mini Here
Similar Products
Somewear Global Hotspot
MSRP: $350
Weight: 4 ounces
About: Turns your smart phone into a global satellite communicator, with messaging, route-finding, weather reports, and most other functions available on the Mini. Read the review here.
Garmin inReach Explorer
MSRP: $450
Weight: 7.5 ounces
About: Same functions as the Mini, but with a larger screen and keypad. Average battery life of 100 hours with 10-minute interval tracking.
Spot X Two-Way Satellite Messenger with Bluetooth
MSRP: $249.95
Weight: 7 ounces
About: Preset messages, tracking, SOS signal, average battery life of 240 hours.
Spot Gen3
MSRP: $149.95
Weight: 4 ounces
About: One-way messaging, SOS, battery life of 17 days with 10-minute interval tracking.
Zoleo Satellite Communicator
MSRP: $199
Weight: 5.3 ounces
About: The  Zoleo connects to your smart phone through an app that gives you global satellite communication.
The Garmin inReach Mini was purchased for purpose of review.
Affiliate Disclosure
This website contains affiliate links, which means The Trek may receive a percentage of any product or service you purchase using the links in the articles or advertisements. The buyer pays the same price as they would otherwise, and your purchase helps to support The Trek's ongoing goal to serve you quality backpacking advice and information. Thanks for your support!
To learn more, please visit the About This Site page.