A Guide to Plus-Size Gear and Clothing for Backpacking
If you're anything like me (and the fact that you're reading this tells me you are), then you have had a hard time finding proper gear for backpacking and hiking. When will outdoor retailers realize that not everyone has the same body type? I mean, women had a hard enough time when the industry decided "shrink it and pink it" was what all that women needed. We have hips, for crying out loud! Just use your eyes! Speaking of hips, we also have thighs and curves and oh-so-voluptuous booties. All bodies are varying in height, weight, crevices, and thickness… but I was for sure the most curvaceous woman on the Appalachian Trail that I saw.
This is a topic that has been on my mind for a long time, in fact, my entire outdoor life. As my social media presence blossomed, I began to realize that there were so many of us plus-size folks who want to be outdoors but are just so aggravated to try to find gear. I'll be the first to tell you that it was years of trial and error for me. However, some people don't have the time to hop from store to store, some people don't have the money to blow on gear that may or may not work or fit well. Well, my large friends, look no further because I'm about to break down what I (and others) have found to be efficient or not efficient plus size gear and clothing.
Best Plus-Size Gear and Clothing for Backpacking
While on the Appalachian Trail, I used Osprey's Aura 50L pack. This is a popular pack for many reasons, like being well-ventilated and having several pockets and access points. It's well known for the innovative AntiGravity suspension system that makes it feel like you're carrying less weight than you actually are. Personally, I loved the way it fit around my waist. A problem with packs that I've found is that they typically don't go around big hips; rather, they sit on top of hips. This pack sat comfortably in a position that did not rub or hurt. The only place that did cause issue was on top of my butt, but a quick adjustment to the pack solved that pretty quickly. I began my journey carrying about 40 pounds, and ended around 32 with full water and food. Some people will suggest a lighter pack, and that's fine; personally, I enjoyed the comfort of the hip belts and shoulder pads.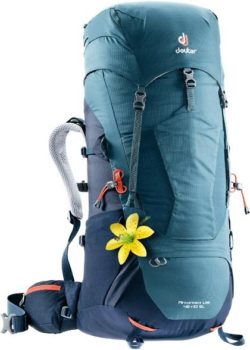 Although I do not have personal experience with this pack, I have had other plus-size people tell me that Deuter was most comfortable for them. Instagram user SlowCurious told me that he had a problem with the waist straps and Deuter sent him extra webbing.
While most people can walk right into any outdoor retail store and find a pair of hiking pants/shorts and a bra, this is where life becomes a little difficult for us bigger folks. I don't know the last time I saw a size 18 in an REI, if ever. Torrid is used for plus size fashion, but I've found their activewear withstands a good bit of chubrub and hardship.
The leggings you see in the photo above were my everyday leggings until they finally ripped for good at Four Pines Hostel. I switched to another pair for Torrid leggings after that, which are still good to go. The sports bra in this photo is also still killin' it (lol). A good tip is to just keep a needle and thread on you. Your stuff is going to deteriorate and so will everyone else. It's cool to be able to fix your stuff instead of continuing to blow money on new clothes.
Personally, the XXL hipster underwear fits me. But it's on the border of no-go. For anyone with larger hips, thighs, and booty, this isn't going to work. However…
…These go up to a XXXL. Unfortunately, I have not found a reliable brand with good reviews for folks who wear over an XXXL. Please let me know if you do, so I can include.
Chafing is such a big deal, not only for chubby thighs, but for everyone. Nike has been recommended a few times to me and some of my friends. These shorts certainly work for me, as well as a few Instagram friends I asked awhile back, like Bryana Lee (IG: bry4mann). Nike also goes up to a 4X-long.
For the cold nights I had an XL Patagonia Puff with a hood that I wore under an XXL Patagonia fleece pullover.
This generally kept me warm, I also had a couple of Walmart brand base layers, but I'll get to Walmart later.
When I reached out on Instagram, I recieved a lot of response about Columbia. Both users leighmingle and auntmaypeace expressed to me that they are huge fans of Columbia. As I did more research, I realized Columbia is one of the few outdoor brands that size up to a 4XL, as well as carrying women's pants all the way up to a 24. Great job, Columbia.
Marmot only goes up to a size 16/XL for women. However, they do offer up to a size 40/XL for men.
Oh yes, the infamous Frogg Toggs. I carried my rain jacket by them the entire way, and I still have it. The jacket is great for windbreaking and keeping heat in, surprisingly. The pants were not large enough and I ripped them on my first day out there, so be aware. I had an XL in jacket and pants, but they go up to an XXL.
This sleeping pad was my choice while on the AT. I used the Static V Ultralight sleeping pad, but there's a wider version called the Static V Luxe Ultralight sleeping pad. During the night, I tend to roll and flop about so this sleeping pad was made for me. It isn't the most cushion you'll get but it's pretty sturdy and doesn't slide around as much as other sleeping pads.
Big Agnes sleeping pads are comfy, for sure. I didn't use one on the trail, but I have slept on a few here and there. These are thicker than the Klymit but I don't feel the material is very thick, which could possibly create problems in the future if you were to cowboy camp. They are also don't have very many wide versions of this pad.
I am not a fan of mummy bags. I feel very restricted and they are usually not made for my body type. Luckily, NEMO was thinking out of the box when they created their unique and comfortable sleeping bags. On their website, they call them Spoon Bags, because of the fun shape that the bag has. I loved every second I slept in this bag. I was able to move around and I didn't feel so confined. There was also room for my hips, which is always such a pain for finding a sleeping bag.
Big Agnes luckily stays pretty true to its name. They have made a sleeping bag that caters to wide and tall people. The Hog Park sleeping bag isn't the best for backpacking, but rather a weekend trip or maybe car camping. It's comfortable for people who can't seem to find a sleeping bag that fits around those shoulders or hips.
Footwear is something that will be different for everyone. My choice for most of the time I was on the trail was the Vasque Mesa Trek. I preferred a boot over a trail runner, I needed something tough. I still have these shoes but I switched them out for the Vasque Saga GTX around mile 500, which ended up rubbing me with heat spots a good bit. The Mesa Trek is a mix between a trail runner and a boot. These shoes breath well like a trail runner but act like a boot. As a plus size woman, I had to ensure the safety of my feet but purchasing arch support.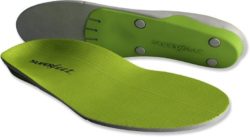 Speaking of arch support, these were the supports I ended up using for a good bit of the trail. Everyone is different, so some people dislike these supports. It's all about trial and error with shoes and support, though.
Walmart Clothing and Gear
While it isn't everyone's first choice, I walked the AT with a synthetic Walmart T-shirt and two long-sleeve Walmart base layers. They worked great and didn't deteriorate. The rain pants you see in the photo above were Walmart men's rain pants that were able to unzip at the bottom and roll up. When I'm not backpacking, I have Walmart leggings that I'll hike or paddle in. I've also found lovely fleece-lined leggings at the superstore, as well. This is also a cheaper option for us bigger folks, which is hard to come by. The outdoor brands have been surpassed by Walmart when it comes to considering plus size bodies, so maybe they'll take it as a challenge.
If you have anything to add or discuss, feel free to reach out to me or leave a comment.
*Disclaimer: I was fortunate enough to be apart of the Thruhikesyndicate and was able to receive my Vasque boots and NEMO sleeping bag for free.
Affiliate Disclosure
This website contains affiliate links, which means The Trek may receive a percentage of any product or service you purchase using the links in the articles or advertisements. The buyer pays the same price as they would otherwise, and your purchase helps to support The Trek's ongoing goal to serve you quality backpacking advice and information. Thanks for your support!
To learn more, please visit the About This Site page.