Hiking the Beautiful Serra De Tramuntana (GR 221) On Majorca Island: Facts And Pictures
The following is a (superb) guest post courtesy of Pong.  Get her full bio at the bottom of this post.  Have a story to tell?  Submit it here.
The trail is also known as La Ruta de Piedra en Sec (the dry stone trail) or the GR 221
Serra De Tramuntana On Majorca Island Facts
Majorca is the biggest and the most beautiful of the Balearic Islands. It is located in the Mediterranean Sea near Barcelona and belongs to Spain.
For its beauty, its beaches and its weather it is well known among Europeans from the north and – above all – among Germans. It has the reputation of being a party island. On German television you can frequently observe very drunk and mostly elder men and women with so-called Sangria Hats (headpieces filled with sweet vine which you can drink from a straw). If you land on the enormous airport of Palma de Mallorca you will be confronted with this kind of people. They don't bite, they just look strange and they wanna have fun.
The GR 221 starts in Puerto d'Andratx in the southwestern part of the island and ends in Pollença in the northwest. It's 135 kms long (85 miles) and there is 14,500 meters / 48,000 feet of elevation change. Typically, it takes people 8 days to hike it. The highest climbable mountain (the highest one – Puig Mayor – is closed by the military) is the Puig de Massanella 1,365 meters (4,478 feet)
The GR 221 is not all that remote. There are some long stretches where it might be difficult to get water and food, but this will be no longer than 15 miles. Don't take to much food with you, the restaurants are very good and cheap. The biggest amount of water I carried was a one day supply: 3,5 liters.
The best months for this hike are May and September.  These are also the most popular.
Camping is not allowed in Majorca as it is all over Southern Europe. But if you set up camp in the evening and leave in the morning no one will bother you. Except if you camp by mistake on somebody's ground, like I did. It went very well. The owner even asked us, if we would like to see the estate.
There are some great maps and camping resources which include spaces in the forest which were used to produce carbon some hundred years ago. They are flat and overgrown with smooth moss and they are ideal camping spaces (except if you don't like to sleep in the forest).
Majorca is famous among hikers for its beautiful and diverse landscape. But don't expect too many thru-hikers with tents. Most of the people book so called refugis (bunk-beds, shower, simple food) long time in advance, they only walk for a weekend or they have a fixed hotel and do day trips.
This trail goes through the mountains. You will have very steep descents and climbs over miles and sometimes this will be very challenging. I come from a entirely flat region and I struggled a lot at the beginning.
The Majorcan government struggles with the land owners. This means, there will be unmarked stretches and you have to climb a lot of fences (mostly by preinstalled ladders). In the southern part, ahead of Esporles, most of the time you won't find any signs at all, which means, it is necessary to have a map, a compass and/or a GPS device.
And again: It is a mountain trail. I wore trailrunners, the good, thick and stable ones from La Sportiva and it went well but the harsh descents in shoes (instead of boots) are a pain in the ass. I wouldn't do it again.
There are no dangerous animals. Except if you are afraid of sheep or goats 🙂
The Trail in Pictures

The trail starts in Port d'Andratx

At the first pass somebody assembled a shrine. Not only with a madonna but for more security of the hikers even with an additional penguin from Madagascar.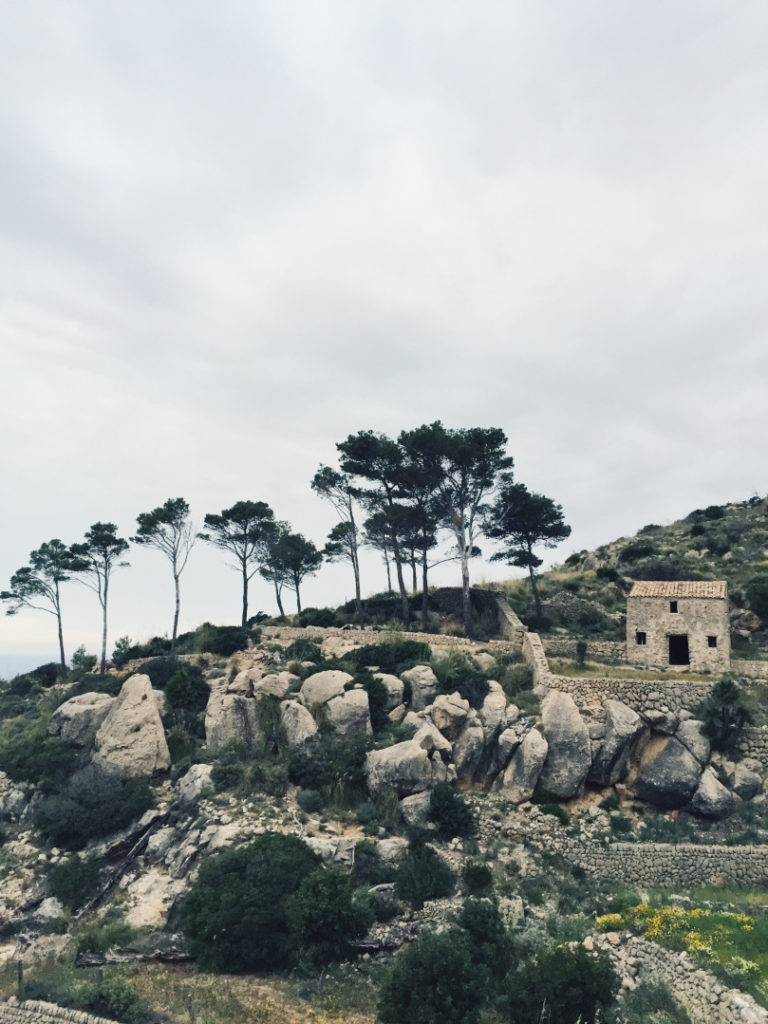 La Trapa – the ruin of a monastery, and a beautiful place to set camp

From La Trapa to Ses Fontanelles

From Ses Fontanelles to Estellencs. On the descent of the Esclop (927m) I lost the trail and climbed down three hours longer than expected.

I washed my pants in the evening but they didn't dry at all. So I had to wear normal tights, shorts and long socks. I was the hiking clown!

From Esporles to Valdemossa

The hardest but also the most beautiful section: From Valdemossa to Deià

From Deià to Port de Soller where we finally jumped into the sea

From Biniaraix to the wonderful Cuber Mountain Lake. While my hiking buddy took a bath in total silence, an angry roaring cow ran by on the opposite shore.

From Cuber Mountain Lake tot Tossals Verds

And the arrival on Puig Maria next to Pollença.

The next day, as usual, I wasn't able to stop. I took another hike and I saw all the mountains I came from again. It felt great!
I loved this trail and maybe I inspired some of you to take a hike in Europe J.
I'm Pong from Berlin/Germany. I'm blogging on hikeminded.wordpress.com about hiking, nature photography and MYOG. Sorry, I'm not a native speaker.
Affiliate Disclosure
This website contains affiliate links, which means The Trek may receive a percentage of any product or service you purchase using the links in the articles or advertisements. The buyer pays the same price as they would otherwise, and your purchase helps to support The Trek's ongoing goal to serve you quality backpacking advice and information. Thanks for your support!
To learn more, please visit the About This Site page.
Comments
4
4/22/2017
I enjoyed this blog enormously! The photos are fantastic and it sounds like you have a wonderful trip.
I will be hiking the Serra de Tramuntana in June 2017. Can you tell me about the trails: are there many technical parts? such as scrambling or exposed and narrow cliffside portions? Do you have any helpful tips for making the days more pleasant? I have some experience doing long trails (Camino de Santiago, I've traversed the state of California, USA) but would not call myself an expert trekker. Thanks for any helpful information you can share. Regards, Chris

Hello!
I just found your post as i was seeking information about this trail, although i have some of the same questions as Chris.
But mostly i am worried about the sleeping, how possible it is to find a place where to sleep (like you said a place where to spend night) on a budget?
My plan is to hike all day or as long as i can and then find a place to sleep and repeat, how possible that is?
i fully didnt understnad did you slept all nights in a tent?
and maybe how much money i need to have?
If you have some advice i will be glad to recieve it.
Kind regards, Zane!

i did the trail in 2016. i cowboy camped the whole trail but found there were a lot of good spots where you could pitch a tent or tarp.

Hi Zane did you hike the trail already ?
I'll start it next Friday and I have the same questions. But I guess I'll find out where to sleep on the track.
Cordially Noé.