Desert on the Ground, Islands in the Sky
Before leaving Kearny, we had another round of showers and shared breakfast at the local diner. The same woman who whisked us into town the night before took us back to the trailhead. And just like that, back out into the harsh desert. At least we had Steel with us again.
Did Somebody Say "Tortilla?"
We set off into the morning toward the Tortilla Mountains. Per Bear kept saying how excited he was to get there. Per Bear really likes tortillas. Hiking with Steel was great, and we shared stories about our time since splitting up.
The trail that day was true desert. A firm but somehow dusty tread, lined on both sides with prickly pear and cholla. I had the enlightening experience of getting a cholla "dingle" stuck in my ankle and finding a way to extract it. And the sun was getting seriously hot. We had packed out as much water as we could from town, but the Sonoran Desert is a thirsty place.
We stopped at a nearby cow tank for lunch, hoping we might find something even remotely consumable there. It turned out to be disgusting, even by AZT standards. The cows respectfully kept their distance while we crowded into a small patch of shade to eat lunch. In one of my most dignified moments, I crouched on my heels while eating already soft and runny cheese surrounded by bovine feces. Would ya look at me now, Ma!
Trail Magic in Several Forms
Thankfully, the day improved from there. A few hours later, I rounded a bend to see Per Bear wielding a trekking pole like a spear. Apparently he had spooked a pack of javelinas, and they hadn't been too pleased about it. For whatever reason, animals just don't like him.
Sunset is undoubtedly a magical time in the desert. As the light begins to fade, so too does the nagging voice in your mind rattling off stats about dehydration, heat exhaustion, skin cancer, and other daytime dangers. The sky rewards another day of survival with the most visually stunning sunsets I have ever seen. And this particular sunset was truly magical.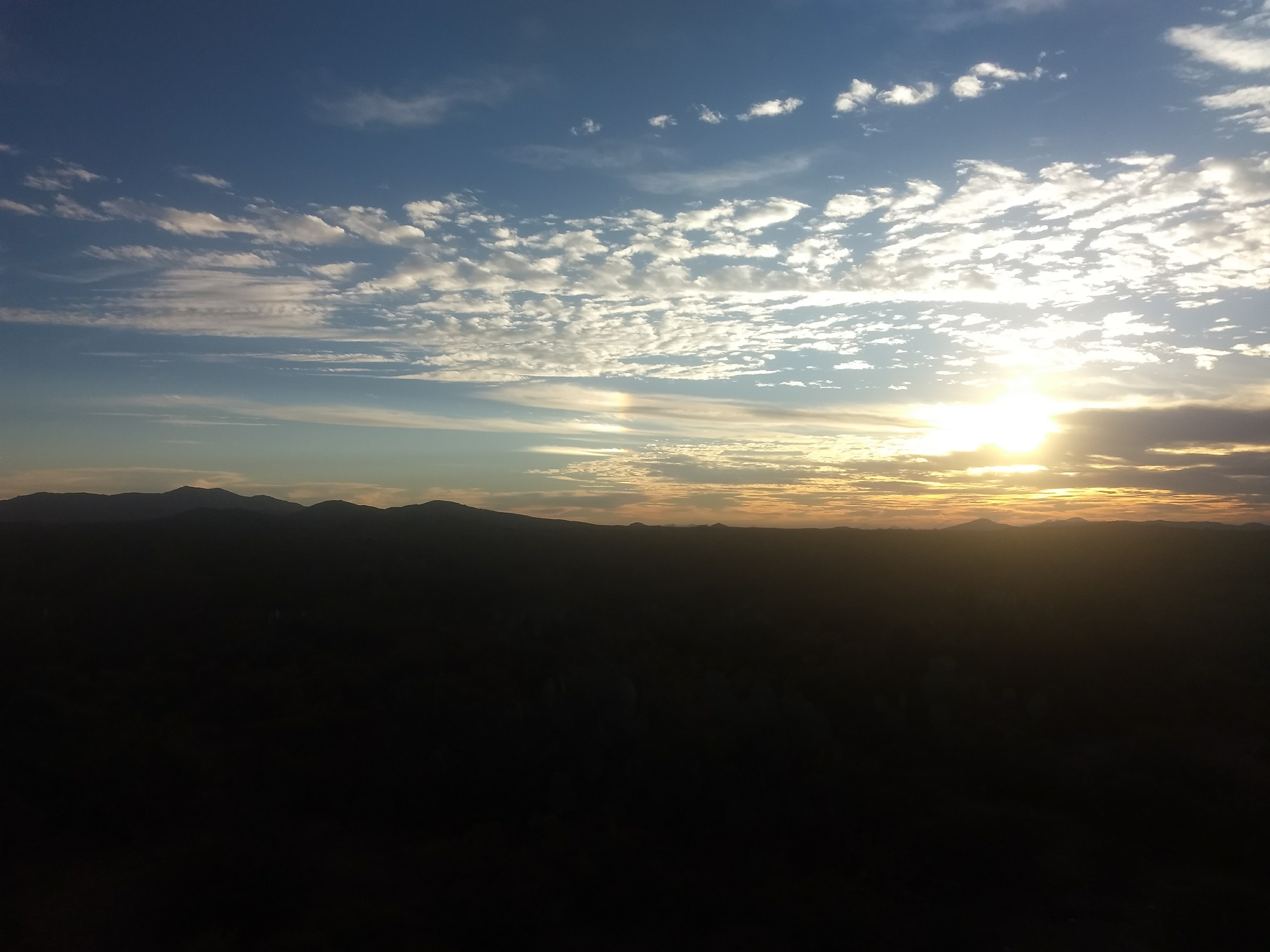 Everything came together perfectly. The scorching afternoon quickly gave way to cool breezes. High altitude stratus clouds scattered the sun's light into a magnificent spectrum, from soft oranges to deep purples. We floated across the broad desert floor under the massive sky, interrupted only by the silhouettes of far-off mountains. The light faded further, but I continued on, dumbfounded, toward the promised water cache at the Freeman Road trailhead.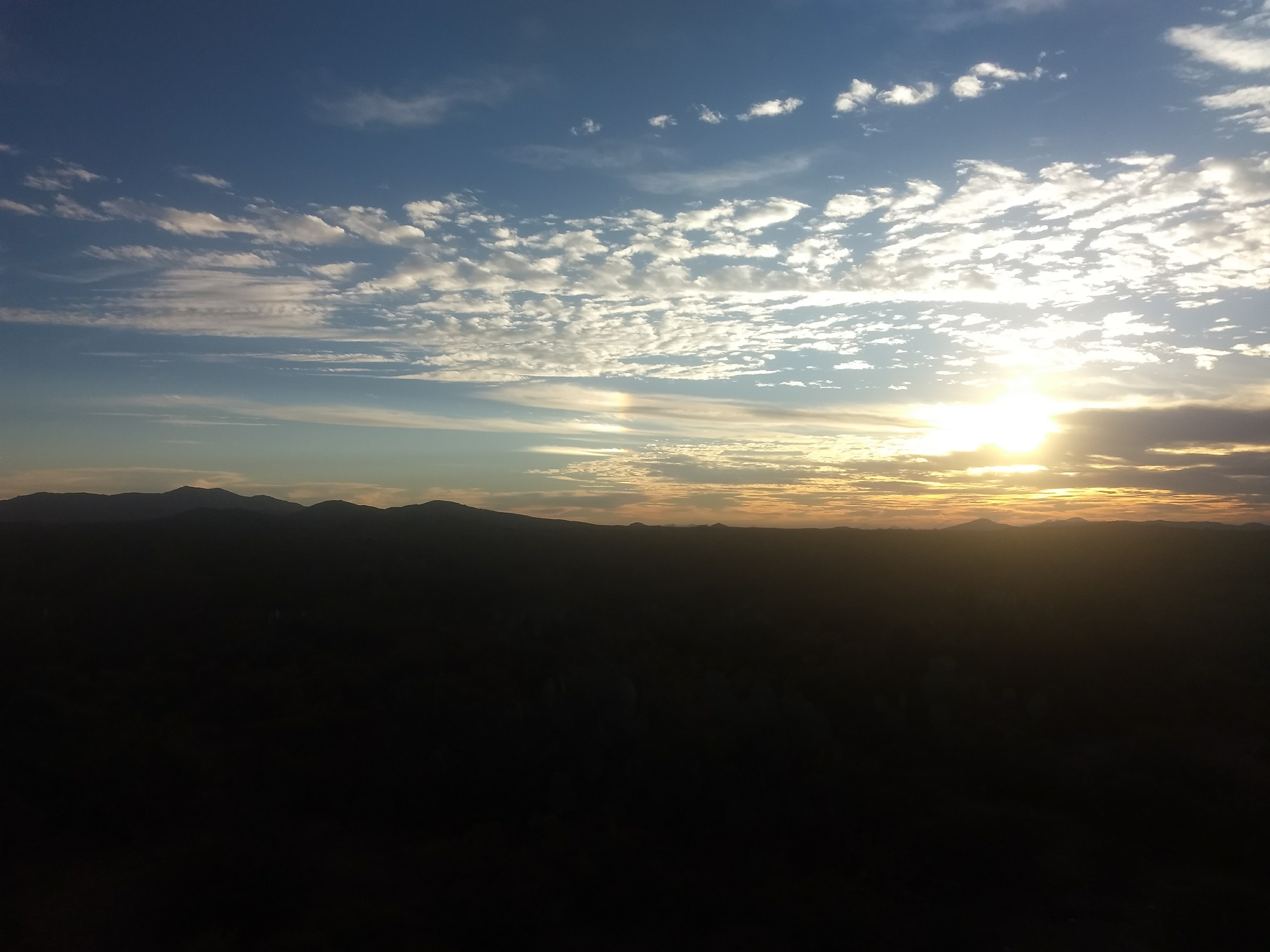 My mind drifted that evening, more in tune with a planet between wakefulness and sleep than with my body. The ramada and logbook pulled me from the reverie and announced my arrival at the trailhead, ahead of the others. As I pawed at the bear box to access the bottled water, an older hiker approached me and pointed out a crucial detail I had missed on the approach: a large RV sitting in the lot with a running generator and a modest patio setup.
As the words "trail magic " filtered through my brain, I noticed the large plastic bag sitting on one of the shelves in the box. It was tagged "Kirby, Righteous, Per Bear. I hope this helps out! -Tim." I shook my head in awe as I collected the bag and headed up to the parking lot to wait on the others. This was the Tim we met back in Pine, who had been keeping track of our progress and drove out from Phoenix to drop us some food and toilet paper. How's that for a trail angel?
Sequoia and "The Flying Valentino"
Sequoia and his dog, Kickapoo, came out to greet me. Not only did he have cold water and a hiker box, there was also dinner, beer, and breakfast. Per Bear, Kirby, and Steel arrived within minutes of each other, and I had fun explaining the extent of our good fortune this evening. We cracked beers while rummaging through the hiker box and Tim's bag of supplies, and Sequoia got dinner going.
As we ate, three lights approached up the road through the darkness. They were bikepacking the 350-mile route from the Mexican border to Picketpost. Sequoia put more food on as they got settled, and we expanded the circle to include them in conversation. I was of course absurdly excited for the chance to talk bikes. While everyone else was enjoying time off their feet, I was examining their setups and even spun around the lot on one of their bikes.
"Just toss it back to me," Sequoia said, in reference to the glass bottle of Valentino's hot sauce sitting between two of the bikepackers. I looked up in time to see the jar whizzing through the air before shattering against the door to the RV. The over-zealous "toss" (it was definitely a "throw") had managed to clip Sequoia's eyebrow on its way to the RV, but thankfully had raised a hell of a welt but nothing more. He was surprisingly cool about the whole thing. The night was decidedly over, and we broke off to separate camps. Before drifting off, we bestowed the bikepacker with a trail name: "The Flying Valentino."

To Oracle
Luckily, Sequoia's homemade chorizo was spicy enough that we didn't need hot sauce for our breakfasts. We divvied up the last of the food Tim had left us and said thankful goodbyes to Sequoia. The goal for the day was to get as close to Oracle as possible, so we could enjoy town in the morning without having to pay for a night in a motel.
It was a pretty unremarkable day of hiking, which was actually quite unusual for my time on the AZT. We were well hydrated and had clean water in our bottles, much more food than we needed, and an easy flat tread below our feet. The Galiuro Mountains to the east were a reminder that we would once again soon be in mountainous terrain.
Mount Lemmon is pretty hard to miss from the Sonoran floor. The last time I'd been in the mountains was the Superstitions, almost a whole week of rolling, low-elevation desert. Staring at it from far away felt awfully similar to the approach to San Jacinto on the PCT. Except this time there were still two more massive peaks to cross before reaching the border.
We ate huge lunches in the shade of a tall metal tank with cool, clearish water. From there, we set out for the Tiger Mine Road trailhead, where there was another reportedly stocked cache and plenty of flat dirt for camping. Kirby and I arrived first to find plenty of water, and secured what we hoped was the quiet corner of the parking lot with our crinkly Tyvec sheets. Steel got down to business as soon as he got in, and secured a shuttle into town from Marne at  7 a.m.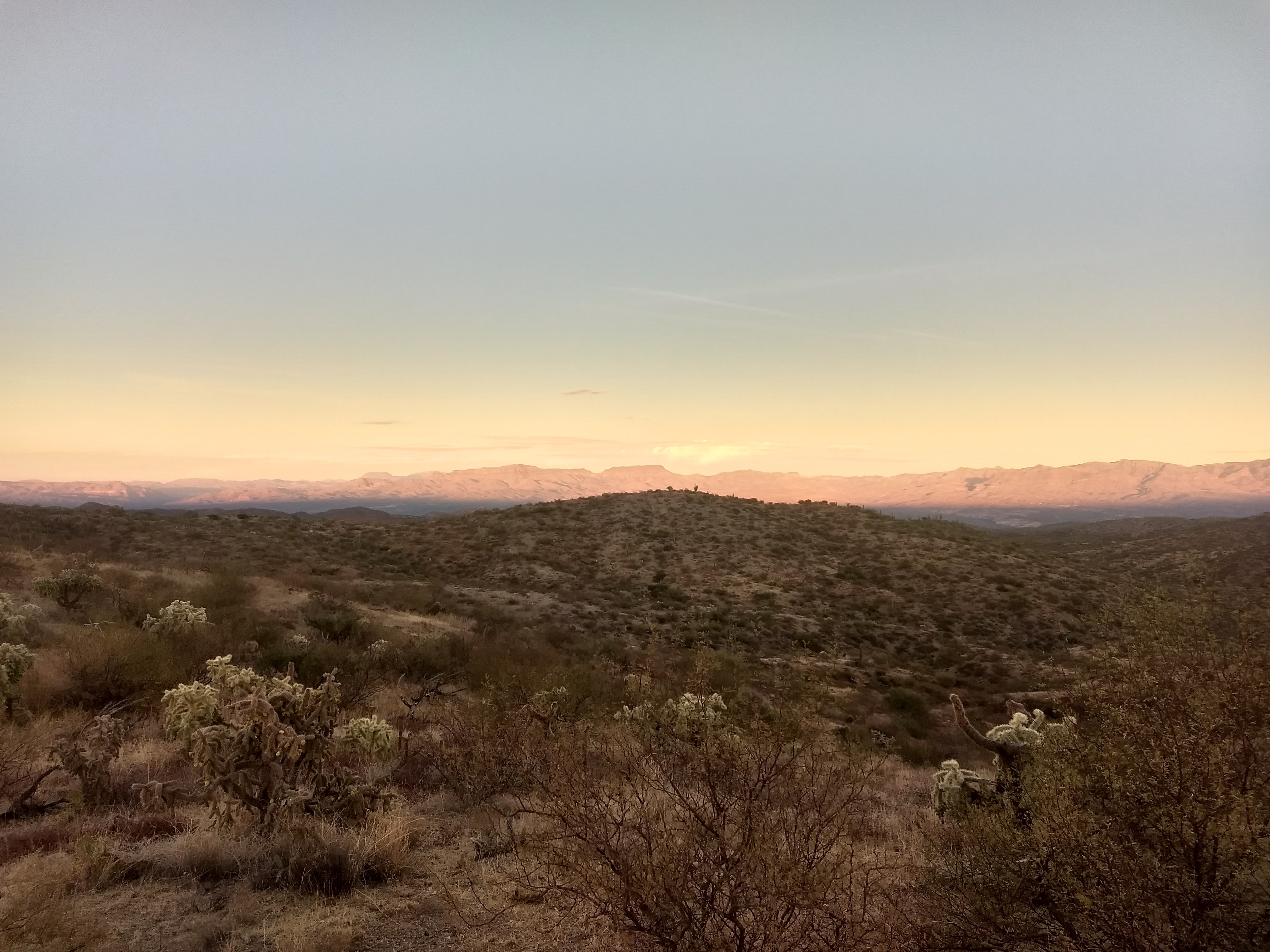 Yes, It's Still Hunting Season
The steady stream of headlights starting at 4 a.m. was a rude reminder. Sure, this was a parking lot, not a campground, but it would have at least been nice of them to turn the headlights off while unloading their side-by-sides. Instead of shining them directly into our sleeping eyes.
We packed slowly waiting for Marne to come up the road. She was right on time, and I quickly knew why she has such an incredible reputation on the trail. Nothing in town was open yet, but we could come get coffee at her motel. And do laundry. Even though we couldn't afford to stay at that point. And we got a ride to the post office to get our care package from Leafy. All the while, Marne told us some of her story and demonstrated her conviction that the world is just a little better with the Arizona Trail in it. She sees how it spreads positive ripples through the communities it connects, and works with the Arizona Trail Association to protect, improve, and preserve the trail. Also, did I mention Marne had a dozen kittens running around the motel?
Leafy sent us a shit ton of all our favorite candies, plus a few packs of ramen for Kirby and tuna for me and Per Bear. We shared that out, then collected our laundry and headed to lunch. Marne dropped us at the Oracle Patio Cafe, whose patio was delightfully cool and shady. We lingered there, not terribly anxious to return to the unbroken desert sun and heat. Eventually we caught a pretty quick hitch back to the trail in the bed of a pickup.
Going to the Islands
Leaving Oracle, we got down to the task of climbing Mount Lemmon. Clean Sweep and Overhill had skipped town and gotten ahead of us once again, so we actually had some footprints to follow for once. The first few miles wound along a dry wash with very little elevation gain. But I was scouting for cairns the whole time, expecting the trail to turn sharply out of the wash at any time toward our first Sky Island.
At a dirt road, we filled up water from a historic ranch house and met the caretaker and his sweet old dog. Facing south, there is a great sign over the trail, serving as a gateway to Mount Lemmon. We ascended into increasingly dense vegetation as another spectacular sunset fired up. A cool breeze whispered through tall grasses as I gazed toward the summit, and I got really excited for the next day's climb.
We found some relatively flat ground at the end of a 4×4 road, where we saw a hunter camp set up. Steel used to live in Tucson, and gave us the rundown on Mount Lemmon and Summerhaven over dinner. He planned to get out before the rest of us in the morning to take his time on the climb. The starry sky was a peaceful blanket that encouraged quality sleep, interrupted only once by the returning hunters, one of whom observed: "Wow, they have really nice stuff!"
Holy shit, that climb is steep. I followed a mix of single track and 4×4 roads that were clearly not designed for casual travelers. I was loving it. My legs knew what to do and set a quick but sustainable rhythm toward the upper reaches of the mountain. I caught up to Steel with just a few miles to go, and quickly fell in step. The slope was more gently graded here, as the tough oaks began to give way to stout ponderosa pine.
On the outskirts of the mountaintop town, we came across a big trail work crew getting warmed up for the day. It was a real kick to thank the dozen elementary school volunteers for maintaining the trail, then explain to them what we were doing. I grew even more impressed with the ATA, which I have come to recognize as one of the most visible, active, and responsive trail organizations I have interacted with.
Steel and I rolled into town and went right to the store, because, duh, it was ice cream time. Clean Hill and Oversweep were already there collecting mail drops. Summerhaven absolutely feels like a resort town, and we got plenty of funny looks as visitors passed the hiker trash airing out damp sleeping bags and pounding ice cream sandwiches at 11 a.m. Per Bear demolished the hiker box, picking up at least six Backpacker Pantry meals left by someone who was unable to finish their hike.
Descent Through History
With the hard work for the day behind us, it was all smiles as we started down the road out of town. Steel had told us that on this side of the mountains, we would descend through rock formations rich with dinosaur fossils. The trail was incredibly well groomed, and though I didn't see any fossils, there were certainly plenty of cool rocks all across the slope.
After about an hour of winding down the gentle upper slope, we hit the turnoff toward Romero Canyon and our destination for the night: Hutch's Pool. There were a handful of quite steep switchbacks with exposure at the top, affording spectacular views toward the Rincon. I hustled down the trail, as I suspected the increased foot traffic in the area meant other people sharing our destination and competing for sleeping space.
The turn for the pool was easy to miss, so Kirby and I kept a sharp eye on the trail above for Per Bear and Steel to appear while we secured a little private beach. After about ten minutes, we see Steel bouncing down the trail, hat on sideways, singing at the top of his lungs. "I just put on my techno mix and started running," he beamed as he joined us by the stagnant water with Per hot on his heels. We went to bed early in preparation for a big day the next day.
The Water Was Full of Teeny Red Bugs
A great thing to discover by headlamp while filling up just before you leave in the morning. On a day you might not see water for almost 30 miles.
Hiking with the sunrise was amazing, though. I got to see the outline of some bighorn sheep and deer toward the bottom of the canyon. From there, the trail climbs a ridge to access the next canyon over, providing more stunning views now that the sun was up. I had some more breakfast at the top of the pass, and Oversweep and Clean Hill came up along with the rest. Finally, we would actually get to hike with them for a day.
That began the long descent to the base of the mountain. The trail passed through several campgrounds and day use areas, the first of which was named for Gordon Hirabayashi, a Japanese-American who resisted internment during World War II. There was an internment camp up there, where Gordon famously refused to report. I really appreciated the history lesson to augment the sublime views.
Overhill and Clean Sweep had arranged a water drop at Reddington Pass. With less concern about water, I zoomed down the flowy singletrack until reaching the base of the intervening ridge. On the other side lay a golden grassland, with unfortunately little shade. The terrain was intriguing, but I was starting to feel drained by the sun.
A few miles from the pass, I encountered two day hikers, one of whom turned out to be Hot Thumb. I had actually met Hot Thumb outside the grocery store in Bend, OR, when we were both on the PCT. I think this is the most random encounter I've had with a hiker I had previously met on a distant section of trail. She got a job with the ATA, and was out hiking sections to get a better picture of the trail.
Boosted by the friendly encounter, I ticked away the last few miles toward our water cache. I arrived to find not only water, but fruit, beer, ice cream, and another damn hiker box. The boy's friend was there, and he had really hooked it up. But he was not to be outdone by Steve, who we had met near a parking lot earlier in the day. Someone had explained to him that we were thru-hikers, so he had run back to town then driven a bunch of food out to the pass just hoping to intercept us. Seriously, the trail magic on the AZT was absolutely the stuff of legends.
Rincon Reckoning
Finally, there was nowhere left to go but up. It was difficult to leave our temporary oasis, but the promise of cooler temperatures and a real mountain spring had everyone determined to push for the top by nightfall. I knew it was going to be a long evening for me, even as I began the initial ascent.
For whatever reason, I just wasn't feeling it. The trail surface was in the rough side, and there were some short, steep sections to navigate. Climbing through the trees, I don't take much note of my surroundings. My mind was wandering, considering what things would be like after once again reaching the Mexican border. We were now just about 175 miles from the end of the trail. This time, I was out of time and money, and there would be no more champagne laps.
We broke treeline as purple twilight filtered westward across the sky. The group stopped to admire the expansive Sonoran Desert spread below us, but I couldn't bring myself to pause for long. With more climbing still to do, my restless brain and increasingly painful feet urged me onward. I made a quick entry in the log as we entered Saguaro National Park and forged on toward Italian Spring, where I had resolved to call it for the night.
I arrived at the spring stumbling in the dark, having been too stubborn to pull my headlamp out of its easily accessed exterior pocket. Kirby was already there, adding layers against the night's chill. I had a shooting pain in my right foot, and I was totally ready to be done. The mountain wasn't having any of it though, as I couldn't find even enough flat space to lay out my sleeping bag.
I very rarely have grumpy moments on the trail. But I damn near threw a temper tantrum there at 8,000 feet under the impassive Milky Way. Kirby lead the charge out of the spring, and within 15 minutes we found camp on the soft, springy ground amid a forest of pines. I reconciled my attitude before drifting off, acknowledging the real challenges of the journey juxtaposed with all of the wonders I have found. I had no interest in negative emotions shrouding my final week on trail.
Affiliate Disclosure
This website contains affiliate links, which means The Trek may receive a percentage of any product or service you purchase using the links in the articles or advertisements. The buyer pays the same price as they would otherwise, and your purchase helps to support The Trek's ongoing goal to serve you quality backpacking advice and information. Thanks for your support!
To learn more, please visit the About This Site page.