Lightheart Gear Rain Jacket Review
The most important function of rain gear is to keep you warm, not necessarily dry. So why do we all insist on shelling out hundreds of dollars on "breathable" rain jackets that still leave us clammy with sweat within minutes? Personally, all I've ever wanted is a lightweight, no-frills rain jacket that would hold up to the rigors of thru-hiking and keep the cold rain off me.
Enter the Lightheart Gear Rain Jacket, a single-layer, fully waterproof jacket that weighs just six ounces and retails for under $130. This rain jacket isn't breathable, and it doesn't try to be. Instead of breathable fabrics, Lightheart opted for gigantic pit zips on both arms to increase airflow and ventilation. The result is a garment that will never wet out and weighs less than many of the most expensive ultralight rain jackets on the market.
But how does it stack up to the competition? Is it really fully waterproof? Are pit zips alone enough to keep it comfortable, or is this jacket just a wearable sweatbox? Let's find out.
MSRP: $125
Weight: 6 oz (Medium)
Materials: Silicone-coated polyester (polyurethane-coated on the inside)
Size range: XS – XXXL
Circumstances of Review
I tested this rain jacket between July and September on steep trails in Colorado's San Juan Mountains during a high monsoon season, Wyoming's Wind River Range, and Washington's Olympic Peninsula. I've never had the pleasure of testing it in an all-day soaking rain (my loss entirely), but I've needed it for up to two hours at a time during driving rain and hail storms. Temperatures ranged from the low 40s to the low 70s.
Breathable vs. Non-Breathable Rain Jackets
To understand what this jacket is, it's useful to first explore what it isn't. Almost every rain jacket on the market today is allegedly both waterproof and breathable. Waterproof breathable materials have micropores that are just large enough to allow water vapor (evaporating sweat) to pass through but small enough to prevent liquid water (rain) from doing the same. In theory. These fabrics have limitations and can be quickly overwhelmed during active pursuits—as any hiker who's gotten drenched with sweat inside their rain shell knows.
Waterproof-breathable rain jackets typically incorporate multiple layers of fabric. There's an outer face fabric that's treated with DWR to keep water from penetrating, a thin waterproof layer in the middle, and an inner liner that protects the waterproof part from damage due to dirt, oil, and abrasion.
In contrast, the Lightheart Gear Rain Jacket is a fully waterproof, non-breathable rain jacket. It consists of just a single layer of silicone-coated polyester, a waterproof material that's sometimes used to make tent rain flies. There's no external water-repellent treatment or inner protective liner, which saves both weight and money.
The key to this jacket's performance is not breathability but ventilation. It has gigantic underarm zippers that you can open to promote air circulation.
READ NEXT – How to Choose the Proper Rain Gear for Your Hike
Fit and Comfort
The jacket is unisex and has a loose fit. It's comfortable enough, though the extra material can be a bit baggy, and it is crinklier/louder than your average rain jacket. It's easy to layer underneath this jacket in cold conditions.
Many rain jackets in this weight range skimp on features like pockets and hood brims to save weight. At the same time, they often feature sleek waterproof zippers—an expensive uncharge that eliminates the need for a protective storm flap over the zipper.
In contrast, the Lightheart Rain Jacket has two side pockets, a brimmed hood, velcro cuffs, and a standard zipper with a storm flap.
Finding the right size can be tricky because the jacket is unisex. I am a 5'4, 130-pound female and went with my usual size (small) after consulting Lightheart's sizing chart. It fits fine, though in retrospect, I probably could have sized down to an extra small for a snugger fit.
Not that it's a fashion show, but I did like the color of this jacket quite a lot. After years of wearing childrens' Frogg Toggs, I'm not used to liking anything about my rain gear's appearance, so this was a very exciting new development for me.
Lightheart Gear Rain Jacket Features
Pit Zips
Extra-large, 17-inch pit zips on both underarms allow massive ventilation. If you're really hot, you can stick your arms out of the pit zips altogether and wear this rain jacket like a vest. This allows your core and chest to stay protected while your bare arms cool down. The dual zippers allow you to open the vents from either end, making it easy to adjust them and fine-tune the ventilation to your liking.
Adjustable Cuffs
The cuffs are elasticized at the wrist and have velcro straps so you can cinch them down even tighter during cold storms.
Adjustable Brimmed Hood
You can cinch the hood via a shock cord that adjusts on both sides. A three-inch, flexible fabric brim emerges from the top front of the hood. This flap is made of the same material as the rest of the jacket and doesn't have any structure or stiffness. It's enough to keep light rain off your face but not enough during heavier storms.
Hand Pockets
Two side pockets measure roughly 10 inches tall by six inches wide with a five-inch opening. The pockets are large and deep enough to accommodate most needs. They do not have zippers, but the openings are small and placed high enough on the pocket that I never had an issue with things falling out. There are also two internal pockets that provide extra storage.
Bound Seams
All seams on this jacket are bound rather than seam sealed. Binding means that a separate strip of fabric is sewn over the raw edge of the seam on the inside of the jacket, so the seam is essentially encased in more waterproof silpoly. I never had issues with leakage, even during heavy rains. Bound seams are also very durable, a sign of true workmanship and attention to detail. They produce a clean finish on the jacket's interior that won't chafe or feel rough against your skin, which is important since this jacket has no inner lining.
READ NEXT – The Best Rain Jackets for Thru-Hiking
How hot is it to hike in this rain jacket?
The Lightheart Gear Rain Jacket is at least as comfortable as whatever rain jacket you're wearing now. The oversized pit zips introduce a lot of air circulation that negates silpoly's lack of breathability.
Standing still, I actually feel cooler in this jacket than comparable rain jackets, perhaps because the single layer of material is so thin. When hiking in it, I do warm up and sweat, but not more than I would in Frogg Toggs. In fact, compared to a "breathable" rain jacket without pit zips, this jacket actually does a better job of keeping me dry and comfortable.
With fully waterproof fabric and no DWR treatment to worry about, I love the security of knowing that it will never wet out.
Lightheart Gear Rain Jacket Pros
Ultralight Yet Affordable
At  5.5 ounces for my size small (according to my own scale), this is one of the lightest rain jackets on the market. And yet, unlike competitors in this weight range, it has pockets (!), pit zips (!!!), and doesn't break the bank. It feels well-made and the materials used are durable, so I'm hoping it will last for years.
Pit Zips
Underarm ventilation is the axis on which this entire garment turns. Without the pit zips, it would be a muggy mess inside the jacket. With them, it's breezy and comfortable even during active wear.
Granted, I still sweat in this rain jacket when hiking uphill, just like I would in any other rain jacket. But the underarm zippers do a better job regulating humidity than any "breathable" fabric I've tested. Because the zippers are so massive, I can even stick my arms out of the jacket completely if I really need to cool down.
No DWR
Durable Water Repellent treatments wear off and must be periodically reapplied. Your garment can wet out if you forget to do it.
More importantly, the majority of these formulas contain per- and polyfluoroalkyl substances (PFAS), chemicals that are hazardous to human and environmental health. PFAS are sometimes called "forever chemicals" due to their long half-lives. Some PFAS-free DWR treatments are starting to become available, but they're still in the minority. With this jacket, you can skirt the issue entirely.
Made in USA
Lightheart is a small, woman-owned company based in North Carolina. Their gear is all made locally in the USA. This checks a lot of boxes for me as a consumer. The owner is an AT hiker and designs gear with long-distance treks in mind.
Lightheart Gear Rain Jacket Cons
Crinkly
Because the fabric is thin and not reinforced with any sort of liner on the inside, it's a bit noisier than many rain jackets. The noise level is still not that loud, and I adjusted quickly. Just be aware that you may rustle a bit more than you're used to in this garment.
Not Much of a Brim
The extra flap of silpoly on the hood doesn't add much weight to the jacket and keeps light rain off my glasses. It's not stiff enough to hold its shape in anything more than gentle drizzle, though. In serious rainstorms, I need to don my brimmed hat to keep the rain out of my face. I don't mind since it keeps the jacket's weight low and I carry a hat anyway. But yeah, particularly for fellow four eyes, the hood is definitely not enough to keep the rain out of your eyes on its own.
Pockets Not Zippered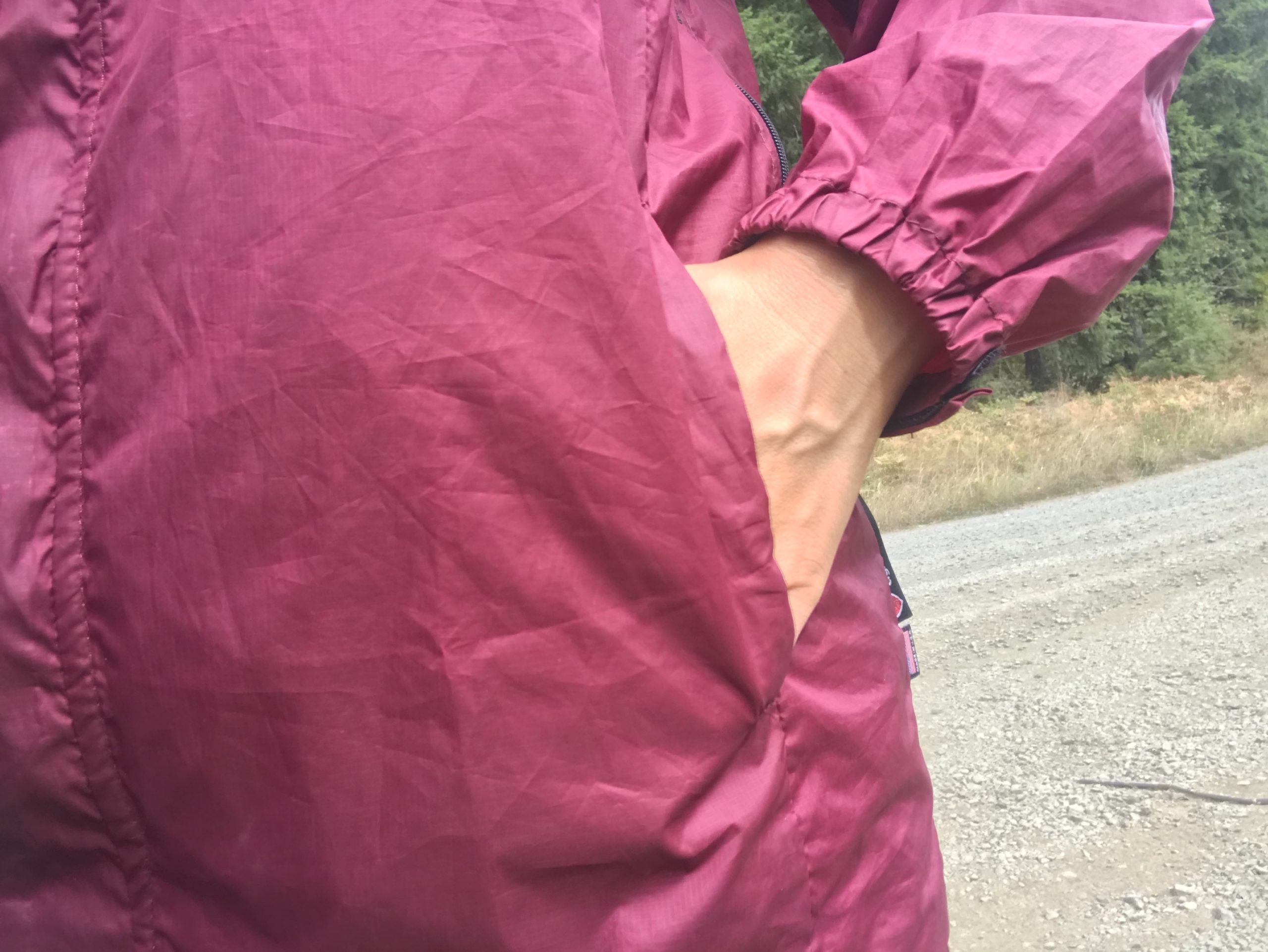 I would have liked the added security of sealable pockets so I wouldn't have to worry about stuff falling out of them. Also, in a sustained heavy rainstorm, I worry that moisture could trickle inside and pool there. Again, it's a tradeoff between weight savings and more features.
Overall
My beefs with the Lightheart Gear Rain Jacket are minor and far outweighed by how much I liked it overall. Despite not being breathable, the pit zips rendered it delightfully breezy. It wasn't any stuffier than any "waterproof breathable" rain jacket I've used, and in fact, it was a lot less stuffy than many. And it's so much more durable than my Frogg Toggs. I plan to use this as my go-to rain jacket from now on and already ordered one for my partner.
Shop the Lightheart Gear Rain Jacket
Comparable Rain Jackets
Antigravity Gear Ultralight Rain Jacket w/ Pit Zips
MSRP: $102
Weight: 6.5 – 7.6 oz

Sea to Summit Ultra-Sil Nano Tarp Poncho
MSRP: $110
Weight: 8.1 oz
Frogg Toggs Ultra-Lite² Rain Jacket
MSRP: $25
Weight: 5.8 oz for men's small

The Lightheart Gear Rain Jacket was donated for purpose of review.
Affiliate Disclosure
This website contains affiliate links, which means The Trek may receive a percentage of any product or service you purchase using the links in the articles or advertisements. The buyer pays the same price as they would otherwise, and your purchase helps to support The Trek's ongoing goal to serve you quality backpacking advice and information. Thanks for your support!
To learn more, please visit the About This Site page.