Worth A Thousand "Clicks": An Interview with Nicholas Reichard
"If you wait, people will forget your camera, and the soul will drift up into view."

-Steve McCurry
Nicholas Reichard, "Click", 27, is a documentary style photographer living in Columbus, Ohio.  Although, he resides there, it's safe to say that Nicholas is a creature of the wild.  His beautiful, raw and honest photographic portrayal of thru-hiking culture is reminiscent of National Geographic photographer, Steve McCurry (hence the quote).  Nicholas tells me in today's interview that he is inspired by his friends and family; and with his caliber of portrait photography, it makes picture perfect sense.
Nicholas started as a solo NOBO AT Hiker in 2015.  He was inspired by his own Father after he attempted a thru-hike of the AT years prior.  Although his Dad only made it 300 miles before injuring his foot, this was the beginning of Nicholas' life-changing creative journey.  His passion for photography and people brought him to trail, and eventually sent him to complete the PCT in 2016.  This summer, he will set off to complete the Continental Divide Trail – thus, completing his Triple Crown status.
"The scariest moment of the entire trail is the the first step." 
As many of us embark on these trails as a way to find ourself both mentally and physically, Nicholas also started as a way to find himself artistically.
"I was trying to figure out what kind of work, as an artist, inspired me."
After losing 70 lbs. in two years, Nicholas' hiking addiction turned into a way of life.  A new found inspiration in his photography skills has also led to a redesigned confidence in body image.  Through doing what he loves, he found a way to be motivated and healthy.
As many people can attest to the "pain for pleasure" aspect of thru-hiking, Nicholas also saw this as an opportunity to photograph the trail and the hikers who inhabited it.
He tells me a story from this photo – which was my favorite of his collection of photos.
"I realized I was more powerful with my camera there at that moment.  The AT is not easy.  I wanted to show the true grit."
Before this shot was captured, his hiking partner had stepped into a log full of bees.
"OH, F*CK!  BEES! RUN!"
The adrenaline was pumping as they darted down the trail to avoid the swarm.  When they realize they were in the clear and recapped what had just happened, they realized their fellow hiker is covered in welts, and also allergic.
"It's one of those moments where you realize, you are documenting his life."
Through the rush of avoiding a swarm of bees, running to safety and feeding their buddy Benadryl to reduce his swelling, Click still manages to pull out his camera and capture this moment that speaks more than just a mere thousand words.  This photo tells of a hard-days-hike, but I never did imagine the hilarity that ensued before this exposure.  This photo stood out to me because I knew it had a good story behind it.
"I realized, as a story teller, you should have a good story to tell."
As photographers, we all have our own individual way of capturing the life around us.  That's why it's inspiring to see work from someone like Nicholas, and also Karen Wang, another 2016 thru-hike photographer who I will be interviewing this week.  They took a popularized, scenic trail that has been photographed over and over again, and made it their own.  Through their unique abilities, they exposed parts of people and the trail in a way no one else can.
Before his hike on the AT, people questioned Click's ability to capture the trail.  "Nat Geo has already photographed the trail.  What are you going to do different?" Nicholas spent 2 years building an archive of photography that represents his interpretation of thru-hiking culture.  Nat Geo or not, he made it his own and made it uniquely beautiful.
The following photo has to be my favorite I've seen of anyone completing any thru-hike.  It shows a fellow hiker at the Northern Terminus of the Appalachian Trail, Mt. Katahdin.  While most thru-hike completion photos will show hikers smiling and laughing with their arms in the air, or even nude (I'm looking at you, Moonshine), this depicts what one must feel at the end of a 2,000+ mile endeavor.  A simple moment captured on film to represent 2,180 miles of pain, perseverance and peremptory mileage.
Earning his bachelors degree in Film Making, Click got into photography after turning down big wig jobs in Los Angeles. Just a week out of college, Nicholas got cold feet and turned down the offers; his childhood dreams changed.
"That when I started realizing that I'm the kind of artist that puts their heart and soul into their work."
As an upcoming PCT photographer, I inquired about possible frustrations from people when he was taking photos.  He tells me of pleasant moments hiking with others and learning their life stories.  "When you tell them you're out there to capture not just the trail, but the people, people become cool with what you're doing."  Nicholas advises of how nice the hiking community is.
One thing Nicholas mentioned to me was how he hasn't been able to capture his own transformation.  He's spent the past two years documenting others, and in those two years he has forgotten to capture his own psychological journey.
While there are plenty of great PCT Documentaries out there, he finds there is a lack of accurate representation of on-the-trail/off-the-trail contrast.  This summer on the CDT, he tells of a big film making project to conclude his triple crown – and I think we might be seeing a lot more Click this time.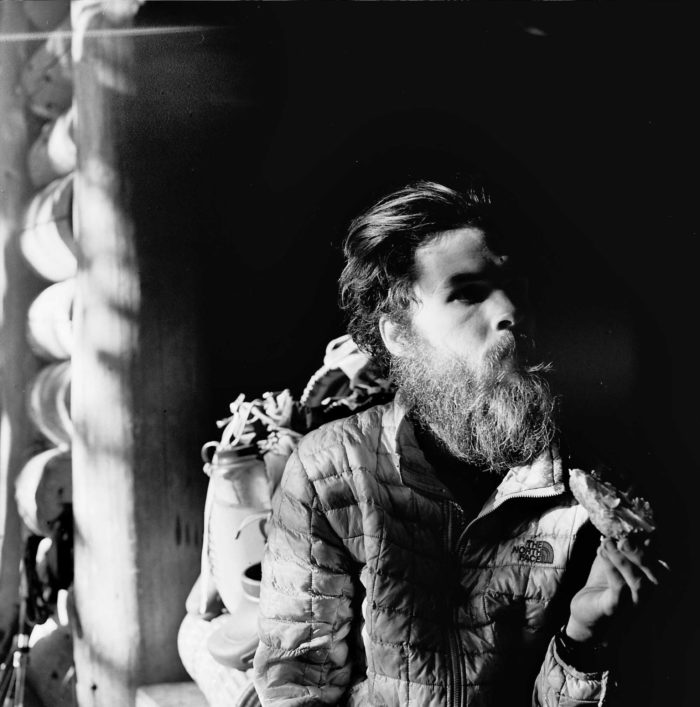 My final question to Nicholas:  Was there a moment so encapsulating that you didn't take a photo? 
It was just two weeks away from completing the PCT when Nicholas found himself afloat on his NeoAir in Washington.  It was early in the morning and BOTH his cameras were covered in 2 inches of water.  He scrambled to get the film out and empty the water inside, while also packing his stuff to make it to the next town to let them dry.
As he started solo on his 20 mile day when a SOBO hiker greeted him on the trail, but this hiker was quite fuzzy.
With both cameras packed and with only his iPhone at an arms reach, Nicholas found himself staring at a 700lbs black bear.  Standing there, speechless, he clapped his hands twice.
"We looked at each other in the eyes – if I had that camera, we wouldn't have had that moment."
Just 10 feet away, probably the most notorious creature on the PCT stared Nicholas in the eyes.  A surprising yet sweet moment shared by two unsuspecting forest dwellers.  The bear soon scurried off into the rainy forest and Click made it into town to save his cameras.  And yes, they were okay.
There wasn't a day on trail where Nicholas took less than 50 photos.  Looking through his gallery pre-interview, I felt many different emotions from the diversity of his photographs. However, the one underlying, consistent theme in Nicholas' work is passion.  Artistically beautiful, incredibly raw and heartbreakingly honest, passionate photography.
275 rolls of film, 11 countries, multiple cameras and thousands of miles later, Nicholas finds himself in Ohio gearing up for his final North American trail.  Through his planning of the CDT and past and upcoming projects, Nicholas said he has only shot one roll of film while being back home.  But, from what this all sounds like, this is just the beginning of his life's work.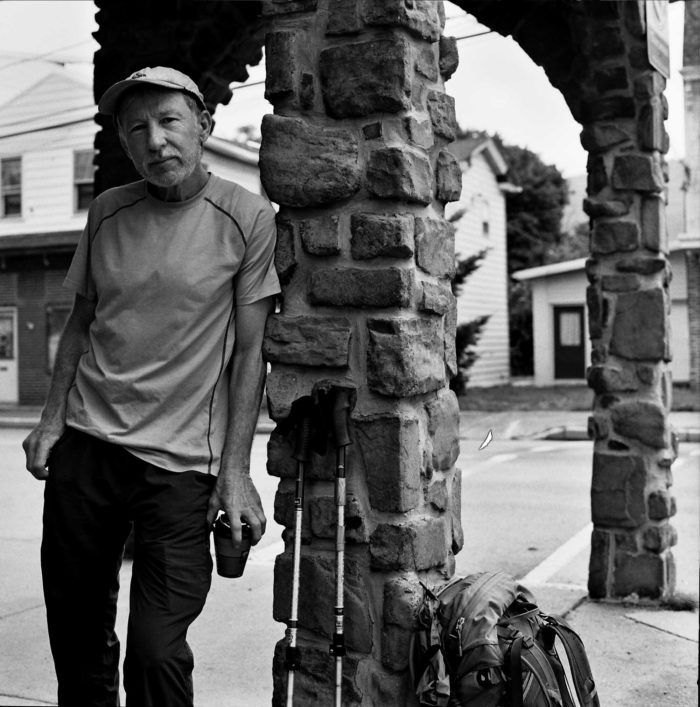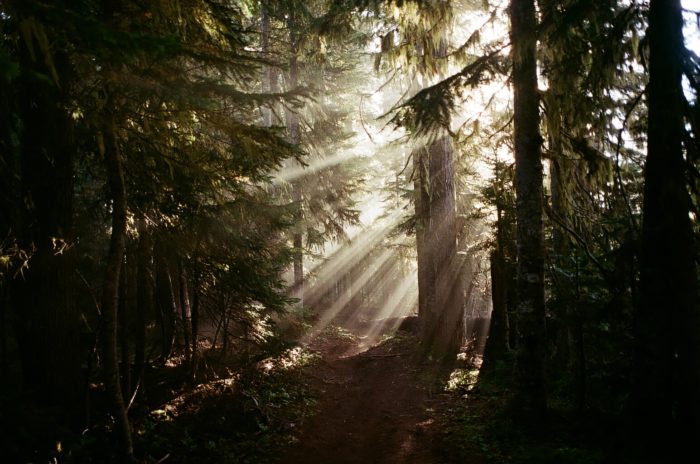 Follow Nicholas on Instagram: @nicholasreichard
www.nickclicks.com
Affiliate Disclosure
This website contains affiliate links, which means The Trek may receive a percentage of any product or service you purchase using the links in the articles or advertisements. The buyer pays the same price as they would otherwise, and your purchase helps to support The Trek's ongoing goal to serve you quality backpacking advice and information. Thanks for your support!
To learn more, please visit the About This Site page.
Comments are closed here.