Oregon Coast Trail Shakedown on the Timberline Trail
And just like that, I've blinked and I'm less than a couple weeks from trail again. I will be starting my thru-hike of the Oregon Coast Tail in mid-late August, which means it was time for a shakedown as I pack up my whole life to be on trail. I've been living in Oregon and guiding trips around the Mount Hood area all summer, so I chose the Timberline Trail as my shakedown hike.
Yes, I could've picked an easier trail. Even a one-night trip probably would've given me the answers I needed about my gear, but if there's one thing about me, it's that I don't do anything halfway, so my shakedown would have to be a grand adventure in its own way.
What is the Timberline Trail?
The Timberline Trail is a 42-mile loop around Mount Hood and through the Mount Hood Wilderness. It intersects with part of the Pacific Crest Trail and has over 10,000 feet of vertical gain throughout the loop. This trail was going to challenge me no matter what, but I also knew that it would be the perfect test of my gear. The Timberline is much rougher terrain than the Oregon Coast Trail (OCT), so I figured, if my gear held up out here in the mountains, it would do just fine on the coast.
What gear did I bring on my shakedown?
Disclaimer: I am a Thru-Hike Syndicate ambassador, so a lot of my gear was gifted. However, this post is about unpacking (literally) what worked and what didn't, and I will be making some changes to my gear list for my thru-hike. I wouldn't talk about gear I didn't honestly love and use on my personal adventures and for my work as a backcountry guide.
I really wanted to try to fit everything into my smaller pack for my thru-hike. I always see thru-hikers with smaller packs, so I know it's possible to make it work with 40L or less. I chose my Osprey Kyte 38 for this reason, and all of my gear fit, which was so exciting! This is all of the big items that I brought with me on trail, rather than a complete gear list.
For my sleep system, I used my NEMO Hornet Elite Osmo 2 Person tent, NEMO Kayu 15 degree sleeping bag, and NEMO Tensor Sleep Pad.
My cook system was the same that I used on my Backbone Trail (BBT) thru-hike in February: my $5 Coleman butane stove.
For water, I used my trusty Sawyer Squeeze paired with two Smart water bottles (one dirty, one clean). I knew that water would be abundant on the Timberline (for the most part), and most people on the OCT only carry two liters anyway, so it felt like a good representation of what I might bring on trail.
What gear worked for me?
I absolutely love my cooking and water filtration systems, and I will not be changing anything about those for my thru-hike. As for my sleep system, I'm going to be sticking with the same tent and pad I brought on the Timberline, but I'm considering swapping the Kayu for my quilt that I used on the BBT for space and weight reasons. I also love my tech system, which feels small, but makes a big difference. I use a Biolite battery pack, and it did great at charging my phone fast on trail and gave me the security of being able to recharge my Garmin if I needed to.
Gear swaps?
The main swap that I'm going to be making, though, is my pack. While I absolutely love how the Kyte fits me, it was packed to the brim. I want a little bit of room to be able to pack out extra food and fit my OCT guidebook comfortably in my pack. Also, the Kyte tends to feel a little heavy because it's more of a heavy-duty mountaineering pack. I will be switching out the Kyte for my Osprey Eja Pro (55L) for my OCT thru-hike, which will help me cut down on weight as well as give me a little more room to fit extra gear if needed.
What did I wear on my shakedown?
My hiking outfit usually doesn't change much, but I did decide to switch things up a bit on the Timberline. I knew it was going to be hot, so I decided against pants, which is what I normally wear on trail, and opted for my Patagonia Baggies. I also brought a pair of lightweight leggings to sleep in. I wore a quick dry t shirt and my favorite 5 panel hat, and hiked out in my Melly, which I ended up shedding pretty quickly. On my feet I had Darn Tough socks, which are my favorites, and Vasque boots, which I've used for mountain expeditions all summer. Turns out, the boots are a bit too heavy, so I'm swapping them out for Altra Olympus 5s for my thru-hike. I also packed rain gear for the purposes of this being a shakedown.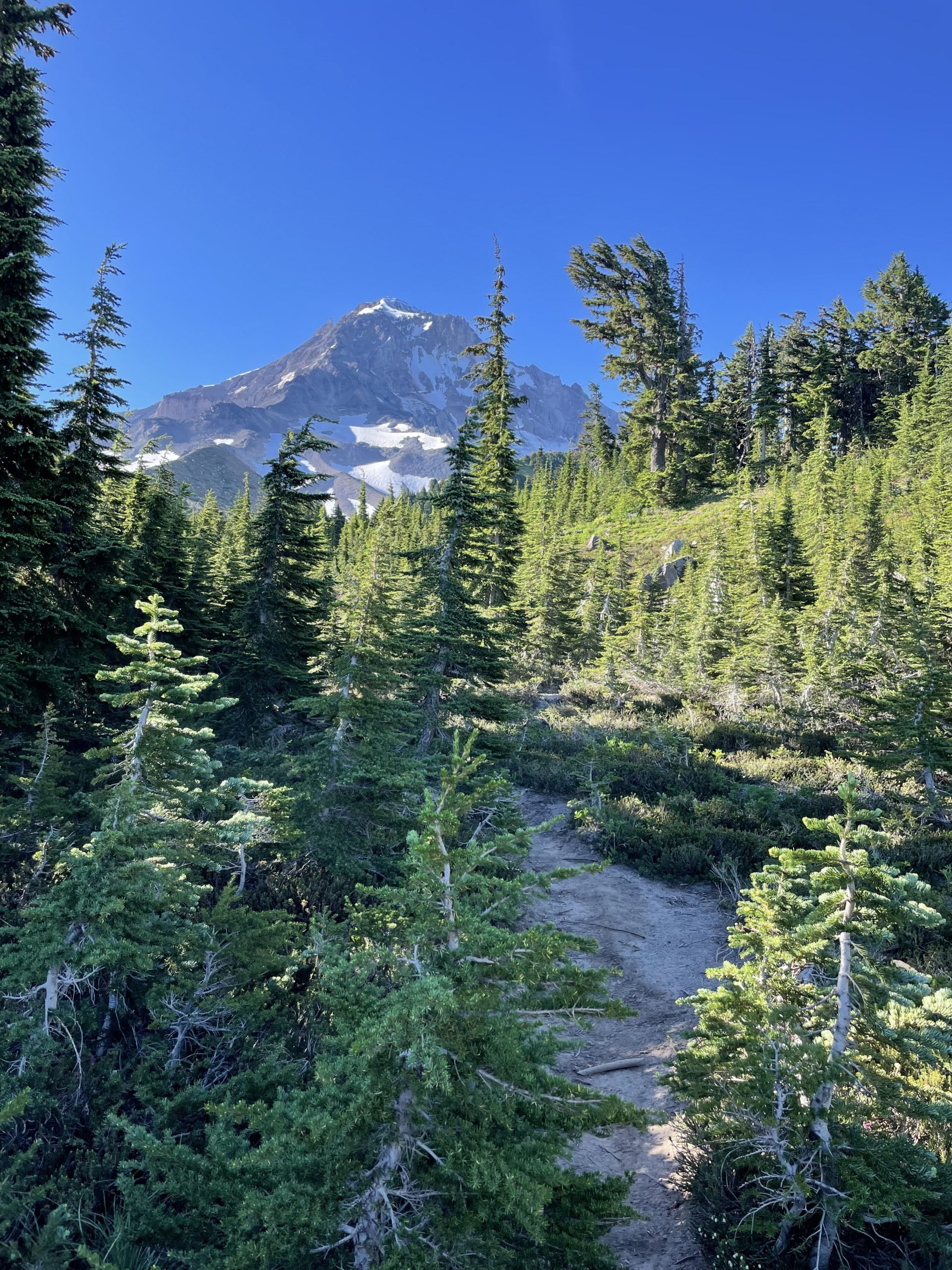 Okay, here's the trail details
I know we all love to learn about different trails here, so I couldn't leave this post hanging without a little bit about the Timberline Trail itself. This trail was HARD. While I knew it would be difficult, I wasn't expecting blowdowns, scree, fast moving rivers, detours, cow parsnip bushwacks, flies, and high temperatures all in one weekend. This trail is a true test to your skills in the outdoors, so while it was much different terrain than I'll be taking on during my thru-hike, it really gave me quite a bit of confidence that I will be okay out there.
A few things to note about the Timberline Trail, if you're suddenly inspired to take it on (based on a three-day clockwise hike):
Skip Yocum Ridge and take the PCT instead (it is nearly impassible due to blowdowns)
Bring gaiters for scree on sections two and three
Eliot Glacier River is a difficult river crossing–I don't recommend attempting it alone
While dogs are allowed on the Timberline Trail, I wouldn't recommend bringing a dog due to the current trail conditions
Overall, the Timberline was an amazing trail, but some of the hardest terrain I've ever taken on solo. I do think, though, that I'm more than prepared to get on the OCT soon, and I can't wait to share my journey here!
Affiliate Disclosure
This website contains affiliate links, which means The Trek may receive a percentage of any product or service you purchase using the links in the articles or advertisements. The buyer pays the same price as they would otherwise, and your purchase helps to support The Trek's ongoing goal to serve you quality backpacking advice and information. Thanks for your support!
To learn more, please visit the About This Site page.