REI Flash 22 Minimalist Day Pack Review
With so many day packs to choose from these days, it's tough to find the perfect one that has everything you need. The REI Flash 22 hits all of my wants and desires in a day pack, while being lightweight and comfortable.
It's stripped down to be small enough for light loads, but can hold more than you'd expect too. It even includes bonus features like a removable sit pad as the back panel. Keep reading to see why this pack was my go-to this summer.
MSRP: $59.95
Capacity: 22L | 1,343 cubic inches
Weight: 14 ounces
Material: Recycled nylon (bluesign-approved)
Torso Fit: 16-21 inches
Waist Belt Size: 26-42 inches
Number of Exterior Pockets: 3 + main compartment
Reservoir Compatible: Yes
Dimensions: 19 x 11 x 8 inches
Gender: Unisex
Intended Use
This is a day pack designed to carry your stuff up that summit or for a casual stroll. While some day packs are heavy on features and doodads, the Flash 22 is a stripped-down pack, saving weight while still providing plenty of comfort for all your day hiking needs.
Circumstances of Review
This was my go-to day pack this summer. It came with me during short hikes in Portland and Colorado including a 14er. It was also a casual bag for around town, and everything in between. My Flash has gotten plenty of use, no doubt about it. The weather was mostly fair, but there were a few passing rain storms that tested the wet performance. 
REI Flash 22 Features
Built-in Sit Pad: This is the feature that caught my eye and had me interested in this pack in the first place. The removable back panel can be used as a sit pad, which is a double function that I've loved before with overnight packs. This one was a little different than I'm used to — instead of being stored on the outside in a sleeve, the pad is kept inside the pack in the reservoir sleeve. This isn't the most convenient location, but it is still accessible if you are taking a longer break. The size and cushion of the pad are just about perfect.
Zippered Pockets: The zippered top pocket is relatively standard on most packs, but I always miss it if it's not there. On the Flash 22, it's the perfect size for some quick snacks, or a small first aid kit. It also includes an attachment loop which makes it a great spot to stash your wallet and keys. Additionally, there are hidden zippered pockets on the side of the pack that can serve the same purpose if you prefer to keep stuff hidden. 
Water Reservoir Pocket: An internal sleeve holds a water reservoir upright and a port allows routing the tube to either shoulder.
Gear Loops: These are great if you're want to attach anything to the outside of your pack. A daisy chain on each side of the pack provides plenty of loops and is another feature I really miss if it's not there. There is also an ice axe loop that can be stashed away if it isn't needed. Finally, a removable Packmod bungee can be moved to any attachment point to carry the axe, trekking poles, or any other tool you'd want to attach.
Winged Hip Belt: The hip belt includes wings that add a decent amount of support despite being free from padding. I liked this a lot. It fit and carried weight better than a straight webbing hip belt that a lot of other packs use.
Comfort and Fit
I had no issues with the fit of the pack and found it to be comfortable and easily adjustable. For such a lightweight pack, the design included several features that help to keep it comfortable.
The shoulder straps use breathable, stretch-mesh and have fold-over padding that softens contact with the neck and shoulders. Both the hip belt and shoulder straps are well-shaped and add a good deal of support. The outside back panel is comfortable and breathable mesh, and the internal sit pad adds more cushion.
I did find that folding the pack a bit also bent the sit pad. Sometimes I could feel that fold against my back in these circumstances, but it wasn't too much of a nuisance. If I absolutely had to, I removed the pad altogether or bent it back into place.
Pack Accessibility
My only complaint with this pack is that it was sometimes hard to access different areas. The water bottle pockets are a great size and worked for Smart Water bottles, Nalgenes, or collapsible bottles fantastically. However, since I preferred to wear it high on my back it was difficult to reach the bottles without removing the pack first. I found that collapsible bottles were the easiest to reach. 
Getting into the pack also took a few steps. It has two buckles and a drawstring, and each time I want in or out I have to open/close all three. Not a big deal, but the extra steps are definitely noticeable when I'm trying to grab my rain jacket as fast as possible. 
The sit pad, while a great feature, is tucked away in the reservoir sleeve and is a little more trouble than it's worth most of the time. An external sleeve for this would be better, in my opinion. I didn't find it difficult to remove, but getting it back in especially with a full pack is a pain. For this reason, I used it less than I thought I would. That said, there were definitely a few times I was happy to have it — long or wet breaks especially.
Size and Packability
At 22 liters, this pack holds just the right amount for a day hike. It doesn't have structure besides the sit pad and molds well to the size of the load. I even used the bag as a general overnight bag (not backpacking) here and there. I was able to pack it completely full or almost empty and it was comfortable either way. It also packs small, taking up little space in a suitcase, other larger backpack, or a USPS flat rate box (guilty of doing this as a round-about way of taking it on vacation).
REI Flash 22 Pros
Lightweight: The pack looks and feels lightweight. It's like a feather on my back. It's the smallest daypack I've ever had, and yet it does everything I want it to with no extra fuss. That is the goal of these types of packs, and REI succeeded with this one for sure.
Affordable: At $59.95, this pack won't break the bank. It feels appropriately priced for what you're getting. 
Comfortable: Even though it's lightweight and doesn't need much to make it carry well, the features in the hip belt and shoulder straps make it carry very comfortably. 
Fun Patterns: I tested the Print version of the Flash 22. While it's superficial, carrying a pack this fly is fun. It also corresponds with a matching fanny pack. Who doesn't like matching accessories?
Recycled materials: The pack is made with bluesign-approved materials to keep waste out of landfills, conserve resources, and protect the health of the environment, workers, and wearer. That's always a plus. 
REI Flash 22 Cons
Difficult to open and close: The closure system for the main pack involves two buckles and a drawstring. With these multiple steps, it can be a pain to get in and out. This is my biggest complaint, but it's not a deal breaker. 
Sit pad not easy to access: Using the sit pad was sometimes more effort than it was worth, especially if the pack was full.
Not waterproof: The pack isn't waterproof which would be a nice feature. However, it did keep the contents dry when I hiked through a few showers and a thunderstorm.
Water bottles are hard to reach: I found it difficult to access my water bottles while wearing this pack. The pockets were great at holding any size water bottle, though, and a reservoir would solve this issue.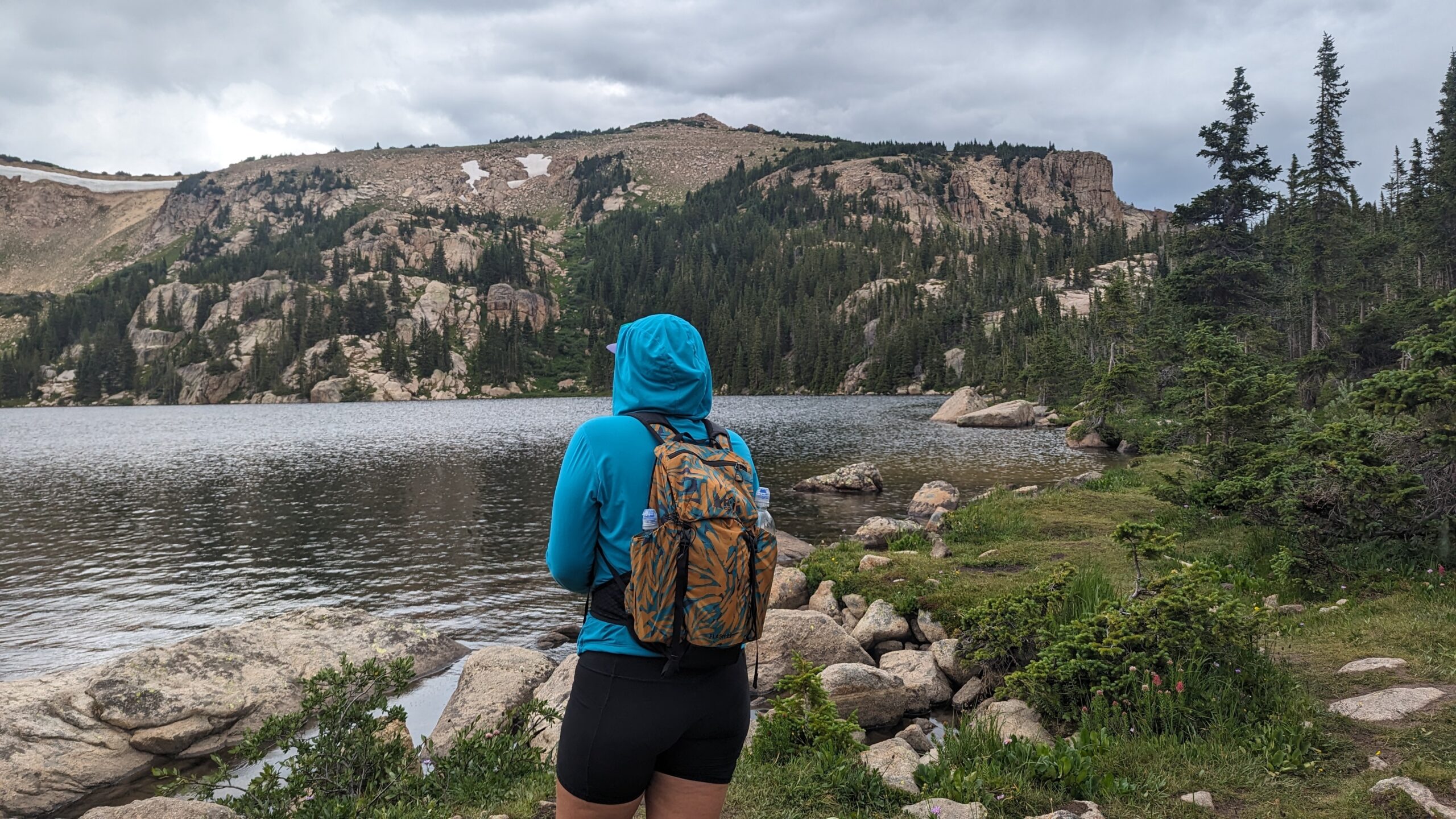 Final Thoughts
The REI Flash 22 Pack quickly became my go-to day pack this summer. It's simple, yet comfortable, and has some nice bonus features like the sit pad. Furthermore, I like how this pack feels small compared to other similarly sized packs that may have more structure.
Even though I love it, the Flash 22 leaves some room for improvement. The water bottle pockets, main compartment access, and the internal sit pad could be updated for better ease of use. None of these were deal breakers for me though, especially at this price point. I would highly recommend this pack to anyone looking for a simple, do-it-all-day pack.
Shop the REI Flash 22 Day Pack
Comparable Day Packs
Cotopaxi Luzon 24L Pack – Del Dia
Weight: 14.4oz
MSRP: $80
Osprey Daylite Pack
Weight: 1lb 1oz
MSRP: $65
Disclaimer: The Flash 22 was donated for the purpose of review.
Affiliate Disclosure
This website contains affiliate links, which means The Trek may receive a percentage of any product or service you purchase using the links in the articles or advertisements. The buyer pays the same price as they would otherwise, and your purchase helps to support The Trek's ongoing goal to serve you quality backpacking advice and information. Thanks for your support!
To learn more, please visit the About This Site page.