My Scariest Moments While Hiking in 2020
When we embark on a thru hike we are walking into the unknown. You may have combed every blog, article, guidebook and trip report that is out there. You might have all the information you can possibly find on the trail or route. No matter what, scary moments while hiking will happen. 
Remember, fear is relative. It comes in many forms — social, cultural, environmental, emotional, physical and many others. One person's comfort zone is another's challenge or panic zone. Fear can be a good teacher, but also holds the potential to ruin an experience. Knowing my personal limits has helped me to balance how much risk I take on a hike. Should I get into the car with this stranger? Should I wait out the storm for one more day?  We all must take into account what scares us, our personal limits, and make the best decisions we can with the information we have. 
Here are my two scariest moments while hiking in 2020. They may not be the scariest to others, but they sure were scary to me. 
Scariest Moment # 2: Wind & Snow on the Colorado Trail
I woke up to six inches of new snow on the shelter. I had just waited out what I thought was the worst of the storm in Leadville, CO the few days before. Turns out, there was still some to come and I got caught in it. 
After packing up my backpack I started back along the Colorado Trail towards Hope Pass. Surprisingly, I passed a few other folks still in their tents in first mile of the day. I hope they stayed warm and dry last night. Luckily, the weather was clearing. Blue sky was peaking through the clouds, the sun was coming out periodically and the wind was blowing the clouds away.
As I head towards Hope Pass, I am the one breaking the trail. It is hard to follow in a few sections through the forest. At points, I am post-holing to my knees as the cold once again settles in. Leaving the protection of the forest, the wind shows itself in full force. Snow is whipping into my face which I shield as I look up to see where the trail might go.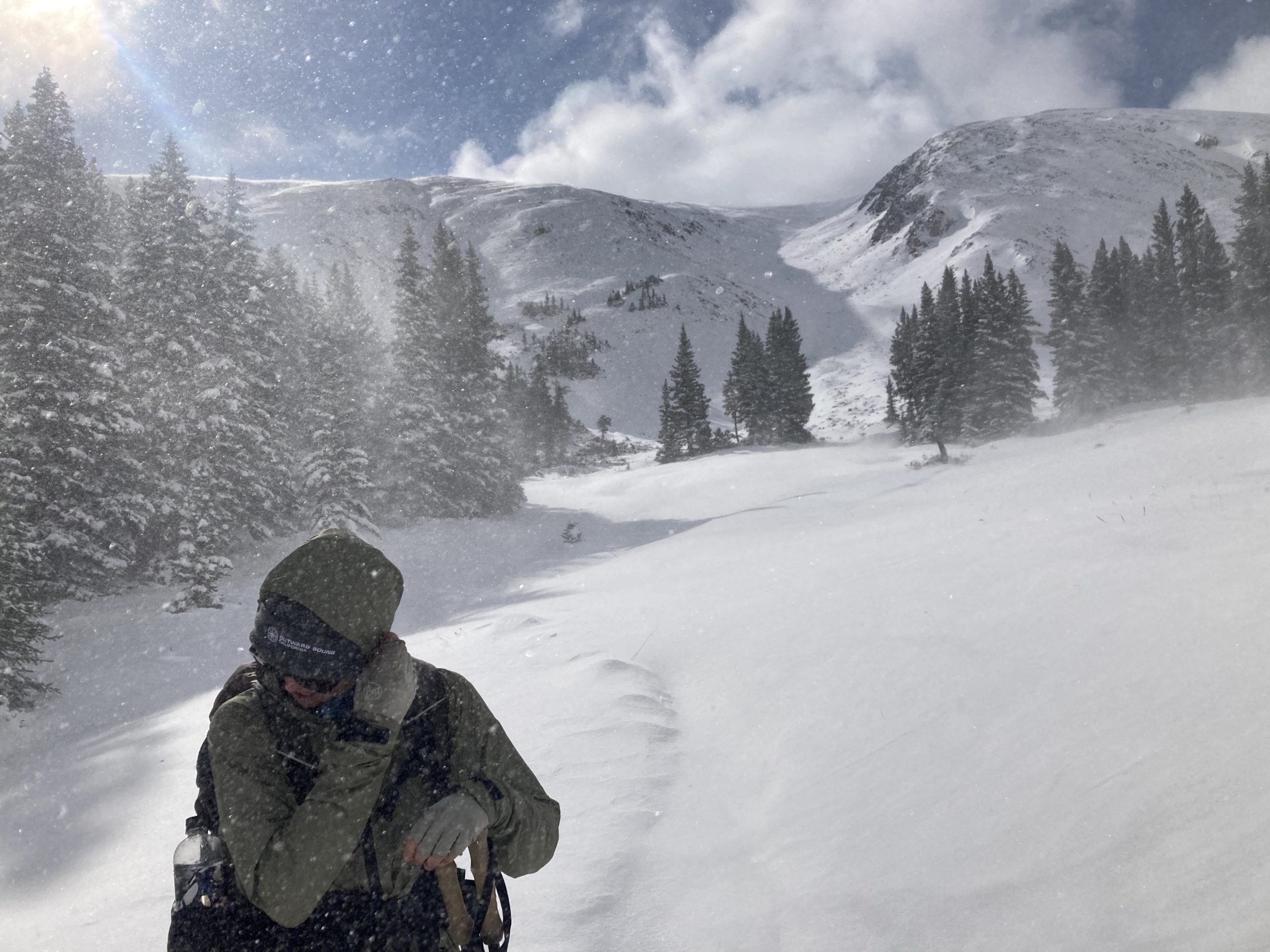 A vast expanse of fresh snow blankets the landscape hiding any semblance of the trail and its markers…or at least I can't find any. A quick check of the map and I decide to start walking in a more direct line towards Hope Pass. This time post-holing deeper than before. Kicking steps uphill to the pass, the snow creates patterns over the ground as it blows in the wind. My face is fully engulfed in my jacket with all of my layers underneath. It is slow going. 
As I crest over the pass the gusts of wind become more intense. At points I am forced to crouch down, hug myself, and wait for the gust to pass. 
I look at my partner and she looks back at me. I yell, "We need to get down!" She responds with a muffled, "Yeah!!" and a nod. Moving as fast as we can over the small notch and down to the other side of Hope Pass, we try to find the trail. Eventually, giving up, we walk straight down — plunge stepping into the snow, moving fast. A moment of calm comes as we find the trail lower down and pause for a break. 
I hiked the Colorado Trail in September. In reality, I could have mitigated this fearful moment by waiting another day for the storm to blow away. My hiking partner and I have experience winter camping and we collectively decided to travel over Hope Pass knowing that good weather was on its way. We both were caught off guard by how windy it was. By the time we had to make the decision to get out of there — the best way out was forward and off the other side of the pass.
Scariest Moment # 1: Falling Trees in the Pacific Northwest
I had just stepped off of the Pacific Crest Trail along a lesser known route in the Pasayten Wilderness called the Cougar Traverse. The route followed the PCT for a few miles. As I enjoy the downhill into the Pasayten River valley, it starts to rain. I had expected it to rain today, as I noticed the clouds building the day before. It was a light, almost refreshing drizzle and I did not mind. 
Along the way, I walked past a Forest Service cabin and backcountry airstrip. The trail continued along the river. Most of the northern section of the valley had been burned and now was full of dead trees. I had walked through areas like this previously on my trip, so I was not that worried.
But this one would be different. 
Just as I entered the burned area, the storm front that had blown in the day before began to move out. This brought extremely high winds gusting up the valley. When wind blows through standing dead trees it makes an ominous whistling sound. An unforgettable noise that almost sounds like screaming.
At first, I started hearing trees fall in the distance. Then, I saw one fall out of the corner of my eye. I noticed another, up on a hillside that had fallen and was rolling down the hillside taking many other trees with it. 
I quickly realized that I was not in a very safe spot. And, not only that, there wasn't anywhere safe to go. 
Many of the burned, dead trees were still standing around me and it was obvious that it was only a matter of time until they all fell. I hoped that today was not that day. As I tried to take a break, I felt paranoid of the wind and the sound of falling trees. I didn't stop for long. I was scared. Trees could fall at any random moment. I just had to hope it wouldn't be on me or my hiking partner.  
With each big gust my hiking partner and I stopped, went back to back, and looked at all of the trees around us, praying that one would not fall. I ran, I jogged, I stopped, I hoped. At this moment, a tree fell about 30 feet in front of me directly across the trail sending broken sticks flying. I was terrified. Eventually, making it to the river crossing on route, I stand in the middle of the river where no trees could fall on me. Taking a breath, I try to relax from the last hour (at least that is what I think it was) of intense focus. Calming myself, I continued on and was glad to notice the wind dying down.
This may have been one of scariest moments I have ever had while hiking. Trees falling on me is one of my deepest fears. I did not know that the route was going to enter a burned area, nor did I realize the storm would start to blow away that afternoon. Seemed like a "wrong place at the wrong time" moment. I am beyond grateful that none of us got hurt. Let's just say, now we are both hyper aware of dead trees.
Reflection
These moments stand out as some of my scariest moments while hiking in 2020. The whistling sound that dead trees make in the wind still gives me the shivers to this day. As always, I am continually learning how to make the best decisions for myself regarding the overall reward and consequence of a situation. The moments where I feel fear are good reminders to not make decisions lightly and ensure that I have considered all of the possible options before continuing on. 
Thanks for reading! Read some more memorable moments on my recent trip on the Hayduke Trail.
Affiliate Disclosure
This website contains affiliate links, which means The Trek may receive a percentage of any product or service you purchase using the links in the articles or advertisements. The buyer pays the same price as they would otherwise, and your purchase helps to support The Trek's ongoing goal to serve you quality backpacking advice and information. Thanks for your support!
To learn more, please visit the About This Site page.