Six Moon Designs Deschutes Plus vs. Wild Oasis UL Tarp Review
Six Moon Designs (SMD) presents interesting ultralight (UL) shelter designs with their Deschutes Plus and Wild Oasis Tarps. SMD is best recognized for their Lunar Solo Tent, but they're quickly becoming better known for other gear, such as their Gatewood Cape, Swift X Pack (my current go-to!), and now these UL tarp options.
These two tarps are essentially the same shelter. Each features a single wall tarp with bug netting trim around the bottom and no floor. The primary difference is that the Wild Oasis is made with Dyneema and the Deschutes Plus with silnylon. Both of these options boast weights of a pound or less with their unique fully enclosed configurations.
Weight: 16 Ounces
Materials: 20D Silicone Coated Nylon ("silnylon")
MSRP: $195
Weight: 12.1 Ounces
Materials: Dyneema
MSRP: $485
Circumstance of Review
These tarps got five-10 total nights of use each. I was able to test them in a wide variety of climates and ecosystems. They have literally been tested across the country. These shelters have seen the Sawtooth Wilderness of Idaho, slot canyons in Escalante, Utah, Frozen Head State Park in Tennessee (home of the Barclay Marathons!), the Alpine Lakes Wilderness area of the PCT, and the Art Loeb Trail in North Carolina. This wide variety means that I have used the tarps to camp on everything from dry desert sand to wet PNW pine needles. Usage conditions varied from late summer heat to early fall freezes. I even had the good fortune to experience a rainy night under each tarp.
Features of Both Tarps
Floorless shelter that can be "completely enclosed": This is the key feature that sets these shelter systems apart. These shelters are listed as "tarps," but their ability to fully enclose the sleeper and provide bug protection puts them in a category of their own.
Zippered entry: The door zips fully shut and can be pinned open for easy accessibility.
Full 18″ no-see-um mesh skirt: The long mesh skirt curls under the shelter and is easy to tuck under a personal tarp to sleep on.
High vent: Each tent features a small vent at the apex of the shelter. This allows for a little extra ventilation.
Single pole setup: It only takes a single trekking pole to set up each tent. The height and resulting coverage are flexible.
Only requires 6 total stakes: Each tent is sturdy when set with 6 stakes. There is an additional fixed loop on the outside of each shelter at both the head and foot so that the user can use 2 additional stakes to provide some extra head and space.
Both door flaps open: Both sides of the door on each tent can be pinned back for a completely open setup.
Differences
These two tarps are nearly identical. The primary difference is the materials used for each, but there are a few additional discrepancies. All features listed above apply to both tarps. Here I'll specify the differences between each.
Deschutes Plus
Silnylon construction (16 ounces): This classic material is a bit heavier than the Dyneema featured in the Wild Oasis. Sil-nylon has a tendency to hold water when wet, making it heavy to pack up after a rainy night. It is also more prone to stretching over time.
Fixed grommet at base of bug net for pole: The grommet makes setting the tarp up a bit more straightforward, but I didn't notice the lack of a grommet on the Wild Oasis making things too terribly difficult.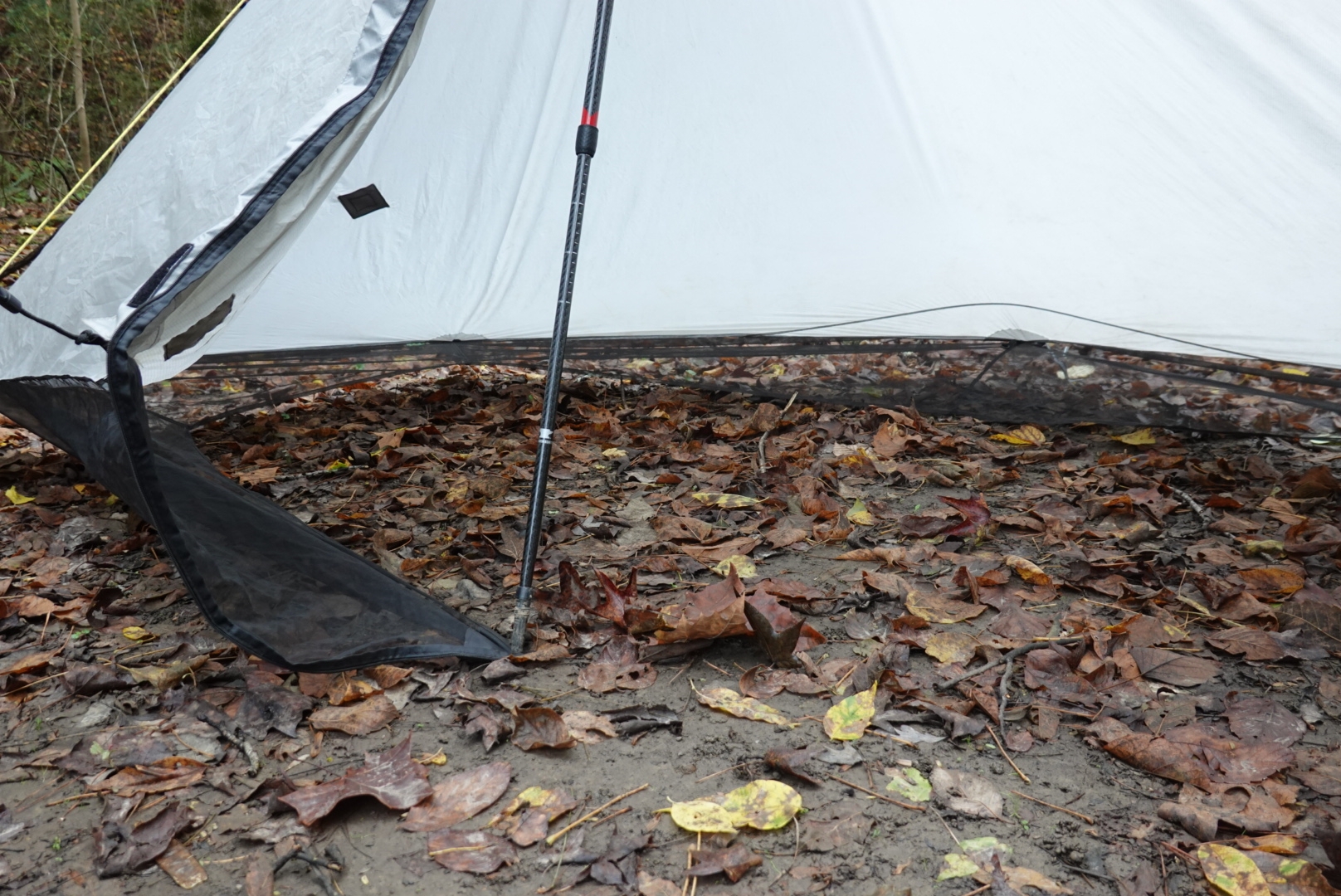 Easy tension adjustment: Other than the materials, this is actually the most significant difference between the two tarps. The Deschutes Plus has a fixed tension adjustment point on each of the six lines. The setup for the tarps is honestly a bit difficult (more on that later) and this feature makes it a bit easier.
Classic toggle closures for pinning back doors: These toggles are the same featured in most tents. They are a small plastic chunk that slides into a stretchy loop.

Wild Oasis
Dyneema construction (12.1 ounces): This is obviously the key feature of this version of the tarp. Dyneema allows it to be 25% lighter than its counterpart. It also doesn't hold water as badly as silnylon and much less prone to stretching.
No grommet for trekking pole: In an effort to shave off every possible gram, the little metal grommet is missing in this version. I was perplexed at first, but after setting each up a number of times I don't believe it makes much of a difference. It is pretty easy just to push the tip of the trekking pole into the ground a bit and it stays fixed quite well.
No tension adjustment: The lack of tension adjustment on this tent is actually a big deal. I already had trouble setting the tents up. This lack of tension adjustment made it unnecessarily more difficult.
Tiny snap button for pinning back doors: Like the lack of grommet, this is another small insignificant difference. The tiny snap buttons are maybe a little harder to use, but I think the few grams of weight saving is justified here.
The Tarp That's Actually a Tent
It may be advertised as a tarp, but this SMD design functions much more like a tent. The setup is that of a tarp, but the bug skirt at the bottom makes this is a fully enclosed shelter. The bug skirt curls underneath and inside. By adding some sort of small tarp/Tyvek, the user can pin down the bug skirt most of the way around. I did experience a few crawling bugs slipping into the shelter, but I never had trouble with mosquitos or gnats.
The goal of this shelter is to be the best of both worlds: a fully enclosed shelter that protects against bugs at night that keeps your back happy all day due to its light weight. Overall, both of these shelters do an excellent job at both of those things. In the 15+ nights of combined use, I never had any significant bug issues. However, this floorless design does make it vulnerable to something else: rodents.
To clarify, I only had one night where this was an issue. I was camped at a commonly used spot that was abundant with mice. I didn't have any food in my tent, but the chilly rainy night made my shelter enticing. The shelter design makes an excellent mousetrap: it's easy for them to squeeze in from underneath the tarp, but when the skirt is fully tucked it's hard for them to find their way back out. With some assistance, my one invader got back out and I didn't see any others through the night.
I never had any other issues with small mammals, so my conclusion is that with good campsite selection, this shelter should do its job.
Setup
On paper, the setup of these shelters seems awesome, requiring only six stakes and one trekking pole. The website even lists "Easy Setup" as a feature. After nearly 20 attempts, the perfectionist in me strongly disagrees.
I will agree that getting this tent setup is actually pretty easy for a non-freestanding shelter. What's not easy is getting it set up well. The tarp configuration does lend itself to being initially set up with ease. First, the front two stakes go into place, followed by the 1 in the back. Next, the pole goes up with the front stake, capping off with the back two. The difficult part is getting all of the angles right so that the tarp body is level. I often had quite a bit of difficulty with this, especially with the front of the tarp. The angle at the front is the most difficult part of the setup to do correctly.
There is a small looped hook that can be attached to either door which is then placed on the front line. This setup is what gives the doors their structure. Without hooking the doors onto the front line, the front wall becomes flat and ineffective against the elements. In nearly 20 setups of the tent, I never got this part to look all that great. I was able to set it up to be functional, but I had a lot of trouble getting it balanced just right.
The difficulty in setup is why the adjustable tension is such an important feature and one I sorely missed in the Wild Oasis. When setting up the Deschutes Plus, I could set the stakes, then walk around and fix the tension as necessary. The Wild Oasis was always more frustrating to set up because I was constantly moving my stakes. I understand that the plastic tension adjusters do add a bit of weight, but I strongly believe that they would have been worth the few extra grams to go ahead and add to the Wild Oasis.
Pros and Cons
Pros
Extremely lightweight "tent": Despite being called tarps, both of these shelters function more like paired down tents than beefed up tarps. And for a lightweight tent, 12 or even 16 ounces is extremely impressive.
Floorless design means there is never any mess to shake out from the bottom of your tent!
Only requires six stakes and a single trekking pole to set up.
Deschutes Plus is an excellent value at $195. Again, if viewed as a tent instead of a tarp, a sub $200 tent at 16 ounces is extremely impressive.
The Dyneema used in the Wild Oasis is ideal for tents. There is no stretch and much less water absorption.
Cons
 Both tarps are difficult to set up well. It isn't too hard to set up to the point that it will function okay, but to get the most out of the shelter, it really takes some work.
The Wild Oasis comes in at a steep $485. While this is reasonable for a Dyneema tent, it definitely makes one ponder if cutting the 4 ounces is really worth $290.
The Wild Oasis is even more difficult to set up well than the Deschutes Plus. The lack of adjustment points on the lines is a pain.
No floor means the user has to get creative with the setup. Small crawling bugs and rodents will always be able to get in and can then have trouble getting back out.
Sil-nylon can get surprisingly heavy when wet. The Deschutes Plus can hold some major moisture after a big rain.
Final Thoughts
I think both of these shelters are brilliantly designed. Being able to offer (mostly) full bug protection in a shelter this lightweight is impressive. Having gotten to use both, I ultimately prefer the Deschutes Plus. The difference in the ease of a good setup is significant. I personally could not justify saving four ounces to struggle with my shelter a little more each night. As a consumer, I also feel much better about the deal I'm getting at $195. That is seriously hard to beat.
The Wild Oasis still certainly holds its own. Getting to deal with Dyneema over silnylon is a serious perk. For somebody looking to go pretty much as light as possible, the Wild Oasis is it. For the average consumer, the Deschutes Plus is the ticket.
Shop the SMD Deschutes Plus Tarp
Comparable Shelters
MSRP: $155
Weight: 11 ounces
MSRP: $424 ($499 with bathtub floor)
Weight: 10.4 ounces (14.3 with bathtub floor)
MSRP: $539
Weight: 15.3 ounces
*These products were donated for purpose of review
Affiliate Disclosure
This website contains affiliate links, which means The Trek may receive a percentage of any product or service you purchase using the links in the articles or advertisements. The buyer pays the same price as they would otherwise, and your purchase helps to support The Trek's ongoing goal to serve you quality backpacking advice and information. Thanks for your support!
To learn more, please visit the About This Site page.